Potato stuffed peppers: crunchy, light green peppers, stuffed with a filling of grated potatoes, onions and spices, and then baked. The result is close to a hash brown in a pepper, prompting you to ask yourself why you didn't think of this earlier.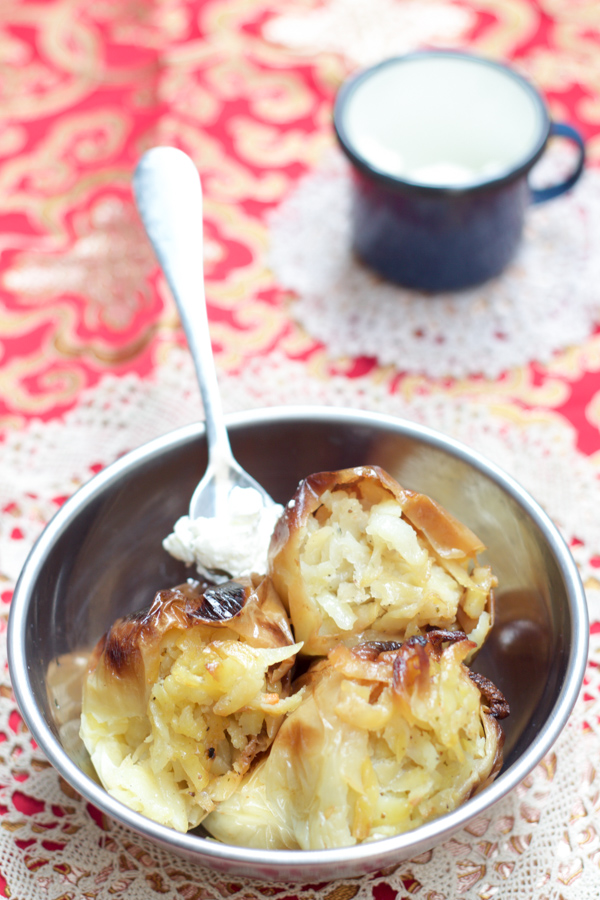 Even to this day, potato stuffed peppers remind me of every arrival to Sarajevo. This was before I returned for good, when the trips were dictated by the amount of vacation days I had. Sometimes it was just a few. Just enough to stir up my emotions on the way from the airport to my mother's house. On vacation, we're all soldiers on leave.
Other times I was lucky, having gotten a few weeks. The time allowed me to get to know the new Sarajevo, come to terms that the old one was a summer night's dream, and then get these two to not only coexist but merge. We resent things we tolerate, but when we accept we can love again. There was the old city, then there was an abominable bump, and here we are in the new already. Ready to go on.
No matter how much you try to run away from it, how much you try to mimic the perfect metropolitan arrival – you know the one, with only a carryon and a high pitched "Taxi" wave as you run after it in heels – it doesn't happen. If they hear you're coming, your entire Balkan family waits at the airport. It used to bother me. I'm not much for PDA.
Now that I'm a little wiser, although far from wise, the thought of arriving to the airport and knowing my father will never wait for me again, makes me plot the arrivals, making sure everyone who's free and can come comes, even if the trip is as short as to Vienna. The thought of someone waiting for me in the car instead of coming to the gate, saddens me now. Why we push away life's little pleasures like waiting for someone in person because it's more practical to stay in the car, escapes me.
This isn't a story about departures though. It's a story about arrivals. And each one of my arrivals was accompanied by my sister calling me ahead to ask what I'd like to eat when I come. Each time I'd tell her "Peppers of course! You know the ones." And she'd go to her tiny kitchen, the smallest one in the world, smaller than a food truck. Then she'd come out with delicacies that could be served at any Manhattan establishment. 
Potato stuffed peppers are something I first ate in her house. Before she started making them, stuffed peppers meant a lot of meat and red sauce. Those hearty peppers have room, plenty of room, on our table. But they're more fall, and we'll be doing summer today.   Summer means a 3-ingredient and some spices dish, simple as a classy casual outfit you put together and can't for the life of you figure out why you didn't think of it before.
P.S. There is a slightly different version of these potato stuffed peppers as well. I cannot decide which one I like better. And I like nothing more than to dip my bread in them.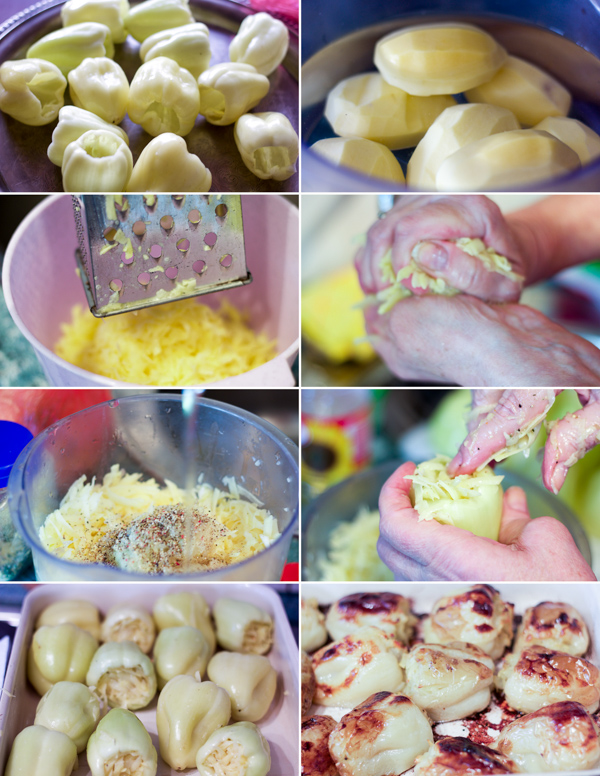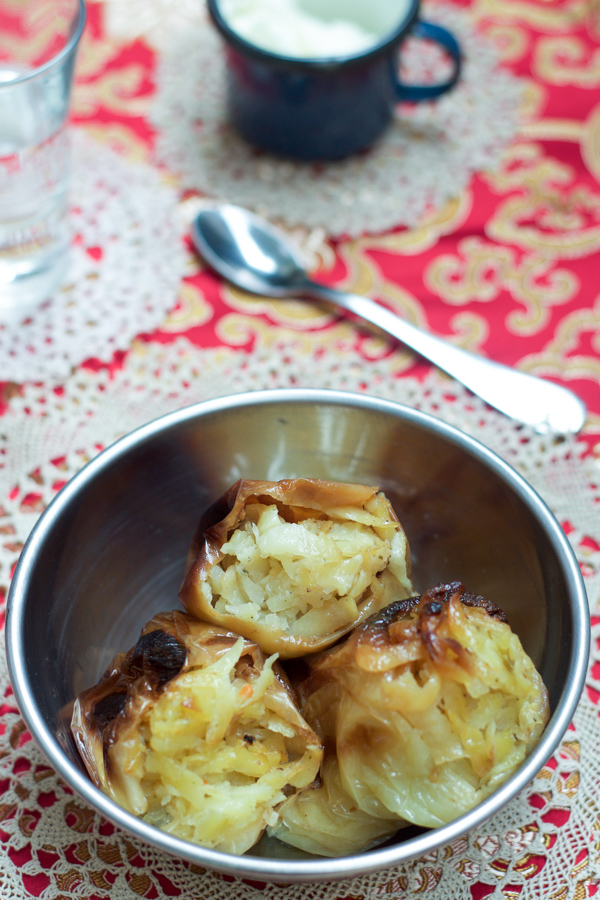 Print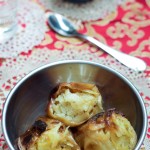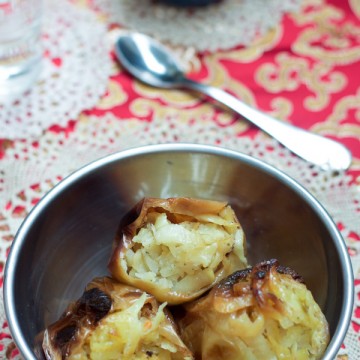 Potato Stuffed Peppers Recipe (Paprike Punjene Krompirom)
Author:

Prep Time:

20 mins

Cook Time:

55 mins

Total Time:

1 hour 15 mins

Yield:

6

1

x

Category:

Main Course
---
12

bell peppers (smaller)

2

pounds potatoes

2

yellow onions (small to medium)

1/2 cup

oil

1

–

2

tablespoons seasoned salt (or Vegeta)
Pepper to taste
Sour cream
---
Instructions
Heat oven to 470F.
With your thumb, push in pepper tops leaving the pepper in tact, then take them out. Remove seeds and membranes until you're left with small cups. Wash thoroughly.
In a large bowl peel and grate potatoes and onion. Add spices. Mix well until integrated.
Stuff peppers and transfer into a pan. Once all peppers are stuffed, pour oil over them and place in the oven.
Bake for 25 minutes, and when peppers start to blush, flip each one around and bake for another 25-30 minutes. If the peppers start to blush too much, cover them with foil and bake a few more minutes.
Serve with sour cream.
---
Notes
If the onions and potatoes are too moist when grated, squeeze the starch out of them before stuffing.
If you're going for a little more crunch, add a pinch of oil to the stuffing.