Step into spring with the Romano bean stew with veal, an excellent alternative to the heavier goulash and other winter stews.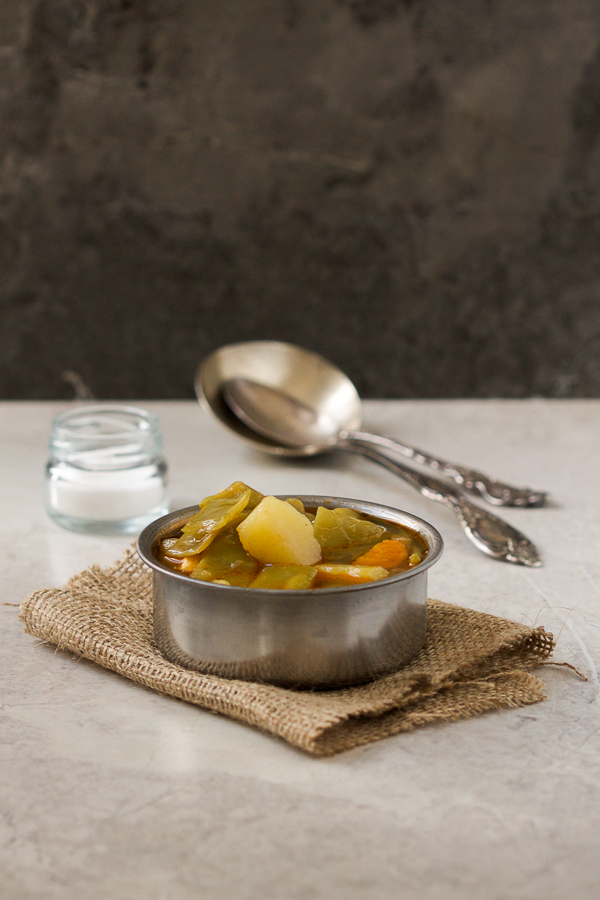 If you are one of those folks who likes to eat their meals "with a spoon," you'll love today's Romano bean stew with veal (aka boranija). Boranija is similar to other stews we've made, like Bosnian Veal Sauce (Sitni Ćevap), and Bosnian pot stew (bosanski lonac), yet it's lighter. Its main ingredient is the soft and steady Romano bean. From my quick google search, it looks that Romano beans are Italian, and it makes sense these would be grown here, due to Italy's proximity to the Balkans.
You can take a look at the preparation photos below to see what Romano beans look like. I haven't seen this type in a lot of grocery stores, but I have come across while at the farmer's market, so they're definitely grown in the US. You're welcome to use other kinds of beans, although Romano beans are my favorite for stews because of their shape: flat, wide with thin beans inside. Also, they're more elastic than other beans, you can almost fold them halfway before they snap. This type of shape makes them perfect for stewing. They don't take too much time to make, and the end result is a light, tasty, refreshing stew. A stew for the spring.
If you don't like veal, try other meats. It's all about letting this one simmer until you're ready to dip your spoon in.
***
Here and there I'll share some of my story. Below is part 1. Part 2 is here.
Earlier this year I moved back to Sarajevo after living in the US for the past twenty years. The move came following a series of tragic events. Still, it wasn't an overnight decision. People around me seemed to have known I'd move even before I did. Meanwhile, I was traveling back and forth, packing and unpacking luggage with mementos, books, and photography props. Dragging the unruly memories from the new continent to the old and back again. Until it dawned on me one day while sitting in a Sarajevo park that home was here now.
For now? Forever? For a while?
I feel such comfort in both places. Each shaped me in a different way. Sarajevo is my first love. I never was able to shake it off and start with a completely clean slate, the way some refugees do while despising and cursing the past, for the bridges burned after them without their permission. It was probably because my life was not terrible in Sarajevo, not even during the cruelest times.
In fact, it was lovely, and freeing, and intense, and varied, and fulfilling.
Until I was about ten, I had the most wonderful childhood. I played constantly, our parents having had the wisdom to think less of what type of college we needed to prepare for at 6 or 7, and more of letting us roam the parks, play with flowers and grass, teaching us to bike, encouraging us to make friends, be friends, and be human beings above all. Sarajevo is where I took my first steps, and learned my mother tongue which by now has changed names at least a few times. It's where I tasted ice cream for the first time – still greatest ice cream in the world – and got my first library card. Sarajevo was where I learned to love cities the way Mac heads love the new iPhone: intensely, passionately, and without reservation. Come rain or shine.
And rain did come. It poured! In the early 90s Sarajevo was under the longest modern siege in Europe. Ugly, terrifying, and incredibly sad. I have no idea how my family survived, I think we ran on instinct all those years. Logic, the lifeline we grasp on so hard to help explain everything and set forth a tested set of conclusions for every situation, had absolutely no power over the surrealism which descended upon us for a few years like a spaceship full of aliens.
These tiny moments defined those years. These second to second moments. This one time my brother sternly made me go to the shelter, and he'd never raised his voice at me before. Only a few moments after, my sister and I furiously started to walk down the stairs to the shelter, as an artillery obliterated our living room. The room I would have otherwise been in had he not forced me to go downstairs. Why? How did he know? What was it about this time that spelled trouble, when we stayed in the flat hundreds of times before when the bombings went on outside? He couldn't explain it to you any more than I could.
Another time, my sister grabbed my brother while returning home from our grandmother and made him run like lunatics, and quickly jump for cover. All this happened in a matter of seconds. And in a few seconds more, a set of bombshells leveled the part of the street they were just leisurely strolling down.  How did she know? Who knows… But there were hundreds of tiny moments resembling this one, plus a lot of luck, and somehow we made it. Scarred. Absolutely. But alive? Yes.
Mom, dad and I left Sarajevo a few months before the siege ended. Sister and brother stayed behind. Sister got married to her boyfriend, and brother couldn't leave the army. Separating the family and leaving Sarajevo were the hardest decisions we've ever had to make, like ripping one hand into different parts.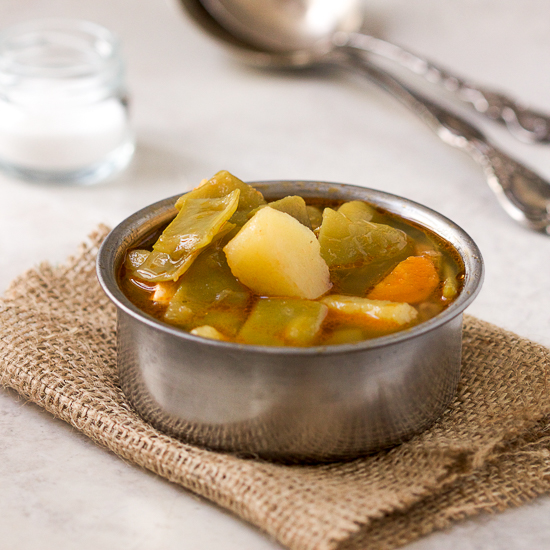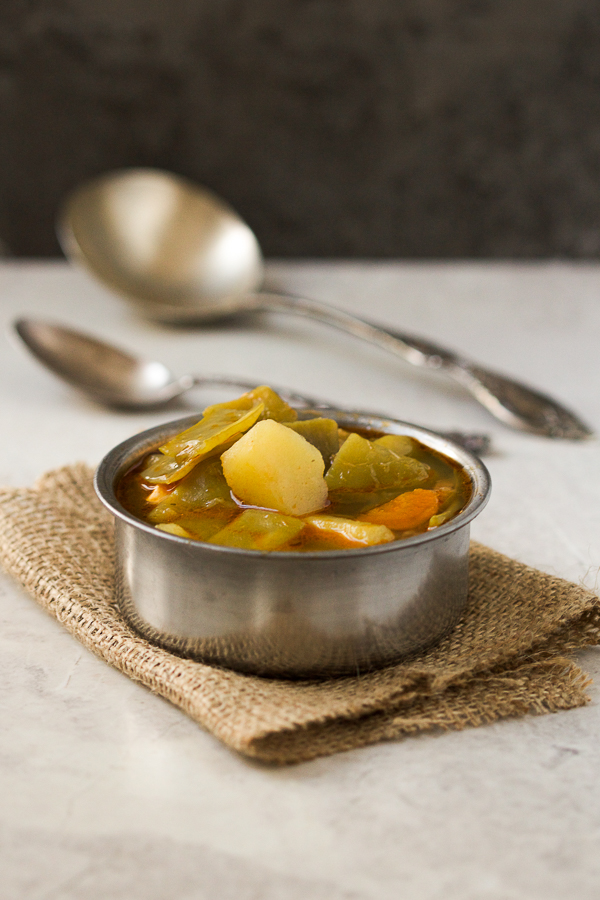 Print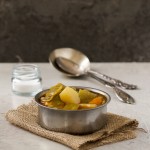 Romano Bean Stew With Veal (Boranija)
Author:

Prep Time:

5 mins

Cook Time:

100 mins

Total Time:

1 hour 45 mins

Yield:

6

1

x
Category:

Main Course
---
Scale
Ingredients
10 tablespoon

s oil

3

white onions (small)

3

carrots (large)

3

garlic cloves

1

pound veal

1

bay leaf

1 tablespoon

seasoning salt

1 tablespoon

paprika

1/2 teaspoon

pepper

2/3

pound potatoes

2

pounds Romano beans
---
Instructions
Place 10 tablespoons of oil in a deep pot and warm up on medium. Dice onions and carrots, mince garlic and add to the pot. Bring temperature down to low and simmer, stirring occasionally.
Dice veal, add to the pot, and continue simmering on low for 15-20 minutes. Stir occasionally. (Add water if necessary to prevent burning, but only a tablespoon or two at a time as you really want the present ingredients to combine and 'sweat out' all their flavor.)
Add seasonings into the pot and simmer another 5 minutes.
Cut the ends off of each bean and discard, and then proceed to cut each bean into three or four parts. Add beans to the stew. Peel and dice potatoes and also add to the stew. Add one cup of water and stir everything well. Simmer for 10 minutes on medium.
Add two and a half cups of water, bring the temperature down to low again, and let the stew cook for another hour.
---