Fermented Juniper Berry Juice (aka smreka), is a sour and refreshing, lemonade-like beverage, perfect for quenching the thirst on a warm evening.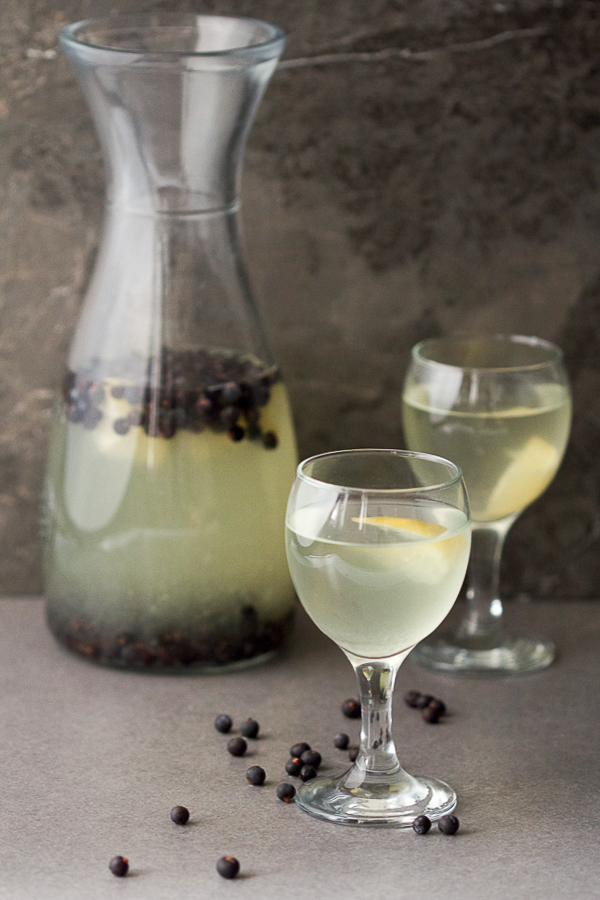 Almost everyone who comes to Sarajevo in late spring is surprised by the variety of unusual yet tasty homemade juices available at local cafes. Come May, there's the ubiquitous zova made out of the elder tree flowers (also known as zova) which blossom around that time. There is also the fantastic rose juice (sok od ruže or djul šerbe), made from local wild rose petals. And then there is smreka – the fermented juniper berry juice.
Have you tried it? If not, you should! Because smreka is simply perfect.
Although the mention of fermented plants evokes the taste of sauerkraut, think of juniper berry juice as a "more sour than usual" lemonade that can be consumed as is, or made sweeter with honey or sugar. It's very refreshing, and perfect to go along with local desserts such as the walnut stuffed apples (tufahije). People take to smreka quickly, and some make their own after returning home. I've had a few requests for a while, and below is the recipe I've used with great success.
(As with anything fermented, there is no rule that's cut in stone. You may like to ferment berries without lemon. You may like to leave the juice to ferment longer than 10-15 days. Or you may think 7 days is enough. Fermenting recipes are more of a framework within which you'll figure out your own preferences.)
In addition to this juice, juniper berry is known for being an active ingredient in several other Balkan delicacies, including the homemade juniper berry brandy (rakija klekovača), as well as gin.
The plant itself is said to have many different health benefits, and is widely used  in the area. The juice is an excellent diuretic, and is also recommended as an aid against coughing, asthma, stomachaches and uti's. It's said to be especially effective for stomach problems of all sorts, and is often recommended by the doctors here to patients suffering with kidney stones. When made into oil, juniper berries are excellent to use in massaging areas affected by the rheumatoid arthritis.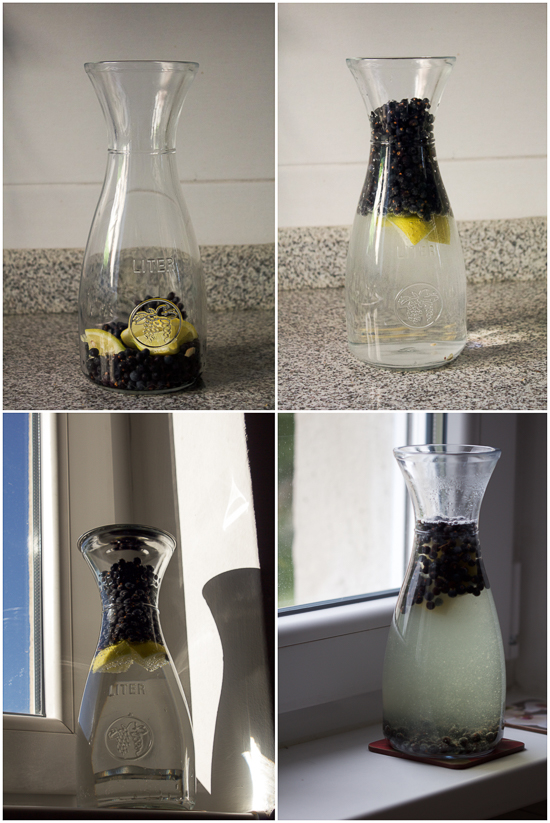 Below text and recipe for today's post provided by Samir Hajdarević. 
For a few years now I've had a wish to make a stronger connection with nature. I don't know where it came from, nor what caused it to come into existence. But I recognize clearly a feeling of satisfaction that fills me every time I spend my time outside the city hustle as something I've always been missing.
During the time I was growing up, deep into teenage-hood, like that of most of my friends, my world too was tightly bound to urban areas. The asphalt under my feet and grey concrete blocks rising around me, various neon lights from advertisements preying from every corner and the noise made by the constant car racing, was everything I needed and I did not even think to leave it. It was my entire world.
Dynamic and modern, it held me riveted to itself. Stimulating my attention without a pause with quick changes of content, it didn't leave much space for peace and time I could spent alone with my own thoughts. Before that I wasn't even aware that I had, and I'll use strong terminology here «an addiction» whether it was visual or audio occupation of myself. The TV was constantly on whether I watched it or not, computer connected to the Internet so I could always be online, even outside I kept my headphones on to occupy my brain with music from my cell phone.
All of this is not unusual nor terrible. Of course we live in times of hurried technological innovations and in accordance to this our habits also change. I am a big lover of urban living and everything that large areas are able to provide, and I'm also a devotee of progress. A lot of my friends ask me whether I'd be able to live outside of the city, forget about the civilization and exchange it with a slower tempo of living. My answer is always negative. I'm not an admirer of extremes, something I often notice in people that surround me, a tendency to cut ties with everything which was once a part of a daily life and a radical turn toward something new. I look at it a little bit differently. I am an advocate of including as much various content into our lives, so we can taste the best given to us. Finally, an experience of something for me is the ultimate goal.
That's how it was with my opening toward nature. At last, the result is that I now appreciate the time I'm in the city even more. It brought into existence a counterbalance, like weights on a scale that brings it into balance. To make a harmony, there exists a need for the opposites.
At first, I started practicing long walks without my cell. There is a beautiful and quiet boulevard near my home. It's lined with trees on all sides and being a few kilometers long makes it perfect for a walk. As I found how much I enjoyed the walks with myself, they became longer and more frequent, almost daily. Longer and longer. Sometimes I walked the boulevard a few times. They say Darwin and Tesla practiced long walks, and it was the walks when the creative moments arrived to them.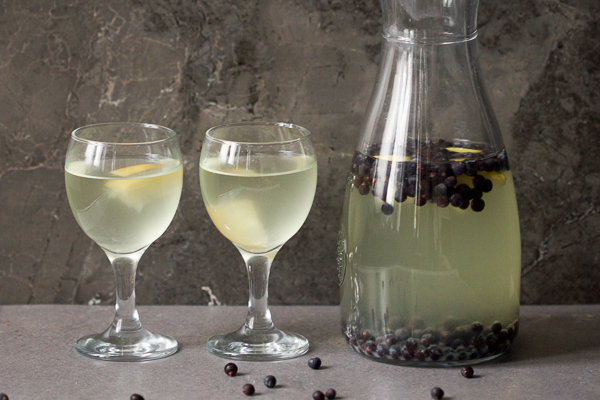 As Sarajevo is located in a valley surrounded on all sides by the mountains and a few hills, one is able to arrive from the center of the city to deep nature within a thirty minute drive, therefore I started to take advantage of this advantage. As soon as the opportunity arises I use it to go to head to nature. I love to take off for the weekend and spend a whole day in the mountains. My parents were big hikers in their day, especially my dad. He was a nature lover. And I just started to discover it.
As with everywhere else, in nature also you come across different people. I met a guy who long ago left the civilization and spends a good portion of his time in the forest. At some point he said his goodbyes to everything and pulled away into nature. He lives like a highlander in a mountain cabin. He comes to the city only sometimes. But he is far from lonely. His cabin serves as a inevitable stop point for all of those who are walking by. He lives by collecting mountain plants, making different juices, teas, jas and such.
This got me to think. How much of what we need surrounds us and is completely free. We just need to learn about it. There is a saying that the nature holds a medicine for every illness. So I started to pay attention to it.
One of these therapeutic recipes is a fermented juniper berry juice (or smreka). It's very simple to make, and has many healing benefits.
Fermented Juniper Berry Juice (Smreka)
Ingredients
½ lemon
1 cup dry juniper berries
4 cups water
Instructions
Wash lemon well, and quarter it leaving the skin on. Combine with juniper berries and place in a large glass 1-liter bottle (or jar). Fill with water all the way and close the lid loosely.
Leave bottle in a sunny and warm spot on the window seal (or the terrace), for 10-15 days. A lot of juniper berries will start sinking to the bottom, or travel up and down in the bottle, while water will become yellowish. This is your sign that the juice is ready.
Strain the juice, transfer to a different bottle, and keep in a cold place.
When getting ready to consume the juice, taste and see if it's to your liking. If it's too strong, dilute with a little bit of regular or mineral water. Add a teaspoon of sugar as well if you prefer.
Meanwhile, repeat the process to make more juice with the same berries. Transfer them back into the original bottle, add a new quartered lemon, fill them up with water, and leave in a sunny spot. You can reuse berries once or twice. When most of them stay on the bottom, and the juice is no longer flavorful, they're ready to be discarded.
Notes
The berries sometimes travel up and down the jar. If you've used a lot of berries, a lot may not even fall to the bottom before the juice is ready. That's fine. Tasting the juice, and discovering its tart, sour and refreshing flavor is a sign smreka is ready to be consumed.