Višnjevača, or homemade sour cherry liqueur is derived from brandy (sherry or vodka) infused with sour cherries and sugar, and left in the sun for 40 days until it becomes a dessert liqueur or aperitif.
You know I always write exact recipes for you. I'm a stickler when it comes to precision in cooking. It probably annoys the more experienced cooks out there. I apologize to my more skilled readers.
But when I started to cook, I mostly remember hitting my head against the wall every time I came across a term I didn't know. Especially when it came to food I was unfamiliar with. It was the reason I rarely ventured into the kitchen back then.
How exhausting is it to put effort and energy into something and have it not come out?
Well with višnjevača, you don't have to worry. Whatever you do and however you do it as long as you are in the vicinity of the recipe, this sour cherry liqueur will come out well.
Generally, to make sour cherry liqueur you infuse homemade plum brandy (šljivovica aka slivovitz), or vine brandy (aka loza) with sugar and sour cherries. But unless you make šljivovica or loza at home or have a Balkan store nearby, it'll be harder to get it in the US.
To make it easy for you, I used Sandeman medium dry amontillado sherry. No affiliation here, just what I had in the liquor cabinet. If you're unsure, go to your liquor store, and ask for something similar to any of the above.
Alternatively, a good vodka will do great. Find a higher quality bottle however.
The most basic formula is 1:1:0.5. One kilogram (2.2 pounds) of sour cherries to one kilogram of sugar, to .5 (half) liters of brandy. The volume will depend on the size of your jar, and the way you layer everything. As you'll see in the recipe below, my volume was somewhat different.
Višnjevača is a perfect recipe for those of you that practice sustainability. Everything is used from the cherry to the stem. Stems are used for teas, while the sour cherries that remain after you strain brandy into glass bottles, are perfect for dessert.
(Going back to the tea from sour cherry stems, it is a natural remedy for urinary tract infections and kidney sand. To make this tea leave cherry stems to dry in a dark, dry place for a few days. When you're ready to make the tea, cover ¼ cups of stems with 4 cups of water, and leave for 12 hours. Bring to a boil, remove from heat, and leave for 15 minutes. Drink three times daily.)
After you leave the infused brandy in the sun for 40 days or about six weeks, make sure to stir it every few days. This will allow all the ingredients to mix well, and the brandy to taste the same throughout.
This liqueur can be used for months afterwards, although I doubt you'll be able to resist consuming it quickly.
Višnjevača is perfect to serve with dessert or coffee, although in my household it's used as an aperitif before dinner as well. Once you get hooked, and get into a habit of always having a jar going on your window seal, you'll never see sour cherry season quite the same way.
This is a great aperitif, especially for heavier meals like moussaka or schnitzels.
P.S. If you're interested in more unusual beverages (not necessarily alcoholic), I highly recommend you try making the juniper berry juice. It's tastes like a more sour, refreshing version of lemonade. Another favorite is the elderflower cordial. It has a floral taste, but the kind of flower you'd like to drink over and over. And for the daily favorite, there is of course, Bosnian coffee.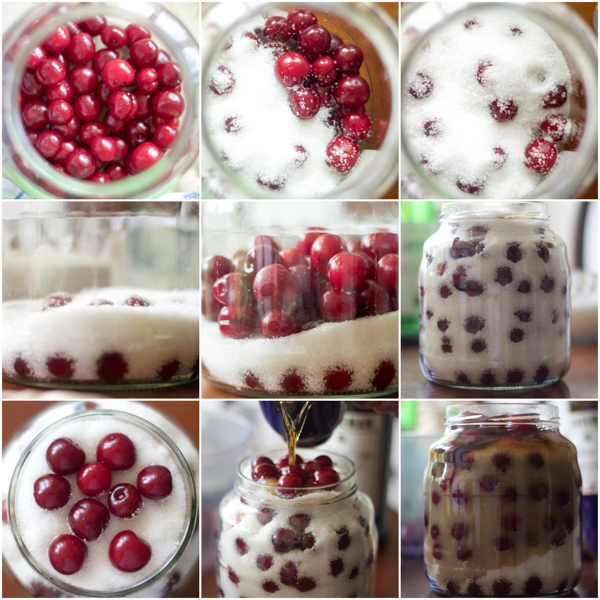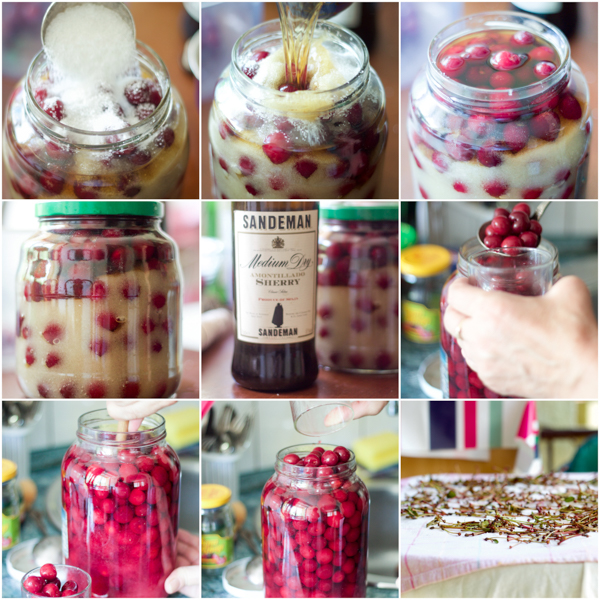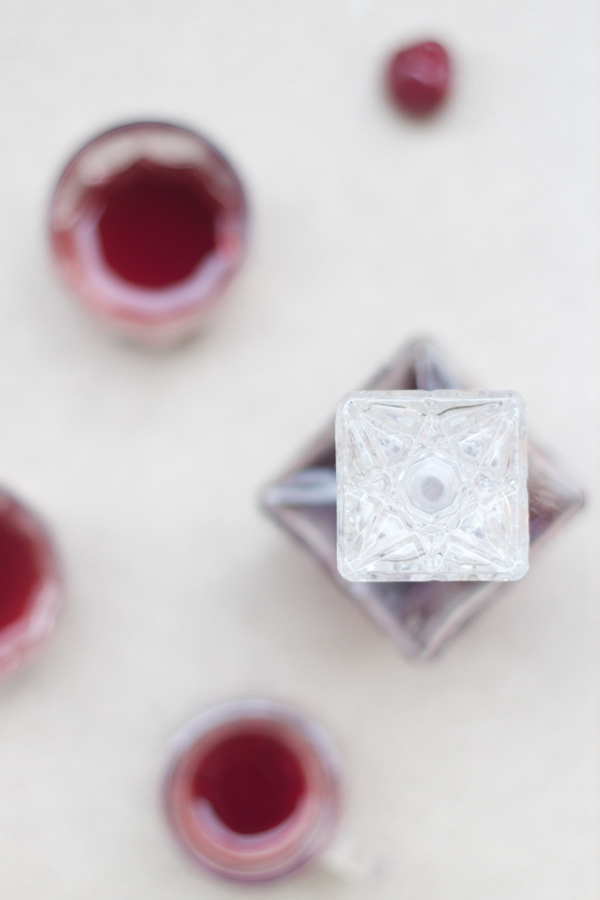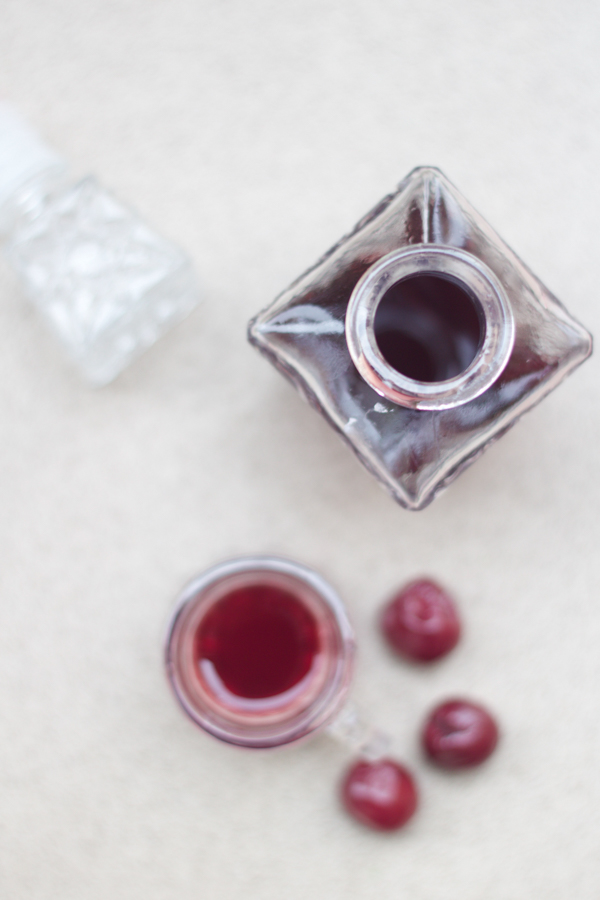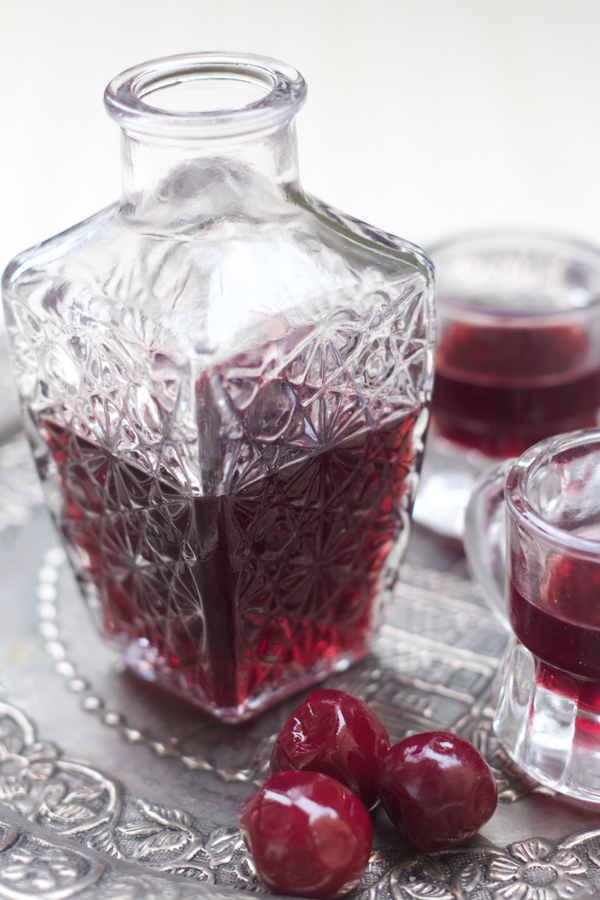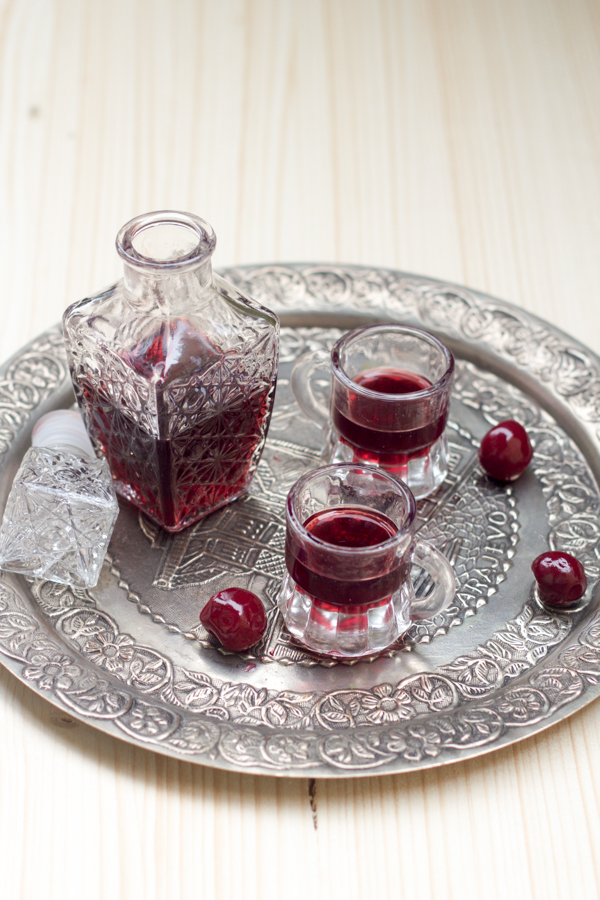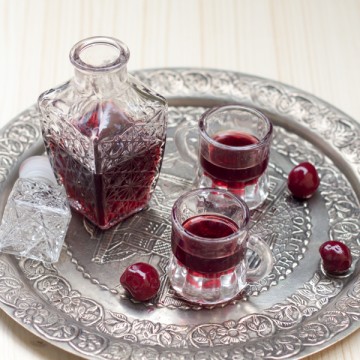 Sour Cherry Brandy (Višnjevača)
Ingredients
3

cups

sugar

4

cups

sour cherries

1.5

cups

brandy

read last paragraph above, plum, cherry, or vine brandy will work

1

jar that can hold the volume of 7-8 cups

approximation
Instructions
Destem sour cherries. Get rid of damaged ones or the ones with worms. Wash the remaining, destemmed cherries. (Optional: make sour cherry stem tea by drying the stems on a table for a few days.)

Layer sour cherries and sugar in the jar. Start with sour cherries, then generously cover with about 4 tablespoon of sugar. Repeat until you fill the entire jar.

Pour brandy in the filled jar slowly. Pour as much brandy as the jar can take. This process may take a few minutes. (My jar took about 1.5 cups after sugar and sour cherries. Yours may take more.) If space allows, add more sugar on top, and fasten the lid.

Take the jar outside, and leave in direct sunlight (or a place with a lot of light) for about 40 days or 6 weeks.

Every 4-5 days take a spatula with a long handle and mix the sugar and sour cherries well. Undo the lid, take out a few cherries from the top and mix thoroughly. Return sour cherries to the jar and fasten the lid.

After 40 days, strain the brandy into glass bottles. Keep remaining sour cherries to use in a dessert.

Serve sour cherry brandy (višnjevača) with dessert, with coffee, or as an aperitif.