Bosnian coffee, aka bosanska kafa (kahva, kava), is strong, dark, and rich. If you want to learn the most authentic, traditional way how to make Bosnian coffee, and how it's different from Turkish coffee, you're in the right place! With decades of Bosnian coffee making between us, we'll teach you everything we know about this mind-blowing drink. Shall we?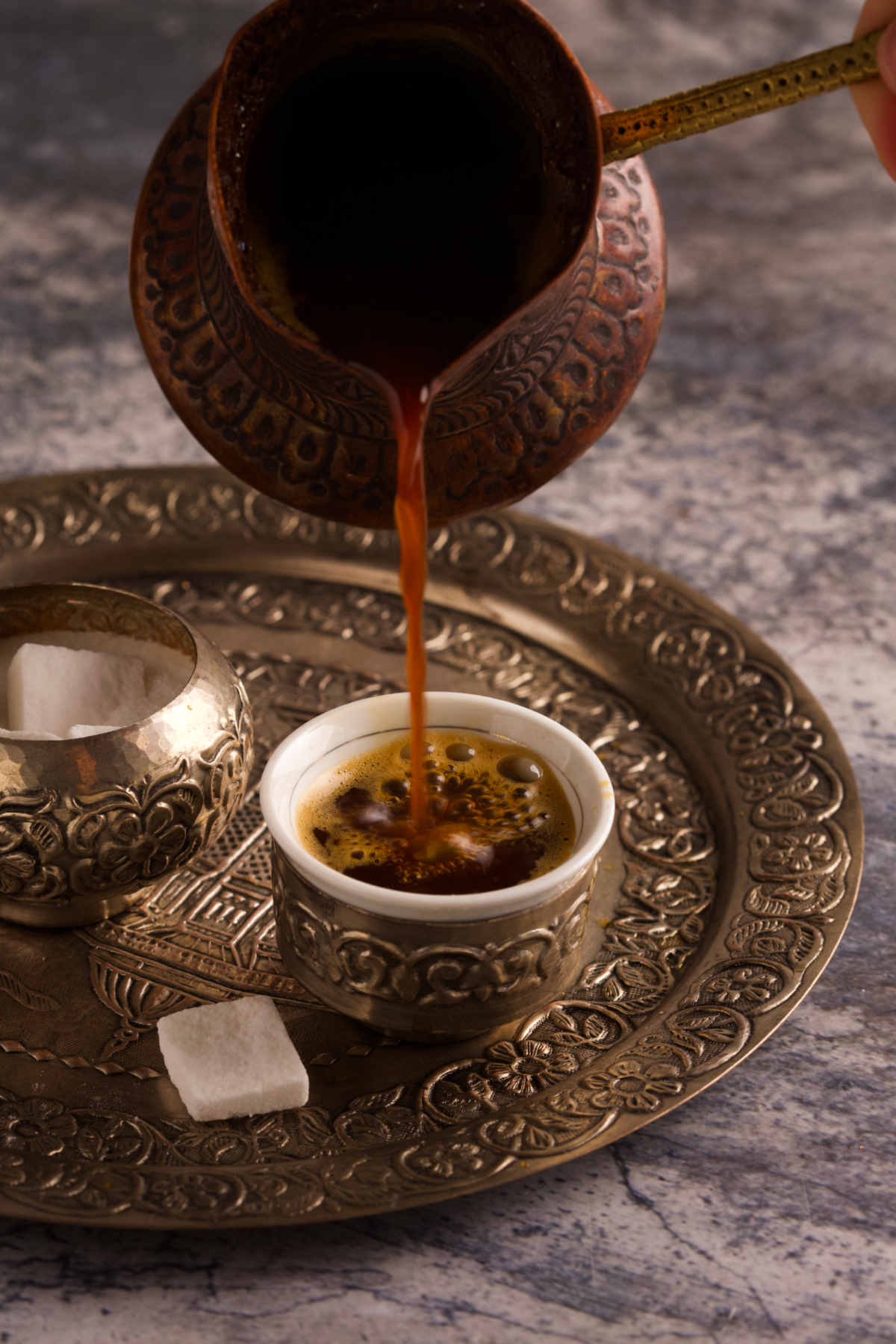 Jump to:
Background
Did you know that Bosnians and other Balkanians have been drinking coffee for a century before other Europeans?
Oh yes! Ever since it was brought over by the Ottomans (15th or 16th centuries), coffee has been a part of daily life for people in most Balkan countries, especially Bosnia.
Here, coffee is not just a drink.
Coffee is a great part of the culture. In fact, kafendisanje or kafenisanje is a verb, in the literal sense meaning to do some 'coffee-ing.'
But really, the true meaning of 'coffee-ing' is about
sitting down to enjoy life,
spending precious time together, or even
taking a moment out of life just for you.
(Want to know more? Look below at our Bosnian coffee slang section!)
Coffee made this way is prepared throughout the ex-Yugoslavia including Croatia, Serbia, Montenegro, Slovenia, Macedonia, and Kosovo. There it usually goes by 'domaća kafa' or homemade coffee.
In Bosnia, coffee is sometimes called kahva with an 'h,' or kava with a 'v,' but most times it's just kafa. However, in cafes it might be called domaća kafa also, to differentiate it from an espresso.
What is the difference between Bosnian and Turkish coffee?
While rooted in, and similar to, Turkish coffee, Bosnian coffee is made and served a little bit differently.
The main difference between Turkish coffee and Bosnian coffee is that tea is the number one drink in Turkey today, while Bosnians prefer coffee over any other drink.
Nonetheless, let's address these differences and similarities between Bosnian coffee and Turkish coffee further, keeping in mind there will be some generalizations.
Similarities in preparation
Both refer to the way the coffee is brewed, not the coffee itself. (The coffee bean was most likely brought to the Ottoman Empire from Yemen.)
Both use regular Arabica, medium roast. Back in the day, many people used to buy raw beans at the market, and roast them at home.
Both coffees are unfiltered and use coffee beans ground to a fine powder.
Bosnian and Turkish coffees are cooked in small pots with a long neck, (called džezva in Bosnian or cezve in Turkish).
Differences in preparation
Turkish coffee is about twice as strong as Bosnian coffee. Generally, for Turkish coffee, two teaspoons of coffee (about 7 grams) per demitasse cup are used. In Bosnia, the ratio is about one teaspoon per demitasse cup.
When cooked, Turkish coffee is placed in cezve together with the water and brought to a boil together. (Sometimes, sugar is also added.)
Meanwhile, there are two usual ways people make coffee in Bosnia. Both involve boiling the water first and then mixing it with coffee in džezva.
For Bosnian coffee, it's important to bring coffee to a boil a few times so that more of the thick foam, called kajmak, forms on top.
There is kajmak foam in Turkish coffee too, but it's usually formed as the coffee is cooked. Returning coffee to the heat in Turkey is considered over-extraction and thought to cause bitterness.
(Even though, back in the day, it was a custom in Turkey to return the coffee to the heat three times to get that wonderful foam going.)
Meanwhile, in Bosnia, there is a saying "give me a bitter coffee, for my life is sweet." As it's usually consumed with sugar and sweets, the juxtaposition of bitter coffee against the sweet is actually a welcomed taste.
Similarities in serving
Bosnian and Turkish coffees are strong and black. However, people drink them with sugar, sweets, and milk, as preferred by each individual.
Often, both coffees arrive with a small confection treat called lokum (in Turkey), or rahat lokum (in Bosnia), (aka Turkish delight in the US).
Traditionally, both were served in small ceramic cups, (called fildžan in Bosnian or kahva fincan in Turkish).
Today, Turkish and Bosnian coffees are also often served in espresso or demitasse cups.
Although served in small cups, Bosnian and Turkish coffees last longer than Starbucks coffee because they are to be sipped, not gulped.
Differences in serving
Turkish coffee is poured immediately after it's cooked without regard for how much toz (coffee ground remains) will end up in a cup. (This is what makes Bosnians believe that Turkish coffee is actually the bitter one!)
To serve Bosnian coffee, first, a little bit of kajmak foam is poured in each cup with a teaspoon. Then the coffee is poured slowly, ensuring that most of toz stays in džezva. (Some will end up in the cup anyway.) Kajmak raises to the top. It's the sweetest part of coffee.
In Turkey, the coffee pot is usually returned to the kitchen soon after the coffee is poured.
In Bosnia, more often than not, the coffee pot stays with the coffee so that you can pour more later.
Equipment
Bosnian coffee is often brought out in a coffee set that includes a personal-sized džezva, a coffee cup, and a sugar pot on a tray.
However, there are only two things you definitely need for Bosnian coffee.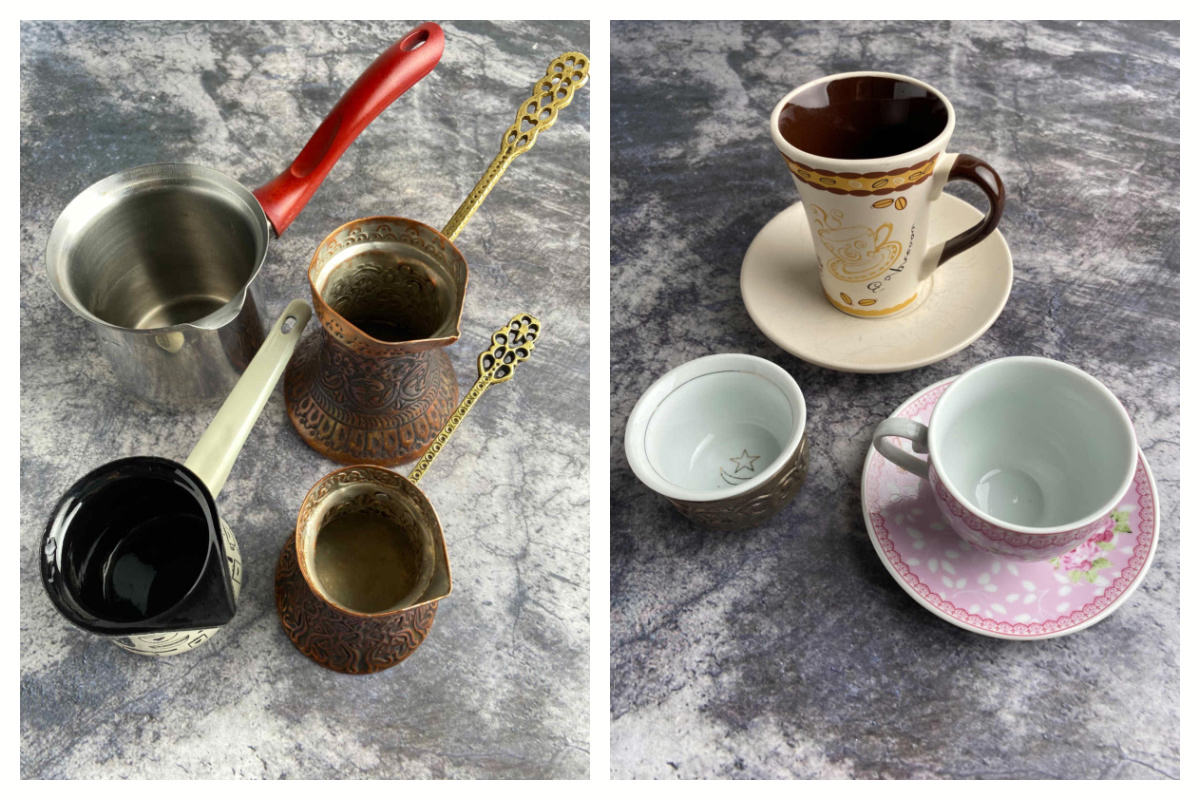 Džezva: a coffee pot with a long neck. There are many options on Amazon for about $20-$30. (Look for cezve, or Turkish coffee pot, when searching.)
Fildžan, Demitasse, or espresso coffee cups.
(Optional) There is also a long-handle teaspoon that comes in handy, as pictured with the ingredients.
Ingredients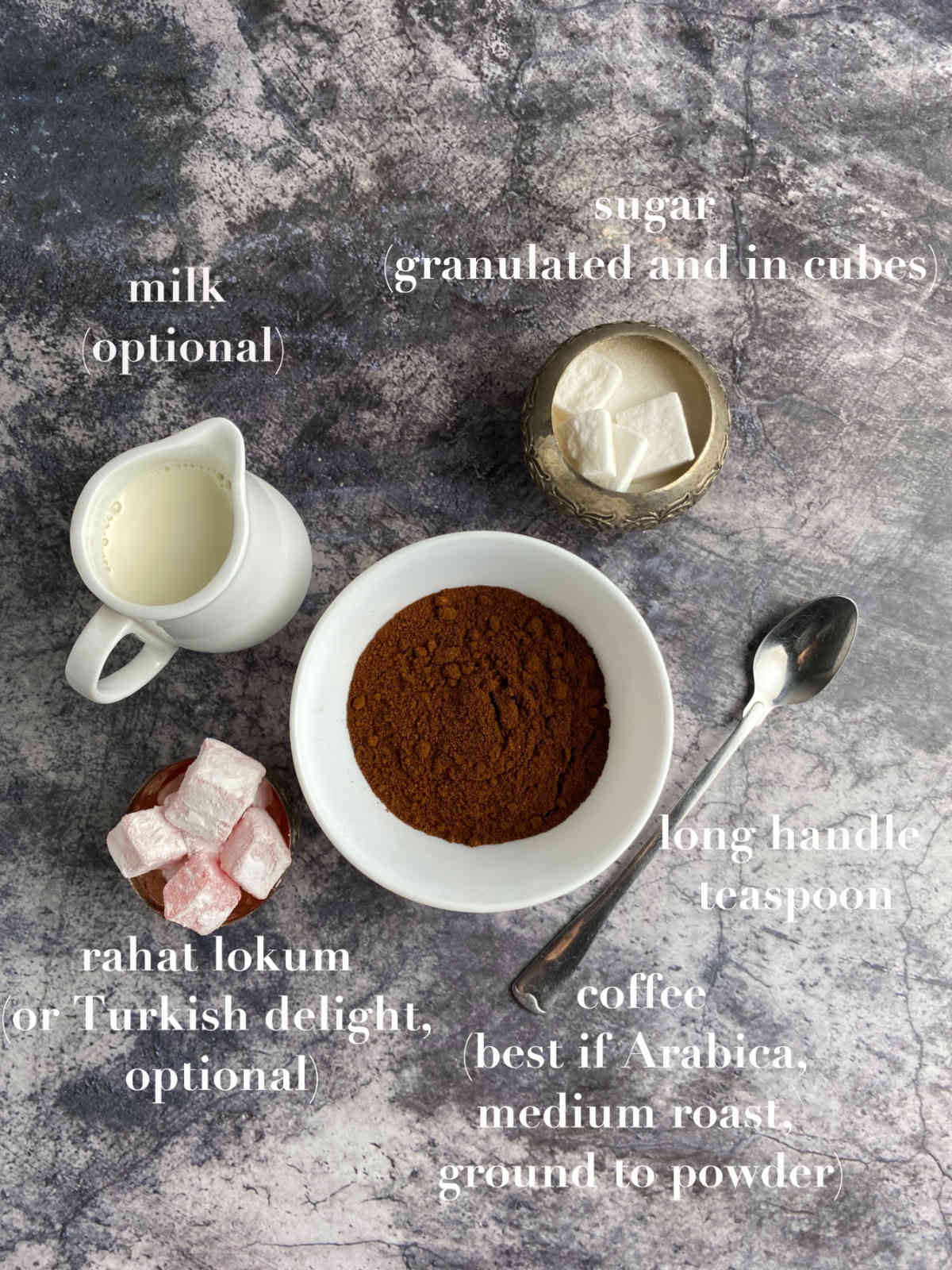 Coffee: medium roasted Arabica is your best choice. Alternatively, use any type of coffee grounds of choice, but make sure they're ground down to a fine powder.
Sugar: preferably cubes or regular sugar.
Milk: this is if you take your coffee with milk. Substitute with milk of choice.
Rahat lokum: Bosnian form of Turkish delight. Optional, but nice.
Water: a glass of water.
(Optional) Dessert: any type of Balkan dessert like Tufahije poached apples, baklava, or rose. Alternatively: chocolate, candy, or similar.
Instructions
Two very similar methods are used to make Bosnian coffee.
Method 1.
Step 1. Bring water to a boil in a deep pot. Lower temp. Put your coffee grounds into a coffee pot. (Optional) Heat up coffee grounds on the range for 30 sec.

Step 2. Pour water into the coffee pot ¾ of the way. Quickly stir. Cook for a few minutes, and wait for the foam to rise.

Step 3. Let the foam rice. Remove off heat. Let the foam settle down.

Step 4. Add more water. Let the foam rise again. Remove off heat, let rest, then serve.
(Optional and not pictured) Repeat the last step without adding any more water.
Method 2.

Step 1. Heat up water in the coffee pot. When it boils pour some out.

Step 2. Add coffee grounds, and stir quickly. Add the water that you poured out.
Step 3. Let the foam rise and subside, and again slowly rise.
Expert Tips for Bosnian Coffee
Coffee:
For the best taste, use freshly ground coffee.
Buying smaller amounts of coffee is better as the freshest coffee shouldn't be exposed to air too much.
If you really want to take your Bosnian coffee game to the next level, buy green (raw) coffee beans, and roast them yourself.
Preparation:
Bring the water to a boil on your stove instead of using an electric kettle.
For an even better taste, 'roast' the coffee for a minute before adding the boiling water to the pot.
Use an old-school coffee bean grinder you have to operate yourself.
After you combine water and coffee, stir it quickly, and then don't stir again while it's cooking.
After cooking, wait a few minutes for the coffee to settle down before you pour it.
Recipe FAQs
What does Bosnian coffee taste like?
Bosnian coffee is strong and has a slightly chocolatey flavor. It is deep, rich, nourishing, and fragrant. It is meant to be sipped over a period of time. It can be softened further with the addition of sweets, sugar, or milk.
Why is Bosnian coffee so strong?
Bosnian coffee is strong because it isn't filtered. Instead, finely ground coffee beans are combined with boiling water and cooked for a few minutes. However, Bosnian coffee can be made less strong with milk or milk substitutes. After a while, most people find they find the strong taste comforting.
How was Bosnian coffee traditionally served and consumed?
Traditionally, Bosnian coffee was served similarly to today, with a glass of water and a rahat lokum (known in the US Turkish delight). However, it was expected that a person would first eat the rahat lokum, then drink the water to quench the thirst. It was only at this point that they started on the coffee.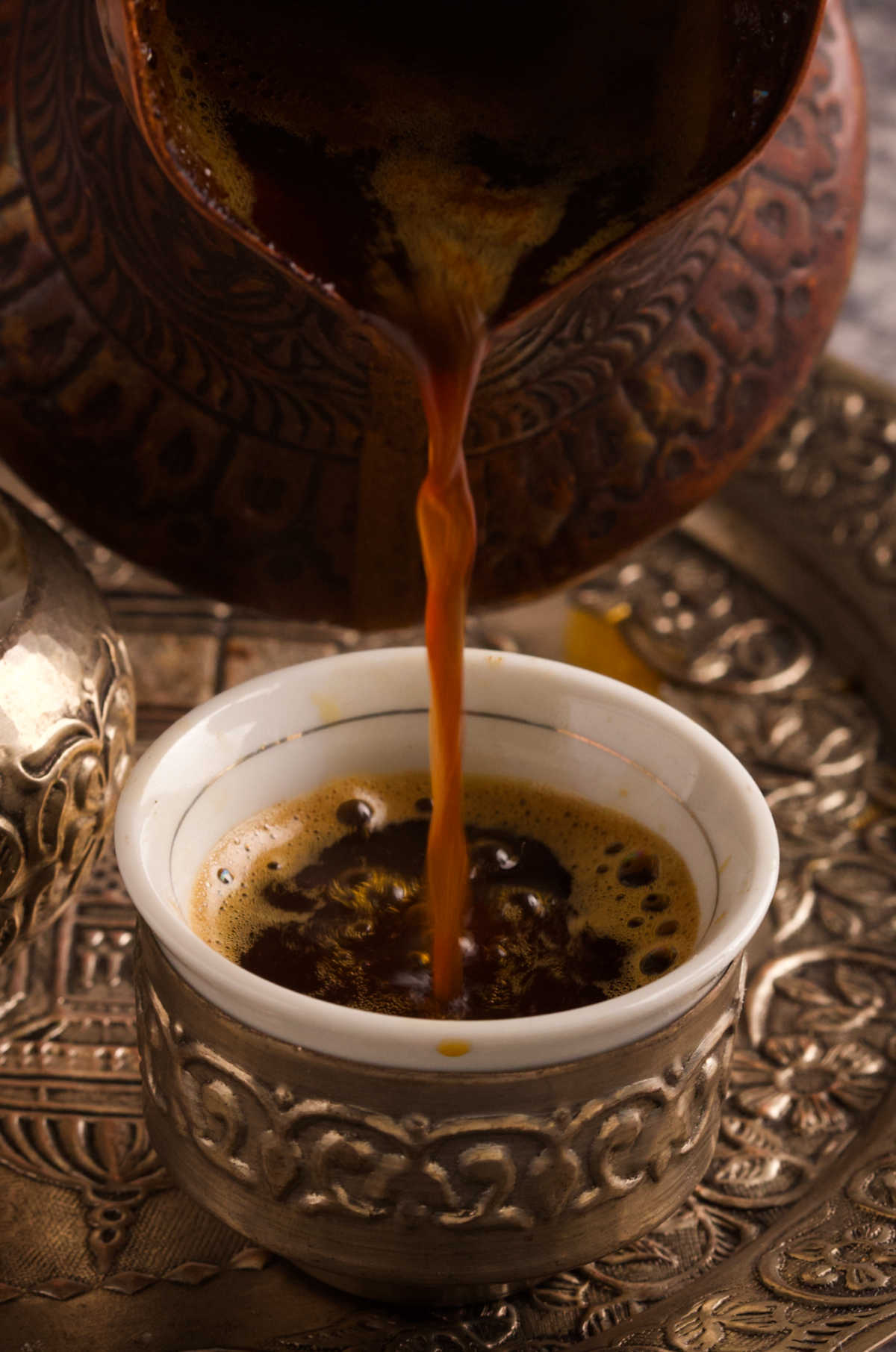 Fun Facts!
In slang, Bosnian coffee has different names depending on the time or situation when it's consumed. (Each of these coffees is more or less made the same way, this is more about the situation you will be drinking it in!)
Krmeljuša (krmelj means sleep crust) is the first morning coffee meant to wake you up.
Razdremuša (drijemati means to take a nap, raz comes from razbiti or to break) will wake you up after napping.
Dočekuša (dočekati is Bosnian for 'welcoming someone') is made to welcome guests.
Doljevuša (doljevati means to pour more, in this case, more water to the coffee beans already in the pot) is watered down to passively aggressively let the guests know it's time to leave.
Sikteruša (siktir is Turkish for 'get out') is kind of like doljevuša.
Razgovoruša (razgovor is Bosnian for 'conversation') is made for hanging out with friends.
Tračuša (trač is Bosnian for 'gossip') is made for a gossip session.
Srkletuša (srklet means annoyance or upset) is made when you're upset.
Merakuša (merak is bosnian for 'enjoyment, relaxation') is made to enjoy.
Sehur kahva (kafa) and iftar kahva (kafa) are made during Ramadan, the former in the morning before the fast, and the latter after the fast.
Proćeruša (protjerati is Bosnian for 'expel' or 'remove') is the coffee you make to end constipation. Yup, we saved the best for last! 😂
Thoughts?
If you make today's Bosnian coffee (bosanska kafa, kahva, kava), and like it, please consider leaving a ⭐️⭐️⭐️⭐️⭐️ (5-star) rating. This will help others find the recipe more easily!
You can also leave a comment, we read EVERY one! Finally, if IG is more your thing, consider tagging us @balkanlunchbox.
Prijatno and bon appetit!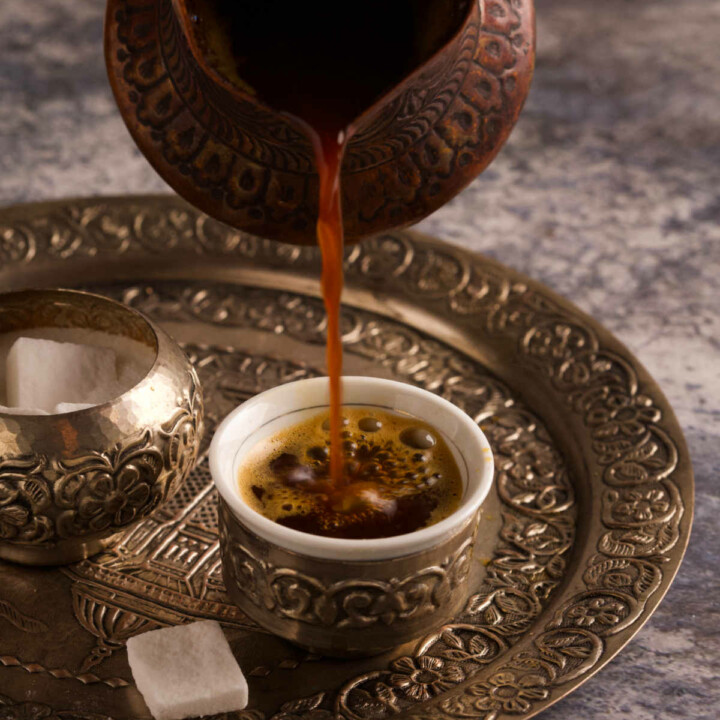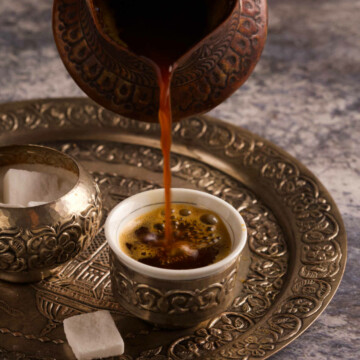 Bosnian Coffee (Bosanska Kafa, Kava, Kahva)
The traditional way to make Bosnian coffee. Rich, dark and delicious.
Equipment
1 Turkish coffee pot cezve or džezva

the volume of the same will determine how much coffee you'll need;

demitasse or fildžan coffee cups

(Optional) long handle teaspoon
Ingredients
water

enough water to fill your džezva coffee pot plus a filldžan cup more; before cooking, measure how many demitasse or filžan coffee cups of water your coffee pot holds

finely ground medium roast Arabica coffee (other types will do as long as they're ground to a fine powder)

amount of coffee depends on the volume of your džezva; think one heaping teaspoon per a coffee cup

(Optional) Sugar cubes, milk, sweets (like rahat lokum) or dessert
Instructions
Method 1
Fill a deep pot with water about one and a half times the volume of your coffee pot. Bring to a rolling boil on high and let it boil for a minute. Remove off heat. While the water is heating up, put your coffee grounds into a coffee pot (džezva).

(Optional) Before adding boiling water to the coffee pot, place the coffee pot with coffee grounds on the hot range, and heat it up for 30 seconds or so, shaking or stirring the coffee pot lightly.

Bring the temperature down to low. Pour boiling water into the coffee pot with coffee grounds about ¾ of the way, leaving a little bit of empty space in the pot. Stir the coffee quickly and well so that the mounds of coffee break apart, then remove the spoon. Cook for a few minutes, and don't step away. The coffee will form a light brown foam on top and start to rise.

Once the coffee rises and is almost about to spill from the pot, remove the pot from the hot stove ring, and let the coffee and foam settle down for a few seconds.

Slowly pour some of the remaining boiling water into the coffee pot to top it off, and return the coffee pot to the range. Cook coffee a short while more, until the foam starts to rise again. Remove the coffee pot from the heat just as the foam reaches the top again. (You can repeat this step once or twice if you wish.)
Method 2
Fill up a džezva coffee pot with water (all the way), and bring it to a boil on high. When it boils, take a coffee cup, and empty some of the water out into it. Bring the temperature down to low.

Add the coffee grounds into the coffee pot while stirring very quickly. (You may have to remove it from the heat for a moment so it doesn't spill over.) Once the coffee subsides in the pot, pour the water you took out into the coffee pot.

Cook coffee a short while more, until the foam starts to rise again. Remove the coffee pot from the heat just as the foam reaches the top again. (You can repeat this step once or twice if you wish.)
Serving Bosnian Coffee
Leave the coffee to rest for 3-4 minutes. When you're ready to serve it, start by grabbing a teaspoon of the foam and adding it to each cup first. Then pour the coffee in, slowly. This will allow the foam layer to rise to the top of each cup. Serve with rahat lokum, sugar, or milk, and a glass of water.
Notes
Your measurements will depend on the size of the coffee pot you're using. The measurement used in this recipe is 1 teaspoon for every cup of water. After you've made coffee this way a few times, you'll find out if you like it stronger or weaker and can adjust accordingly.
Some people will put sugar in the coffee while it's being made. However, this is a personal preference. If you're making it for yourself and a friend, you'd never assume how sweet they like their coffee and you'd serve it along with the coffee, not in it. 
More Recipes to 💙