Bosnian Coffee. Smooth, dark, strong. Unforgettable!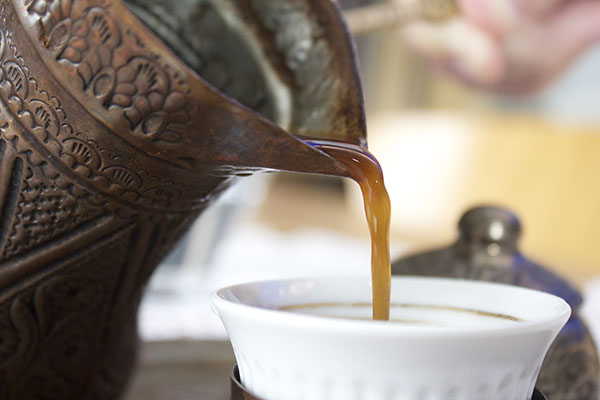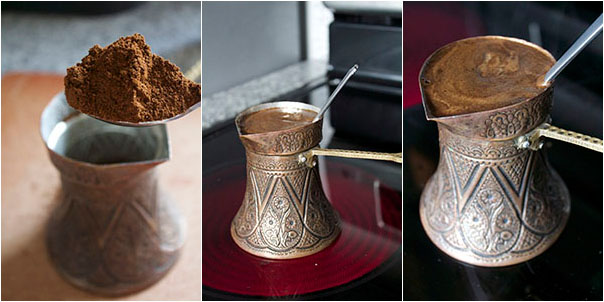 If by chance someone from the Balkans offers you coffee, don't expect to leave soon. Coffee is the culture. It's a verb. It's what you do to keep yourself sane. It's also a way to show someone they mean something to you. It's a time investment one is making, and if they've invited you this means they think a lot of you.
If you've never had it before, it's deep and rich, and just a tiny bit weaker than traditional Turkish coffee. It's prepared in the coffee pot called "džezva," and you can easily find it on Amazon, C&B or Sur La Table (look for a Turkish coffee pot). It's served in small espresso cups.
Trust me, you only want a cup or two, and you sip it slowly.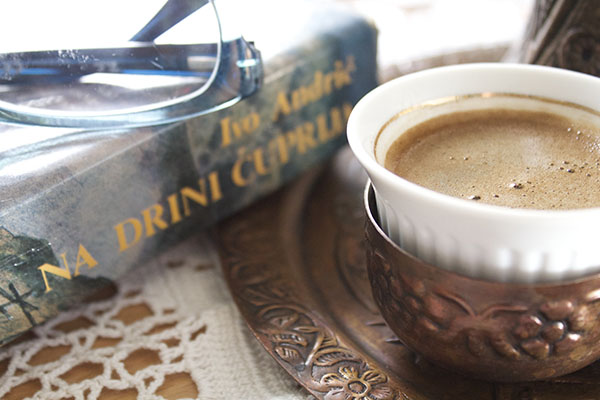 Bosnian Coffee (Bosanska Kafa, Kava, Kahva)
The traditional way to make Bosnian coffee. Rich, dark and delicious.
Equipment
1 Turkish coffee pot cezve or džezva

the volume of the same will determine how much coffee you'll need

Demitasse coffee cups or fildžan coffee cup
Ingredients
2

and ½ cups water

1

and ½ teaspoon finely ground medium roast Arabica coffee

other types of coffee will work too, as long as they're ground to a fine powder

(Optional) Sugar cubes, milk, sweets (like rahat lokum) or dessert
Instructions
Fill a deep pot with water about one and a half times the volume of your coffee pot. Bring to a rolling boil on high and let it boil for a minute. Remove off heat. While the water is heating up, put your coffee grounds into a coffee pot (džezva).

(Optional) Before adding boiling water to the coffee pot, place the coffee pot with coffee grounds on the hot range, and heat it up for 30 seconds or so, shaking or stirring the coffee pot lightly.

Bring the temperature down to low. Pour boiling water into the coffee pot with coffee grounds about ¾ of the way, leaving a little bit of empty space in the pot. Stir the coffee quickly and well so that the mounds of coffee break apart, then remove the spoon. Cook for a few minutes, and don't step away. The coffee will form a light brown foam on top and start to rise.

Once the coffee rises and is almost about to spill from the pot, remove the pot from the hot stove ring, and let the coffee and foam settle down for a few seconds.

Slowly pour some of the remaining boiling water into the coffee pot to top it off, and return the coffee pot to the range. Cook coffee a short while more, until the foam starts to rise again. Remove the coffee pot from the heat just as the foam reaches the top again.

(Optional) You're welcome to repeat the last step without adding any more water.
Serving Bosnian Coffee
Leave the coffee to rest for 3-4 minutes. When you're ready to serve it, start by grabbing a teaspoon of the foam and adding it to each cup first. Then pour the coffee in, slowly. This will allow the foam layer to rise to the top of each cup. Serve with rahat lokum, sugar, or milk, and a glass of water.
Notes
Your measurements will depend on the size of the coffee pot you're using. The measurement used in this recipe is 1 teaspoon for every cup of water. After you've made coffee this way a few times, you'll find out if you like it stronger or weaker and can adjust accordingly.
Some people will put sugar in the coffee while it's being made. However, this is a personal preference. If you're making it for yourself and a friend, you'd never assume how sweet they like their coffee and you'd serve it along with the coffee, not in it. 
The alternative cooking method for Bosnian coffee
There is another, equally used way to make Bosnian coffee. Here it is in short steps. 
Heat up the water in the coffee pot. When it boils, pour some of that water into a coffee cup. 
Add coffee grounds, stir quickly, and return to the heat. Bring to a boil to form the foam ensuring the coffee doesn't run out of the coffee pot. 
Finally, remove from heat and let the foam subside, then add the water you took out back in. Return it to the heat again for the foam to rise one more time.
Why don't we make it this way? It's a great method. However, there is something about the coffee topped with water, as opposed to the water being topped with coffee that, to us, makes it taste better.
You should try both ways and report back!