Roses: Phyllo Dough Dessert with Lemon Simple Syrup (ružice) are a type of Bosnian baklava. They were named based on their round shape resembling rosebuds. Roses are delicious, easy to make, and visually stunning. Let's dig in!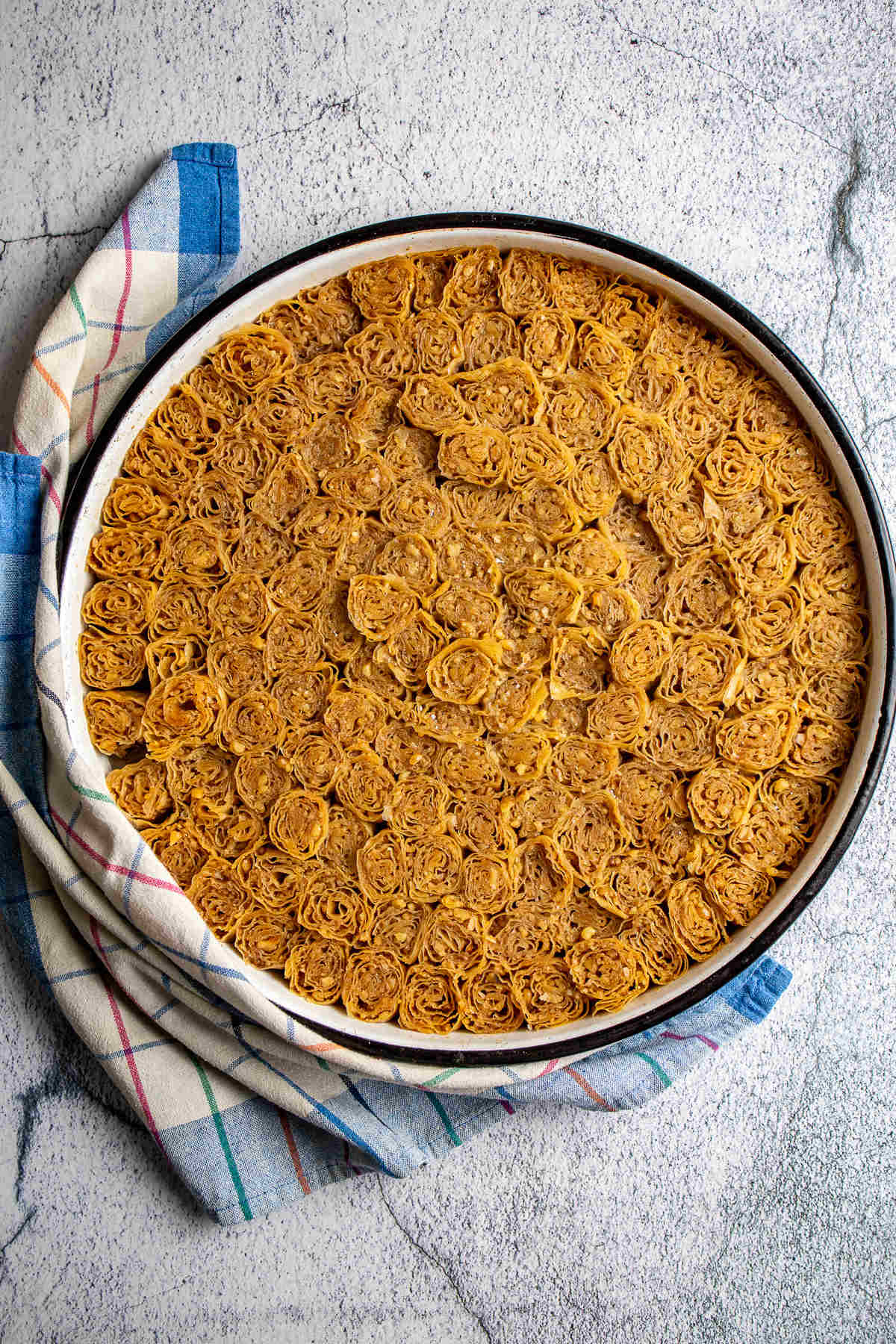 Jump to:
What Is It
Roses (ružice) are one of the most popular Bosnian desserts. I call roses 'baklava's pretty cousin.' Because they really are that beautiful! And they're related.
This 'rose baklava' is among the favorites to make for holidays like Eid, Easter, Christmas, and NYE. And if you have a craving for them, they're sold in pastry shops all year long.
In addition to ružice, roses are also known by a couple of other names:
1. đul-pita, translated as 'rose pie', and
2. agdali kolač, loosely translated as a sweet soaked in a dissolved sugar sauce. (In our case, lemon simple syrup.)
Like most phyllo dough desserts, they were introduced to the region by the Ottomans.
Why You'll Love Roses (Ružice)
Reason #1. The looks!
Instead of precise, horizontal layers, this phyllo dough dessert is first rolled like a baguette and then cut into pinwheels.
It's truly a mandala among the desserts.
Reason #2. The taste!
How to best describe roses' majestic taste?
Let's just say they soak up more of the lemon simple syrup that surrounds them than similar desserts. They are sweeter and softer. And slightly crunchy on top.
Reason #3. The lemon!
People are very cautious when making baklava. But when it comes to any other phyllo dough dessert the rules go out the window.

An example is the amount of lemon in the simple syrup.
More lemon helps add tang and sharpness. It's a perfect pairing with syrup sweetness. We never would have found this out if someone didn't experiment.
Ingredients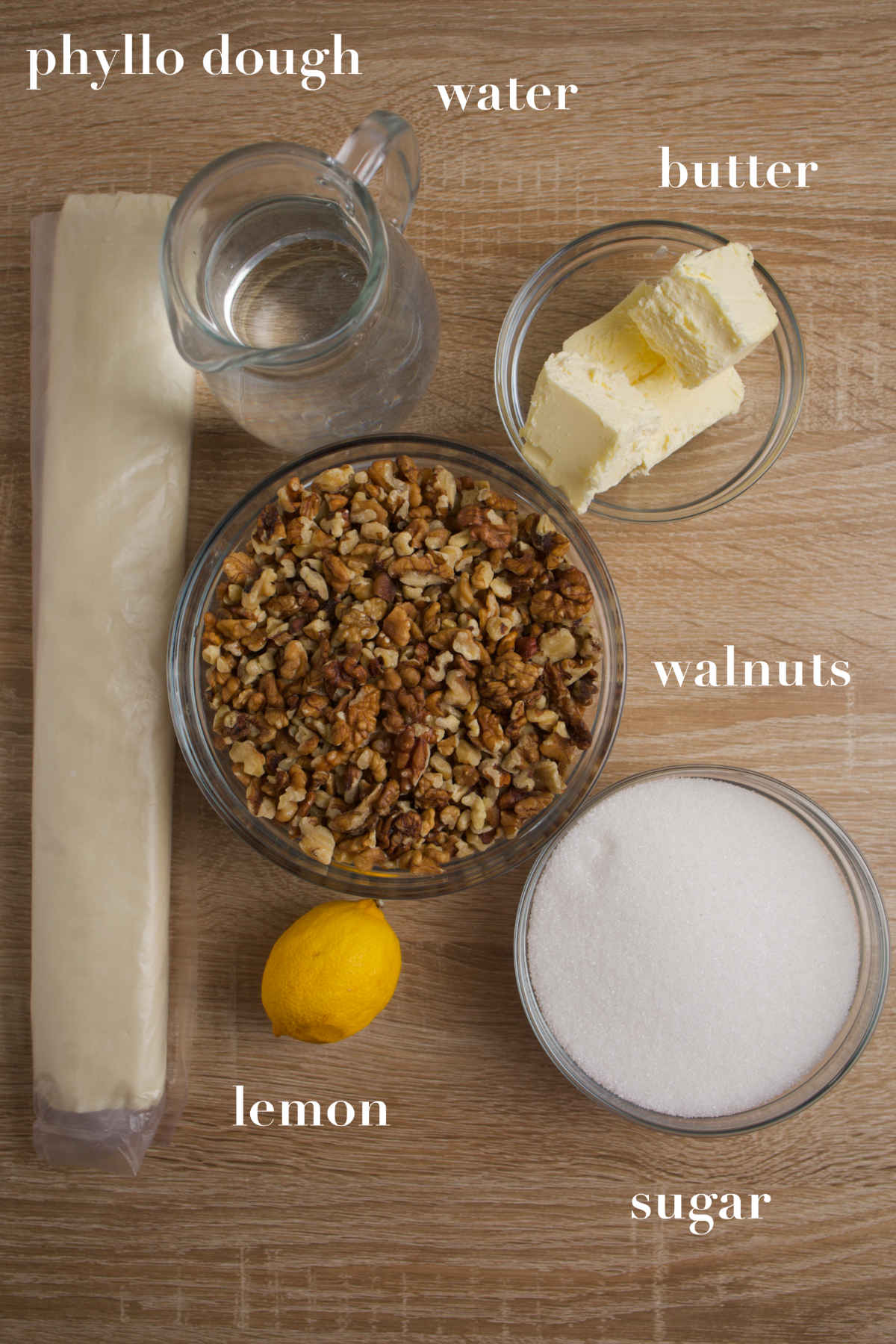 Ingredient Notes
Walnuts: The recipe asks for ground and minced walnuts (50:50). It's best to grind them yourself in a coffee, seed grinder or a food processor. If mincing in a grinder, stop yourself on time.

When buying look for the whole, deshelled, fresh walnuts. Double check that all pieces of the shell are removed. There's nothing worse than biting into the hard walnut shell, trust me on this!

You can test for freshness by smelling and inspecting them. If they smell slightly purtrid (the way oil smells when it goes bad), or have dark spots (kind of like burnt wood), they're no good.

Substitute with hazelnuts, but know that the taste will be different.
Phyllo: You need approximately 24 phyllo dough sheets (about 600g of phyllo dough). However, always buy more phyllo than you think you'll need. (Look below!)

Note: phyllo cups do not work for this recipe. Unless you make your own phyllo there is no substitute for it other than buying different brands of phyllo dough.
Butter: Get real butter. Margarine is a big no-no! Ghee also is not the best substitute as it makes this phyllo dough dessert feel heavy.
Lightning-fast Instructions

Make the filling (sugar and walnuts). (Not pictured.)
Unwrap phyllo sheets. Cut in half. Turn 45 degrees. Heat oven.
3. Layer sheets, butter and fill them. (One roll: sheet, butter, sheet, butter, filling. Sheet, butter, sheet, butter, filling.)
4. Roll phyllo and the filling like a baguette.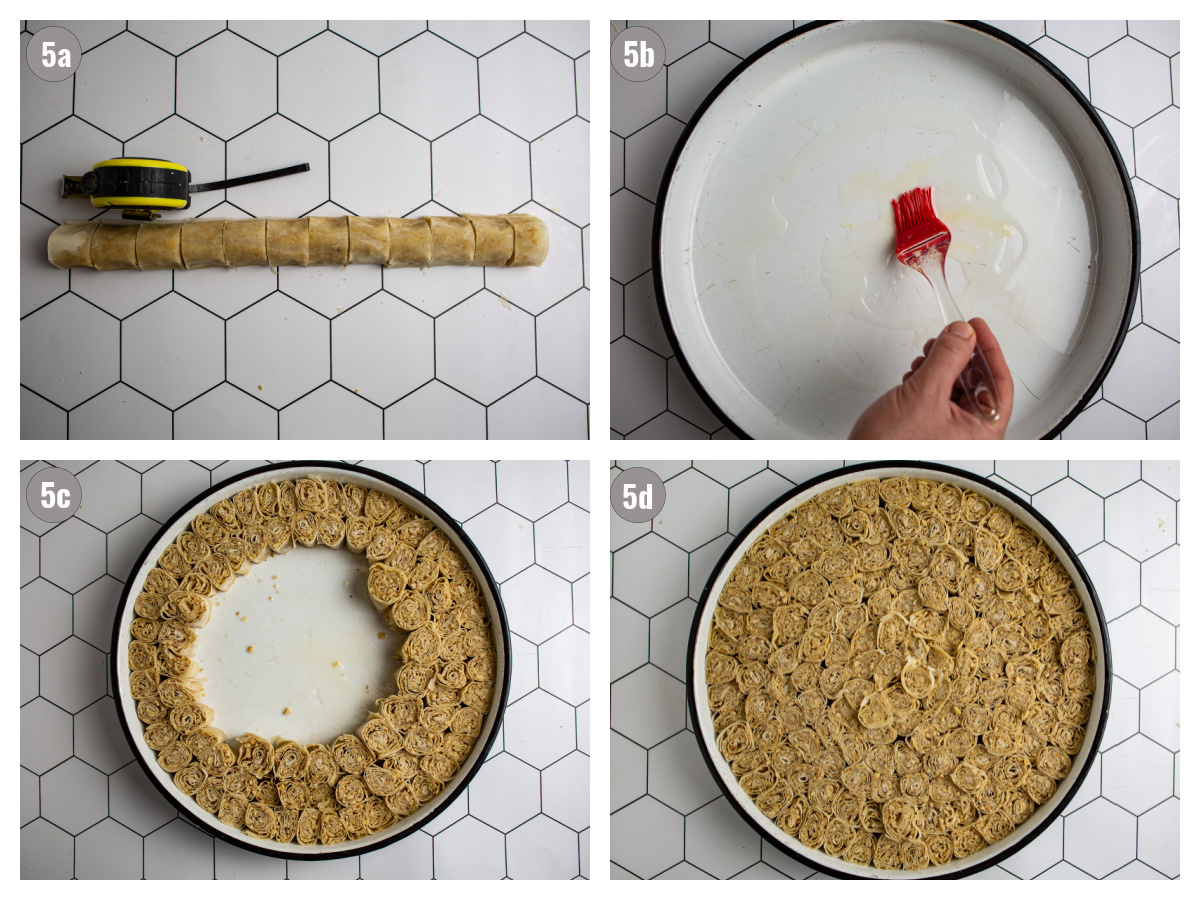 5. Cut rolls up into 1-inch pinwheels. Place in an oiled baking pan.
6. Repeat until you use all filling and phyllo.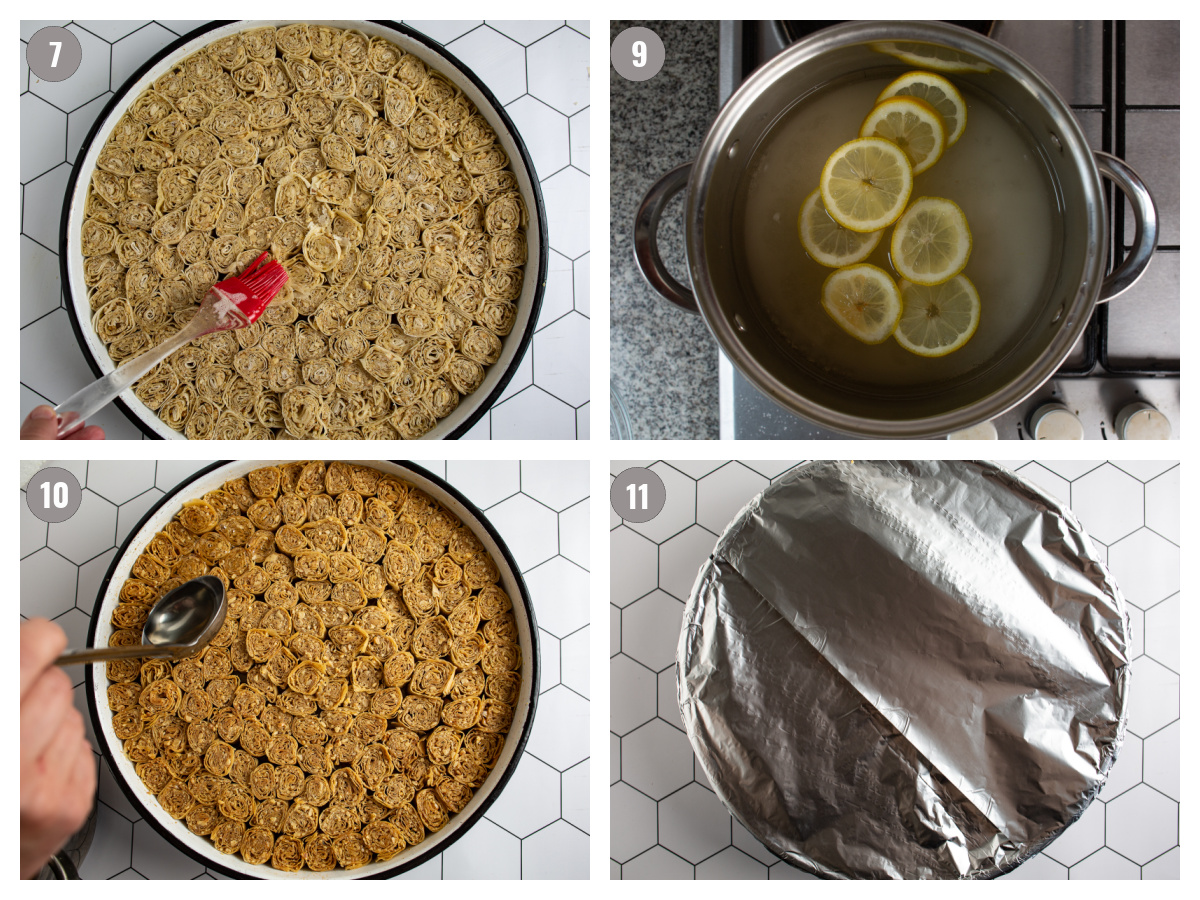 7. Butter the roses.
8. Bake them. (Not pictured.)
9. (Parallel to baking) Combine lemon simple syrup ingredients. Boil 5 min. Cool.
10. Pour cold syrup over hot roses.
11. Cover the baking pan with foil. Rest.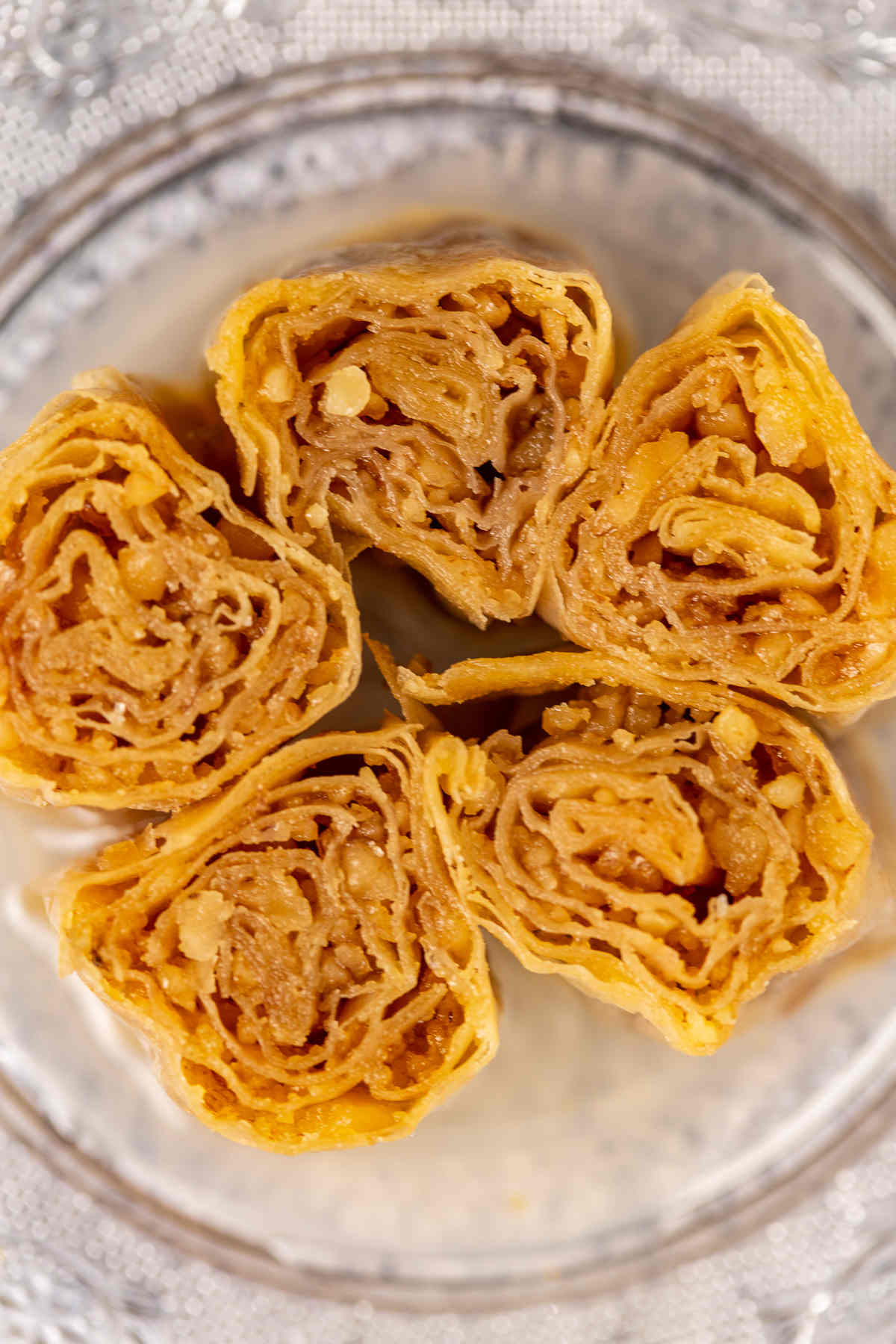 Recipe FAQs
What can be made from phyllo dough?
Countless dishes! Phyllo is elastic and versatile. It's great for dishes that require a filling. You can make savory and sweet things out of it. For example, in Balkan cuisine phyllo is used to make incredible stuff such as burek (meat pie), or desserts like plum pie.
How many layers of phyllo dough should I use?
For roses, you'll need about 48 sheets of phyllo. You'll make 12 rolls (4 sheets per roll), and cut each roll into approximately 12 pieces (for a total of about 144 pieces). It's a forgiving recipe so this is an approximation. You don't have to be exact with roses the way you're exact for baklava.
Why is lemon added in simple syrup?
There are many chemistry-inspired answers to this question. (As you heat the sugar citric acid from lemon juice hydrolyzes sucrose molecules into glucose and fructose, snore...) However, we on BLB add lemon to simple syrup for one thing only: it tastes incredible.
Expert Tips
Shaping and cutting is something you can experiment with for this dessert. Some make them thicker (6 or 8 sheets of phyllo, and more filling in each roll) and larger. This way you'll have fewer, but bigger roses.
Always buy extra phyllo, just in case. Each box is different. Sometimes the sheets come out dry, and crumbly. When working with phyllo, work fast.
Lemon simple syrup is adjustable, meaning that you can add more or less lemon juice, based on your preference.
As with most phyllo dough desserts you're essentially drying out the phyllo, not baking it. And as always, regulate your oven's temperature based on how it runs (hotter or colder).
If you prefer roses crisper keep them covered, in a cool place. If you like roses softer keep them in the fridge. The longer they're in the fridge, the wetter they'll get.
More Sweet Goodies
Would You Do Me a Favor?
If you make today's Roses (Phyllo Dough Dessert with Lemon Simple Syrup) and like it, please consider leaving a ⭐️⭐️⭐️⭐️⭐️ (5-star) rating. This will help others find the recipe more easily!
You can also leave a comment, I read EVERY one! Finally, if IG is more your thing, consider tagging us @balkanlunchbox.
Prijatno and bon appetit!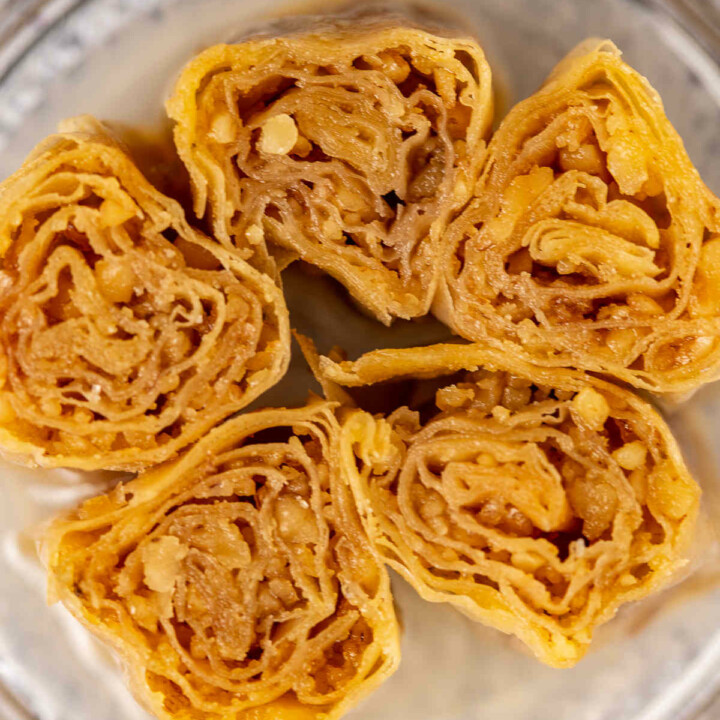 Roses: Phyllo Dough Dessert with Lemon Simple Syrup (Ružice)
Roses (ružice): Bosnian rosebud shaped baklava. Beautiful walnut and lemon taste you will have a hard time forgetting.
Equipment
One 15 inch (38 cm) round pan, or a squared one equivalent in area.
Ingredients
Roses and filling:
16-18

ounces

walnuts

deshelled, ½ minced, the other ½ ground

5

ounces

sugar

white, granulated

2

packages of phyllo

approx. 24 phyllo sheets, or 600g*

8-10

ounces

butter

melted
Syrup (agda):
3.1

cups

water

or 25.5 ounces/ 0.8 quarts

2.2

pounds

sugar

or 1kg, white, granulated

.5 or 1 lemon

sliced, seeds removed*
Instructions
Take phyllo out of the fridge, but keep it in the box(es). Let it adjust to the room temperature for at least an hour.

In a large bowl combine minced and ground walnuts together with sugar. Mix the filling until well integrated. 

Unwrap phyllo and transfer it to your working space. Cut sheets in half on the shorter edge. Heat oven to 300°F (150°C). 

Take one sheet of phyllo (that's been cut in half). Gently brush it with butter. (It should be well-buttered, but not drenched.) Take another (second) cut sheet of phyllo and place directly on top of the first. Brush with butter again. Now take one handful (about 2.5 teaspoons) of the filling. Evenly spread the filling in the middle of the phyllo sheet keeping away 1-2 inches from the bottom and top edges. Take another (third) sheet of phyllo  and place on top of the filling. Brush it with butter. Then take the final (fourth) sheet of phyllo and place on top of the third. Top this with a handful of the filling again using the same technique.  (Basically you're stacking 4 sheets of phyllo on top of each other, buttering them in between, and placing two rounds of filling in between, one on the second phyllo sheet and one on the fourth.)

Starting from the edge closest to you roll up the sheets of phyllo and the filling until you get one tight, filled roll. Roll gently, but tightly. Phyllo may break here or there, so don't worry. Patch it up the best you can and continue rolling. Previous buttering should help the sheets not break as much. 

Cut your roll as you would a baguette, into small rounds that are approx. 1-inch (2.5cm) thick. You should get about 12 rounds (roses) from one roll. Place the rolls into a round, oiled baking pan. Again, place them tightly but gently next to each other. Arrange roses in the pan from the outside in (large circle to small).   

Repeat steps 5-7 until you run out of the ingredients. You should have about 11-12 rolls, or about 134-144 roses. 

Pour remaining butter over the roses in the pan. 

Place pan in the oven and bake between 1 hour and 30 minutes to 1 hour and 45 minutes. Turn the baking pan around once about halfway through baking. The roses should be light brown, but not burnt. 

(As soon as the roses start baking make the syrup.) In a large pot bring sugar, water and lemon to a boil on high. Stir well once or twice so that the ingredients combine. Lower to medium and let boil for 5 minutes. Take the syrup off the stove and let cool. The syrup should be completely cooled by the time roses are out of the oven. 

Once the roses are done baking, turn the oven off and leave them in for an additional 5 minutes. 

Take the roses out of the oven, and using a ladle gently and evenly pour cold syrup over them. Roses should be completely covered in syrup except for the top couple of millimeters (¼ inch).  Cover pan with foil and leave overnight in a cool place so that the roses absorb the syrup. 

Serve few roses at the time pouring a little bit of syrup from the pan over them.  Keep in fridge for up to a week. 
Notes
Carefully check that all the shells have been removed from the walnuts.

 
Buy a little bit more phyllo than you think you'll need as the sheets can dry and crumble, or break. Work fast.

 
Adjust lemon to taste. If you like it more lemon-y use the whole. You can even juice one half, and slice the other.

 
Step 1: You can mince with grinder, however make sure to stop on time. You don't want all the walnuts to be ground.

 
Step 5: Filling volume is an approximation. Use enough to have for 12 rolls, and each roll gets 2 rounds of the filling.

 
Step 9: Just like with baklava you're actually drying the dessert more than baking it.

 
Step 10: Baking time will depend on your oven. You may have to adjust it a bit. Just make sure the roses are nicely brown, not burnt.

 
Step 12: You can keep lemon slices or discard them.

 
Step 13: Roses go great with vanilla ice cream. Note that the more they stay in the fridge the soggier they'll get. Try to consume them within a reasonable time. For crunchier taste keep in a cool, dark place outside of fridge.

 
Nutrition
Serving:
3
roses
Sodium:
7
mg
Calcium:
18
mg
Vitamin C:
1
mg
Vitamin A:
12
IU
Sugar:
29
g
Fiber:
1
g
Potassium:
58
mg
Cholesterol:
1
mg
Calories:
188
kcal
Monounsaturated Fat:
1
g
Polyunsaturated Fat:
5
g
Saturated Fat:
1
g
Fat:
8
g
Protein:
2
g
Carbohydrates:
30
g
Iron:
1
mg