If you've ever wanted to make baklava for dessert but it seemed daunting, consider making the roses (baklava's pretty cousin). Similar taste and an even greater aesthetic. And did I mention they're much easier to make?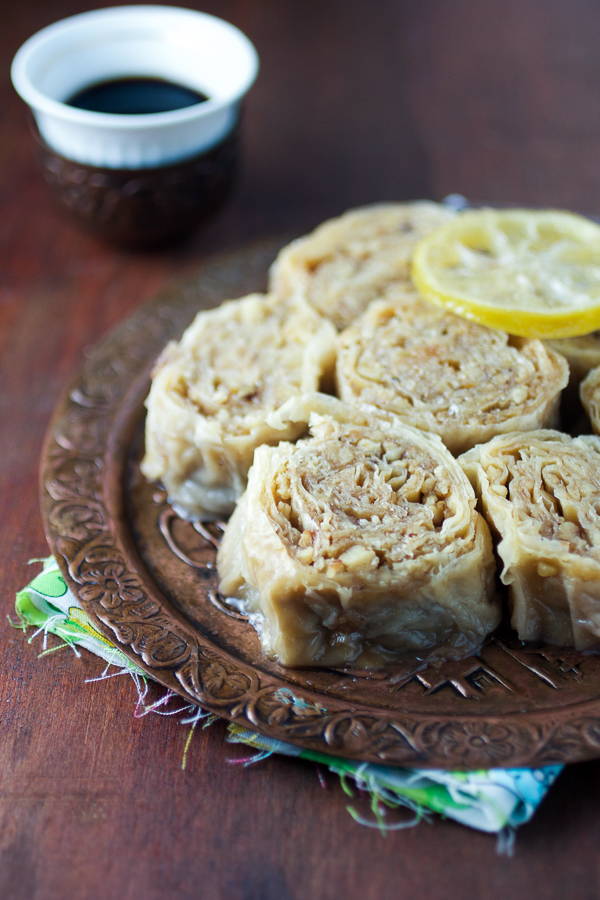 (BOSANSKI)

Roses, ružice, are a baklava-like dessert also made with phyllo dough. They share the same sweet, soft-yet-crunchy walnut taste, with hints of lemon. But instead of baklava's rather technical and precise layering method, roses are rolled up and then cut like a baguette. This results in a flower-like effect from where the dessert gets its name.
Ružice are also called đul-pita, aka rose-pie and have arrived to the region during the Ottoman rule. Again I want to clarify that they are much easier to make than baklava, but like the baklava, roses are a relatively expensive dessert. This is due to fresh walnuts that are used, which to this day are pricey in the region. As a result, baklava and roses are generally made for the holidays such as Eid, Christmas or New Year's.
Did you ever classify a dessert based on how "expensive" it is? I remember hearing my mom discuss dessert recipes' quality relative to how many quality and high priced ingredients it took to make them. An expensive cake was one that required a lot of eggs, nuts, chocolate, and other ingredients that when added together made for an pricey cake. A cheap cake and cookies generally needed flour and sugar.
It may be a regional thing. Interesting nevertheless.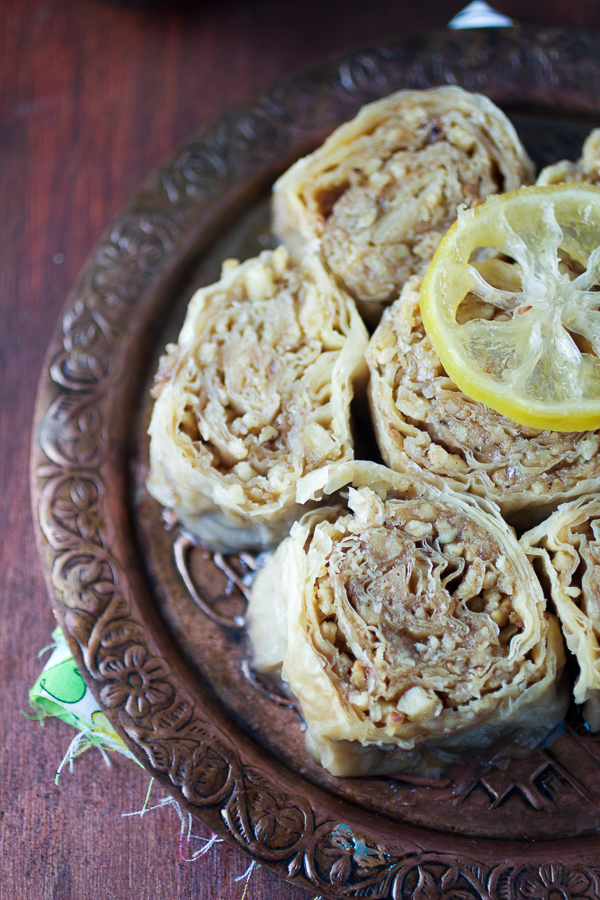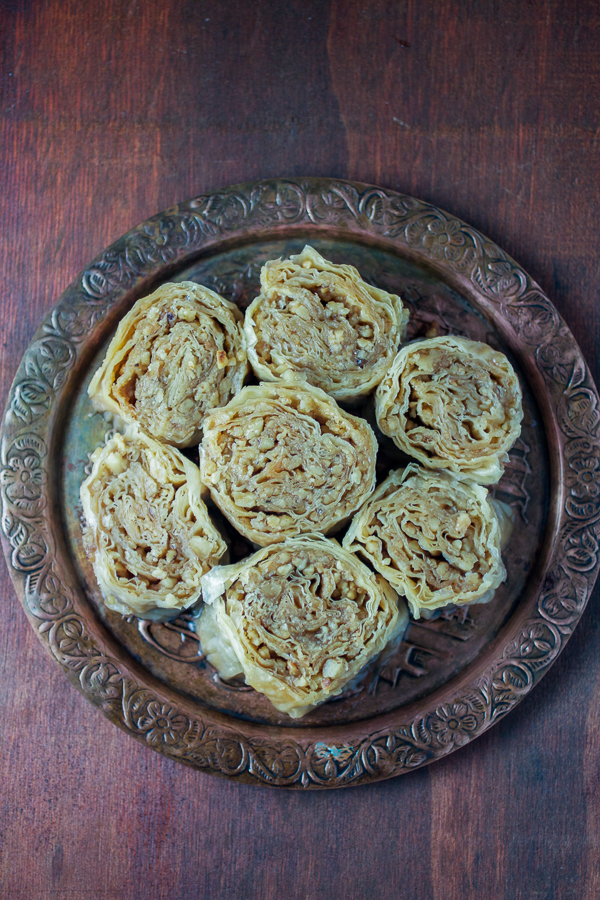 Print
Roses (Baklava's Cousin Recipe)
Author:

Balkan Lunch Box

Prep Time:

30 mins

Cook Time:

1 hour 45 minutes

Total Time:

2 hours 15 minutes

Yield:

40

-

50

1

x

Category:

Dessert
---
Description
Roses: baklava's pretty cousins. 
---
Roses and filling: 
16

-

18

ounces walnuts (deshelled)*

5 ounces

sugar (white, granulated)

2

packages of phyllo (approx. 24 phyllo sheets, or

600g

)*

8

-

10

ounces butter (melted)
Syrup (agda):
3.1 cups

water (or

25.5 ounces

/

0.8 quarts

)

2.2

pounds sugar (or 1kg, white, granulated)
.5 or 1 lemon (sliced, seeds removed)*
Equipment:
1

15-inch round baking pan (or an approx. 14-inch square pan)
---
Instructions
Take phyllo out of the fridge, but keep it in the box(es). Let it adjust to the room temperature for at least an hour.
Divide walnuts. Grind the first batch. Mince the second.

 

In a large bowl combine minced and ground walnuts together with sugar. Mix the filling until well integrated.

 

Unwrap phyllo and transfer it to your working space. Cut sheets in half on the shorter edge. Heat oven to 300°F (150°C).

 

Take one sheet of phyllo (that's been cut in half). Gently brush it with butter. (It should be well-buttered, but not drenched.) Take another (second) cut sheet of phyllo and place directly on top of the first. Brush with butter again. Now take one handful (about 2.5 teaspoons) of the filling. Evenly spread the filling in the middle of the phyllo sheet keeping away 1-2 inches from the bottom and top edges. Take another (third) sheet of phyllo

 

and place on top of the filling. Brush it with butter. Then take the final (fourth) sheet of phyllo and place on top of the third. Top this with a handful of the filling again using the same technique.

 

(Basically you're stacking 4 sheets of phyllo on top of each other, buttering them in between, and placing two rounds of filling in between, one on the second phyllo sheet and one on the fourth.)
Starting from the edge closes to you roll up the sheets of phyllo and the filling until you get one tight, filled roll. Roll gently, but tightly. Phyllo may break here or there, so don't worry. Patch it up the best you can and continue rolling. Previous buttering should help the sheets not break as much.

 

Cut your roll as you would a baguette, into small rounds that are approx. 1-inch (2.5cm) thick. You should get about 12 rounds (roses) from one roll. Place the rolls into a round, oiled baking pan. Again, place them tightly but gently next to each other. Arrange roses in the pan from the outside in (large circle to small).

   

Repeat steps 5-7 until you run out of the ingredients. You should have about 11-12 rolls, or about 134-144 roses.

 

Pour remaining butter over the roses in the pan.

 

Place pan in the oven and bake between 1 hour and 30 minutes to 1 hour and 45 minutes. Turn the baking pan around once about halfway through baking. The roses should be light brown, but not burnt.

 

(As soon as the roses start baking make the syrup.) In a large pot bring sugar, water and lemon to a boil on high. Stir well once or twice so that the ingredients combine. Lower to medium and let boil for 5 minutes. Take the syrup off the stove and let cool. The syrup should be completely cooled by the time roses are out of the oven.

 

Once the roses are done baking, turn the oven off and leave them in for an additional 5 minutes.

 

Take the roses out of the oven, and using a ladle gently and evenly pour cold syrup over them. Roses should be completely covered in syrup except for the top couple of millimeters (¼ inch).

 

Cover pan with foil and leave overnight in a cool place so that the roses absorb the syrup.

 

Serve few roses at the time pouring a little bit of syrup from the pan over them.

 

Keep in fridge for up to a week.

 
---
Notes
Carefully check that all the shells have been removed from the walnuts. 
Buy a little bit more phyllo than you think you'll need as the sheets can dry and crumble, or break. Work fast. 
Adjust lemon to taste. If you like it more lemon-y use the whole. You can even juice one half, and slice the other. 
Step 1: You can mince with grinder, however make sure to stop on time. You don't want all the walnuts to be ground. 
Step 5: Filling volume is an approximation. Use enough to have for 12 rolls, and each roll gets 2 rounds of the filling. 
Step 9: Just like with baklava you're actually drying the dessert more than baking it. 
Step 10: Baking time will depend on your oven. You may have to adjust it a bit. Just make sure the roses are nicely brown, not burnt. 
Step 13: You can keep lemon slices or discard them.  
Step 14: Roses go great with vanilla ice cream. Note that the more they stay in the fridge the more soggy they'll get. Try to consume them within a reasonable time. 
---