Plum pie recipe: a dessert made with dried plums, walnuts and phyllo. Who needs baklava, when you can make something even better?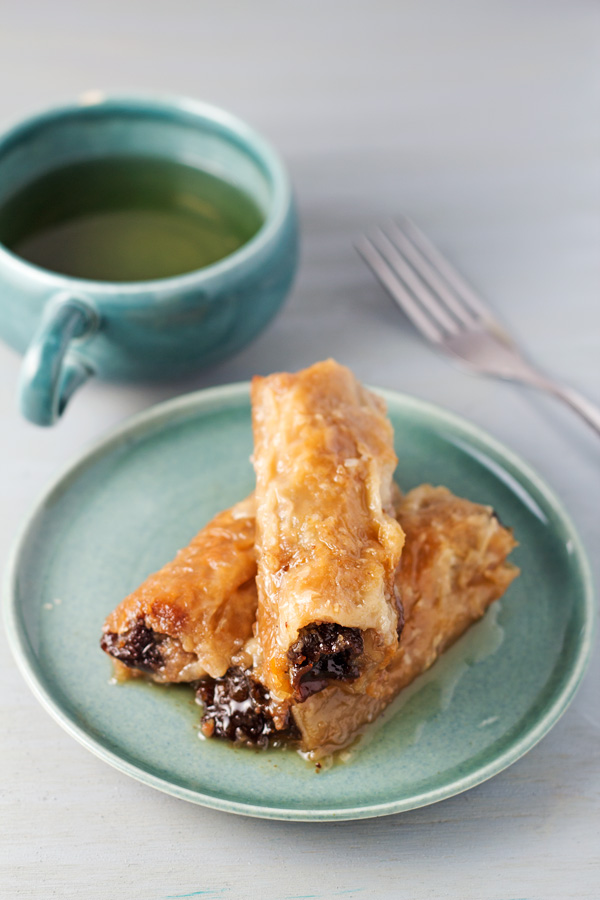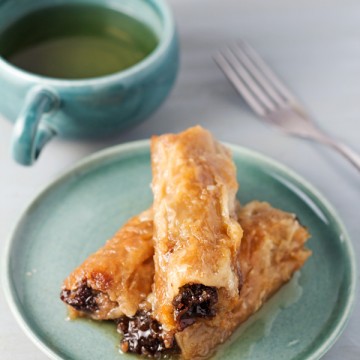 Plum Pie Recipe (Šljivopita)
Ingredients
Plum Pie (Šljivopita):
1

cup

sugar

2

pounds

dried plums

prunes pitted

1

package phyllo dough

1 pound or 18-20 sheets

1

pound

walnuts

half ground/ half finely chopped

2.5

sticks of butter

1.5 cups
Agda (simple syrup, sugar syrup):
26

ounces

sugar

10

espresso cups water

1

teaspoon

vanilla extract

2

lemons
Instructions
Pour 1 cup sugar and ½ cup water over dried plums, and simmer over low heat, mixing occasionally until soft.

Grind ½ pound walnuts, and finely chop the other ½ pound. Mix together.

Melt butter over low heat. Layer two phyllo sheets on top of each other, brushing each with butter. Preheat oven to 480F.

Line long end of phyllo sheets with plums, the thickness of a finger. Then grab two handfuls of walnut mixture and pour over the plums equally. Start rolling phyllo with the mixture tightly. Place the roll into a buttered baking pan.

Take another two sheets of phyllo and repeat. Place tightly next to the first roll. Repeat until you run out of material. Spray the remaining butter over the entire pie.

Bake plum pie for exactly 25 minutes.

After the pie has been baking for 10 minutes, place 26 ounces of sugar into a pot, and cover with 10 espresso cups of water. Add lemon from one juice, and 1 teaspoon vanilla extract to it. Cut the second lemon into thin rounds and add to everything. Bring all to boil.

Boil for exactly 7 minutes and then move off the range.

By this time the plum pie should be baked.

Pour hot sugar syrup over the hot pie, and leave out to cool. Transfer to fridge only after it cools down completely.
Notes
If your plums are completely dry, leave them in some water for 15-20 minutes to soften, deseed them and then start.
Measure your phyllo sheets against the pan in which you'll be baking the pie. You may have to cut phyllo a little to adjust the size.
Check that you have espresso size cups before starting.
You can warm up before serving. Otherwise you can serve cold. Ice-cream is optional. 🙂