If you love hash browns, you'll adore this hash brown potato pie. Finished in 60-min or less, topped with sour cream and minced garlic, it's a pie unlike any other!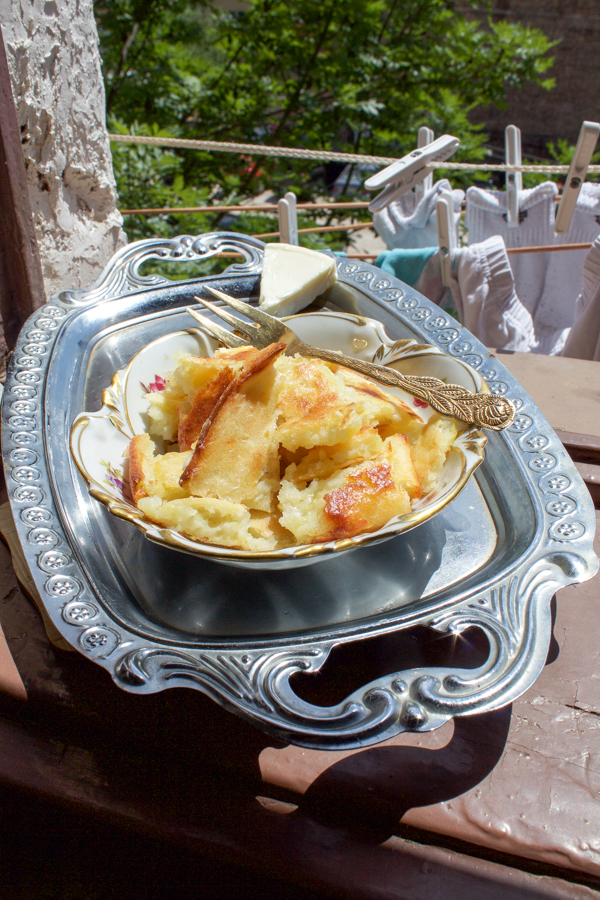 Fess up, you love hash browns! And if you are anything like me, you've had plenty of Saturday mornings when you're craving that McD's breakfast mostly for the hash browns that hide in that white-red-yellow bag. In any case, kljukuša is practically a hash brown pie (potatoes mixed with flour and onions and then baked), spread with some garlic, butter, and topped with sour cream. Add soup and salad and upgrade your breakfast to a lunch. (Another just as crazy recipe is the hash brown pie with bacon. Try it!)
Like most of the diaspora - a large group of us that left at some point due to war but brought all of the Balkans with us - I visited Sarajevo once a year to see family and friends. I used those occasions to reconnect and confiscate as many impressions in as little time as possible. Those impressions would later appease my nostalgia (a bittersweet set of exaggerations which follow all of us like an identity dissociative disorder), during those hard hours somewhere in the strange new land when I used to ask myself, "What am I doing here?" knowing well enough it was the right strange new land for me to be.
This time is different though. This time I came to my strange old land to heal. The winter penetrated my entirety with pain. So I did what all of us do when life messes up so hard the only thing others can offer you is "Life works out in mysterious ways... this maybe happened because something wonderful is waiting for you!" I packed my bags and flew home to Sarajevo.
And Sarajevo hasn't disappointed. The spring, except for a five day rain spell, has been lovely. People have been great... funny and welcoming, always with a dose of black humor dark as night. There have been stories similar to mine, a weekly dose of juicy gossip at the hairdresser's, and 24 hour bakeries. There have been moonlight walks in the Vils, great music, and plays that would shame Broadway productions. (Except for the internet connection. Telemach I'm talking to you!) There's also been an underlying current of pronounced apathy induced by the harshest drop into the market economy that is defining this part of the world with hard tones.
And then there's been the food. But instead of the regular ćevapi, pljeskavica and pita rounds, I am craving simple and solacing, happy meals. Like the hash brown pie kljukuša nicknamed kljuka, (kljuka because in Sarajevo everything has a nickname). Grate some potatoes, add an onion or two, some flour and lukewarm water and that's really all there is to it. You can eat it by itself, doused in sour cream, or with a side of ajvar (ajver).
I hope you find kljuka warm and comforting as I do. I'll be here a while and will check in with more native recipes soon. (Like moussaka!)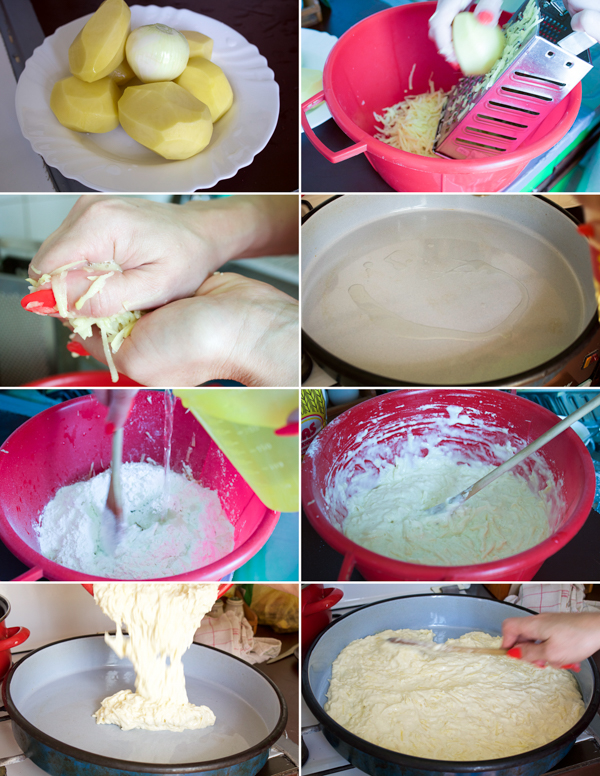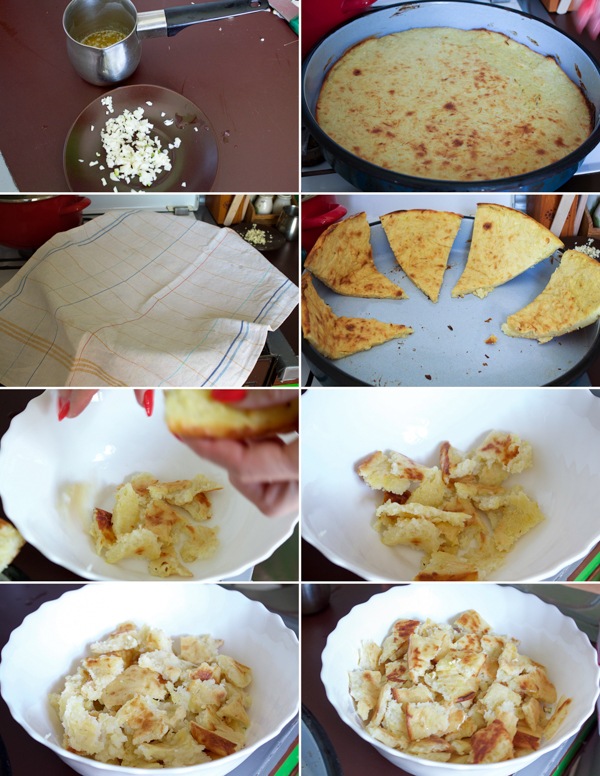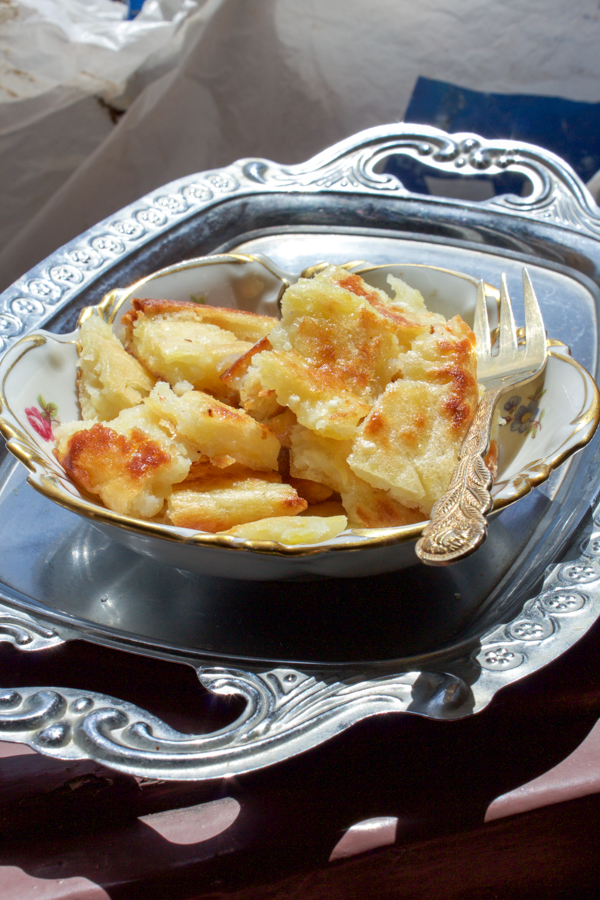 Print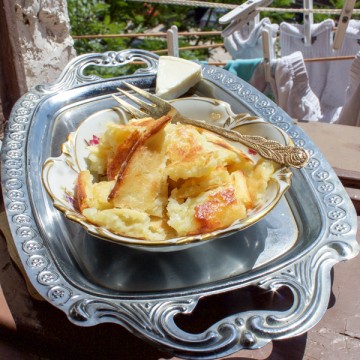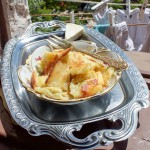 Hashbrown Potato Pie (Kljukuša)
Author:

Balkan Lunch Box

Prep Time:

20 mins

Cook Time:

35 mins

Total Time:

55 mins

Yield:

6

1

x

Category:

Main Course
---
3 tablespoon

oil

1

pound potatoes

1

large yellow onion

1 tablespoon

salt

½ teaspoon

ground pepper

10.5 ounces

flour

9 ounces

lukewarm water

2 tablespoon

butter

3

garlic cloves

10 ounces

sour cream
---
Instructions
Preheat oven to 480F. Oil the pan (a 20 inch diameter was used for this recipe). Leave in the oven to warm up.
Peel onions and potatoes, then grate together. Squeeze the mixture in batches to release as much starch as possible. Add salt, pepper, flour and water. Stir vigorously until integrated. Transfer to the hot pan and even out on all sides.
Bake for 30-35 minutes, turning the pan around every 15 minutes.
Take the pie out and spread melted butter over it. Leave to cool for a few minutes. Meanwhile, mix sour cream and garlic until smooth.
Break the pie apart into smaller pieces, and layer into a serving bowl. Top with sour cream and garlic.
---
Notes
The water/flour formula is such that if there is too much water you add a little more flour. If there is too much flour you add a little more water. Go slowly and you'll find the right thickness.