Here's a recipe for an authentic chicken and potato paprikash with dumplings as it's usually done in Serbia, Bosnia and Croatia. Originally Hungarian, this amazing stew came to the Balkans a while ago where it's now a dinner favorite. In three short words, it's easy, delicious & healthy!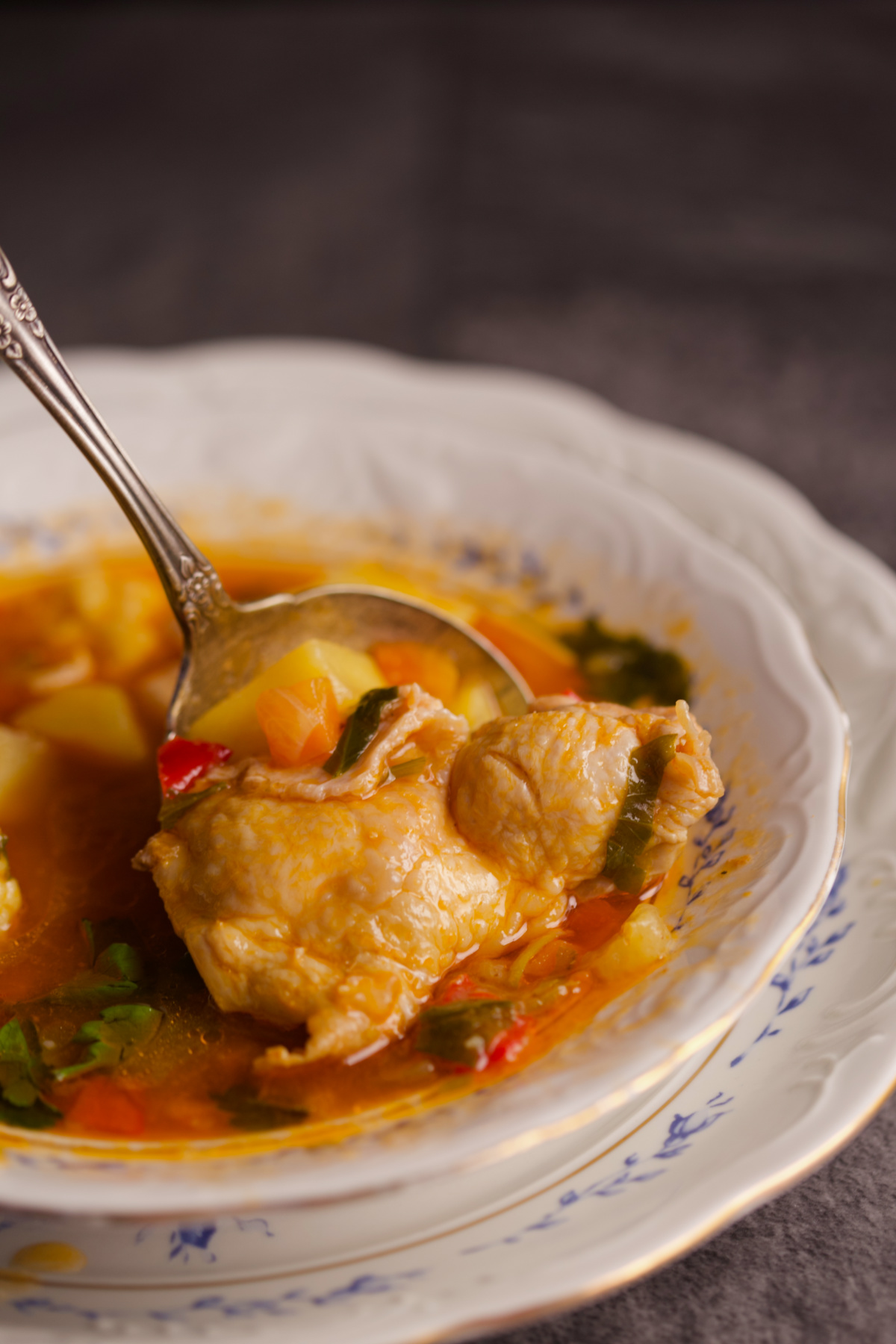 Jump to:
What Is It
Our aauthentic chicken paprikash is a mouthwatering stew infused with paprika spice, vegetables and chicken. Even the name is derived from paprika: a red, deep, smokey and sometimes hot spice made from different peppers.
Today, most of this spice is produced in Hungary, so it's not surprising that original chicken paprikash (or paprika chicken) originated there.
However, you can find this dish in many different countries. In fact, you may have already had some Polish, German, even Ukrainian paprikash.
The one we're making today is of the Balkan variety. While similar in preparation to Hungarian dish, Balkan paprikash is usually made without sour cream and with less (and milder) paprika.
Ingredients
Ingredient Notes for Authentic Chicken Paprikash
Chicken broth: For a richer flavor, substitute with chicken stock.
Dumplings: Don't feel like making them? Use tagliatelle. Or no dumplings at all. (If you skip dumplings look at thickening notes below.)
Paprika: For a spicier taste use hot paprika.

Peppers: Instead of hot paprika you can also use hot peppers to spice the stew up more.

For a sweeter taste roast the peppers ahead of time, and remove the skin before adding to the stew.

Potatoes: Old fashioned recipes often skip potatoes. If you skip them too, make more noodles.
Sour cream: This recipe is dairy-free, bit feel free to add a dollop of sour cream at serving.
Lightning-fast Instructions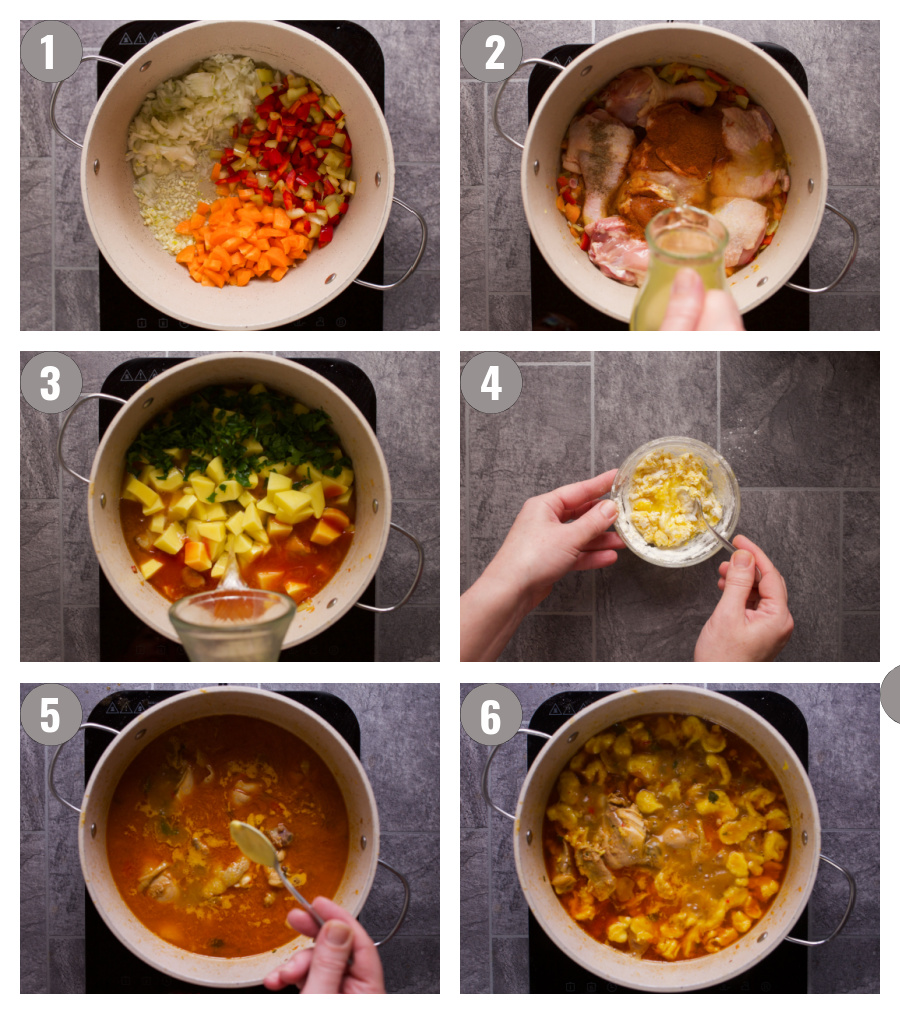 Simmer veggies (except potato) in hot oil.

Add chicken, spices, some broth, and continue simmering.

Make dumplings.
Add potatoes, tomato sauce, remaining broth, and cook.
Add dumplings.

Cook stew a little longer.
Best Chicken for Paprikash
I won't stop you from using skinless chicken parts (like chicken breast, etc.) to make this dish.
But, you wouldn't make traditional chicken noodle with skinless chicken now, would you?
There is a reason why drumsticks or thighs with skin are the norm for this type of stew. Skin (combined with deep, rich paprika) helps create that "wow" factor.
(No one says you have to eat the skin though. If you don't like it, just remove it before serving.)
How To Make Authentic Chicken Paprikash Dumplings
There are a few ways to make paprikash dumplings. Here are 3 of them:
ONE: Our recipe calls for simple egg and flour noodles. Egg and flour are mixed and noodles are dropped into the hot stew one by one. This results in thick, sturdy noodles that perfectly complement this dish.
They almost act like a thickening agent. You can play around with their size.
TWO: Other recipes call for farina dumplings. (You can find the directions to make them in our chicken soup with semolina noodles.) These type of noodles are fluffy and light. Also, extremely tasty.
THREE: Finally, there are versions that combine the two. They use farina and flour for medium soft dumplings.
For these dumplings mix 2 eggs, 2 tablespoons oil, 1 tablespoon water, 2 tablespoons farina flour, and 2 tablespoons flour, and a pinch of salt. Leave to rest for 10 minutes, and then drop in the hot stew with a teaspoon, one by one.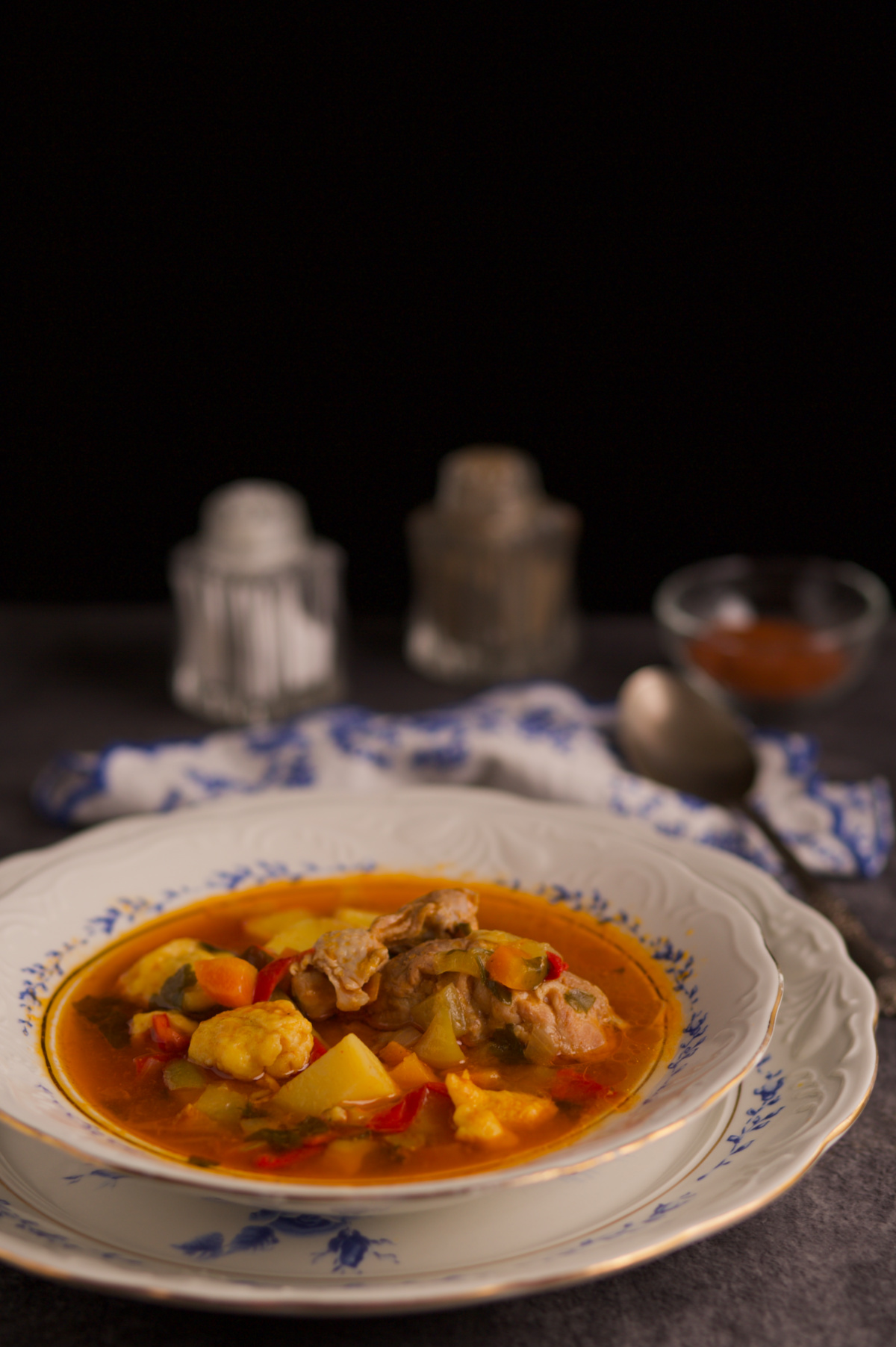 Expert Tips
This stew is on the light side. Here are four expert tips to thicken it.
Add dumplings to the stew. (What we're doing in this recipe!)
Flour the chicken before adding it in.

Make a sour cream and flour roux.

Make a traditional flour and butter roux.
Recipe FAQs
How is Balkan paprikash different from Hungarian?
Serbian and Bosnian include sweet peppers and potatoes. Croatian paprikash doesn't use potatoes, but is otherwise the same. All versions often have dumplings. However, like most Balkan things, these are generalizations based on what I've seen done in the region.
What does chicken paprikash taste like?
Paprikash tastes like a lighter stew with tender, falling of the bone chicken. Ingredients are saturated in chicken juices combined with deep paprika, while dumplings add a perfect final touch.
Can you freeze chicken paprikash?
It's best not to. While paprikash broth is fantastic while fresh, ingredients lose their consistency when frozen.
More Stews To Try
Would You Do Me a Favor?
If you make today's Chicken Paprikash and like it, please consider leaving a ⭐️⭐️⭐️⭐️⭐️ (5-star) rating. This will help others find the recipe more easily!
You can also leave a comment, I read EVERY one! Finally, if IG is more your thing, consider tagging us @balkanlunchbox.
Prijatno and bon appetit!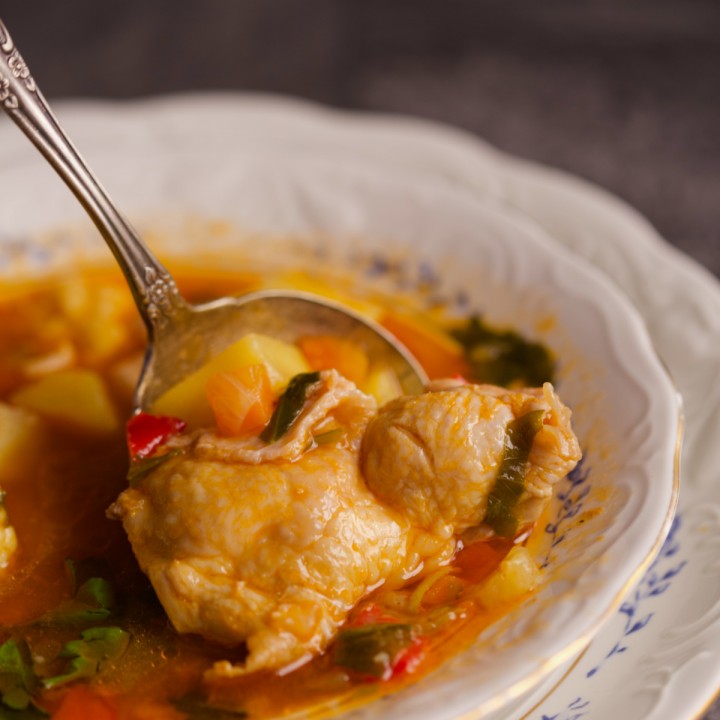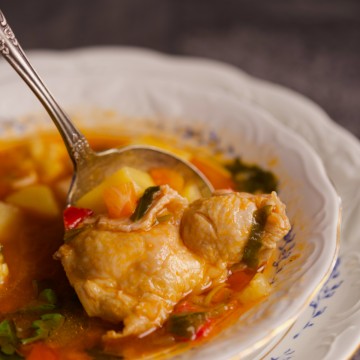 Authentic Chicken and Potato Paprikash with Dumplings
Originally Hungarian, this finger-licking-good stew came to the Balkans a while ago where it's now a dinner favorite. Here's how we do it!
Ingredients
Paprikash:
1

yellow onion

medium, peeled and minced

2

garlic cloves

minced

2

carrots

medium, peeled and minced

1

red bell pepper

medium, cored and minced

1

yellow bell pepper

medium, cored and minced

4-6

chicken thighs or legs with skin

1

tablespoon

paprika

Salt and pepper to taste

5

Russet or yellow potatoes

medium, peeled, diced

3.5

ounces

tomato sauce

½

bunch fresh parsley

about 3-4 tablespoons, minced

6

cups

chicken broth
Instructions
In a deeper pot, heat oil over high. Add onion, garlic, and carrots. Stir and simmer 1-2 minutes. Add peppers. Lower temperature to medium and continue simmering for 8-10 minutes.

Add chicken, seasonings and one cup of chicken broth to the pot. Simmer for 15-20 minutes, occasionally stirring.

(If making dumplings) Whisk egg and flour together until integrated and set aside (you can leave it in the fridge if you like).

Add potatoes, tomato sauce and parsley, and the remaining chicken broth. Raise the temperature and bring stew to a boil, then lower to medium and continue cooking for 20-30 minutes.

Add dumplings by taking a little bit of the mixture with a teaspoon and lightly flicking it into the stew. (Dip the empty spoon into the stew after every fourth or fifth dumpling to keep it hot and prevent from sticking.)

Cook for 3-5 additional minutes.
Notes
Adding both potatoes and dumplings is a choice. If you want a thinner stew use one or the other.
Dumplings can be made in several different ways (look at the text above). The ones chosen for the recipe are easiest to make and super tasty.
Nutrition
Serving:
1
of 4
Sodium:
3168
mg
Sugar:
11.1
g
Fiber:
9.9
g
Cholesterol:
146
mg
Calories:
604
kcal
Saturated Fat:
5.5
g
Fat:
20.1
g
Protein:
45.7
g
Carbohydrates:
59.6
g