If you love the coupling of a tender cut of meat and a rich sauce, this is the dish for you! The flavor is a combination of juicy, pan seared veal, and soft mushrooms sealed together with cream of mushroom inspired gravy. Let's do this!
(Recept na bosanskom: Teleći medaljoni u kremastom sosu od gljiva.)

Inspiration:
I'll tell you a secret. I have years of cooking experience, but I don't cook well under pressure. Bottom line, I used to stress out every time my husband and I had someone over for dinner.
To solve this I've collected a few simple but sophisticated dishes that come out great time after time. Today's recipe for veal medallions is one of them. There is something very special in combining this tender meat with soft and earthy mushrooms.
(If you're curious about other recipes in my collection, I often make chicken soup with farina noodles, and also the chocolate and pudding dessert cups.)
Trust me, easy yet tasty meals like these will get rid of your performance anxiety for good.
What meat to look for?
You may wonder which part of veal to look for.
It doesn't help that cattle is cut differently from country to country.
In some places veal medallions refer to the size and shape of the cut of the meat. In other places, however, medallions refer to a specific part of the calf.
Don't worry because here's what to do for today's recipe:
If you're getting your meat from a butcher shop ask for top round.
If you're picking it up at a grocery store get the pre-packaged cutlets, they work well.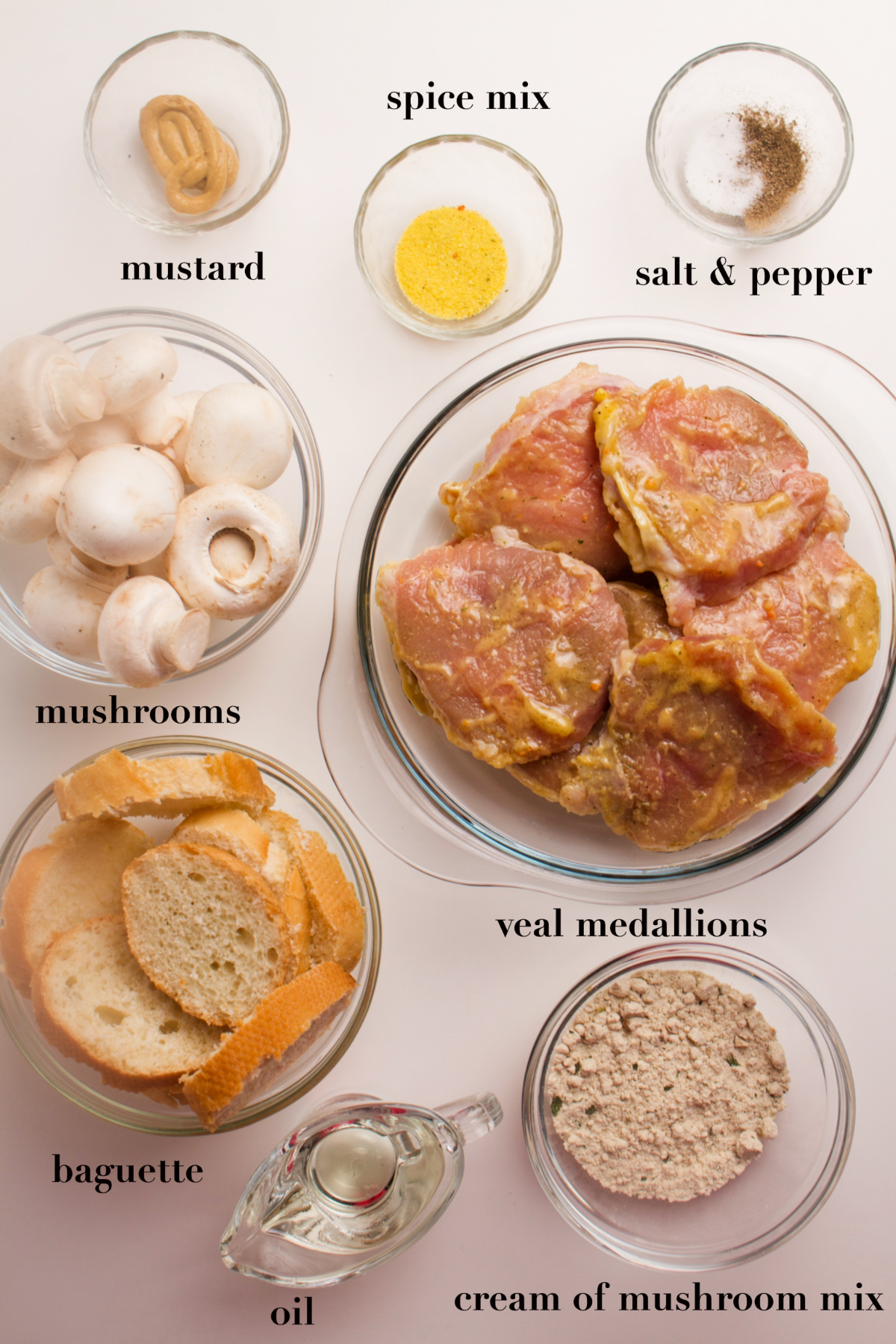 Ingredients and method notes:
Marinade: Most combos of acid, fat and spices work well. We used mustard, oil and Vegeta.
Veal: Top round is best but cutlets also work.
Button Mushrooms: Sub with cremini, portobellos or shiitake.
Broth: For a slightly less "mushroom taste" sub mushroom broth with heavy cream for your creamy mushroom sauce. On the other hand, for a slightly more "mushroom taste," choose a cream of mushroom mix with different type of mushrooms than the ones you are using.
Baguette: Sub with homemade bread but cut the slices in half.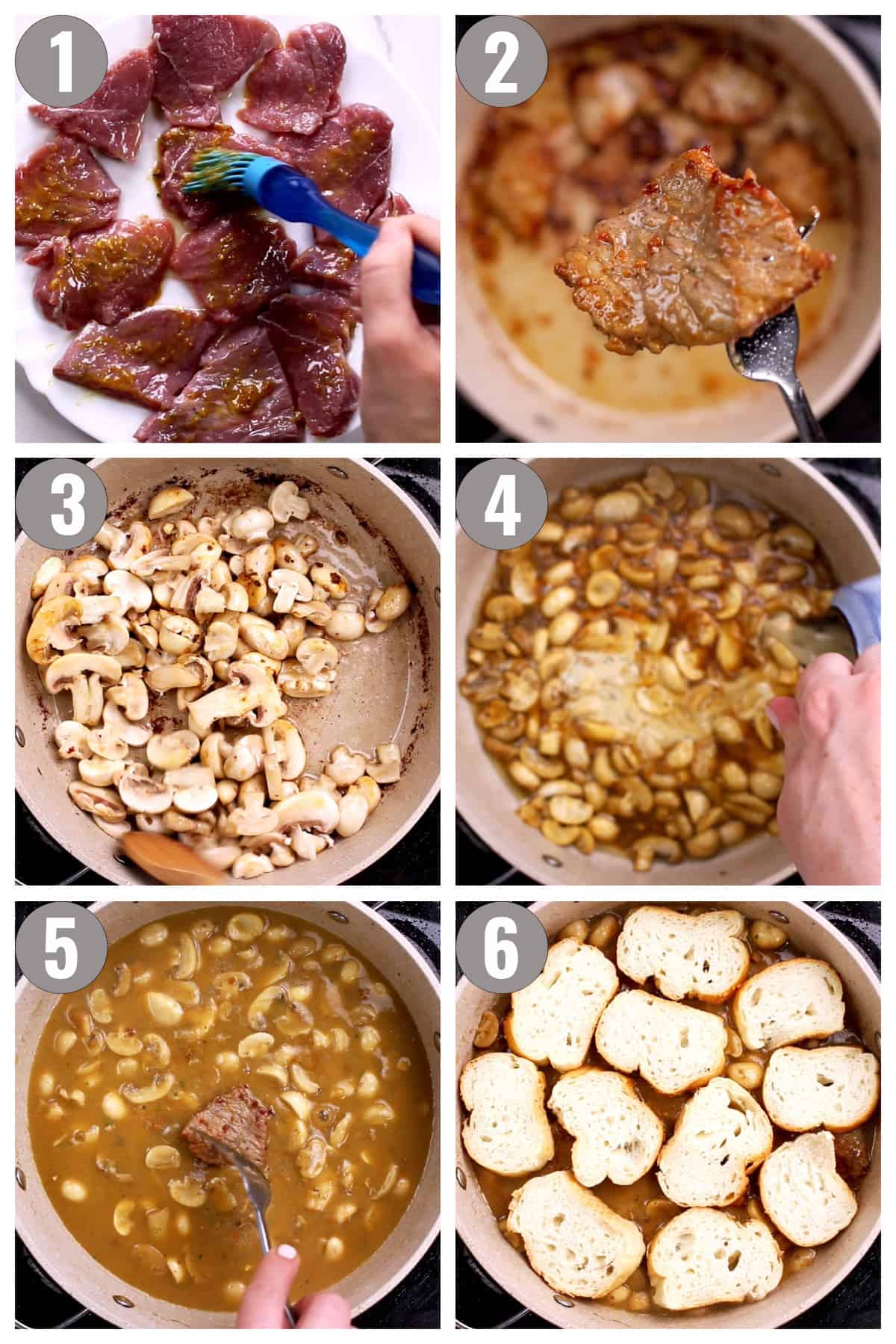 How to make today's dish?
Marinate veal ahead of time.

Sear the meat and take it out.

Cook mushrooms.

Add cream of mushroom broth.

Return meat to pan.

Top with baguette slices.
Background:
Veal holds an important place in Balkan cuisine. In fact, veal dishes are considered a delicacy in this region. Whether from a butcher shop or a restaurant, it is among the most expensive and coveted meats.
Surprisingly, many people still wonder what type of meat veal is. First of all, it falls under the red meat category.
It comes a calf, which is a young domesticated cow or a bull. (As a point of reference, beef comes from older cattle.) These calves are between 3 weeks and 6 months old, and weigh between 55 - 275lbs (25-125kg).
In most countries these calves are the bi-product of dairy industry. As they can't lactate and aren't used for breading, male calves comprise most of the meat sold for consumption.
In color this type of meat ranges light to reddish pink. It's smooth on touch, a tiny bit sour in taste, and has very little fat.
Lighter colored meat is considered tastier and it comes form milk fed calves. Meanwhile the darker meat comes from grain fed calves.
There is some controversy concerning milk fed calves as some farms feed the animals iron deprived milk to achieve the lightest pink.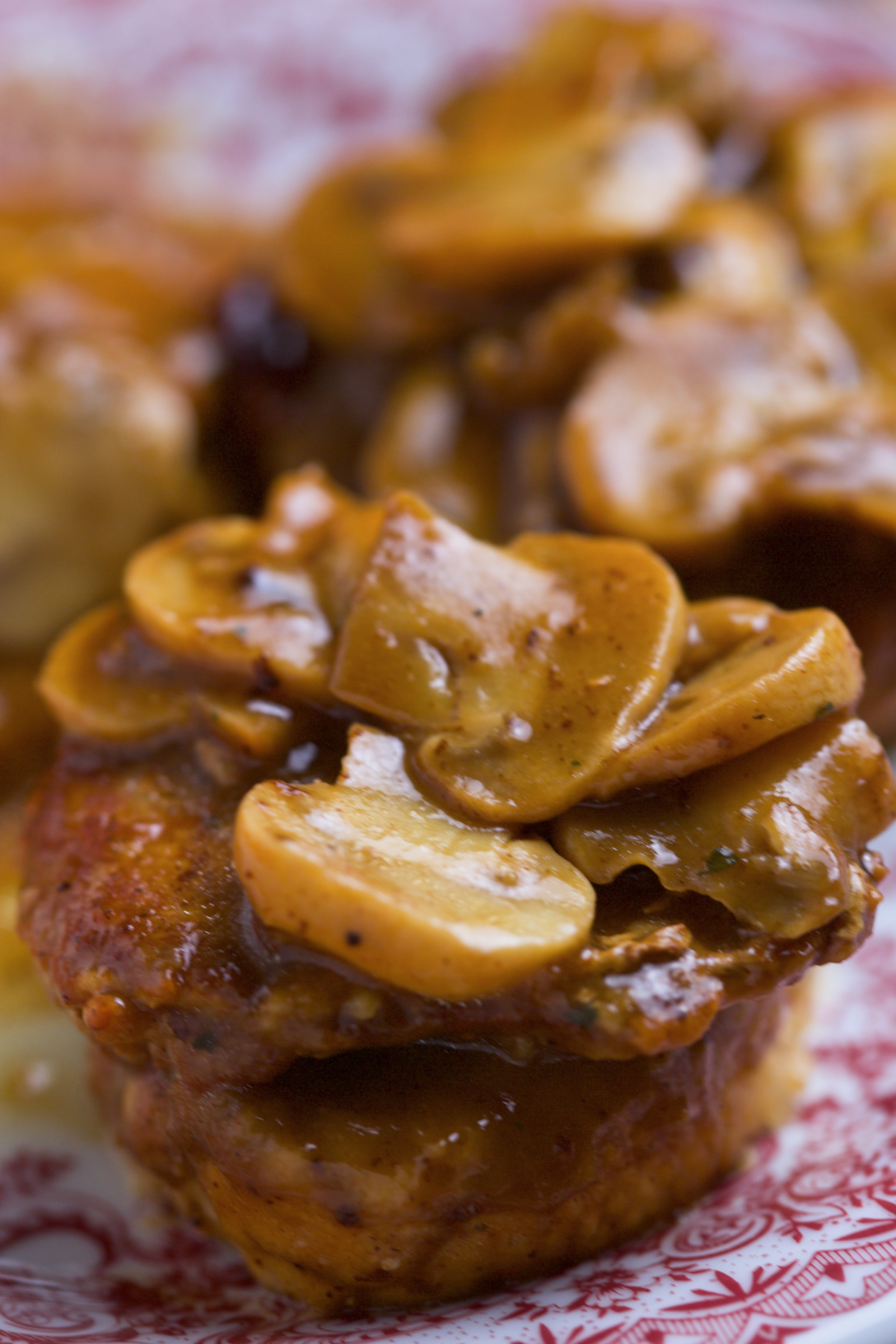 What to eat this dish with?
Anything: rice, pasta, polenta, cous cous, baked or mashed potatoes.
And also everything: a combination of the above.
Or even nothing: it's a great meal by itself and you don't necessarily have to add anything.
Pro Tips!

Pan searing (or searing) is a technique that helps seal meat juices inside. The meat is first cooked at medium to high temperatures until a brown crust forms, and then finished off in the oven, or added to a sauce.
Button mushrooms, cremini and portobellos are all one and the same mushroom. However, each is picked at a different growing stage.
What's in a name? Button mushrooms are also called champignons, table mushrooms, as well as cultivated or common mushrooms.
Looking for more veal recipes? Here are a few:
Finally, if you make these veal medallions in creamy mushroom sauce I'd love to know! Leave a comment and/or a rating and remember to tag a photo #balkanlunchbox on Instagram. Prijatno (aka bon appetit)!
Print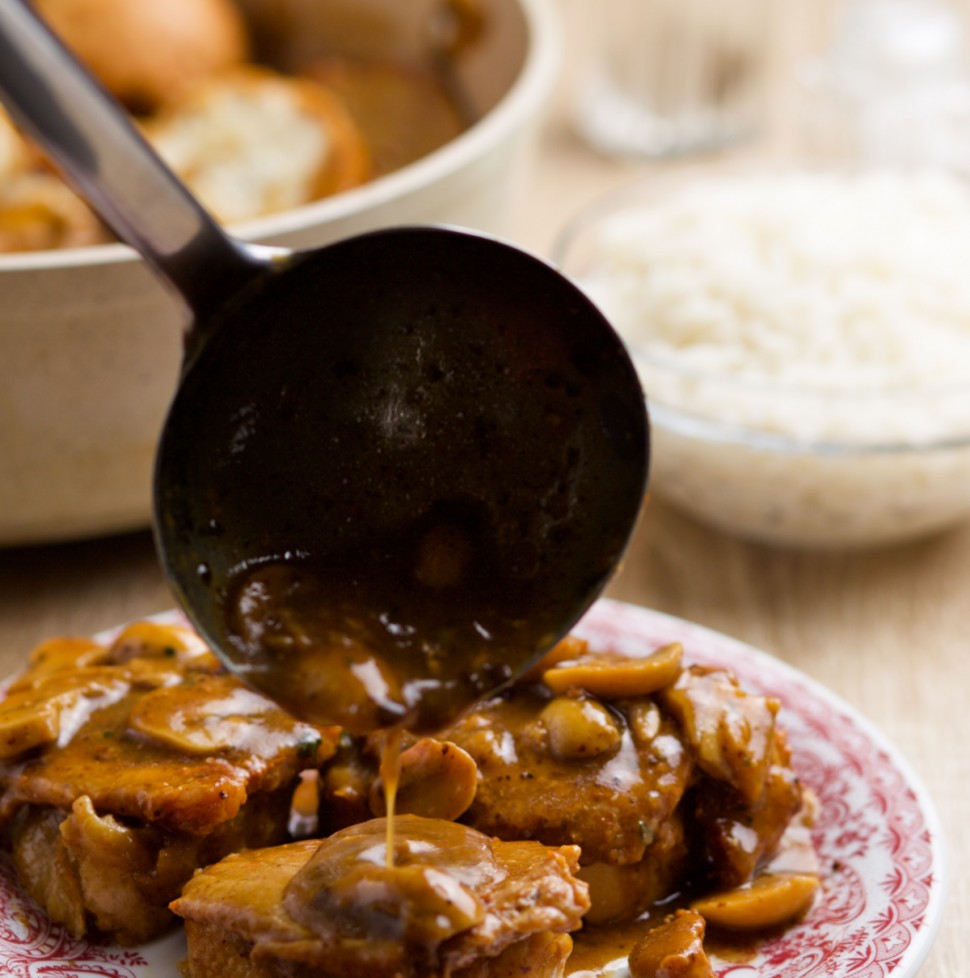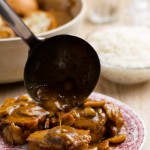 Veal Medallions in Creamy Mushroom Sauce
Author:

Balkan Lunch Box

Prep Time:

10 minutes

Cook Time:

27 minutes

Total Time:

37 minutes

Yield:

4

1

x
---
Description
These Veal Medallions in Creamy Mushrooms Sauce look and taste like a sophisticated restaurant dish. Luckily for us, this dish is super easy to make!
---
Marinade:
3 tablespoons

mustard

1.5

-

2

ounces oil

½

beef bouillon cube (crushed, or your own seasonings)
Medallions:
3.5

-

5

ounces oil

21

-

22

ounces veal cutlets (top round, cut into thin, smaller medallions)

12 ounces

button mushrooms (thinly sliced)
Seasonings to taste (salt, pepper, optionally ½ bouillon cube, or your own seasonings)*

1 ounce

cream of mushroom soup mix (about ½ bag, dissolved in

3.5 ounces

water)

1

baguette (smaller, thinly sliced)
(Optional) Parsley (minced, for garnish)
(Optional) 1 tablespoon butter
---
Instructions
Marinade:
On a medium size plate place veal medallions and generously dab in marinade on all sides. Cover plate with foil and leave in the fridge at least 2-3 hours, preferably overnight.
Medallions:
In a medium sized pan heat oil over high temperature. Add veal medallions,** and fry on medium high to high temperature about 6-7 minutes on each side (12-14 minutes total) until they achieve a slight brown crust. (If they start burning up, lower the temperature, or take the medallions out earlier.)
Transfer meat to a medium sized plate and cover.
Scrape the remaining fats in the pan, and add the mushrooms directly onto it. Stir well so that the fats and mushrooms completely integrate. (If necessary add a little bit more oil or butter). Fry mushrooms about 4-5 minutes, until they release their own juices.
Lower temperature, add spices, cream of mushroom soup mixed in water, and an additional 6.5-8.5 ounces water. Stir well until the fluids integrate. Bring to a boil (about 2-3 minutes).
Return medallions to pan and spread them evenly.
'Cover' medallions with baguette slices, then cover the pan. Let the bread steam up, about 3-5 minutes. (Optional) Garnish with parsley.
---
Notes
*Spices-wise use Vegeta or seasoning C. If you don't use these seasonings you can use ½ bouillon cube crushed, rosemary, basil and/or parsley or seasoning medley to taste.
**Depending on pan size you may have to fry medallions in two batches. Fry the second batch a shorter time (about 10-12 minutes total).
*** Serve while warm as gravy thickens quickly. When serving first place baguette slices on the plate, top them with medallions, and finally pour the gravy with mushrooms over it.
Serve with rice, polenta, couscous or pasta.
Total cook time doesn't include the marinade wait time.
---
Nutrition
Serving Size:

¼ pan

Calories:

741

Sugar:

4.6g

Sodium:

384mg

Fat:

49.9g

Saturated Fat:

10g

Carbohydrates:

18.7g

Fiber:

2.7g

Protein:

54.6g

Cholesterol:

178g
Keywords: veal medallions, creamy mushroom sauce