Stewed okra, also known as bamija (and also as baminja, bamia, or bamya), is a yummy, hearty dish made with tender pieces of meat stewed with okra and a blend of aromatic spices. Shall we?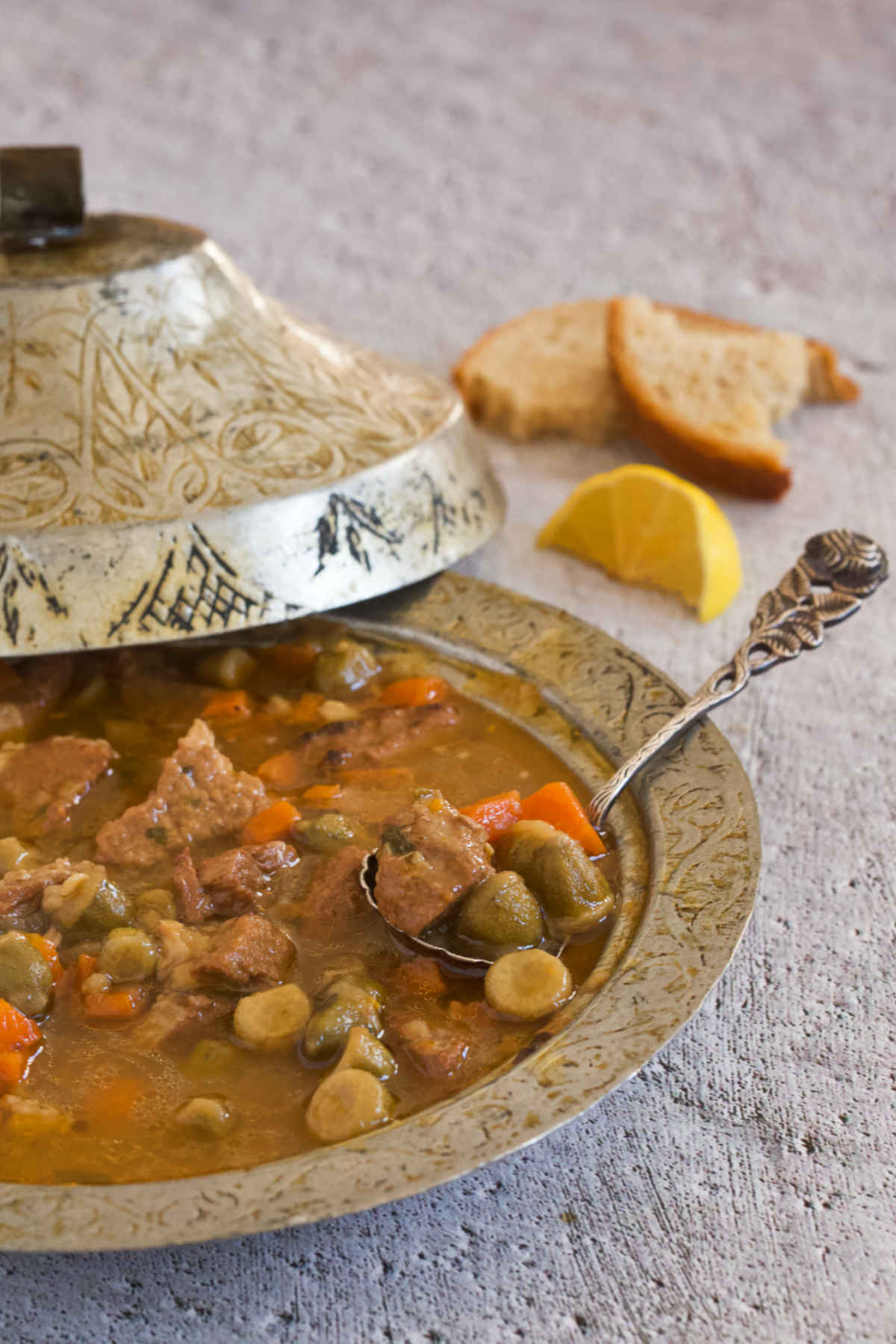 Jump to:
Background
Stewed okra, or bamija, is a beloved Bosnian dish with North African origins. Okra and tender meat (usually veal or beef) are simmered together to create a flavorful sauce that goes well with many sides, or by itself. Bamija's often enjoyed during Ramadan and Eid.
This dish takes a while to make. However, most of this time is spent waiting for the meat to stew and tenderize, you don't actually have to do much.
Okra, like tomatoes, is a fruit usually grouped with vegetables. Fresh okra is green, long, a bit bumpy, and tastes best when it's less than 2 inches long. In English, it's often called "Lady Fingers."
In the Balkans, okra is dried by stringing it like a necklace. This way okra dishes like stewed okra can be prepared year-round. Around the world, okra also goes by bamya, bamia, baminja and okro.
Okra has a unique taste. Think of it as a blend of tangy beans and asparagus. It pairs really well with different meats. Our stewed okra recipe is a great way to try this tasty vegetable, ahem, fruit.
Dry and Fresh Okra
Here's what okra (bamija) looks like dry and fresh.
Dry (photo on the left):
Dry okra looks like a beaded necklace. Beads are the size of a fingernail.
As okra has a limited harvesting time, drying is a way of preserving it for year-round use. The beads are picked before okra ripens and threaded close together on an approximately 3-foot-long thin twine.
Hundreds of these strings are dried together in a shade, or even better, in a shaded drafty place. Buy one at a time. Just one string of okra is enough for a 4-serving main dish (like stewed okra), or for two soups.
Once you're ready to use it, take it off the string, and submerse it in water and vinegar. It's ready when it doubles in size. Dried okra never reaches the size of fresh okra, but it's grittier and tastier.
Fresh (photo on the right):
Fresh okra grows into long, thin, pointy pods. It's green when ripe, and each pod can grow between 2.5 and 5 inches. (Shorter okra is tastier!) Okra has a rough stem and stubby, tiny needles on its skin. When cut across it looks like a star from inside.
To make stewed okra, look for "baby okra," or rather, okra that's about 2 inches. If you can't find it, get the regular length and then cut it into ½ to 1-inch pieces.
Ingredients
Here are all the ingredients you'll need to make stewed okra (bamija).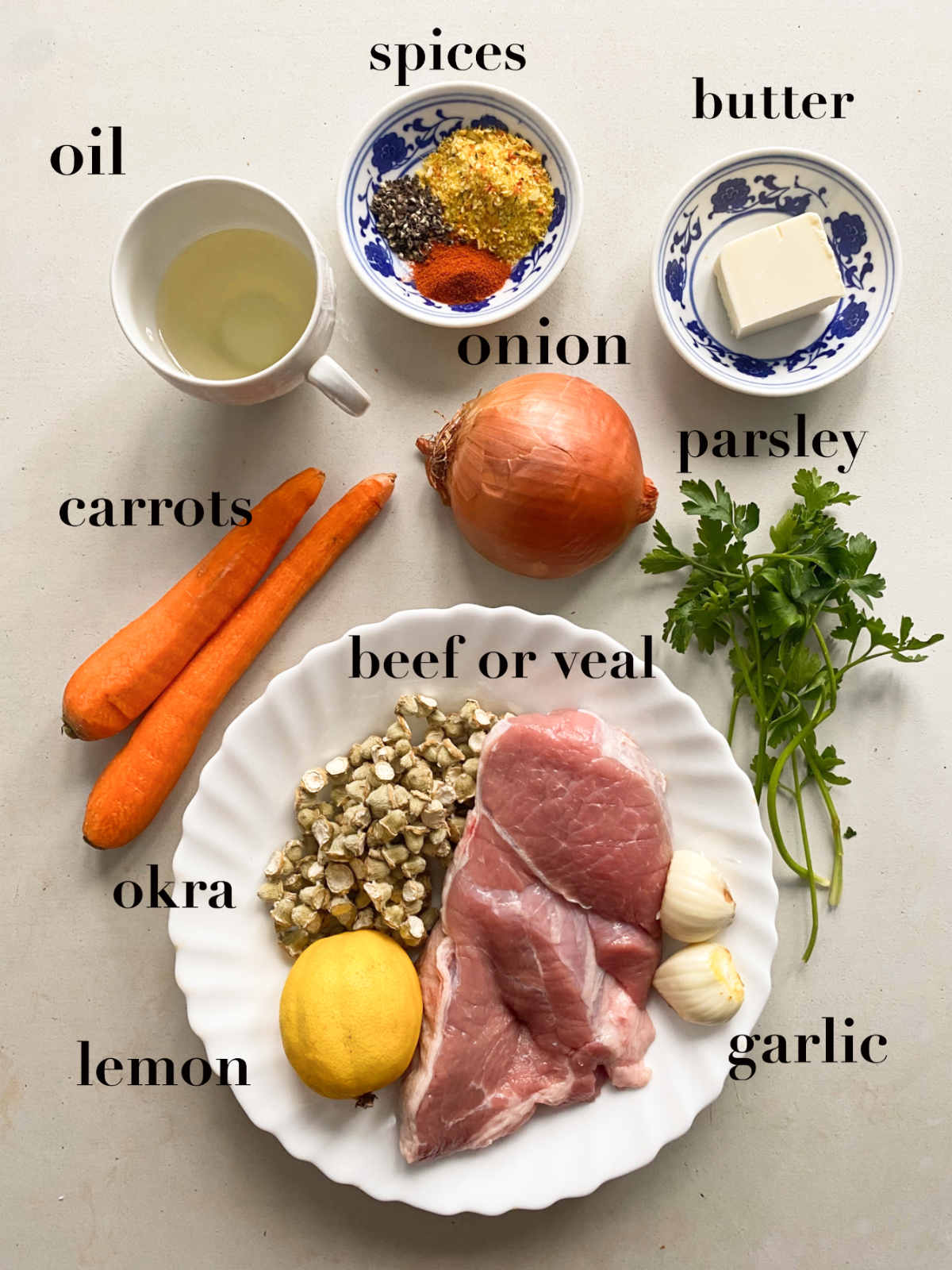 Meat for stewed okra
Veal, sirloin, tenderloin, beef chuck, lamb, mutton
Veggies and Fruit for stewed okra
Lemon
Okra
Onion
Garlic
Carrots
Herbs and Seasonings for stewed okra
Parsley
Stock powder or Vegeta
Ground pepper
Paprika
And also...
Instructions
Here are simple instructions to make bamija (stewed okra).

Step 1. Before making okra stew (bamija), "de-slime" okra. Get the dry okra off the thread (or cut it into pieces if it's fresh). Submerge in boiling water and lemon juice for at least 30 minutes.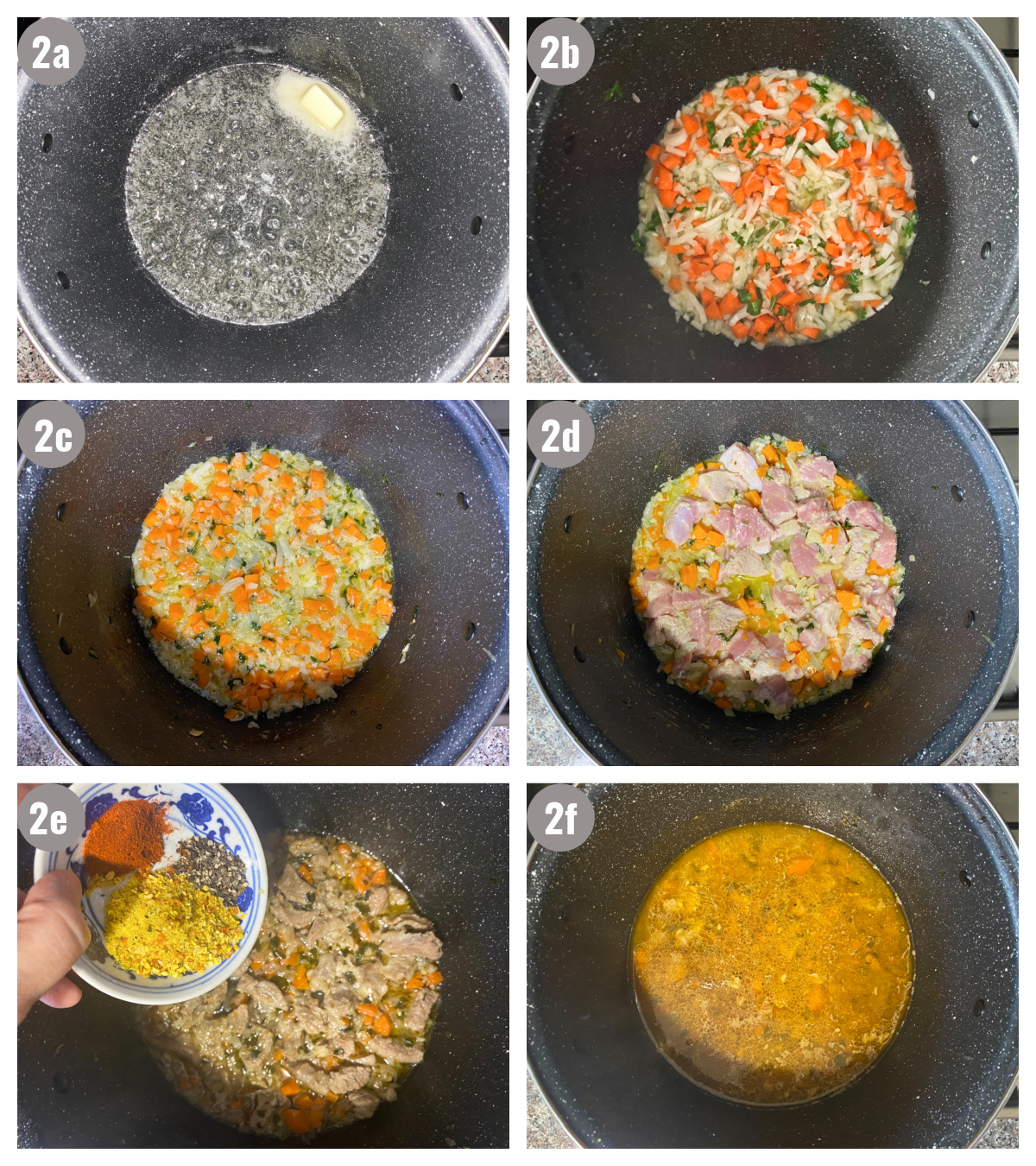 Step 2. Heat oil and butter. Add carrots, onion and parsley. Stir and simmer. Add veal and seasonings. Stir and simmer. Add water a little bit at a time. Simmer for at least 2.5 hours.

Step 3. Strain okra and add to stew. Simmer stewed okra for 30 more minutes.
Okra Slime Tips
Okra contains a thickening substance called mucilage, which is released when it's heated and mixed with moisture. Some cooks like okra specifically because of this ingredient that thickens the okra stew.
The rest of us don't like this substance and we like to get rid of it. Two easiest ways to get rid of okra slime before making stewed okra are as follows:
Cover okra with cold water, add the juice of ½ lemon, or 3-4 tablespoons of vinegar, and bring to a boil. Bring the temperature down to low and cook for 10-ish minutes. (Dry okra will double in size.) Strain and it's ready to use.

Cover okra with boiling water, and add the juice of ½ lemon, or 3-4 tablespoons of vinegar. Leave it for at least 30 minutes. (Dry okra will double in size.) Strain and it's ready to use.
Handling
Serving: serve stewed okra hot with homemade bread, dough balls called lokumi, a side of rice, or by itself. Most people dip into it with bread, but it can be consumed like stew, with a spoon.
Storing: cover the container with stewed okra and transfer it to the fridge for up to 48 hours. Reheat before eating. It's best to warm up only the amount you plan on eating. Do not reheat twice.
Reheating: reheat based on your preference. The best option is on the stovetop, on low until steam starts to come out.
Freezing: okra does not do well in the freezer. You're probably already using dried or freezer okra anyway, so it's not good to process sensitive produce too many times.

However, if you must freeze it, turn the stew off and cool it before adding the okra to it. Transfer to a freezer-safe container, and keep up to 2-3 months.

When you thaw the stew, follow the recipe steps to add okra in and finish cooking it. (Don't forget to cover okra with hot water and lemon juice for a while first.)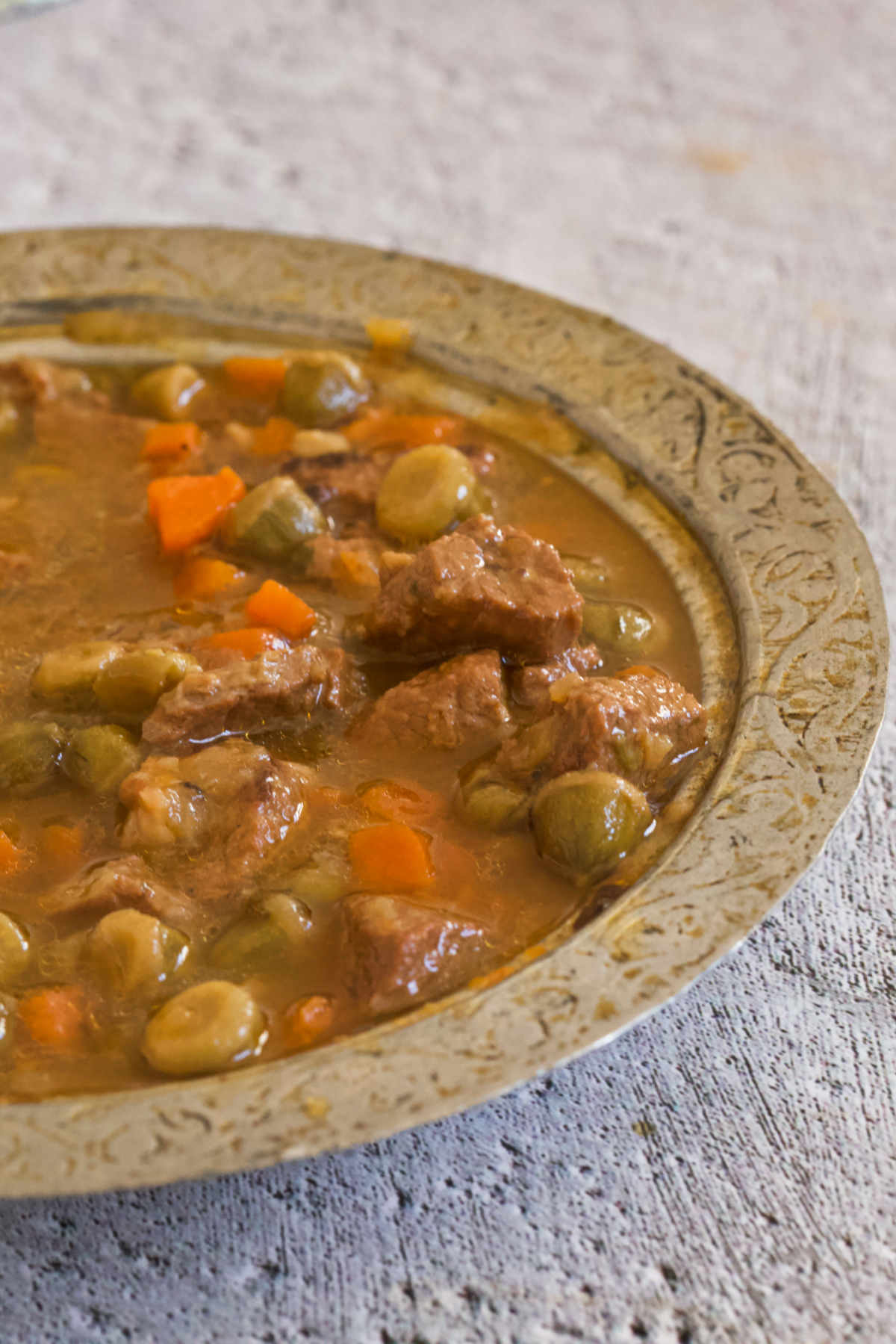 Recipe FAQs
What are the okra health benefits? What does okra do for the body?
According to WebMD, studies using concentrated okra suggest a 63% reduction in breast cancer cells. It potentially inhibits fat cell production and promotes cholesterol degradation.

It's a great source of B vitamins, as well as many minerals. Folklore has it that Cleopatra swore by okra's properties to reduce skin redness and keep its elasticity, and smoothness.

Finally, this fun plant has also been used as an aphrodisiac in the centuries past.
Is Bosnian bamija stew the same as Turkish Bamya?
It's similar. Bamija in Bosnian, just like bamya in Turkish, is the actual word for okra. The dish refers to a stew featuring okra.

However, in Bosnia and Herzegovina, generally, only one version of the stew is made (types of meat can vary), while in Turkey there are several different kinds of bamya stews.
What does okra taste like?
Okra's taste is somewhat like asparagus with a touch of green beans. When you bite into it, you'll sense both grit and freshness. Okra really comes into its own when mixed with tender meat in a sauce or a stew.
Why is okra called "lady's fingers" in English?
In English, okra is nicknamed "lady's fingers" because its elongated shape resembles dainty, older lady's fingers.
Which country food is okra stew?
It's believed that stewed okra originated in Africa. Today it is made all over the African continent, as well as the Middle East, the Mediterranean, and the Balkans. In North America, okra is especially popular in the Southern USA.
Other Dinner Ideas
On the blog:
Around the web:
I found a fantastic plain okra (okro) recipe on My Diaspora Kitchen, a food blog by Chichi dedicated to sharing Nigerian cuisine. Plain okra is prepared by blending and boiling it, then pairing it with various stews, often palm oil-based. This dish is not only visually vibrant but also enhanced by the use of iru, a fermented locust bean seasoning that elevates soups and stews to an ultra-delicious level.
And if you're visiting Bosnia and Herzegovina, here's a nice travel guide that can answer most questions about getting to and around here.
Thoughts?
If you made Stewed Okra (Bamija, Baminja, Bamya) and liked it, please consider giving it a ⭐️⭐️⭐️⭐️⭐️ (5-star) rating. This helps others find the recipe more easily!
Also, feel free to leave a comment (I read each one!), and don't forget to tag a photo #balkanlunchbox, or us @balkanlunchbox, on IG.
Prijatno and bon appetit!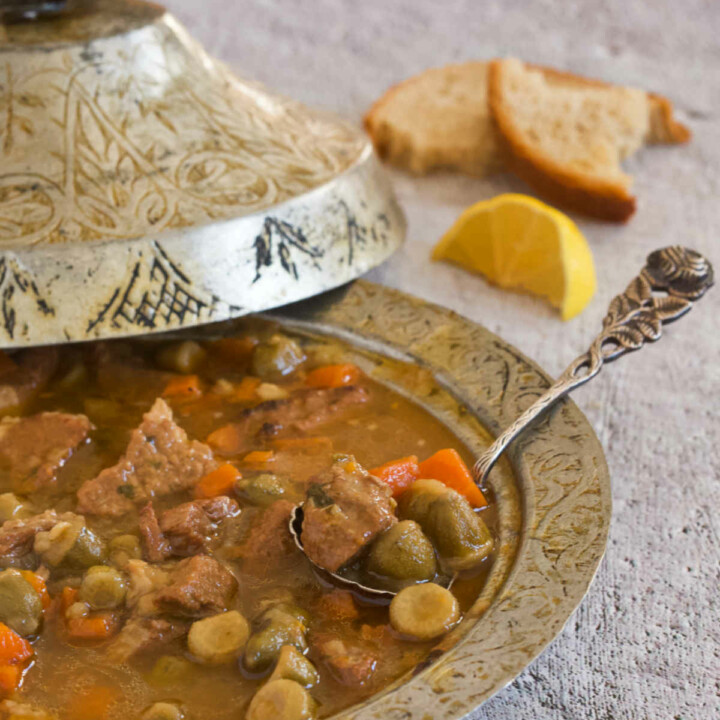 Stewed Okra
Bamija (bamya), a Bosnian and Herzegovinian delicacy, showcases tender meat simmered with aromatic spices, resulting in a rich, flavorful sauce. Perfect over rice, mashed potatoes, or by itself.
Ingredients
½

lemon (juice only)

or 3-4 tablespoons of vinegar

1

strand of dried okra, or ½ pound fresh okra

if using fresh, try finding pods that are about 2 inches in length

1

onion

large, minced

2

carrots

medium, diced

2-3

garlic cloves

minced

¼

cup

fresh parsley

minced, or 2-3 tablespoons dried

2

tablespoons

butter

2

tablespoons

oil

1-2

pounds

veal

diced; or sirloin, or tender chuck

1

tablespoon

stock powder

or Vegeta, or bouillon cube (crushed)

½

tablespoon

ground pepper

or peppercorn

1

teaspoon

paprika

(Optional) several lemon wedges for serving
Instructions
Soaking Okra
Method 1. (Preferred!) If using dry okra, take it off the thread making sure no thread is left inside the pods. The best way to do it is pod by pod, or a few pods at once until all of them are off the thread. This may take a few minutes, depending on how strongly it was threaded and how long it was stored. Once it's off, transfer okra pods to a bowl and cover with boiling water. Squeeze half a lemon or add vinegar to the bowl. Set aside.

If using fresh okra, try to find pieces that are about 2 inches long. If you find these, keep them intact and follow the method above. Finally, if all you can find is longer okra, cut the stems off each okra and discard them. Then proceed to slice each into ½-inch pieces (keep the seeds inside). At this point, follow the same instructions.

Method 2. De-thread dry okra, or slice fresh okra (discard stems). Place in a small pot and cover with water. (Like in method 1, if you have fresh okra that's around 2 inches, keep it intact.) Add juice of ½ lemon or vinegar. Bring to a boil. Bring the temperature down to low. Simmer for 20 minutes. Take out and strain.
Parallel to Okra Soaking
In a deep pot (or a skillet), heat oil and butter on high. Lower to medium and add onion, carrots, garlic, and parsley. Simmer for about 15 minutes. Stir frequently, and add a pinch of hot water here and there so all the liquid doesn't evaporate.

Add the meat and seasonings, and bring the temperature down to your lowest setting. Stir well at about 10-minute intervals. As you're stirring, and simmering, keep adding a pinch of water at a time, until a sauce forms. Continue simmering and occasionally stirring for about 3 hours on low.

You'll add about 2-3 cups of hot water throughout. Maybe a little more, maybe a little less, however, at the end of cooking the sauce should be about ½ inch to 1 inch above the meat. If you prefer a thicker stew, add less water. If you like it thinner, add more water. However, balance the flavor by adjusting the seasonings to the liquid.

(Alternatively, bring the temperature up to medium, and simmer for 2 hours. We prefer the longer method as the meat becomes incredibly tender.)
Adding Okra to the Stew
At this point, strain your okra. (Dry okra should have doubled in size by now.) Add it to the sauce. Try the sauce and adjust seasonings as necessary. Continue simmering with occasional stirring for an additional 20-30 minutes.
Handling Stewed Okra
Serving: serve stewed okra hot with or without a side. (Rice, mashed potatoes, and polenta are good choices.) Most people dip into it with bread, but it can be consumed like stew, with a spoon. Serve with a lemon wedge. Storing: keep in the fridge for up to 48 hours. Reheating: reheat based on your preference. Don't reheat twice. Freezing: Freeze the stew before adding the okra to it. Transfer to a freezer-safe container, and keep up to 2-3 months. When you thaw the stew, follow the recipe steps to add okra in and finish cooking it. (Remember to "de-slime" it first.)
Nutrition
Serving:
1
of 4
Sodium:
388
mg
Calcium:
110
mg
Sugar:
3.7
g
Fiber:
3.7
g
Potassium:
1136
mg
Cholesterol:
250
mg
Calories:
561
kcal
Saturated Fat:
11.5
g
Fat:
29.9
g
Protein:
57.5
g
Carbohydrates:
12.2
g
Iron:
14
mg
More Recipes to ❤️