Veal Stew with Potatoes (Dive Bar Style) is inspired by delicious stews one can find in a Balkan kafana (dive bar). You need one hour, some veal, and a bunch of veggies for this perfect weeknight broth. Shall we?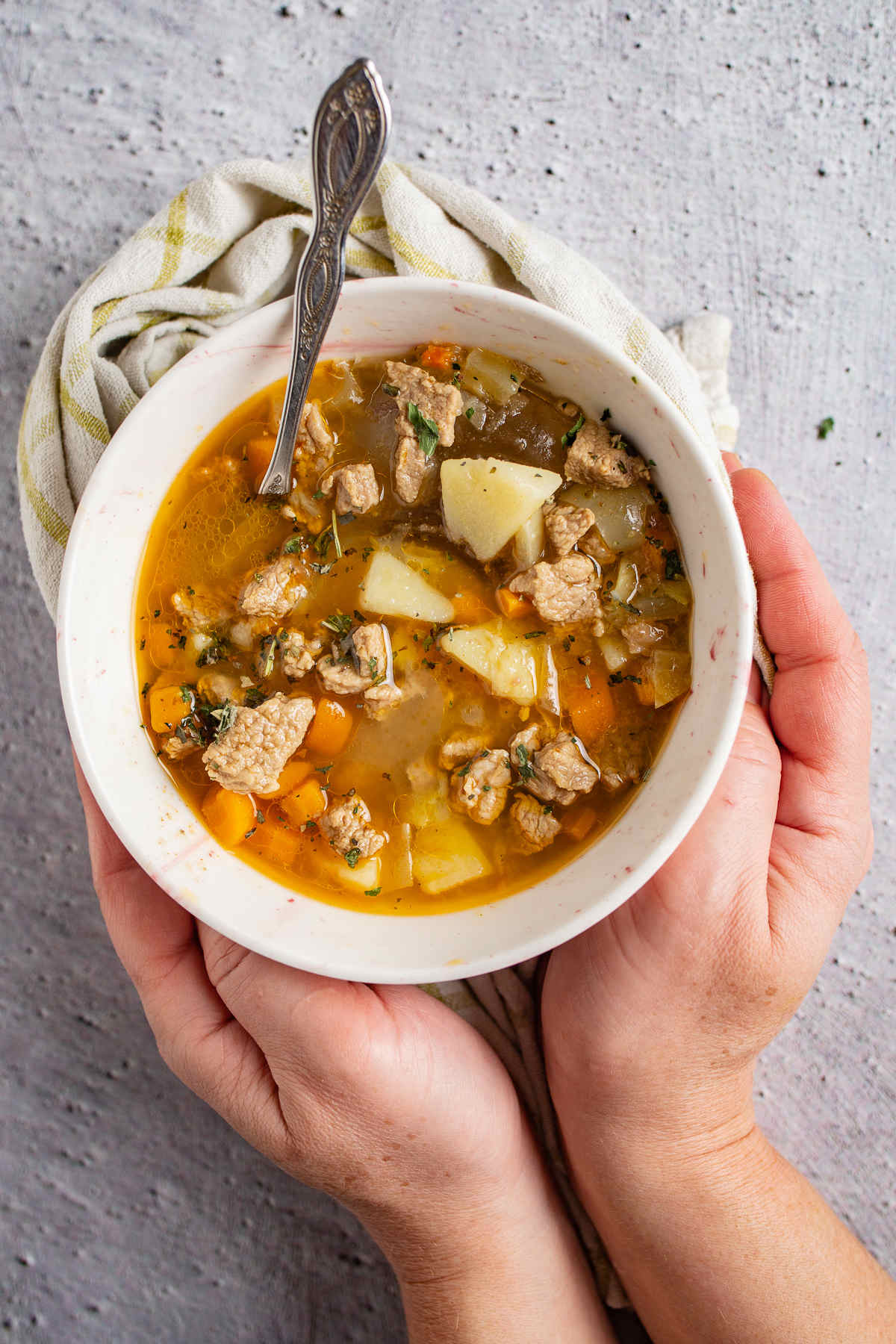 Jump to:
What Is It
Veal stew with potatoes is a warm, hearty, flavorful dish. Potatoes, veggies and spices combine with the tenderest veal to create magic.
This recipe is on the menu of pretty much every Balkan kafana, (an old-school Balkan bar). Kafanas are known for whipping up an amazing entre or two, one of them usually being a stew like today's.
As several kafanas refused to reveal their particular recipe, we recreated it.
Well, Aleksandra did most of the work. You can thank her for today's flawless broth because (unless you own a dive bar), this is the closest you'll get to this incredible entre.
Three Reasons to Love Today's Dish
This stew is chockful of veggies and tender veal, so you can be confident in knowing your family will be eating healthy tonight.

This is THE recipe to start experimenting with veal, even if it intimidated you before. (Move over Osso Bucco!)

We know you're strapped on time! With just 1-hour start to finish, you can prepare this dish super fast, even on a weeknight.
Ingredients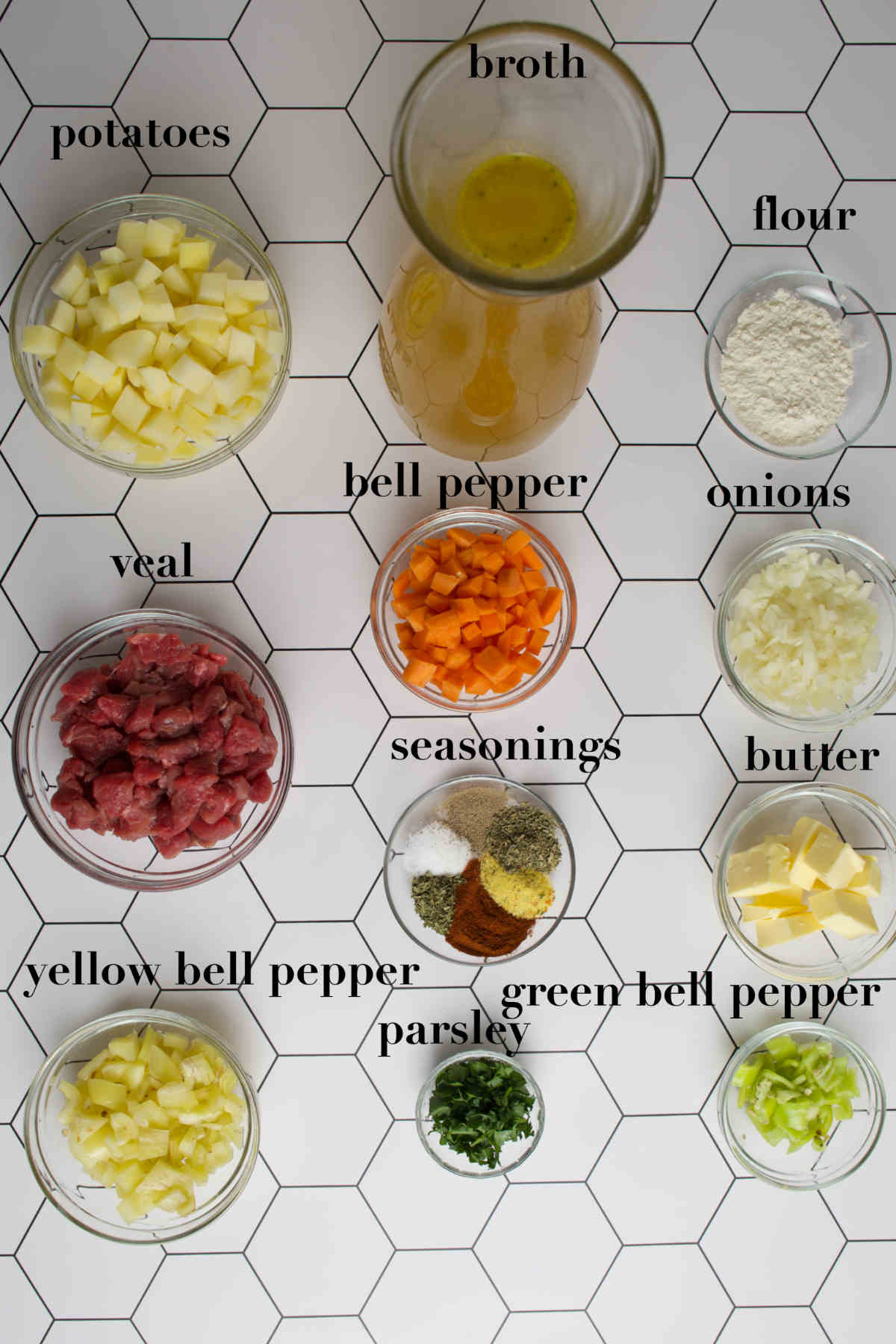 Ingredient Notes
Veal: If you can't find veal, sub with a younger beef cut.
Veggies: cook with tougher, harder veggies that have lower water content. Carrot, onion, bell peppers, and (of course) potatoes work well. For a sweeter taste use sweet potatoes. Avoid: zucchini, squash, and eggplant.
Seasonings: these are what really give this stew that special taste, so don't sub them if you can. Our favorites are the paprika (we like the hotter kind, but sweet is ok too), Vegeta or beef stock powder, and (optional) oregano.
Flour: sub with cornstarch or blended potatoes. Here's how to thicken your stew without flour or cornstarch.
Lightning-fast Instructions
(Our lightning-fast instructions are here to give you an idea of how to make this dish. For more detailed information look at the recipe card below!)
1. Heat butter. Add onion and sauté.
2. Add carrots and pepper and continue sautéing.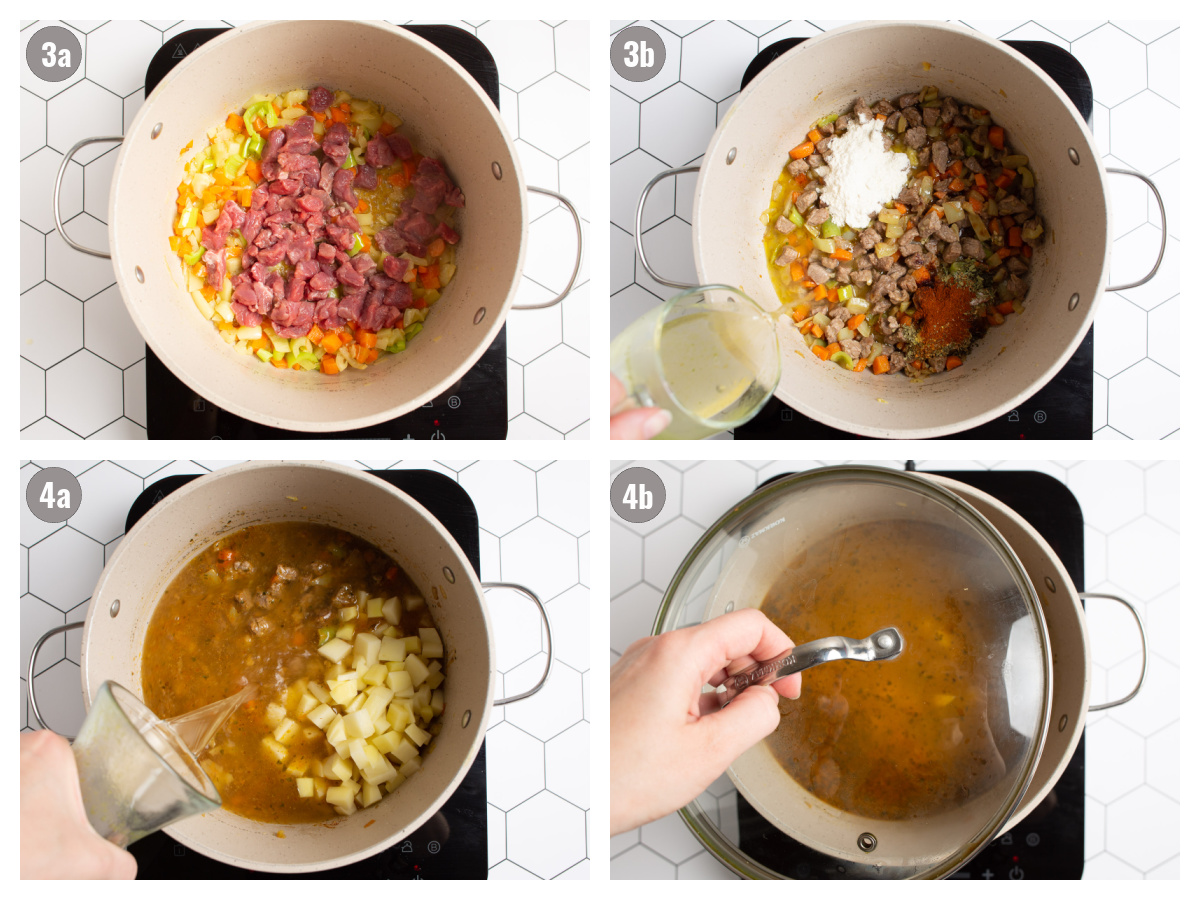 3. Add meat and keep sautéing. Add spices and flour. Stir.
4. Add potatoes and broth, stir and cook. (Optional) garnish with parsley.
Recipe FAQs
Why is my veal so tough?
One of two reasons. You overcooked it or what was sold to you as veal was actually baby beef or beef.
What kind of meat is veal?
Veal is the meat from young calves.
How do you tenderize veal stew meat?
Veal is tender to start with. You don't need to tenderize it for this stew. If you're making veal cutlets you can flatten them, or marinate them.
Can you overcook veal stew?
Any stew that's cooked too long can be overcooked. Just follow today's recipe and you'll be fine.
How long should veal be cooked?
Veal cooking time depends on the dish. Today's veal stew takes one hour start to finish.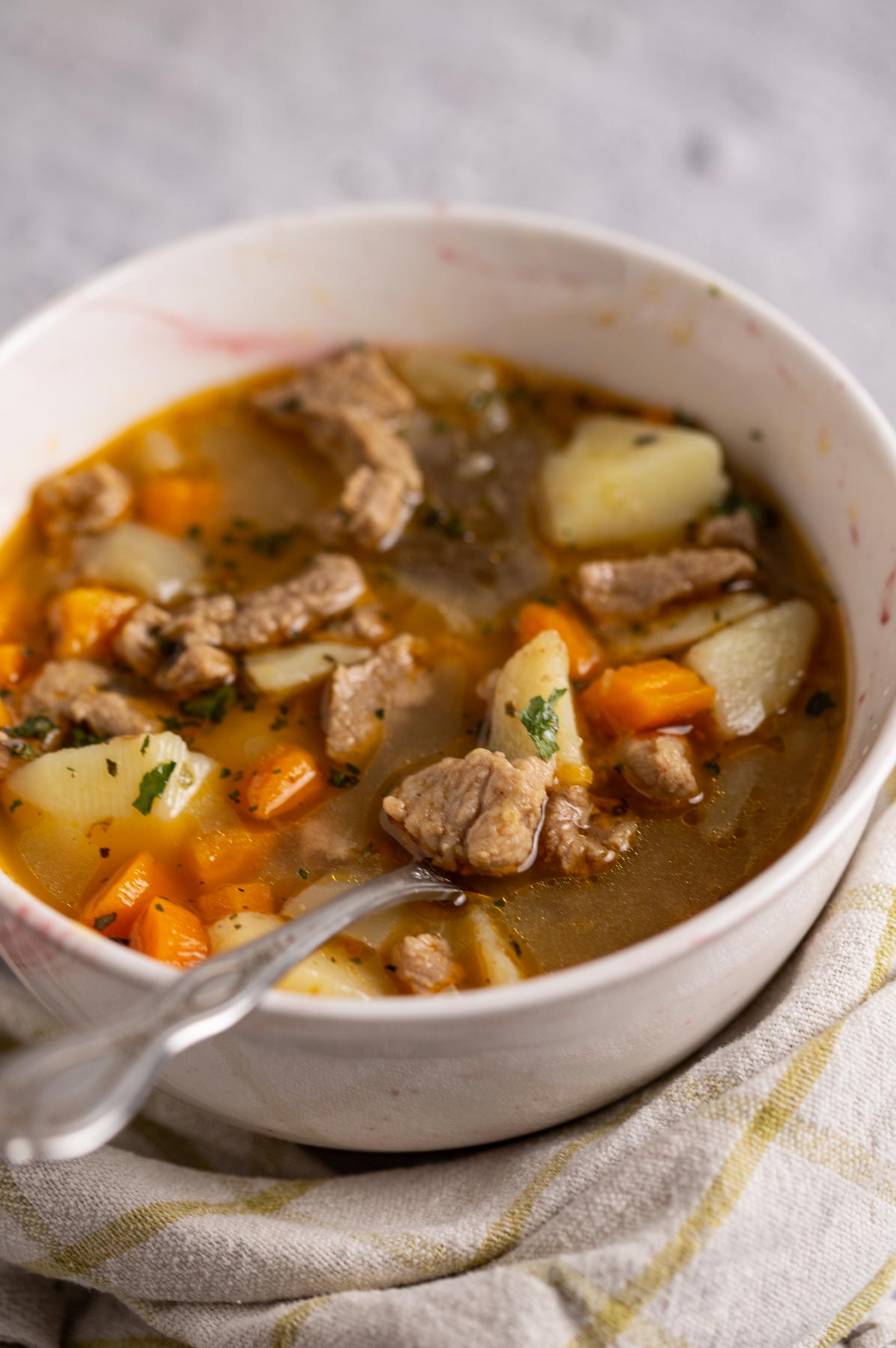 More Veal Recipes
Would You Do Me a Favor?
If you make today's Veal Stew With Potatoes and like it, please consider leaving a ⭐️⭐️⭐️⭐️⭐️ (5-star) rating. This will help others find the recipe more easily!
You can also leave a comment, I read EVERY one! Finally, if IG is more your thing, consider tagging us @balkanlunchbox.
Prijatno and bon appetit!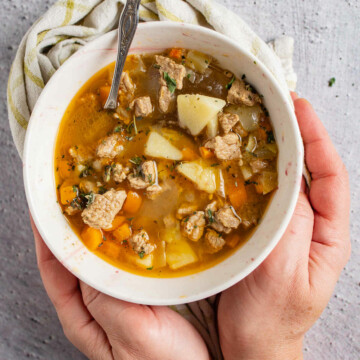 Veal Stew with Potatoes "Dive Bar Style"
The type of comforting, hearty stew you'd find in a local dive bar "kafana." On your table in less than an hour.
Ingredients
3

tablespoons

butter

1

teaspoon

oil

(optional)

1

onion

large, diced

2

carrots

medium, diced

1

yellow bell pepper

medium, sliced into short thin strips

16

ounces

veal

diced small

salt and pepper to taste

1

tablespoon

beef stock powder

or seasoned salt

1

tablespoon

paprika

sweet or hot, per preference

1

tablespoon

flour

6

cups

beef broth

or a bouillon cube dissolved in 5-6 cups of water, divided

2

potatoes

large, yukon, white potatoes or similar

1

tablespoon

(optional) fresh parsley

minced
Instructions
In a medium size pot heat butter over medium. (Add oil to butter if worried about butter burning.) Add onion and sauté 2 minutes frequently stirring.

Add the carrots and continue sautéing for another 2 minutes, frequently stirring. Add pepper and continue sautéing and stirring for an additional 2-3 minutes.

Add meat. Stir well and keep sautéing 10 minutes. Add spices, flour and 1 cup of broth. Stir until well integrated.

Add potatoes and remaining broth and stir yet again. Cover pot with its lid and cook 20-25 minutes or until potatoes are fork-tender.

(Optional) Garnish with parsley. Serve hot.

Due to potatoes, the stew is best served the same day. If you must, keep it in the fridge overnight, but consume within a day. If you plan to freeze it don't add potatoes.
Nutrition
Serving:
1
of 4
Sodium:
1861
mg
Calcium:
75
mg
Vitamin C:
82
mg
Vitamin A:
5493
IU
Sugar:
4
g
Fiber:
4
g
Potassium:
1216
mg
Cholesterol:
116
mg
Calories:
388
kcal
Trans Fat:
1
g
Monounsaturated Fat:
6
g
Polyunsaturated Fat:
1
g
Saturated Fat:
9
g
Fat:
17
g
Protein:
30
g
Carbohydrates:
28
g
Iron:
3
mg