We make a lot of veal in the winter, and this veal shank roast (koljenica) is often on our dinner table. Soft, succulent fore shank meat has a deep, satisfying, hearty flavor you'll want to eat for days in a row.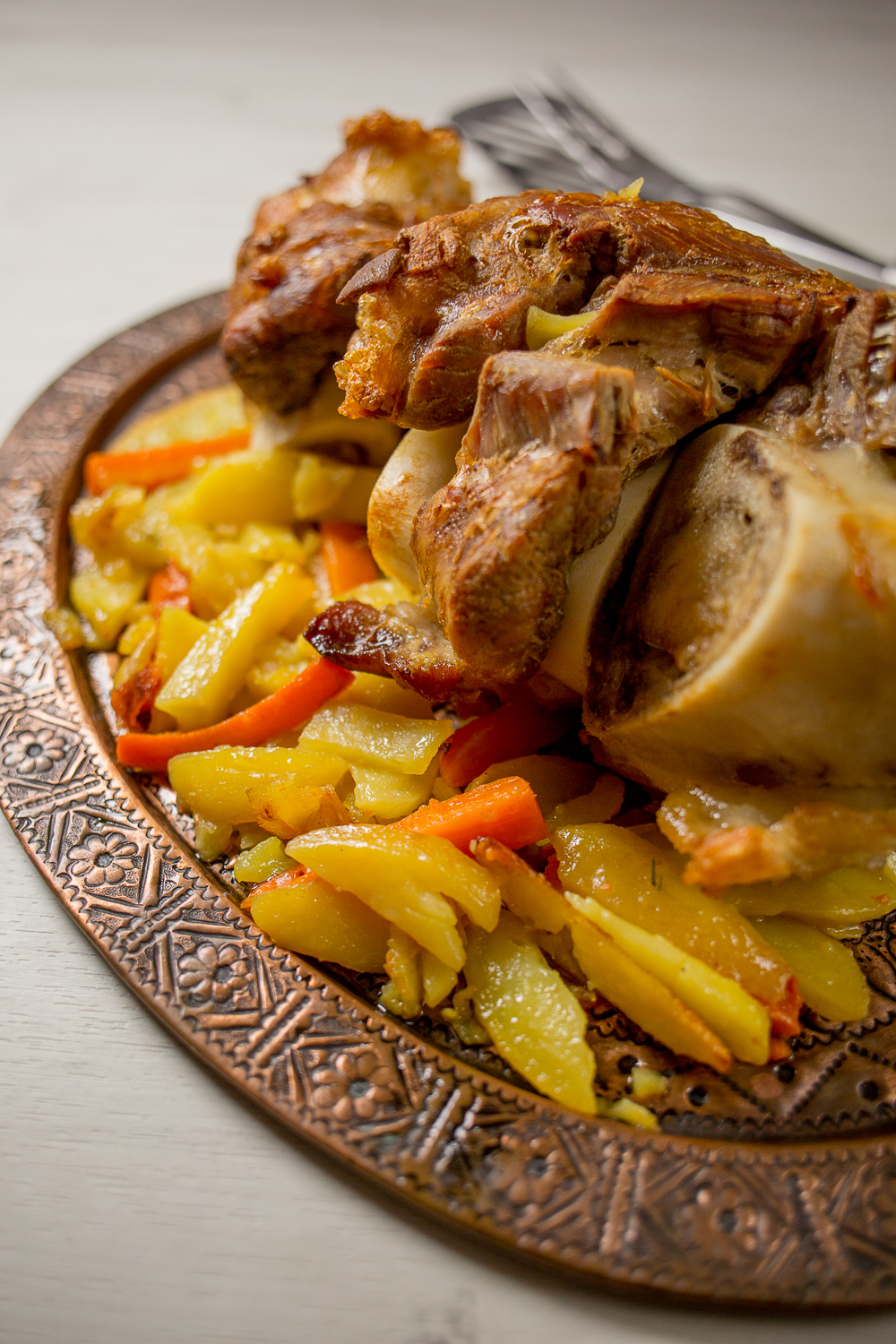 Veal Shank Roast
Every large meal gathering in our extended family is accompanied by a succulent, large roast.
We're not original in this way. A good roast brings up memories for most people. Families around the world gather at the dining room table, at least during the holidays. Turkey, beef or chicken matters little. It's about that sit down, about conversation and good food.
And about waiting for the designated carver who has the most important job.
(This is usually the most senior male in the family. It's the same across continents. Is it a patriarchal hand me down from an earlier era? Or a conciliatory prize for the man as the woman chose the right cut, marinated that sucker and roasted it to perfection?)
The rest of us watch the carver with focus, attention and hankering, hoping our piece will be just right. Just the right amount of fat, the right amount of meat, the right amount of yum, just the right size.
Wrong piece can start a war.
Roast for me brings up images of a hefty cherry wood, oval, dining room table covered with a snow white, crisp tablecloth with a few embroidered details in blue or pink. Table is set with china and silk napkins, which are surrounded by crystal glasses and much cutlery. The throne of the table is in the middle, where a large pan rests enclosed by tens of bowls and plates filled with different sides. In the pan is a luscious veal roast which any meat aficionado would admire with devotion reserved for fetishes.
You see, there is something grown up - a very satisfying feeling - about knowing how to make a perfect roast. And I'll teach you how.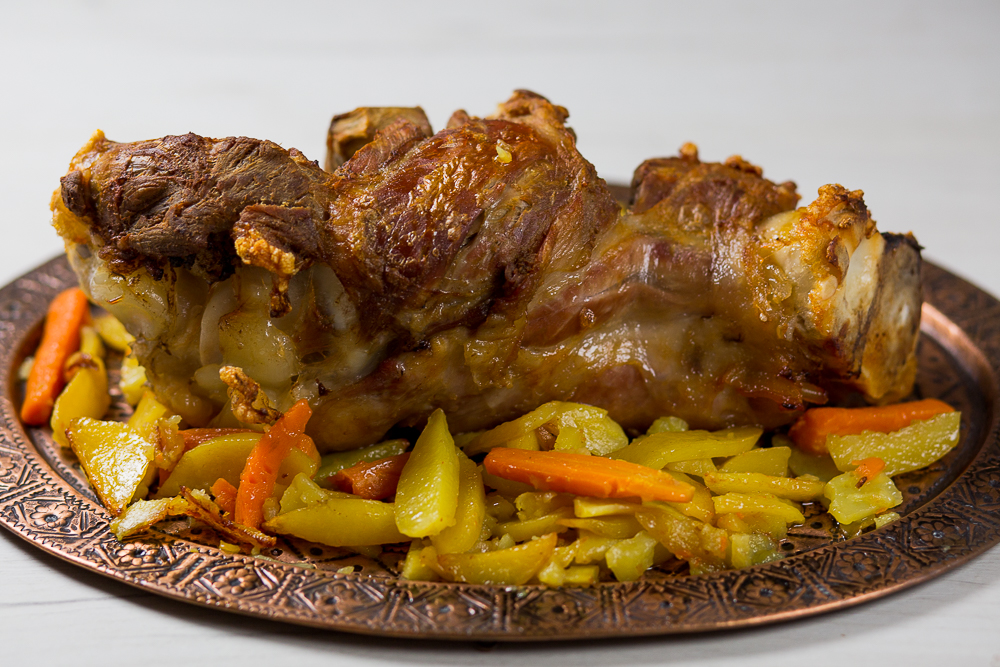 What is veal shank?
Shank is the portion of a cow's leg between the knee and where the limb attaches to the body. (Look at the red areas in the diagram below.)
This positioning is what gives shank its name in Bosnian (Croatian/ Serbian); shank is known as koljenica (koljeno being the knee). Therefore koljenica (or shank) refers to the area around the knee.
When it comes to veal, medallions and under the shoulder blade are generally the most popular cuts.
Medallions top the list due to their tenderness. A well made veal medallion will evoke meat cravings you've never had in your life. Under the shoulder blade (veal) is also well respected as it's a solid piece of meat for roast and is comparable to any good beef cut.
Veal shank often gets shafted in the process, not because of the taste, but because most people don't know how to prepare it well.
There are two types of shanks: fore and hind.
Fore shank refers to the front leg shanks. It is located underneath the piece of meat we use for brisket. Fore shanks are larger, meatier, and when done the right way, softer. When buying shank for a roast always make sure you're getting the fore shank.
Hind shank refers to the back leg shanks. They're smaller and located underneath the area we refer to as round. While you're welcome to roast a hind shank, you're better off using it to make bone broth.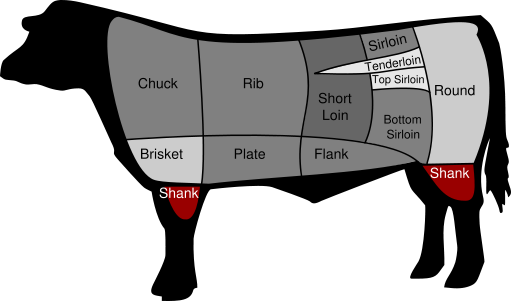 What does it look like?
If you take a look at the photo below (marinated shank in the pan), you'll see what veal shank looks like uncooked. However, imagine it in one thick, long piece that's not been cut.
Veal shank is shaped kind of like a sensual thigh. Thick on top, thinning out as it reaches bottom. A bone runs through the entire piece.
The shank is pink in color with some redder areas inside the cut, and white areas where the fats and bone are. In color it is similar to the pork shank. However, you can differentiate these two by shape. Pork shank is short and stocky, while veal shank is elongated.
Veal shank weighs between 3 and 6 pounds (from 1.5 to 3kg). Make note of how much your shank weighs as the weight is a deciding factor in roasting length.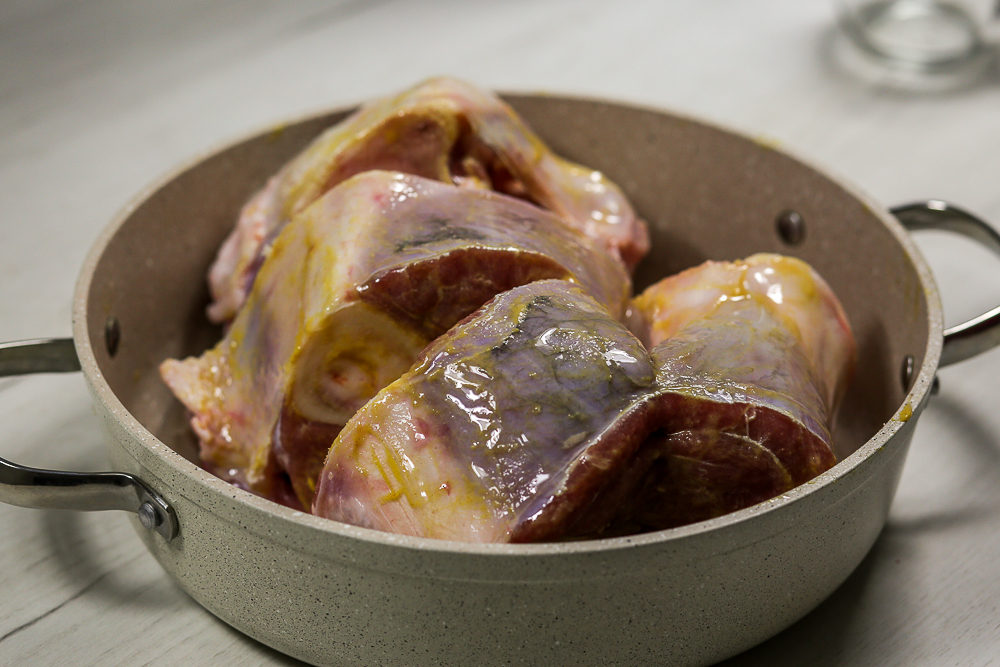 What dishes can you make with this meat?
While veal shank is not traditional to American cuisine, this cut is well known and frequently prepared internationally. Three famous veal shank dishes come to us from Italy, the Philippines and the Balkans.
Osso Buco (Ossobuco, or Milanese) is the best known veal shank dish. It hails from the Lombardy region in Italy. Veal shank is cross cut into several 2-3 inch pieces where the bone is left visible in the middle of the meat. (In fact, osso buco means "bone with a hole" making the marrow in the bone focal point of this delicacy.)

These cuts are braised with vegetables, broth and vine

until perfectly simmered. Ossobuco is served over pasta or polenta.
The Philippines give us another great veal shank dish, a shank stew called Bulalo. Bulalo is made by stewing shank and vegetables for a while. Cabbage and corn take the center stage in most Bulalo recipes. As the shank stew is cooked a long time it allows for perfect veal shank broth to form, further enriched with tender meat, and (unusual for soup and stew) corn on the cob.
Finally there is koljenica, or veal shank roast we're doing today. A tender roast with meat that falls of the bone is great for any occasion. For directions read below.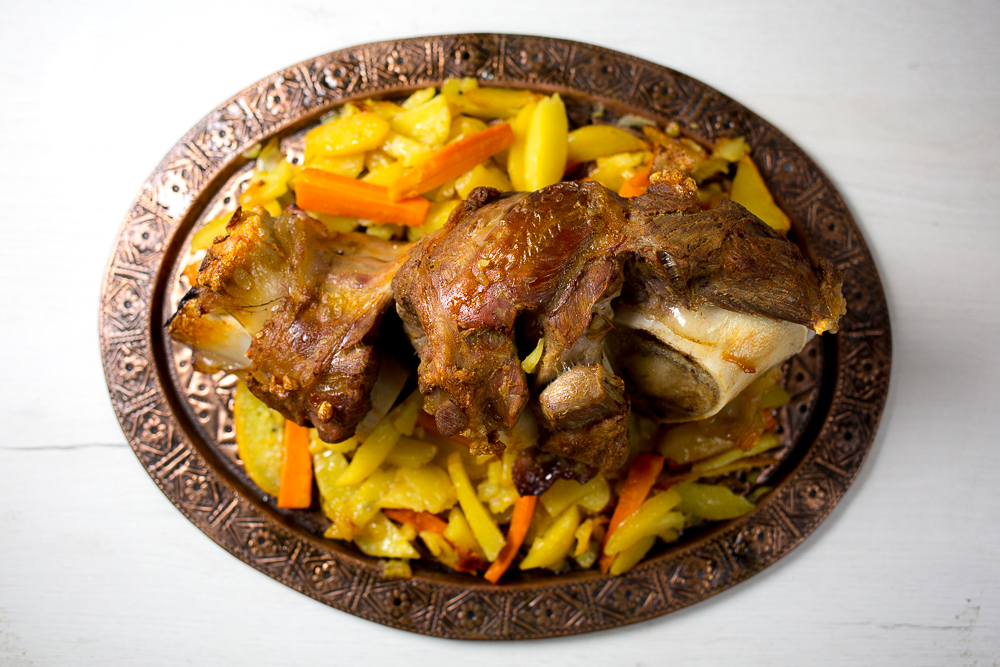 How to make bone broth?
Bone broth made from veal shank is considered a delicacy and medicine. (Think chicken broth on steroids.)
A delicacy because it is flavorful and versatile. In taste, veal bone broth is stronger than chicken soup, but not so strong to leave you with a "I've just been punched in the stomach" feeling some broths do. In fact, this clear broth is light enough to leave its mark on cooking (as a foundation for soups, stews and rice), while it doesn't overpower.
And it's considered medicine because the marrow is a great source of protein and nutrients. It's high in collagen, vitamins and minerals. Bone marrow is also said to be helpful in healing everything from cold to osteoarthritis.
In the Balkans bone broth, and especially veal shank bone broth (temeljac od koljenice), is widely used in cooking in an effort to strengthen the immune system. Mothers of young children swear by it. They use bone broth as a base for most food they prepare for their kids. (My father, who was a surgeon, used to urge me to eat it: "Aida, if you'd only eat more of this. You have no idea how good it is for a woman's health.")
All of us from my sister, mom, to my grandmothers have been brought up on bone broth. It's quite possible bone broth is the reason I was able to survive malnutrition that came later, during the war years (when I was 9, 10), and escape relatively unaffected by it.
Recipe Notes
Ask the butcher for a nice piece of veal shank and ask they cut it into 3-4 pieces. (You can use either fore or hind shank for the broth.) Use 1-2 pieces of shank per one 5-6 quart pot. (Freeze the remaining shank for another batch of broth.) Add celery, carrots, and onion to the pot with shank and fill the rest with water. (You can use a slow cooker if you wish.) Bring ingredients to a boil, then remove foam that forms on top.

Bring temperature down to lowest and cook several hours (at least 3, but you can go as long as 12*). Fifteen minutes before you turn the stove off add a few handfuls of fresh parsley.

Strain broth into a different pot making sure you are keeping all the gelatinous pieces that formed, and scrape all the bone marrow from inside and around the bone as well. These pieces are extremely beneficial and healthy for consumption. Discard vegetables and bones. Use meat for a different dish.

Transfer bone broth to several jars or plastic containers and freeze what you won't immediately use. When cooled, bone broth looks like a gel. Remove the layer of fat which will form on top before warming the broth up and using it for your dish (or consuming as is). (This particular fat doesn't taste good at all.)
*While some advocate longer simmer times, I make mine in about 3 hours. You can go as long as 12. However, the longer you go, the more intense the taste. This means longer cooking times will later require you to water down the broth before using it.
Please that: if you are making broth, use a brand new shank, not the leftovers. (Do not use leftover bones for bone broth, or cook the broth and then try to roast it.)
Method Notes
This recipe for veal shank starts with a good, long marinade.
If you're a marinade expert you're welcome to experiment. But I went the classic Balkan marinade route: spices, mustard and oil. The best method is if you rub these generously into the meat. (Shank should almost be divided in 4-5 pieces, but not all the way through, as you can see on photo above.) Afterwards, wrap meat in saran wrap and leave it in the fridge overnight.
The following day transfer the shank into a well-oiled roasting pan and cover it with foil. Pierce foil with a toothpick or fork in several places so some of the heat can escape during roasting. Throw the pan into a super hot oven. You'll roast it on 480°F (250°C) until the last 15-20 minutes when you'll take the foil off and lower.
To achieve the right, fall of the bone effect, any type of veal roast should be roasted based on its weight. The formula is the same as for the regular veal roast: 1 hour of roasting per 2 lbs (1kg) of meat. (For example, if you have 3 lbs of meat you'll roast it for 1.5 hours.) If you roast your meat based on this formula you'll never again have to fear veal that's overly done, or not done enough.
Halfway through the roasting take the pan out and carefully remove the foil. Flip the meat around, pour the juices that are in the pan over it, cover with foil again and return to oven. Continue roasting, but remember to take the foil off for the last 15 minutes of roasting and to lower the temperature to 390°F (200°C). This will form that perfectly juicy yet crispy skin.
Additional Information
Vegetables. Great vegetables to make with this roast are potatoes and carrots. However, any root vegetables will do. You can make the veggies separately or with the roast. If you want to bake vegetables with the roast, peel, cut and throw them in when you remove the foil, and keep them in the pan another 15 -20 minutes after the meat is finished. Softer veggies like peppers need less time.
Rice. This roast produces just enough juice to drip over rice. Combined, this rice, meat and juice flavor is unbeatable.
Mashed potatoes. Like veal rump medallions, veal shank is perfect over mashed potatoes.
Polenta. Serve over polenta for a unique taste.
Serve as a salad. Exchange your regular chicken or steak with veal shank. In this case, I recommend you use shank leftovers that have been in the fridge overnight. Warm veal shank is unbelievably great, but so is the cold one from the fridge with a little bit of salt on top.
Use as sandwich meat.
In the end, it doesn't matter how you decide to consume it. What you'll find is that even if you're ordinarily not a meat person you'll like the taste of veal shank.
Really, really like it.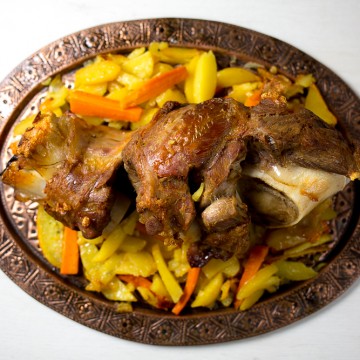 Veal Shank Roast
Veal shank roast is a classic roast perfect for a family gathering. Soft, succulent fore shank meat is a hearty protein treat you'll want to make over and over. 
Ingredients
1

veal fore shank weighing 3–5 pounds

with a few deep cross cuts

Optional 2-3 pounds of potatoes (peeled and sliced) and 4-5 large carrots (peeled and cut in half)
Marinade:
5

–6 teaspoons mustard

3

–4 teaspoons salt

or vegeta

Optional 2-3 teaspoons black pepper

½

cup

vegetable oil

for marinade

½

cup

vegetable oil

for roasting pan
Instructions
(Marinate meat at least the night before.) Place veal shank in a deep dish. Generously spread mustard on all sides, including deep cuts. Repeat with salt (or vegeta) and pepper (if using it). Finish with oil. Cover dish saran wrap and leave in the fridge overnight.

Heat oven to 480°F (250°C).

Uncover the meat and transfer along with any marinade into a roasting pan. Cover pan with foil. Use a toothpick to pierce a several small holes in foil.

Place the pan on the middle rack. Total roasting length roasting depends on veal shank weight. (The formula is 1 hour of roasting per 2 pounds (or 1kg) of meat.)

Take the pan out of the oven (quickly close the oven door so the heat doesn't escape) about halfway through roasting. Carefully take the foil off and flip the meat inside the pan. Use the juices around the meat to thoroughly pour it over the meat. Place foil back on the pan and return to the oven.

About 15-20 minutes before the end of roasting take the foil off and lower the temperature to 390°F (200°C).

At the end of roasting transfer the meat onto a serving plate and wait 15-ish minutes before cutting and serving. (Optional) If making potatoes and carrots along with the meat, put them in when you take the foil off (step 6), and roast them in the pan another 15-20 minutes after you take the meat out of the pan.

Use the meat juices from the pan as gravy when serving the meat.
Notes
Leave meat leftovers in fridge. Veal is even better the next day, cold, with a little bit of salt on top.
Make sure to note weight of your veal shank so you can easily determine roasting length.
Remember to marinade meat the night before.