Moist and smooth veal rump medallions simmered in reduction sauce and served over softest mashed potatoes.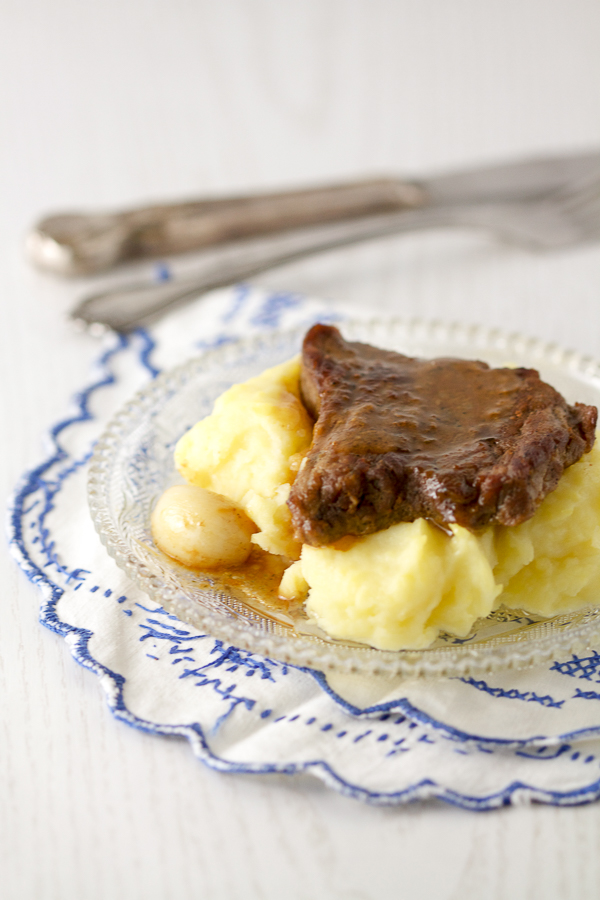 These veal rump medallions are my go-to recipe when I want something substantial quickly. The caveat is remembering to marinate them at least a few hours ahead, preferably overnight. (While the medallions are done in a jiffy, the wait time is long.)
I remember back in the day when marinading seemed daunting. Indeed, there are complicated marinades out there. The trick here is to establish a baseline with a simple one you can use each time. Meaning, look for a two-three ingredient marinade. If you have to go to a specialty store to get all the supplies, run the other way and don't look back!
Marinade we're doing today is made predominately from mustard. We're not even talking dijon. Just plain mustard. Any mustard you can put on a hot dog will work well. What it does is tenderize the meat, so the veal ends up even softer and chewier after it's prepared.
Another trick to make these the most tender medallions is to fry them for one minute on each side on a light film of very hot oil before continuing on medium heat. This quickly closes the pores on the meat sealing in the moisture.
You know how to make good mashed potatoes. Right? If you don't, here are a few tips. Peel and cut (even dice) potatoes before boiling. Once they're tender, drain. Add some milk and some butter and mash. Keep tasting until you get just the right consistency. They're simple to prep. There's no excuse for going with the preservative ridden ones from the bag.
You don't have to, but in the Balkans there is always some type of a soup (salad too) when a meal does not consist of a stew. If you are motivated, you can go for beef or the grits noodle chicken ones. But since you've been so good preparing the mashed potatoes all by yourself, I'll be ok if you go with the bag soup here.
P.S. Here's another veal recipe: cutlets in red wine also known as drunken schnitzels.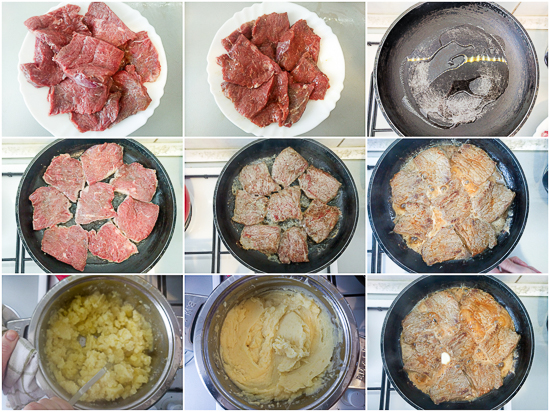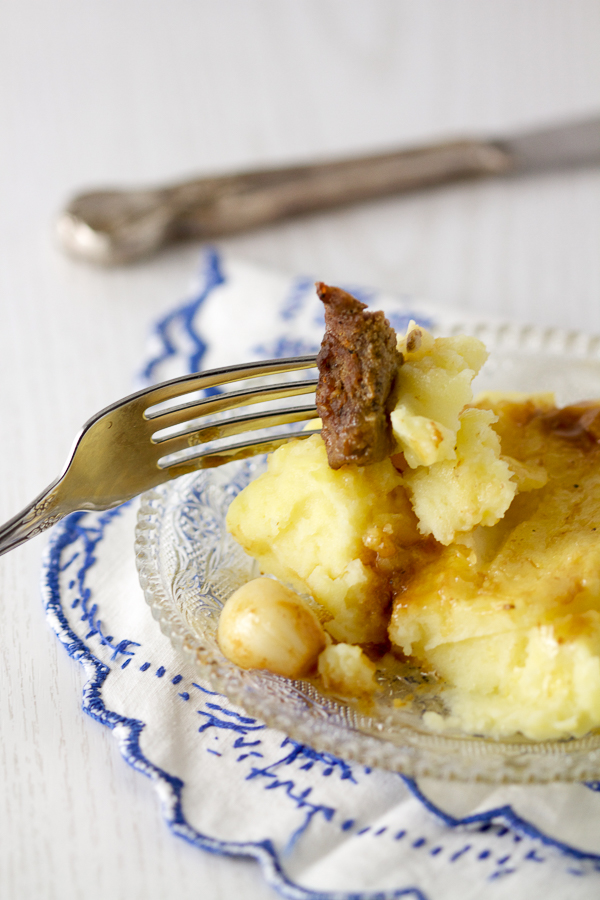 Veal Rump Medallions With Mashed Potatoes
Ingredients
8

veal rump medallions

about 2 pounds of veal

½

tablespoon

mustard

1

bouillon cube

crushed into flour

Ground pepper to taste

2

pounds

Russet potatoes

7

ounces

milk

3

tablespoons

butter

Salt to taste

6

ounces

beef broth

1-2

garlic cloves

whole

2

ounces

white wine

2

tablespoons

parsley

minced

Oil
Instructions
Marinade veal the night before you plan to make them (or 4-5 hours ahead). Start by spreading mustard on all sides (use hands). Follow with bouillon and ground pepper. Seal everything in with a coat of oil (2-3 tbsp). Cover with saran wrap and leave in the fridge.

The following day take the veal out, and uncover an hour or so before preparation.

Peel and quarter potatoes. Place in a pot and cover with water. Bring to a boil on high. Lower the temperature and cook until you can easily cut into them with a fork. (About 15-20 minutes.) Remove from heat and drain. Add milk, butter, and salt. Mash vigorously with a masher or hand mixer until completely smooth (3- 5 minutes).

In a deep skillet, heat a light film of oil on high. Add veal. Brown on high for 1 minute on each side. Lower to medium and simmer 5 minutes. Add beef broth and simmer another 5-7 minutes. Finally, add white wine, garlic cloves and parsley. Simmer for final 5 minutes. (By this time most of the alcohol will evaporate, and the sauce will thicken.)

Serve hot over mashed potatoes.
Notes
Serving size is about 1 to 1.5 veal medallions.
Prep time for medallions is about 3 minutes, and cook time is about 20 minutes. Make sure you leave the medallions to marinate for at least a few hours. Best if left overnight.
Prep and cook time for mashed potatoes is about 30 minutes.
You can do these parallel to each other.