Four ingredient walnut bites. Perfect crunchy bites to go with milk or coffee. Also the easiest dessert you'll make all year.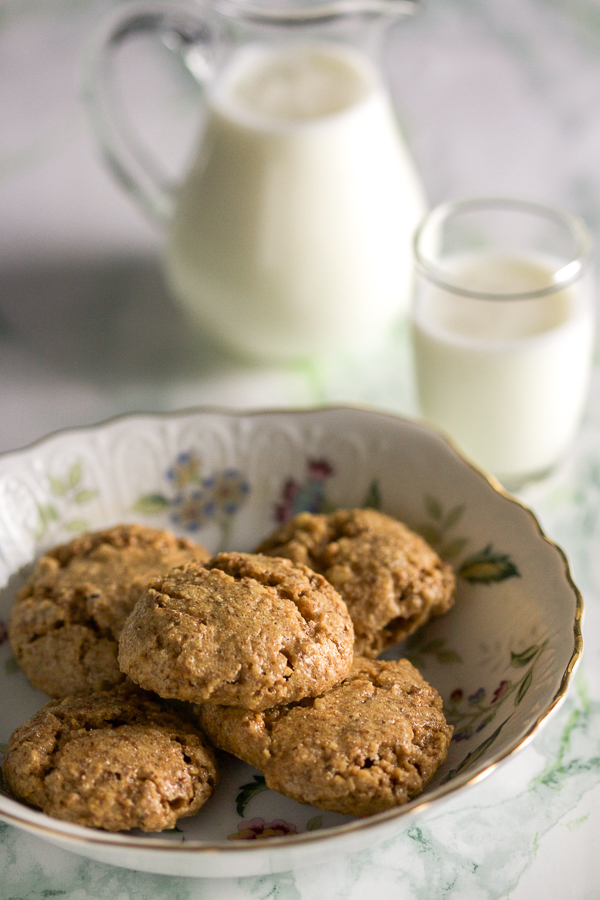 Literally and figuratively, the Balkans is a land of a lot of nuts. But for some reason, it is the walnut who has the most prominent place in the kitchen. You may remember a few walnut recipes we've done together: baklava, the roses, plum pie, and walnut cake. Do you notice the trend?
Within Balkan cuisine walnuts are usually used for sweets and dessert only. Why dessert only?
Not sure. Probably due to the Balkan inability to combine sweet and savory in a bite. Try tasting the walnut by itself. Feel its crunch, the whiff of wood and harvest, its oily-in-the-right-way texture... and you'll notice the walnut will pull you to the sweet side. Because of this pull - unless you meet an adventurous cook on your travels - you'll probably never encounter walnuts in a salad here.
Walnut is an extremely healthy seed. It protects the heart, and prevents certain cancers and diabetes. It's also a rich source of antioxidants. In a study done by the University of Scranton Chemistry Professor Joe Vinson, Ph.D., walnuts topped the list as having the highest quality and the highest potency of antioxidants when compared to all other nuts. I guess our ancestors were right in consuming so many.
In case you were wondering, in local slang to be like a walnut is to be tough or stubborn.
There is one main difference between walnut recipes I mentioned above, and the one we'll be making today. In most recipes above walnuts are a side ingredient. Or one of many. Today though, it becomes the star.
The recipe requires only four ingredients. One egg, an equal amount of sugar and ground walnuts, and a little baking powder. We'll mix everything, and make dozens of little balls. Then, we'll throw them into the oven, and leave on low temperature for a while. Like baklava, today's walnut bites will be 'dried' by the heat rather than baked.
The result is spectacular.
While in the oven, the balls lower to make small domes. They come out hot and crunchy. But they melt in your mouth quickly. Get a cup of dark, strong, hot coffee, and see for yourself.
My funniest walnut story (how could you have a sad walnut story anyway?) happened over a decade ago.
I have these cousins that were born in Sarajevo, but moved to the US fairly early. Early enough they have an accent when they speak Bosnian. And they mix pronouns. They're now two grown men in their thirties. But when you hear them say something like "he is a very sweet girl," you can't help yourself but smile.
One summer after the war, they came to Sarajevo with me. I can't imagine how strange it must have been for them. This land of people as weird as (they probably thought) their parents and relatives. Just as familiar as it was foreign. The whole after-war reality. The remnants of the world their parents left behind.
To my surprise, they fit in quickly. They never complained. They finally understood where their dark sense of humor came from, and took every experience in with stride. From taking grandma to a pop-concert, to walking all the way from Grbavica neighborhood to the Goat's Bridge (an hour and a half walk), because grandma said it was just down the street.
One hot afternoon we were taking the tram somewhere. It was your typical Balkan tramway scene. A million of people stacked like sardines into the thin, long, city transportation vehicle. There was pick-pocketing going on. Some rather young teenagers were making out like there's no tomorrow. There were some moms with children. Some old people. Some young people. And all of us.
But no AC.
It was a ride from hell.
At one of the stops a sweaty guy walked in. The kind of sweat that leaves major armpit stains on one's t-shirt. He was older. Hairy. He stood really close to us, and lifted his arm to grab the railing. He could have grabbed the seat railing. Instead he grabbed the ceiling one, and exposed his nasty pits to the rest of us. We were so piled on he might as well been hugging us.
After about five minutes one guy that found himself in the sweat-man's arms flipped out: "Can you please lower your arm dude? You're disgusting."
Our sweat-man didn't bat an eye. Instead, in a typical peasant accent he said "No, you walnut f-er!"
(Granted the literal translation of the sentence in question, "je*o te orah!" would be something like "may the walnut f-you." But walnut f-er sounds so much better.)
Only in the Balkans...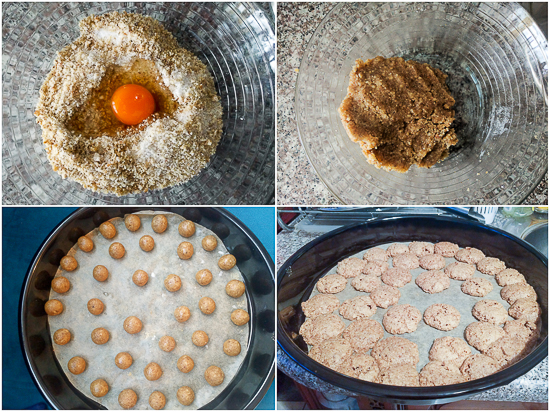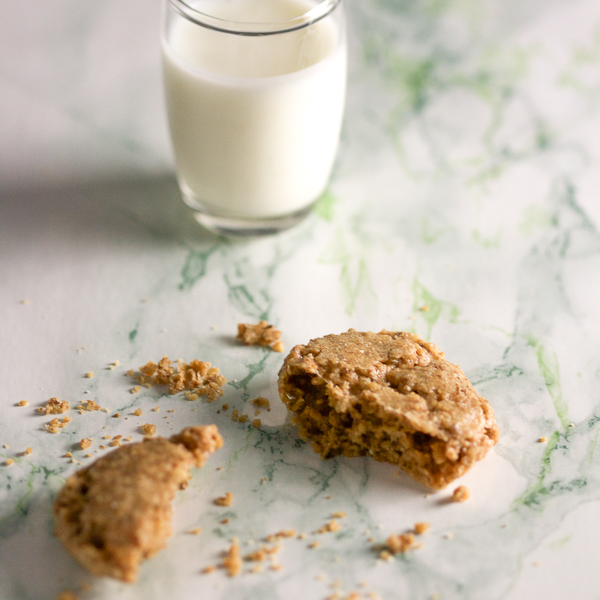 P.S. In the mood for more sweet goodness? Check out these banana pudding truffles from take two tapas!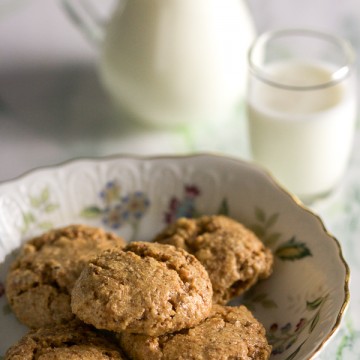 Walnut Bites
Four ingredient walnut bites. Perfect crunchy bites to go with milk or coffee. Also the easiest dessert you'll make all year. 
Ingredients
5.5

ounces

walnuts

ground

5.5

ounces

white sugar

1

egg*

⅛

teaspoon

baking powder
Instructions
Combine all ingredients in a large bowl. Mix really well with your hands until completely integrated. Make small, sturdy balls each the size of a marble. You should have about 35 or so.

Line a large baking pan with baking paper. Place the balls on baking paper keeping a some distance between them as they'll spread out during baking. Heat oven to 250F.

Bake bites for 55-60 minutes.

Keep in a cool place for up to a couple of weeks.
Notes
The yield is about 3 dozen bites. Serving size is about 2-3 bites.
*In the video there are 2 eggs added because we were making a double batch.