Mushroom goulash is a good way to use up older cuts of meat. They add a tone of wilderness to this basic, earthy goulash. Cremini were used for the recipe, although penny bun mushrooms are even better, if available.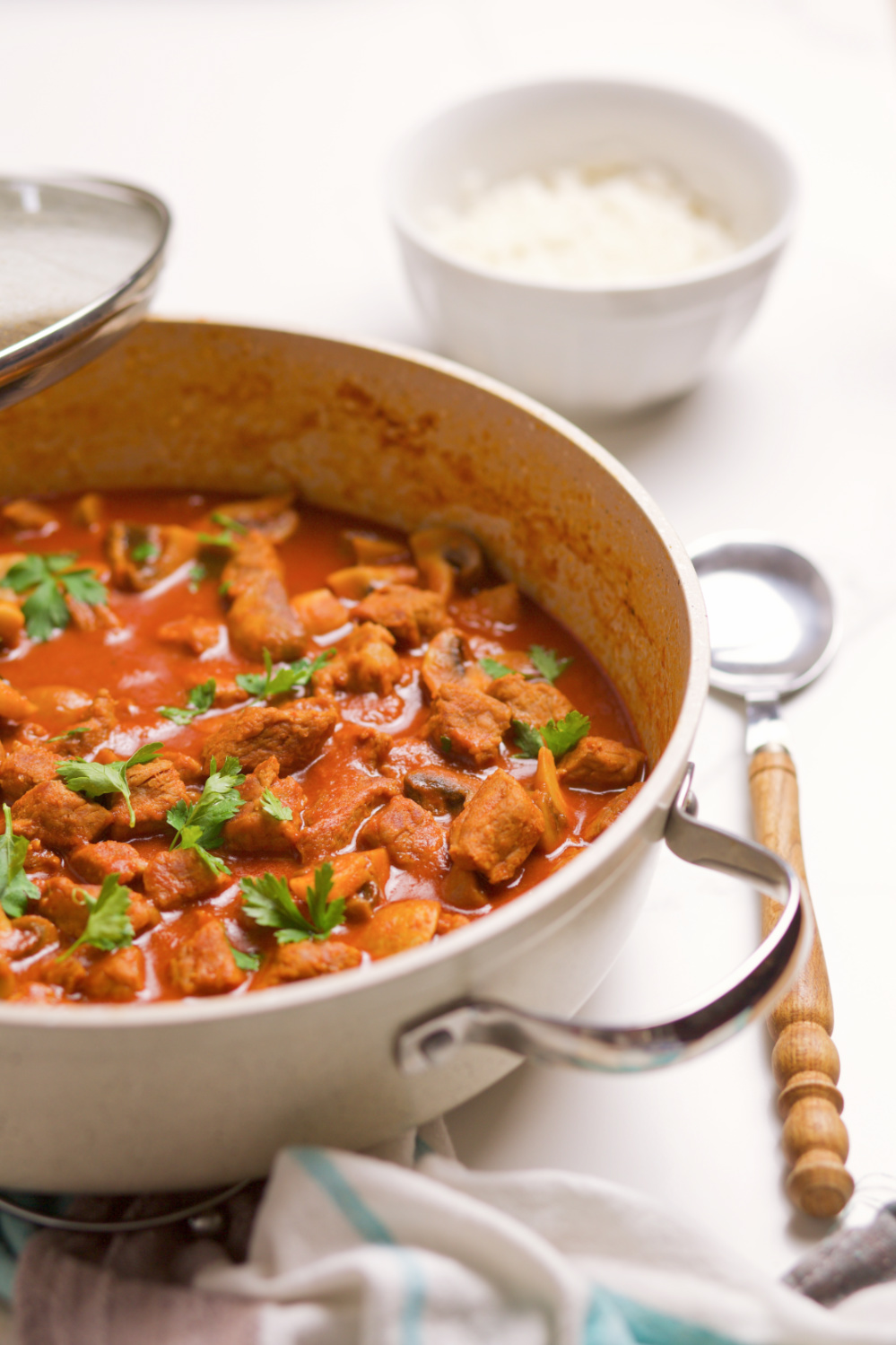 Are you fascinated with success stories? Does your curiosity tickle when reading about someone who got far, when based on all other factors they shouldn't have?
I do. I'm a sucker for a success story.
Let's take two similar people, with similar backgrounds. One makes it, while the other doesn't. And by making it, let's say they've reached certain milestones we consider successful. Health, healthy finances, decent family life. While the other one seems to constantly barely keep their head above the water.
Why the difference? Could it be coming from inside? A flame of determination that proliferates in some, pushes them to be more and do more? Stephen Hawking is a more extreme example of this. (Hawking destroys any reasoning behind procrastination.)  While in others it's extinguished like the flame in tale of The Little Match Girl.
Far too many people fall into this group.
I think of this often when I think of Bosnia. We can't over-simplify the situation the country is going through (together with the rest of the Balkans). Economy is abysmal. Politicians jump on and off power train like kids on Ferris wheel. Each promises to bring change on the way up, but when the cycle is finished you see they've squeezed away the few remaining resources out of people. It's tough.
Still, in spite of all these factors, some people succeed. Without connections, without party affiliations, without those tangible assets required in a democracy in transition.
Now those folks are fascinating to me.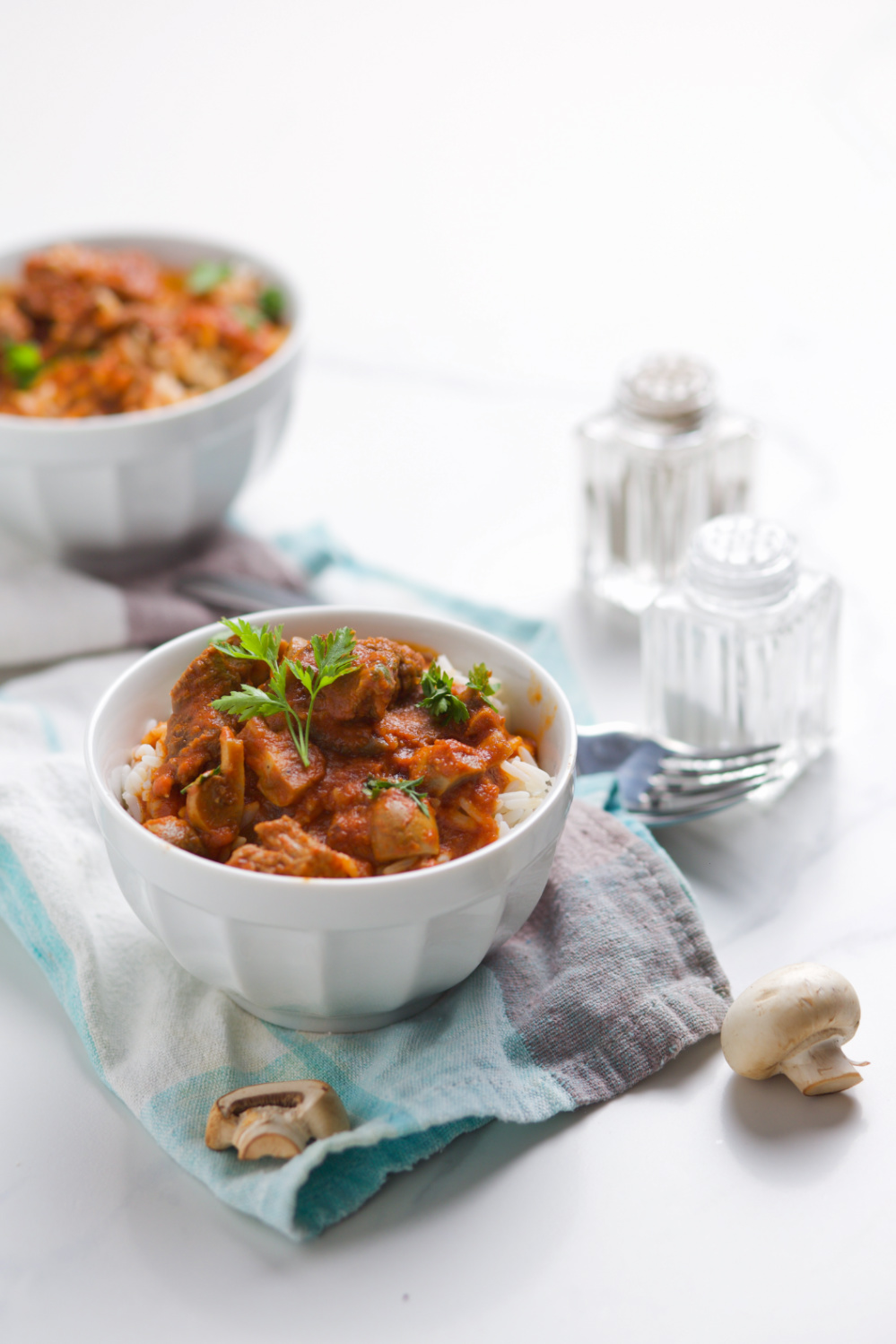 Take this one guy for example. Son of our family friends. He is in his late twenties and had built himself a house recently. This type of thing isn't unusual in most places in the world. Except, our guy lives in a country where this is almost unheard of unless you get your "priorities handled," as in connections, loans, perhaps theft, et al.
Now, he does have one advantage: geography is his friend. He lives in an area rich with vrganj or boletus edulis mushrooms, also known as the penny bun, or porcino mushrooms. This particular mushroom is a hot commodity in Europe, and cooks go nuts over it. It has two different picking seasons, and mushrooms out over a huge area as long as there's been enough rain during the year.
They grow in oak forests where there's some light, plenty of moisture, wild grass and moss. There are several different colors in this family. If one mushroom is found, there are probably a lot more nearby.
There is a way of picking them that's good for the environment (for example, it's not effective to pluck the whole mushroom from the ground as the new ones grow from the roots, thus more experienced pickers know to bring a knife).
A folktale says that penny buns stop growing the moment they're seen by a human, so be swift my friend.
Let's get back to our guy, who saw the opportunity. He educated himself in recognizing these mushrooms, and started picking them. He started selling them to distributors in larger towns. It went well, and the money started coming in. Enough to give him motivation to press on.
Over time, he got his entire family involved in the operation mushroom. With everyone picking before long the business was doing even better. That's when he got the local kids involved. Eager to earn an allowance they drop by on their way from school with mushrooms they picked along the way.
The next step for our guy was to opened up a sorting unit in the basement, where the family prepares the mushrooms for further transport. Penny buns first get sorted by the condition they are in. Some are left fresh, some are dried, some are frozen. Depending on where they fall on that spectrum, they are transferred to distributors who sell them directly to buyers in Croatia and Italy. Our guy is sort of a middleman in the distribution chain. He earned enough to build himself a house, and to this day makes a decent living. Last I heard he got married and had kids. The family is now looking into the wild berry business.
And it all started with one mushroom somewhere.
So the recipe for success may just be the ambition plus motivation, some luck too.
And a voluntary deployment from one's comfort zone. In the case of the Balkans, for every one of our guy there are tens of thousands young people, complaining about the economy over coffee paid for by their parents.
How far would the region get if only 10% did something similar to our mushroom guy?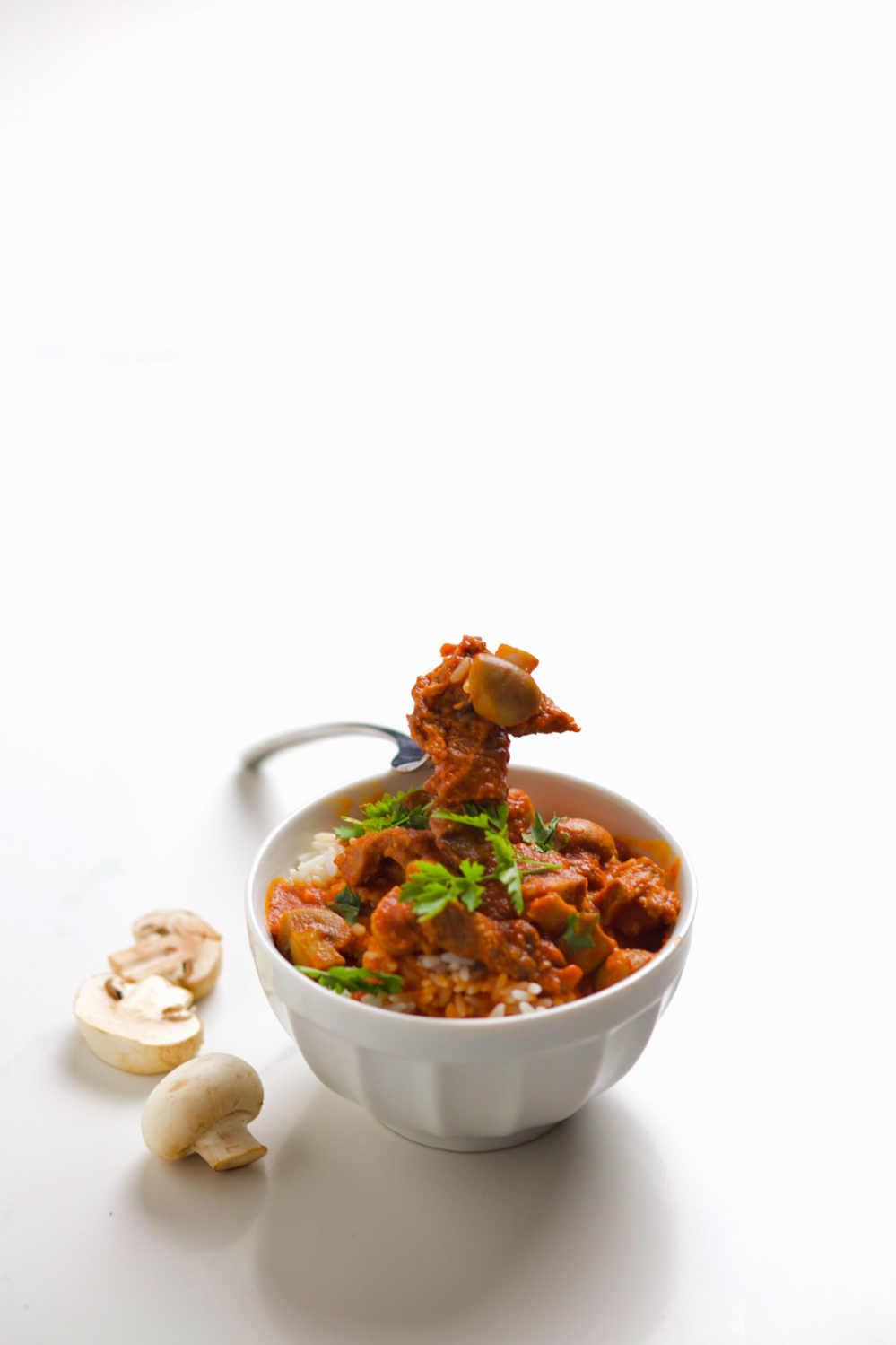 A couple of notes on the recipe:
Mushrooms: I was out of penny buns while making this recipe for photographing, so I used baby portabellas (cremini) mushrooms. You can find fresh ones in your local grocery store all year round.
Tender Meat: This is the first time I boiled meat first before simmering it. It came out perfectly soft. This is my recommendation  for older cuts for any type of sauce.
Garlic: There is a fine line between a little bit of garlic, and garlic taking over the mushrooms. And this fine line seems to around half a clove. Go with less, and if necessary add more later.
P.S. If you liked this mushroom goulash, you may like the regular goulash, the even simpler goulash, and of course the boozy mushroom risotto.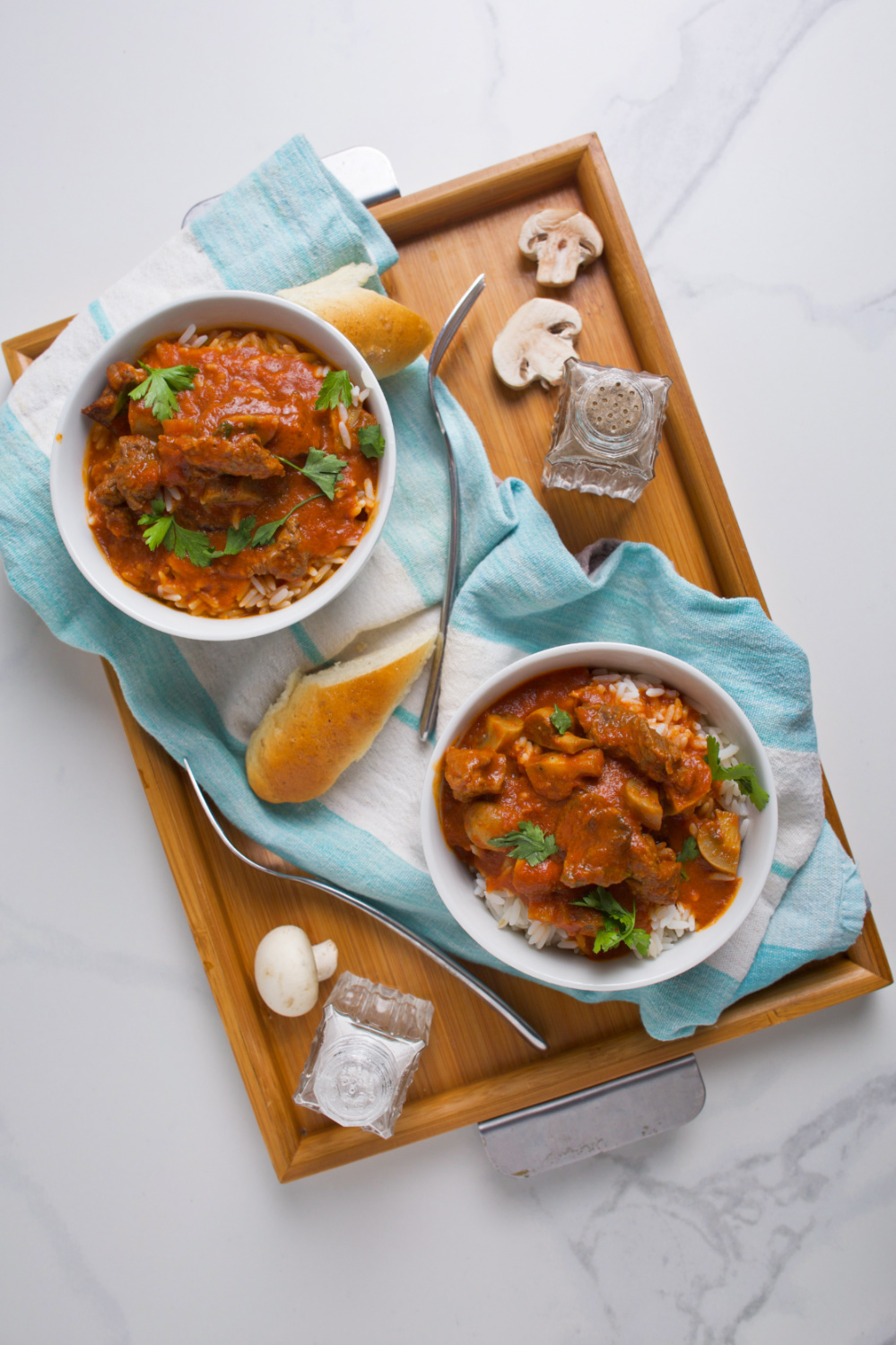 P.S. If you liked this mushroom goulash, you may like the regular goulash, the even simpler goulash, and of course the boozy mushroom risotto.
Print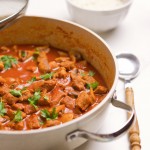 Mushroom Goulash
Author:

Prep Time:

10

Cook Time:

75 min

Total Time:

1 hour 25 minutes

Yield:

4

1

x

Category:

Main Course
---
Description
Mushroom goulash is an easy goulash recipe fantastic for older cuts of beef, but even better made with rump steak (sirloin). This simple dish is enriched with mushrooms which endow this perfect goulash taste with hints of earthiness.
---
1

–

1.5

pounds beef (chuck or sirloin, diced)

3 cups

beef broth (or 1 beef bouillon cube melted in

3 cups

of warm water)

1

yellow onion (medium, diced; or

1 tablespoon

onion powder)

1

garlic clove (minced; or

1/8 teaspoon

garlic powder)

1 tablespoon

paprika (mild or hot)
Salt and pepper to taste

2 tablespoons

butter

6 ounces

tomato sauce (puree)

1 teaspoon

sugar

10

–

12

ounces mushrooms (penny bun, cremini, portabello or a mix, diced)
Handful fresh parsley (to garnish)
---
Instructions
In a deep pan or pot combine beef and beef broth. Simmer on low to medium for 15-20 minutes.
Add onion (or onion powder), garlic (or garlic powder), paprika, salt and pepper to the pan. Mix well and continue simmering 20 minutes. Add a little bit of hot water at times to keep the level of liquid even. (In addition to the broth you'll be adding 1 to 2 more cups of liquid throughout the entire cooking process for a total of 4-5 cups of liquid to replenish evaporated liquid and achieve wanted goulash thickness.)
Add butter, tomato sauce and sugar to the pan and mix well. Bring the temperature down to low and simmer another 20 minutes, stirring frequently. (By now the meat should be tender. )
Finally, add mushrooms. Combine with ingredients well and simmer another 10- 15 minutes, or until the mushrooms are soft.
Garnish with parsley and serve over rice, couscous or pasta.
Notes
Remember to prepare rice, pasta or polenta on the side.
---
Nutrition
Calories:

450

Sugar:

6.2g

Sodium:

955mg

Fat:

17.8g

Saturated Fat:

8g

Carbohydrates:

11.3g

Fiber:

2.4g

Protein:

58.6g

Cholesterol:

167mg
Keywords: mushroom goulash, balkan goulash