Old fashioned goulash with beef and mushrooms the way it's done in the Balkans and Eastern Europe. This is an easy recipe for a classic stew with diced beef and lots of paprika. Oh, and you know what else? It's d-e-l-i-c-i-o-u-s!
Jump to:
Old Fashioned Goulash Origins
This dish was brought to the Balkans by the Austro-Hungarians. Because of this, Balkan and Hungarian versions of the recipe are alike. Think of it as the old-fashioned goulash.
However, you're probably wondering what the is difference between American and Hungarian goulash.
There are several differences. You could even say they're completely different dishes.
American goulash is made by mixing a ground beef sauce with elbow macaroni. It's also known as American chop suey and Johnny Marzetti. (The latter is more of a casserole.)
Hungarian and Balkan goulash leans towards a stew. It's made with larger chunks of beef simmered for a long time with different veggies. Infused with fragrant paprika, this goulash is served both with sides and/or as a standalone dish.
There is a traditional Bosnian Beef Sauce I make that's very similar. Equally yummy, it's the reason why until recently I almost never made goulash at home. What changed the game for me was the addition of mushrooms!
This is now one of my favorite go-to recipes. I hope it becomes yours too!
Ingredients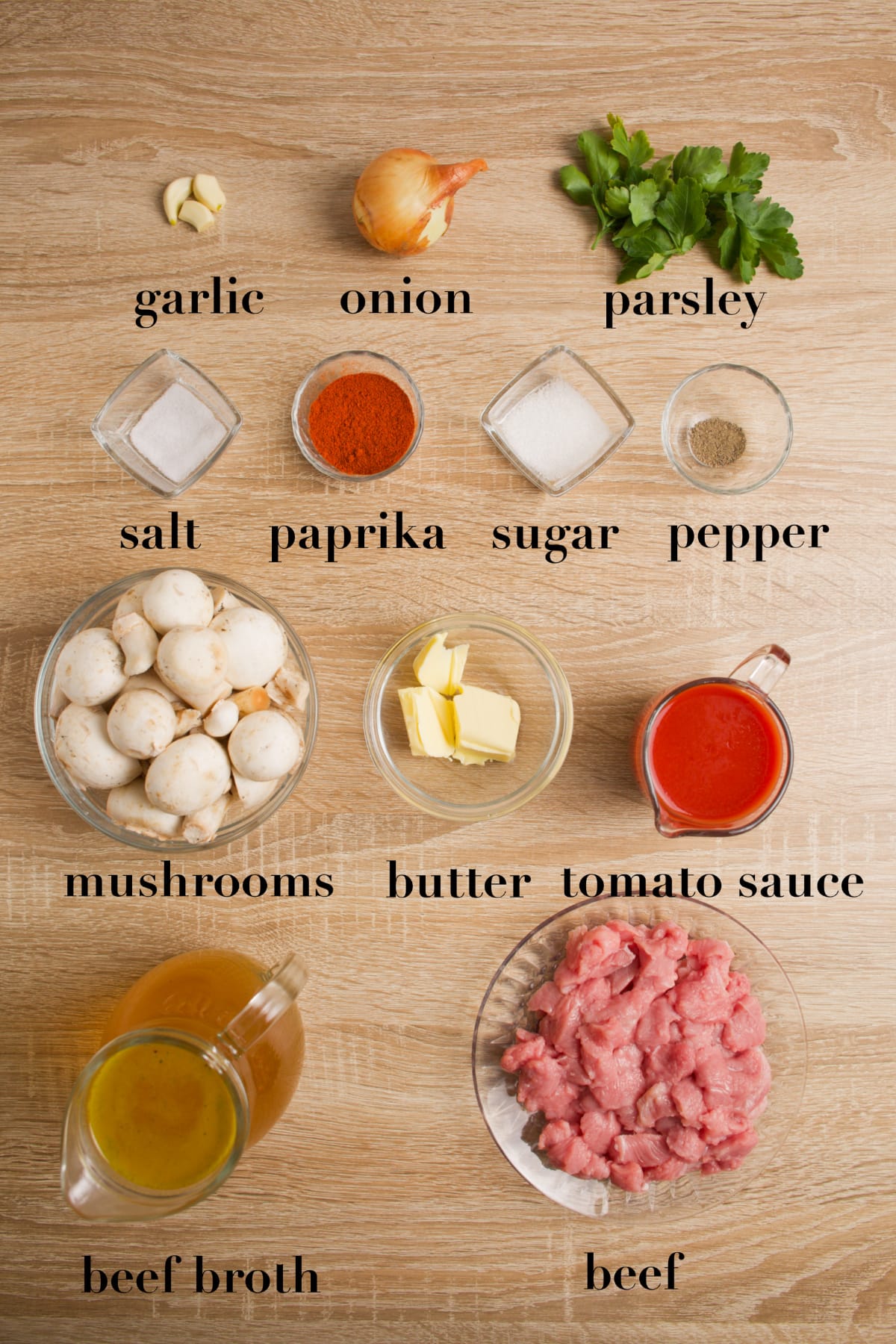 Ingredient Notes
Butter: For a truly old-fashioned feel sub with lard.
Meat: Best cuts to use are tougher ones like beef neck bones, chuck roll, shoulder, and beef round. However, you can get away with "younger" meats like veal.
Mushrooms: Sub with fresh shiitake mushrooms for an even meatier taste.
Paprika: Balkan goulash is usually made with sweet or mild paprika. However, adding spicy paprika really intensifies the flavor.
Seasonings: Additional seasonings that go great in this sauce include marjoram, cumin, and thyme.
Tomato Sauce: Sub with tomato paste mixed in water. Check out the ratios here.
Vegetables: While just a few veggies were used (garlic, onion, and mushrooms), you're welcome to include potatoes, carrots, and tomatoes. This isn't a stew that you should overload with veggies. (Here are a few that you can.) Goulash is a dish that primarily crowns the meat.
Wine: Sub 1 cup of broth with 1 cup of red wine. Merlot and Pinot Noir work well.
Best Meat for Old Fashioned Goulash
There is an expectation that classic goulash has flavorful chunks of meat that fall apart when you pick it up with utensils.
This is achieved by a long simmer of tougher beef cuts with little to no fat.
These include:
chuck roll,

shoulder, and

beef round.
However, I've done it with softer cuts too, even veal. As long as you watch the meat, and adjust your timing and method slightly your dish will come out amazing!
Lightning-fast Instructions
Our lightning-fast instructions are here to give you an idea of how to make this goulash with beef and mushrooms. For more detailed information look at the recipe card below!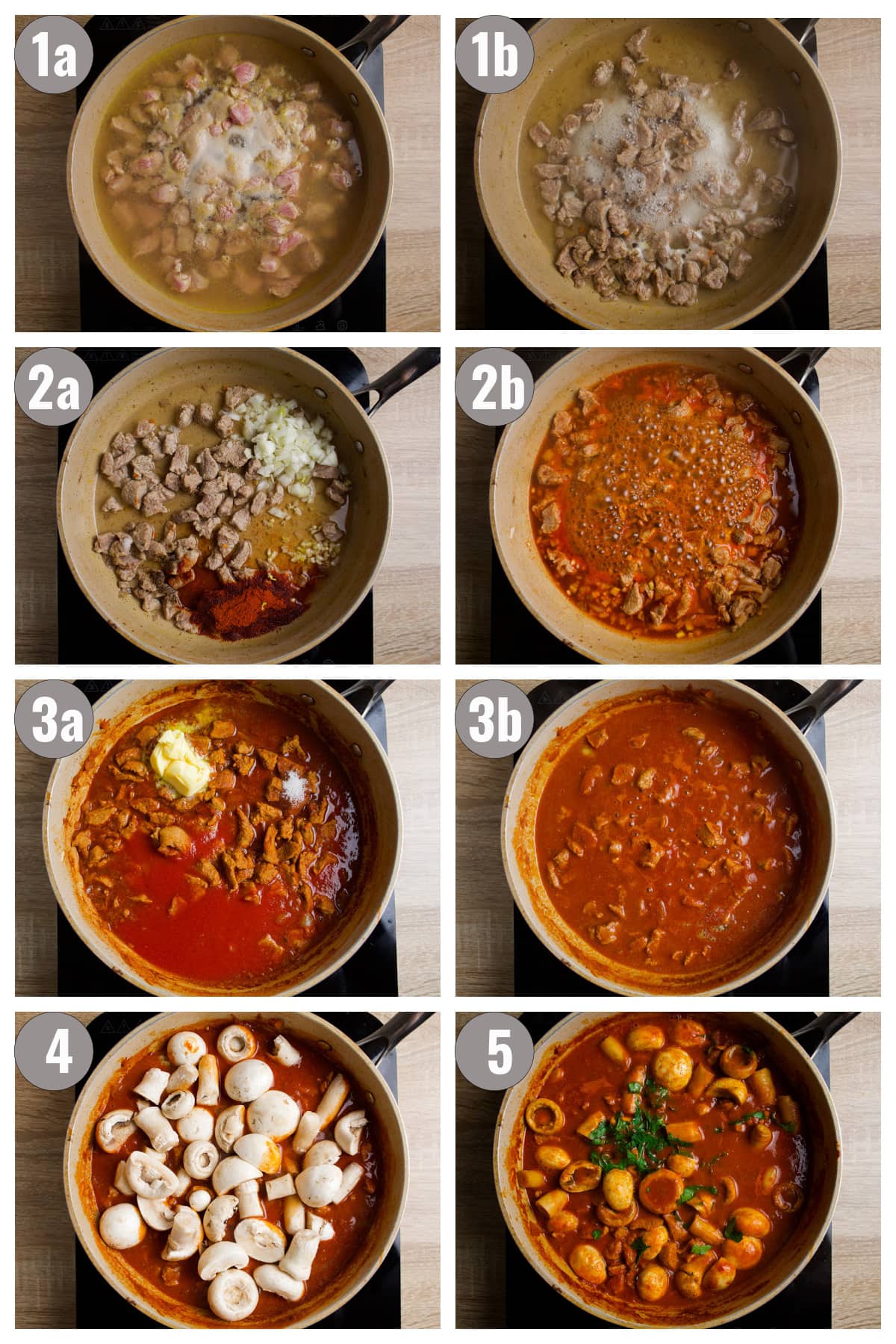 Simmer beef in beef broth (15-20 min).*
Add onion, garlic and seasonings. Continue simmering (20 min).

Add butter, sugar and tomato sauce. Continue simmering (20 min).

Add mushrooms. Continue simmering (10 min).

Garnish and serve with a side of choice.
*If using veal, skip step 1 and simmer everything on oil. However, season the meat with paprika first.
Expert Tips
Preparing goulash meat: Remove tendons (and similar) and cut meat into larger equally sized chunks.
Boiling the meat: Boiling meat in stock allows for the meat to soften. It also cuts down on total simmering time in a big way. For extra hard meat boil a little bit longer.
"Younger" meat: If using tender meat cuts, or veal, skip boiling. Instead, start by seasoning meat chunks with paprika first. Then in the pan heat up 2-3 tablespoons of oil and simmer meat, garlic, onion, and remaining seasonings on low for 10-15 minutes. Other steps are the same.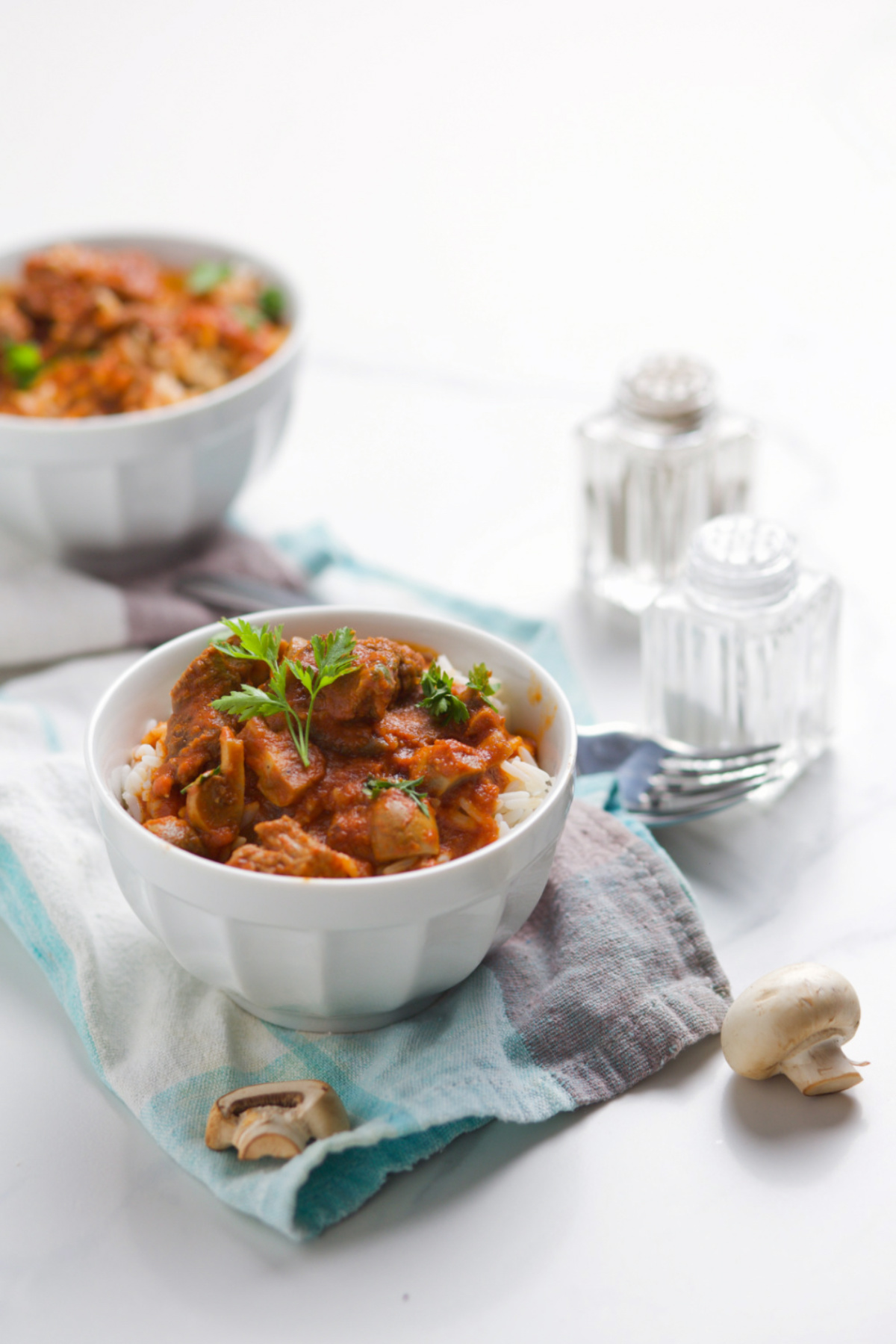 What To Serve Goulash With
Keep leftovers in the fridge for 2-3 days. If planning to freeze the stew add another cup of broth during cooking.
Similar Recipes
Would You Do Me a Favor?
If you make today's Old Fashioned Goulash and like it, please consider leaving a ⭐️⭐️⭐️⭐️⭐️ (5-star) rating. This will help others find the recipe more easily!
You can also leave a comment, I read EVERY one! Finally, if IG is more your thing, consider tagging us @balkanlunchbox.
Prijatno and bon appetit!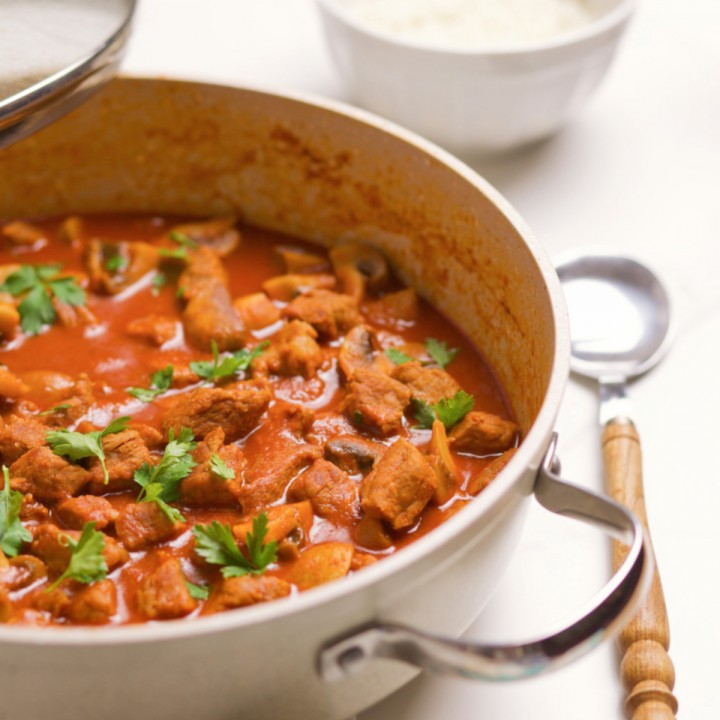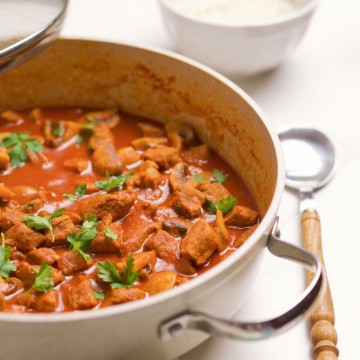 Old Fashioned Goulash with Beef and Mushrooms
Mushroom goulash is an easy goulash recipe fantastic for older cuts of beef, but even better made with rump steak (sirloin). This simple dish is enriched with mushrooms which endow this perfect goulash taste with hints of earthiness.
Ingredients
1 - 1.5

pounds

beef

chuck roll, beef neck bones, shoulder or beef round, diced

3

cups

beef broth

or 1 beef bouillon cube melted in 3 cups of warm water

1

yellow onion

medium, diced; or 1 tablespoon onion powder

1

garlic clove

minced; or ⅛ teaspoon garlic powder

1

tablespoon

paprika

mild or hot

Salt and pepper to taste

2

tablespoons

butter

6

ounces

tomato sauce

puree

1

teaspoon

sugar

10-12

ounces

mushrooms

penny bun, cremini, portabello or a mix, diced

Handful fresh parsley

to garnish
Instructions
In a deep pan or pot combine beef and beef broth. Simmer on low to medium for 15-20 minutes.

Add onion (or onion powder), garlic (or garlic powder), paprika, salt and pepper to the pan. Mix well and continue simmering 20 minutes. Add a little bit of hot water at times to keep the level of liquid even. (In addition to the broth you'll be adding 1 to 2 more cups of liquid throughout the entire cooking process for a total of 4-5 cups of liquid to replenish evaporated liquid and achieve wanted goulash thickness.)

Add butter, tomato sauce and sugar to the pan and mix well. Bring the temperature down to low and simmer another 20 minutes, stirring frequently. (By now the meat should be tender. )

Finally, add mushrooms. Combine with ingredients well and simmer another 10- 15 minutes, or until the mushrooms are soft.

Garnish with parsley and serve over rice, couscous or pasta.

Keep leftovers in the fridge 1-2 days at most, or freeze in freezer-proof containers for up to 3 months. If planning to freeze the stew it's best to omit the mushrooms before freezing. Instead, add a cup of water or broth and do step 4 after you thaw the goulash.
Notes
If using tender meat cuts, or veal, skip boiling. Instead, start by seasoning meat chunks with paprika first. Then in the pan heat up 2-3 tablespoons of oil and simmer meat, garlic, onion and remaining seasonings on low for 10-15 minutes. Other steps are the same.
Nutrition
Serving:
1
of 4
Sodium:
955
mg
Sugar:
6.2
g
Fiber:
2.4
g
Cholesterol:
167
mg
Calories:
450
kcal
Saturated Fat:
8
g
Fat:
17.8
g
Protein:
58.6
g
Carbohydrates:
11.3
g
Dinner Then Dessert