Bosnian pot is your typical Balkan stew overflowing with vegetables and meat.  You know how each region has a certain saying like "an apple a day," etc.? Well in the Balkans the saying goes you should eat something with a spoon each day. So get your spoons out! 
My friends often can't understand why I start dinner with (usually chicken) soup. Most only eat chicken soup when sick. As for me, I'm so used to having it before dinner, the rest of the meal feels dry if I don't. This is why I love stews; they're practically a whole meal in a soup. Add some homemade bread plus sour cream, and I'll take it over cake any day.
Historically Bosnia was a mining country, and so the origin of Bosnian pot stew (bosanski lonac) is traced back to the miners. As they did strenuous work for several hours before resting, they had to come up with a meal that would not only be ready just in time for their break, but also give them enough energy to finish up work for the day.
The solution was a large clay pot filled with layers of meat and veggies cooked over fire the entire morning. By the time they came up for their well-deserved meal it was not only ready, but also extremely satisfying.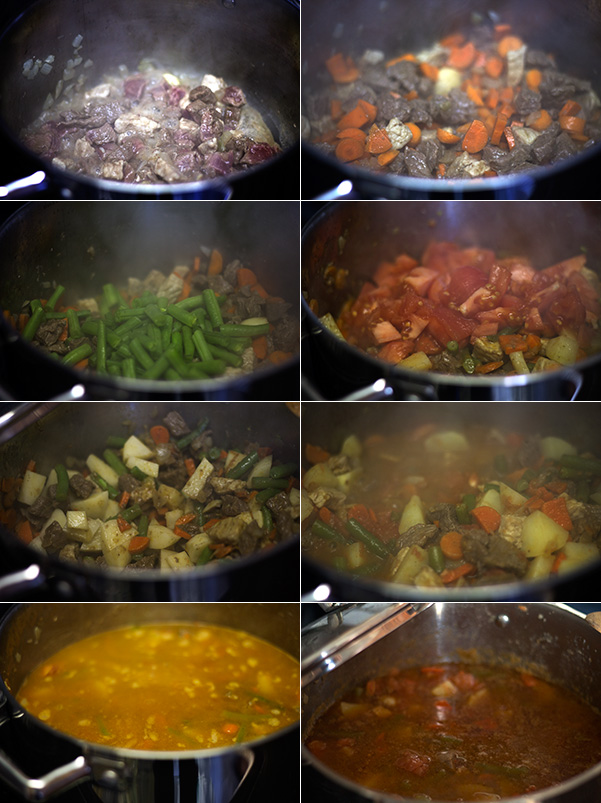 According to Mr. Lakišić, who wrote extensively about Bosnian cuisine, at some point Bosnian pot stew expanded its popularity from miner fire pits into the kitchen. A part of the approach was changed but the stew kept two important components. Bosnian stew pot is cooked for a long time, and is cooked for a lot of people.
At the time when it gained widespread popularity, people used to bring their pots filled with ingredients to local bakeries in the evening, and pick them up in the morning after they've been simmering all night in the bakery ovens.
I know what you're thinking, but don't turn away just yet!
The version of Bosnian pot stew I'll introduce to you today is a simplified version. It takes a lot less time (about 2 hours) and it's prepared for 4-6 people rather than 12-14.  But it still has that depth and feel of a stew cooked for a long time, and will leave you feeling invigorated.
Bonus: forget clay! You can use a regular pot.
If two hours is still too long, but you really want to try it, consider preparing it a night ahead. Stews taste best the next, or even two days later. (Since it's over low heat, you can even consider transferring it over to a slow cooker, but make sure you simmer the meat and onions on the stove first.)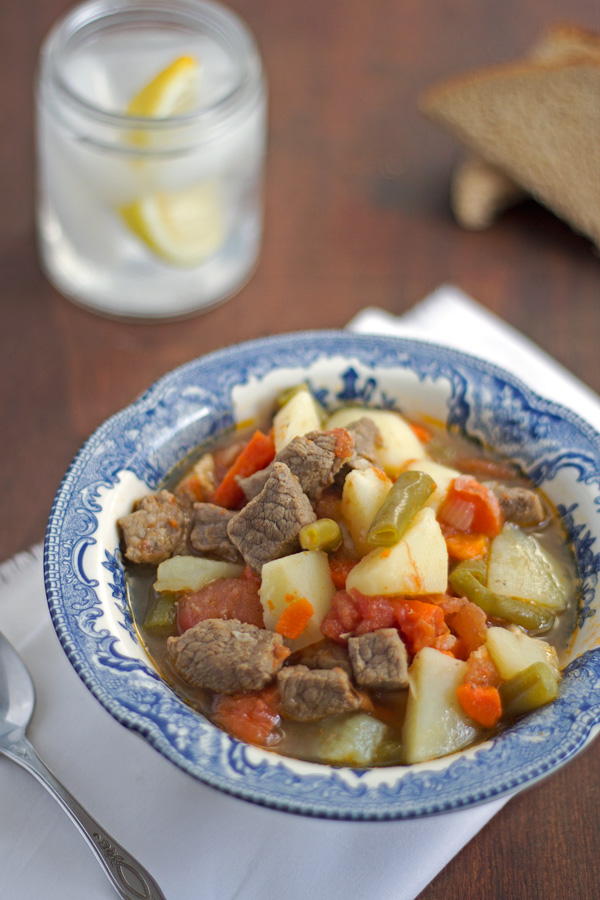 The method below asks you simmer the meat with onion and garlic for at least half an hour, slowly adding other vegetables in the order of their toughness. For example: carrots, green beans, potatoes, and tomatoes. (Some people add half a head of cabbage at the end.)
The longer you simmer the meat, the more tender and moist it will be. After it's all simmered, and water plus spices added, it's cooked on low, undisturbed, for an hour and a half. (If you can do it for longer, that's even better.)
Another recommendation is (if able), to use two types of red meat for the stew. You can use veal and beef. Or beef and pork. Or beef and lamb… (Note: if you are making this for someone from the area ask whether they eat pork. If they don't, use another type of red meat instead.)
Final recommendation is once you combine all ingredients, you can mix them once but then don't mix the stew until it's finished.
Enough instructions, let's eat!
Print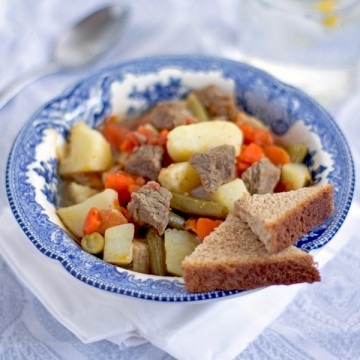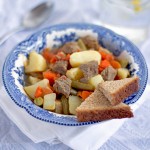 Bosnian Pot Stew (Bosanski Lonac) Recipe
Cook Time:

2 hours

Total Time:

2 hours

Yield:

6

1

x

Category:

Main Course
---
2

-

3

teaspoon oil

1

yellow onion (diced)

2

-

3

garlic cloves whole (peeled and pressed)

2

pounds beef stew chunks (diced)

3

carrots (large, diced)

½

pound green beans (cut into

1

inch pieces)

3

yellow potatoes (large, diced)

3

tomatoes (large, skinned and diced, or

8oz

can)

1 teaspoon

sugar

1 teaspoon

salt

1 teaspoon

pepper
---
Instructions
Put the oil in a large pot over medium-high heat. When it's hot, add the onion, garlic, and beef stirring occasionally for about 15 minutes. You can add a little water here and there to keep it simmering.
Lower the temperature to medium, add carrots and continue simmering. Every few minutes add another ingredient: green beans, then potatoes, then tomatoes and sugar, all while adding a little bit of water in between.
By this time the meat has been simmering for about 30 minutes, and vegetables a little less. Add 3-4 cups of water (so it covers the ingredients, plus a little more). Add salt and pepper. Mix. Cover with lid, leaving a little bit uncovered. Lower the temperature to low, and leave to cook for 90 minutes.
---