Ground beef, tomatoes, and spices as a filling to the perfect stuffed eggplant. For when you really want that perfect date night dinner.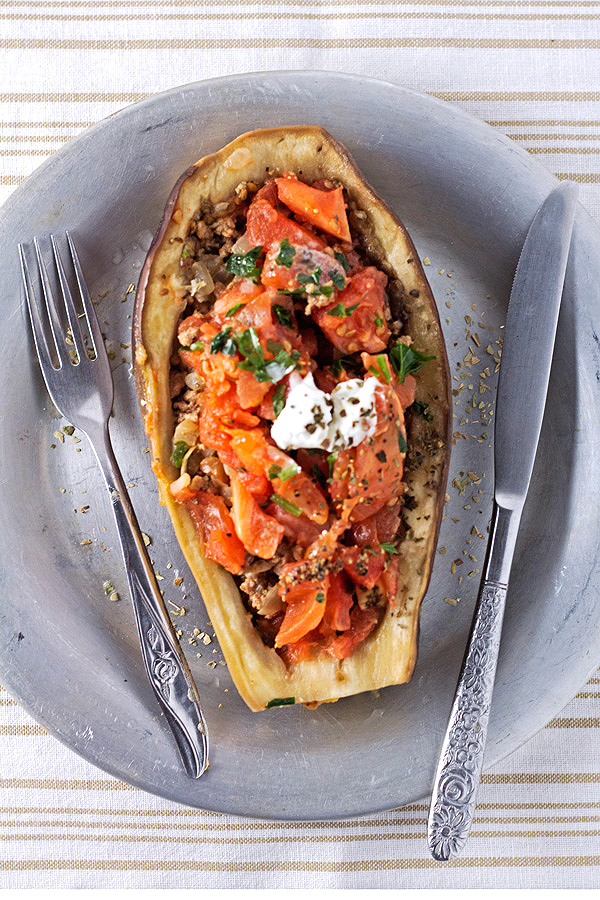 You may have noticed I've been on an eggplant binge lately. This past weekend, I wanted something to counter the coldness. Something reminiscent of summer. So I opted for another dolma, but this time just eggplant and ground beef.
Stuffed vegetables take me back to when I first realized homemade food is not that complicated. I was in high school then, and already living in the States. In the summers I'd go back to Sarajevo to visit family and friends. Sarajevo was beautiful those years. After a great calamity, optimism sneaked into even most cynical of people. Atmosphere in the city was one of renewal and hope… Cafes opened up on every corner. Markets overflowed with fresh produce. People filled the streets all day and night.
I stayed at grandma's (our stern matriarch) at her apartment located in Grbavica neighborhood, even though my siblings were on their own and married and I would have preferred to stay at one of their homes. I was at an age when all I could think about was pushing the curfew a few hours, and boys, boys, boys. The only saving grace about staying with grandma was my cousin D, who also stayed there every summer. D, however, experienced this with grace and gratitude while I complained under my breath.
D was my window into the world of grownups. After, all she was a full three years older than me. Every summer she traveled all the way from Sweden to Bosnia, sat on a bus for what seemed forever, to visit Sarajevo. In her previous life, she was born in Banja Luka, and spent her childhood loving her city. But like a numberless amount of people, with the coming of war her family lost everything, save for their lives. So they went north to rebuild it all from scratch.
Summers in Sarajevo were her relief, a reprieve from the life in exodus – something familiar yet foreign at the same time. Summers in Sarajevo were my rebirth, and all I hoped for was my father calling to tell me I could stay there for good.
Sometimes D and I went out together, and I admired the ease with which she related to just about anyone about anything. All she had to do was lift her chin up breaking into a widest, whitest smile, and you'd fall in love with her.
Most evenings though, I headed to "Kuk"  (aka "The Hip", as in the body part), a cult alternative/ punk club near the city's medical university, rumored to have been a morgue once. (As one avid goer was heard saying "Kuk was a very friendly place… while someone was holding your head up, others were offering you more cheap red wine…")
As those nights wrapped up, D and I would meet up at the tram station and return to Grbavica together. Those years Grbavica was still getting used to its newfound freedom (it was annexed during the siege), and finding its place within the rest of this new post-war Sarajevo.
It was a hot mess! The streetlights were broken, trash crept out of containers and overtook the streets, and the buildings still stood wounded, most of their windows not glass but donated UN plastic. The scariest of all, though, was the nature. That, which once made this neighborhood into an oasis in the middle of the (concrete) city, after years of neglect had devolved into a dangerous jungle. Willow trees dropped down under their own heaviness, meeting with the grass that grew into epic proportions. Oak and maple branches spread taking over old school buildings occupied by the expanding up to no good groups. As a lone car passed every now and then, D and I would duck near a building, terrified of the grotesque shadows threatening to attack us at every corner.
After, we'd laugh hysterically, wondering why we were so scared (it was just trees and grass), and run to grandma's. There, she'd either give, or leave us with a list of things to do the next day. It was mostly a list of things for D to do, as she stayed longer and they had a rhythm going. (But really, I was great at dodging responsibilities.)
I was always amazed at the simplicity of their agreements. In a few words D understood grandma better than I ever have even though I grew up in her house. One night grandma asked if D would make some stuffed peppers and eggplant for lunch the next day. D agreed. The exchange ran for maybe two minutes. D's lunch next day was so good, I still remember scraping the baking pan for remnants of oil with a slice of bread, after all the stuffed veggies were gone.
This was, mind you, the first time D had made it. And the first time it pained me there would be a day when I'd miss summers at grandma's.
Print
Baked Stuffed Eggplant (Zapečeni Punjeni Patlidžani)
Author:

Prep Time:

45 mins

Cook Time:

1 hour 10 mins

Total Time:

1 hour 55 mins

Yield:

2

1

x
---
1

eggplant (medium)

4 tbsp

salt

2 tbsp

oil (vegetable or olive)

1

onion (medium, diced)

2

garlic cloves (minced)

1/2

pound ground beef

1 tsp

paprika

1/4 tsp

salt (more to taste)

1/4 tsp

ground pepper (more to taste)

4

tomatoes (medium, skinless and diced, or

one

15 ounce can diced)
parsley (for garnish)
---
Instructions
Peel the eggplant lengthwise into a "striped" pattern (or peel completely). Cut in half lengthwise. Scoop insides with a grapefruit spoon making a "boat" out of each eggplant half. Take 4 tbsp of salt and spread over eggplant generously. Leave for 45 min until it releases juice.
Press against eggplant sides with your fist and fingers until you squeeze out as much juice as you can. Wash salt and juice off eggplant.
Heat oven to 390F. Put the oil in a skillet over medium high heat. When it's hot, add onion and garlic. After they crystalize, add ground beef, paprika, 1/2 tsp salt and pepper. Mix well. Simmer for 5-10 minutes.
Stuff eggplant "boats" with meat mixture. Oil a baking pan and place eggplant inside. Spread diced tomatoes over the eggplant and in the pan. Cover baking pan with foil making a few holes in foil with fork or a toothpick. Bake for one full hour.
---
Notes
Serve with rice or mashed potatoes. Add sour cream to taste.