Stuffed zucchini: ground beef, rice and spices combined into perfect filling and baked in hollowed zucchini. Forget zucchini boats, these little zucchini cups are the new kids on the block!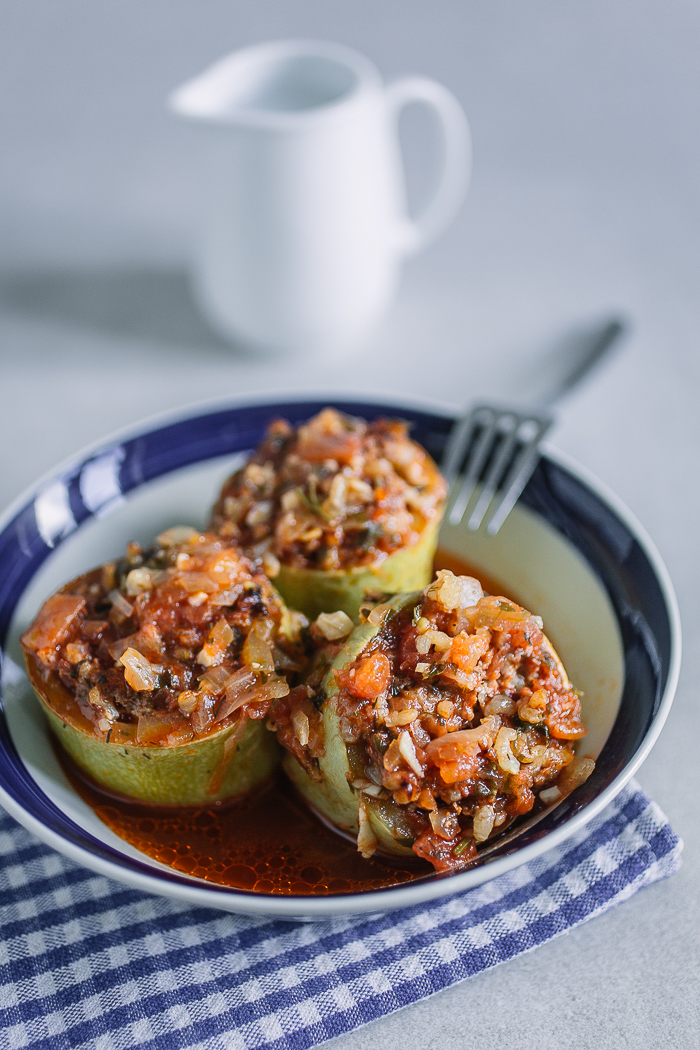 (BOSANSKI)
When we think about which veggies to stuff, zucchini doesn't come to mind as quickly as stuffed peppers. Shame, really. Zucchini is incredibly soft. Tender. 
Peppers are tender too, yet I notice people often eat stuffing and leave peppers behind. Stuffing seems to be the central point of a stuffed pepper. Its wrapping paper.
Meanwhile, zucchini encases its stuffing and becomes its second skin. It reminds me of clay. Pliable, and not only does it keep form of any shape but add richness that can only come from something not overwhelmed with opulence of taste.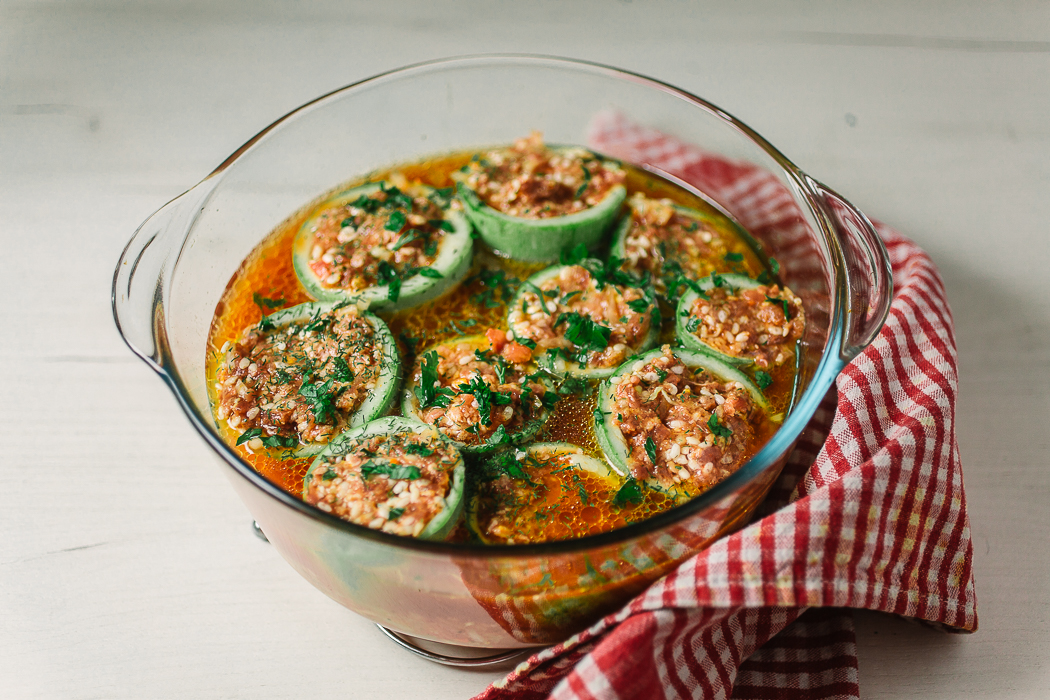 HOW TO CREATE STUFFED ZUCCHINI CUPS
Stuffed zucchini is prepared similarly to other stuffed vegetables and to some extent the dumplings. Instead of making zucchini boats, our family recipe calls for quartering zucchinis (or cutting them into thirds depending on their size) and then scooping out the core of each piece until it resembles a small coffee cup.
I call these zucchini cups.
Why not make zucchini boats instead? You can. It's a matter of preference. I find as the size of stuffed vegetables decreases the taste increases. Especially since I usually bake most dolmas (stuffed veggies) instead of cooking them on stovetop.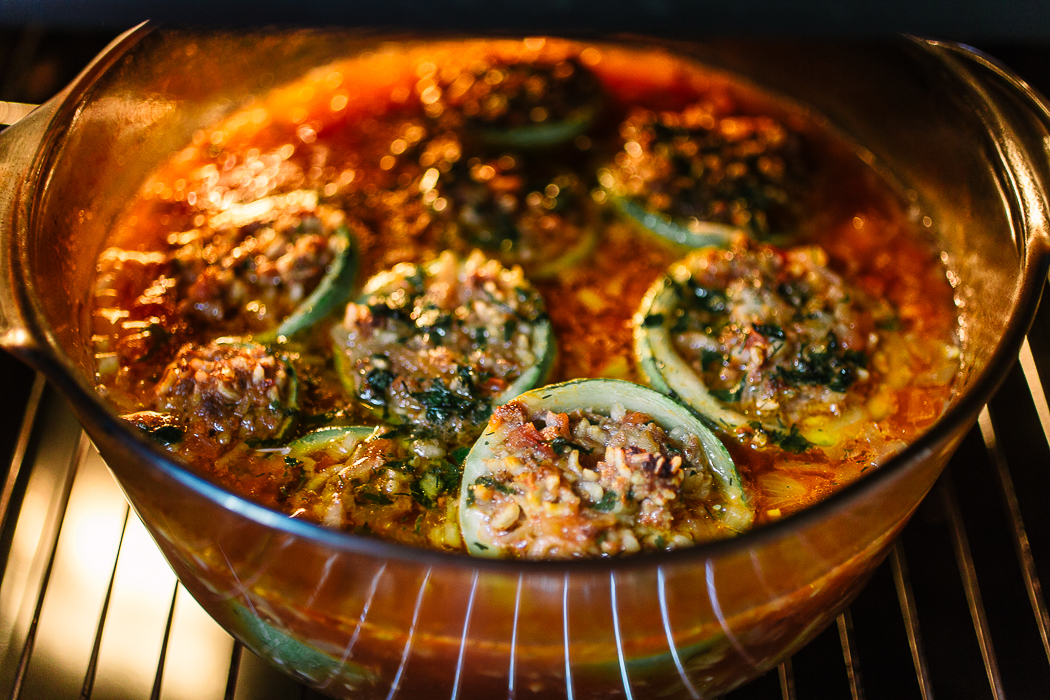 HOW TO BAKE STUFFED ZUCCHINI
Smaller size allows stuffed zucchini to bathe in juices thoroughly. As you'll see below in stuffed zucchini recipe instructions, level of the sauce reaches the tops of zucchini so the vegetable is moisturized from all sides.
If you're not against using foil, I recommend covering the pan with it and making several little holes in it with a toothpick. This method essentially creates an environment similar to a bain marie (water bath) where the vegetables are at once baking, cooking and steaming. Small holes allow the steam to come out while most of hotness stays in the pan.
(And no need to cook rice ahead of time. Baking it gives it plenty of time to cook, expand and soften.)
Keep in mind deciding to go for this faux bain marie method to make stuffed zucchini doubles the cooking time. If you got better things to do there is no shame in popping them in the oven uncovered, and keeping an eye on the sauce level. In this case, replenish with water as necessary, and pour the sauce over zucchini tops to keep them from drying out.
Zucchini is done when you can cut it with ease with a fork.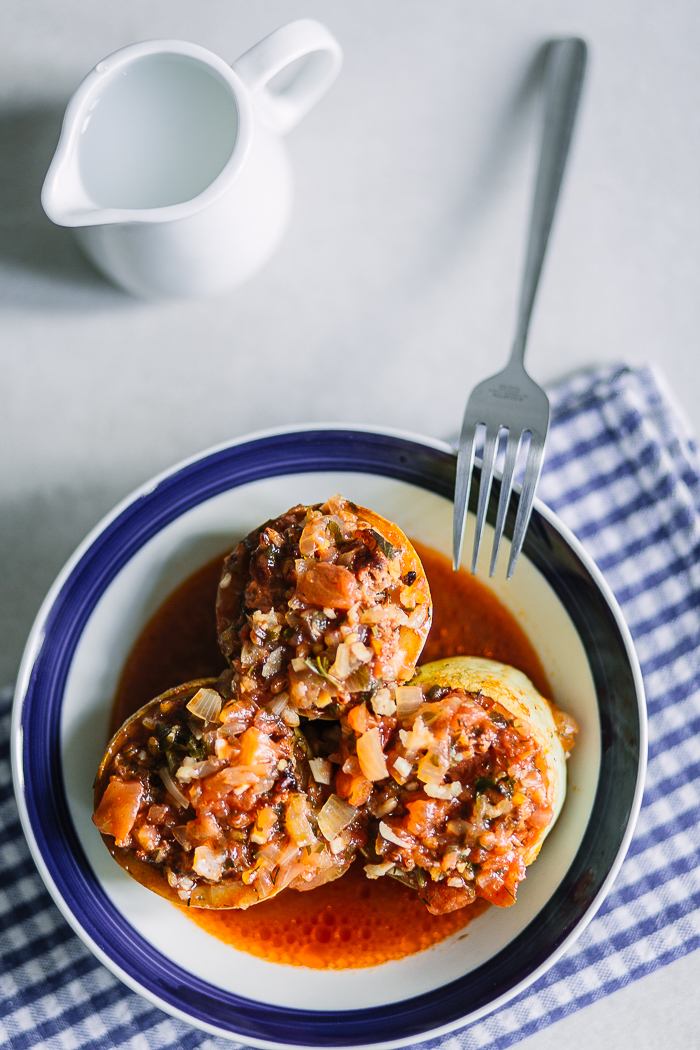 HOW TO SERVE THESE
I like stuffed zucchini best served by itself, a slice of homemade bread and a heaping tablespoon of sour cream. Sour cream melts wonderfully into the stuffing adding touches of coolness and freshness. If you like a deeper flavor, try adding a dash of ajvar (ajver). 
As you can imagine, a stuffed zucchini is a tiny energetic bomb of flavor and calories. There is the vegetable, then rice and meat seasoned generously, and finally the unforgettable nectar of the sauce.  You don't have to add or subtract from a well-made stuffed zucchini.
(If you're particularly hungry, serve stuffed zucchini alongside mashed potatoes or polenta. Skip the grains as stuffing already consists partially of rice.)
This is why some feel sour cream and other sides take away from purity of stuffed veggies so they skip any and every add-on. Instead, they bask in what's already there.
And that's it. Perfection in one little cup.
Stuffed zucchini cup.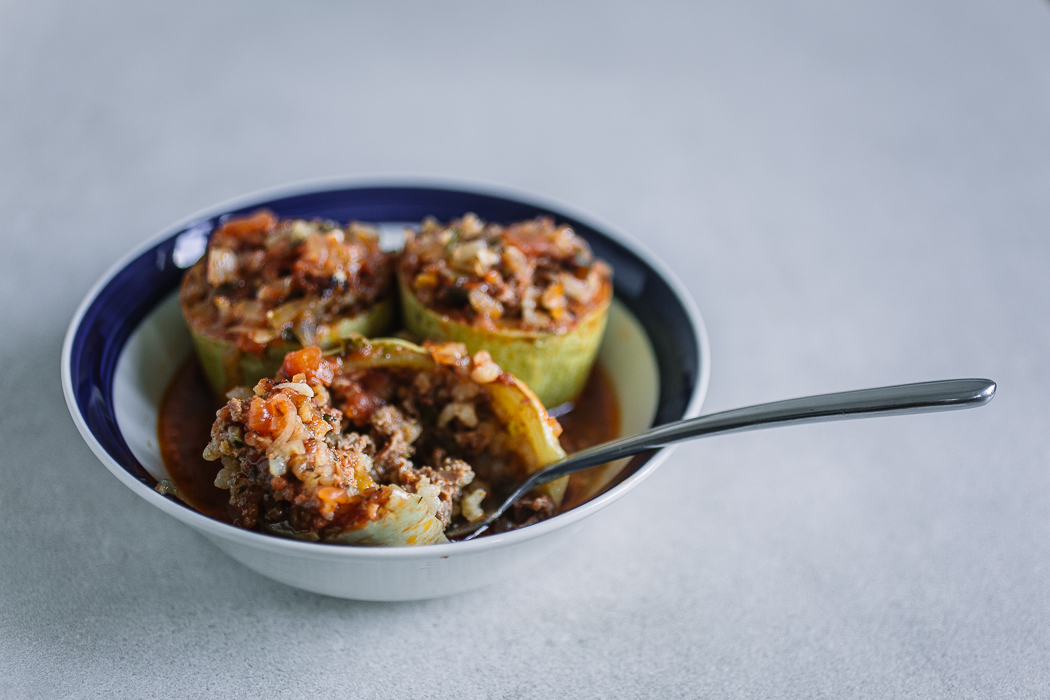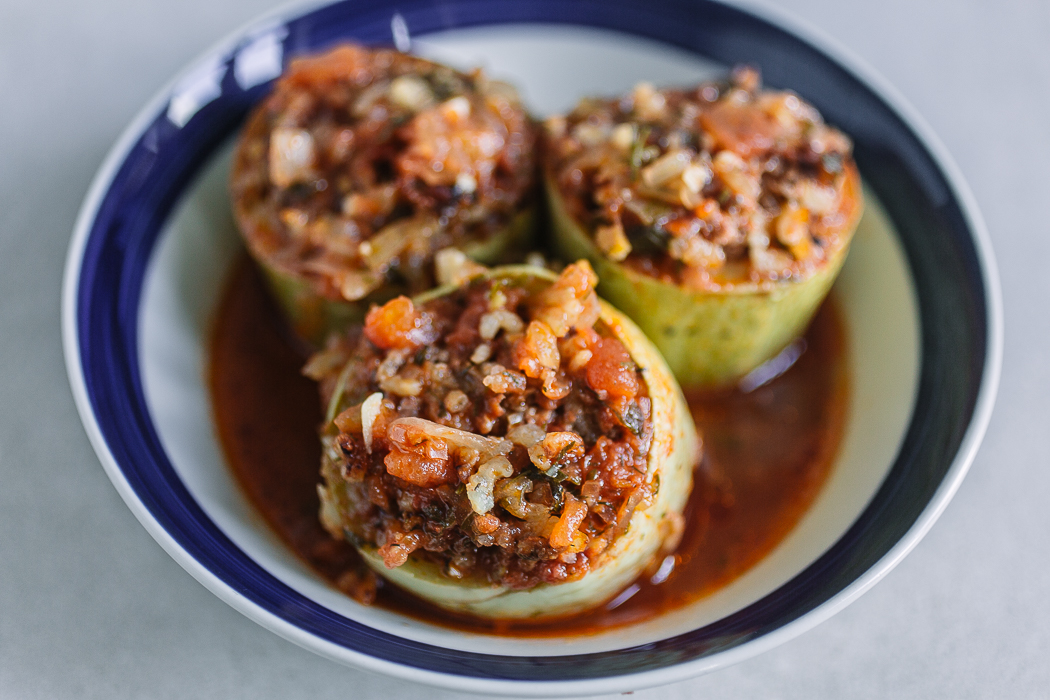 ***
Today is my father's birthday. Would have been. He died on New Year's Day a few years back, also mom's birthday. 
Earlier in the evening they went to a friend's restaurant to celebrate the upcoming year. He was especially gregarious. Even earlier that day he organized karaoke for colleagues at the Sarajevo Eye Clinic. His longtime friend was apprehensive about going into retirement, and she confided in him. "My dear N," he responded "you're off to retirement, and I'm off to Vlakovo." 
Vlakovo is a cemetery in these parts.
He was the kind of guy that got his teeth deep into the meat of life. He lived. He really lived.
At the restaurant, my father the atheist, told another friend that he got an invitation from the "one above," but he was not opening the mailbox. He presented his friend with a pair of suspenders he acquired a habit of wearing that season, and to someone else he gave the rest of the accoutrements he carried that night.
Later, when they retuned home after the celebrations, mom and dad spoke about the things they'd do in 2013. And of their recent US trip. He died in his sleep. Mom's fingers were bruised for weeks from attempting CPR. 
The death was fast. "A gentleman's death," I heard for days from people who came to express condolences. Agreed. If I could sign up for a gentleman's death when my time comes, just hand over the paperwork.
The last time I saw him was a few days earlier. We were saying goodbye at JFK. He was in line for security. As he passed through the line, at one point there was a glass that divided us. He placed his palm on his side of the glass. I put mine up to his on my end. An ET moment of sorts. 
He was leaving. I was staying. I didn't know, but I knew.
The worst happens on its own accord. I remember paranoia and terror I experienced at a thought of him ever dying. Once he was at a hospital a couple of years before, and the sleep would not visit me for nights. I stayed up night, after night, after night terrified of the phone. And then it happened while I was celebrating New Year's along with a charming bunch, good bottle of Prosecco, and Cards Against Humanity. 
The phone rang. I was told he went into his own constellation, and I keep thinking he is overdue back from his trip.
We buried him at the "Lav" cemetery (translation: "the lion"). He is just underneath his Eye Clinic, keeping guard over his beloved Sarajevo. 
If he were eating stuffed zucchini today he'd complain it doesn't have enough meat, even though they are utterly satisfying.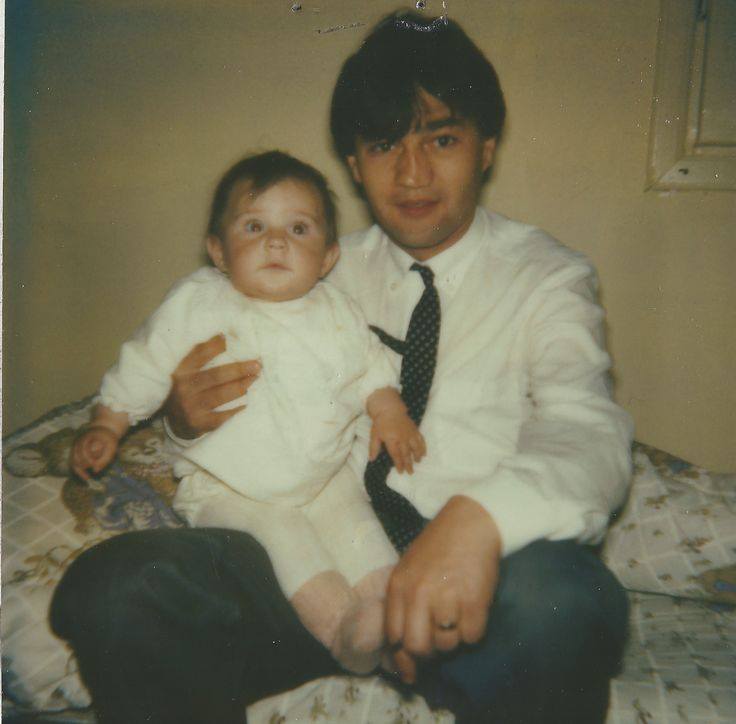 Print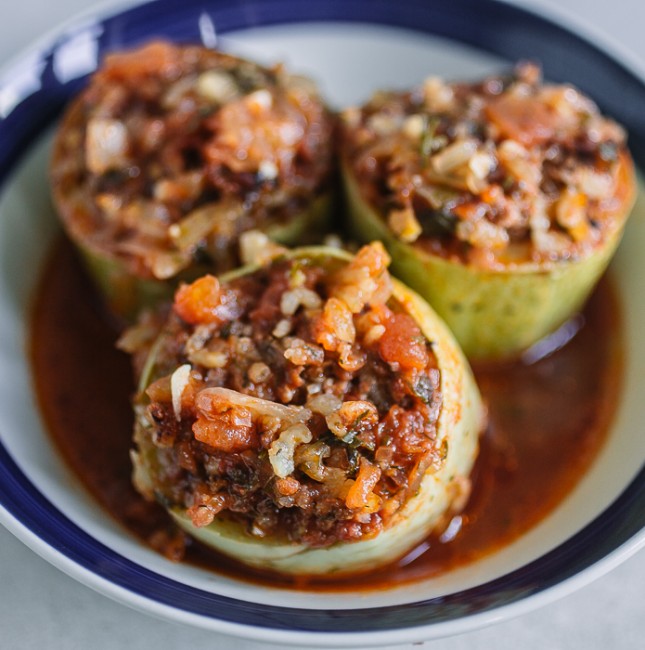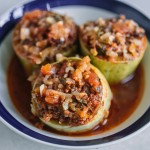 Stuffed Zucchini
Author:

Balkan Lunch Box

Prep Time:

25 mins

Cook Time:

90 mins

Total Time:

1 hour 55 mins

Yield:

4

1

x

Category:

Main Course
---
Description
Stuffed zucchini: ground beef, rice and spices combined into perfect filling and baked in hollowed zucchini. Forget zucchini boats, these little zucchini cups are the new kids on the block!
---
3 zucchinis (medium sized, quartered, stem removed)
(Optional) sour cream
Sauce:
2 ounces

vegetable oil (for the pan)

½

yellow onion (large, peeled, minced)

2

garlic cloves (peeled, minced)

1

tomato (large, peeled, minced)

½ tablespoon

salt (or

1 tablespoon

Vegeta)

1

–

2

tablespoons parsley (fresh, minced)
(Optional) ¼ teaspoon dill
Filling:
9 ounces

ground baby beef

3.5 ounces

white rice (short grain)

½

yellow onion (large, peeled, minced)

2

garlic cloves (peeled, minced)

1

tomato (small, peeled, minced)

1

–

2

tablespoons parsley (fresh, minced)

½ teaspoon

ground black pepper

½ tablespoon

salt (or

1 tablespoon

Vegeta)

2 ounces

milk
Topping: 
3.5 ounces

tomato sauce

1.5

to

2

cups water
---
Instructions
Heat oven to 480°F (250°C).
In an oiled glass bakeware combine sauce ingredients and place in the oven.* Heat for 10 minutes.
Core zucchini quarters by removing its middle and seeds as if you're making small cups.
In a large bowl combine filling ingredients and mix well with your hand. Stuff each zucchini cup with the filling.
In a larger cup combine topping ingredients and mix them.
Carefully - to avoid burning yourself - place zucchini cups into bakeware. Generously pour topping over zucchinis - liquid in the pan should be at the same level as the top of zucchini cups. Cover bakeware with foil.* Create several holes in foil with a toothpick or a fork to let the steam out. Place on middle rack.
Bake for 90 minutes on 400-440°F  (210-225°C ).* Serve warm with (optionally) sour cream.
Notes
A round, 9-inch (23cm) diameter glass bakeware was used for this recipe.
Foil adds moisture to baked zucchini. The dish is more flavorful this way, but it takes longer to bake. If you don't use foil, bake zucchini cups uncovered for 50-60 minutes. Check frequently and (carefully) pour liquid from the pan over them several times throughout baking, and replenish liquid level to prevent zucchini from drying out.
As every oven is different you'll have to adjust the temperature accordingly.
---
Nutrition
Serving Size:

3 zucchini cups

Calories:

406

Sugar:

7.5g

Fat:

19.9g

Saturated Fat:

5.2g

Carbohydrates:

34.1g

Fiber:

4.1g

Protein:

23.9g
Keywords: zucchini, zucchini boats, zucchini cups, stuffed zucchini, stuffed dolma, dolmas