Stuffed zucchini: ground beef, rice and spices are combined into a perfect filling and baked in a hollowed zucchinis. Stuffed veggies the way you've never had them before!
Stuffed zucchini is prepared similarly to other stuffed recipes, like the stuffed peppers and to some extent the dumplings.
***
Today is my father's birthday. Would have been. He died on New Year's Day a few years back, which is also mom's birthday. Earlier in the evening they went to a friend's restaurant to celebrate the upcoming year. He was especially gregarious. Even earlier in the day, he organized karaoke for his colleagues at the Sarajevo Eye Clinic. His longtime colleague was apprehensive about going into retirement, and she confided in him. "My dear N," he responded "you're off to retirement, and I'm off to Vlakovo." Vlakovo is a cemetery in these parts.
At the restaurant, my father the atheist, told another friend that he got an invitation from the "one above," but he was not opening the mailbox. He presented his friend with a pair of suspenders he acquired a habit of wearing that season, and to someone else he gave the rest of the accoutrements he carried that night.
Later, when they retuned home after the celebrations, mom and dad spoke about the things they'd do in 2013. And of their recent US trip. He fell asleep. It's uncertain if he died from a heart attack, or heart attack and stroke combined. Mom's fingers were bruised for weeks from attempting CPR. The death was fast. "A gentleman's death," I heard for days from people who came to express condolences. Agreed. If I could sign up for a gentleman's death when my time comes, just hand over the paperwork.
The last time I saw him was a few days earlier. We were saying goodbye at JFK. He was in line for security. As he passed through the line, at one point there was a glass that divided us. He placed his palm on his side of the glass. I put mine up to his on my end. An ET moment of sorts. He was leaving. I was staying. I didn't know, but I knew.
The worst happens on its own accord. I remember paranoia and terror I experienced at a thought of him ever dying. Once he was at a hospital a couple of years before, and the sleep would not visit me for nights. I stayed up night, after night, after night terrified of the phone. And then it happened while I was celebrating NYE along with the most wonderful people around me, a really good bottle of Prosecco, and Cards Against Humanity. The phone rang. I was told he went into his own constellation, and I keep thinking he is overdue back from his trip.
We buried him at the "Lav" cemetery (translation, "the lion"). He is just underneath his Eye Clinic, keeping guard over his beloved Sarajevo. If he were eating stuffed zucchini today he'd complain it doesn't have enough meat, even though they are utterly satisfying.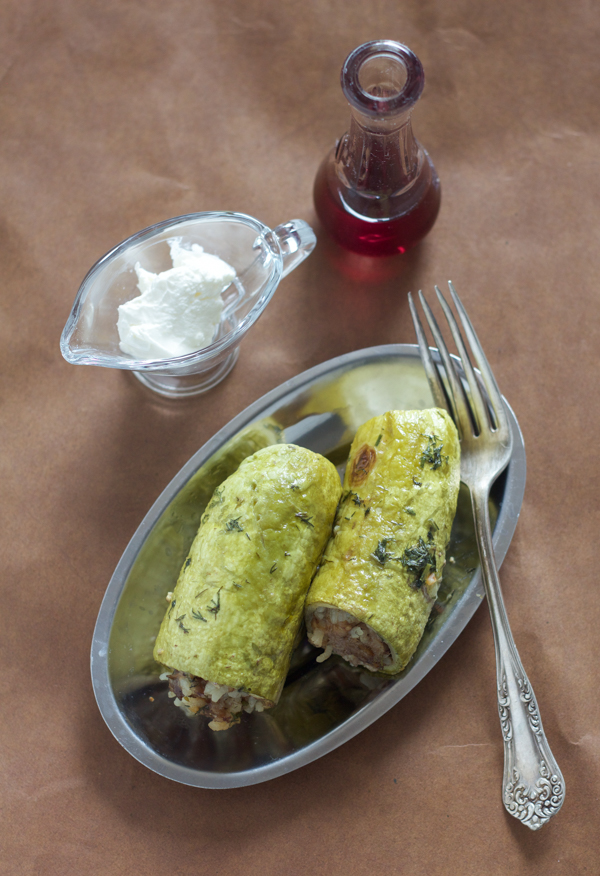 Print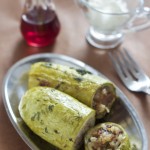 Stuffed Zucchini (Punjene Tikvice)
Prep Time:

25 mins

Cook Time:

90 mins

Total Time:

1 hour 55 mins

Yield:

4

1

x
Category:

Main Course
---
Scale
Ingredients
1/2

pound ground beef

1/3 cup

rice

1/2

medium onion diced

3

garlic cloves diced finely

1

small tomato diced finely

1

handful parsley diced finely

1/2 tsp

ground pepper

1 tsp

seasoned (or table) salt

1/3 cup

milk

4

medium zucchinis

1/2

small sprig dill

1/4 cup

oil
---
Instructions
Combine beef, rice, onion, garlic, tomato, pepper, seasoned salt, parsley and milk. Mix thoroughly with your hand. Preheat oven to 480F.
Cut off the zucchini stems, and then cut each zucchini in half. Core and seed each as if you are creating little cups. Stuff each zucchini with the stuffing mix generously.
Place stuffed zucchinis in a pan. Cut up the dill and pepper the zucchinis with it, and then oil each zucchini. Add 1.5 cups water to the pan and cover with foil. Use a toothpick to create holes in the foil for the steam to go out.
Bake 90 minutes, turning the zucchinis around about half way through.
---