Dolmas, or stuffed vegetables, is maybe the most recognizable dish from the Balkans. Ground beef is mixed with onions, garlic plus spices, and used as a filling for several veggies (zucchini, onions, tomatoes, peppers and Swiss chard), until it's all finally baked it in a tomato based sauce.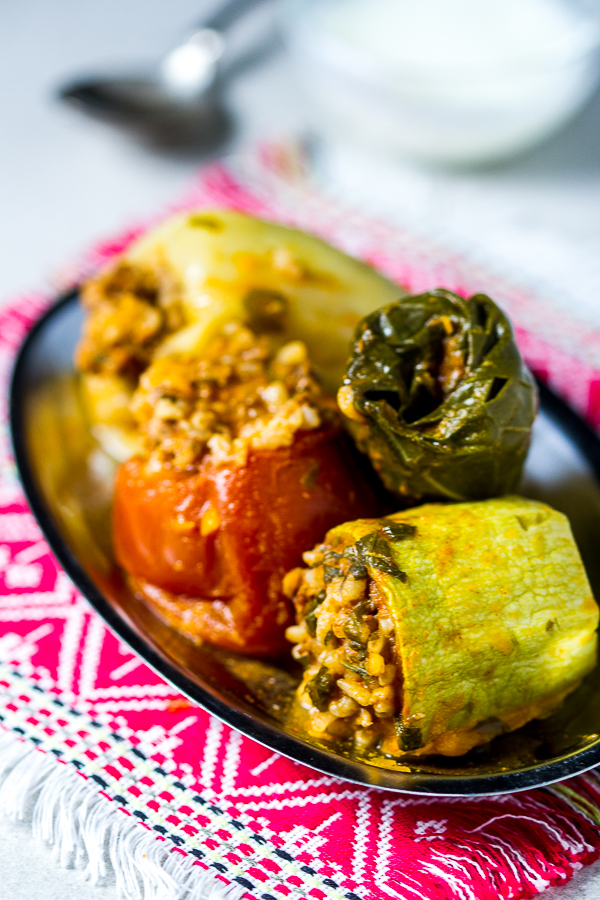 I'll paraphrase myself when I tell you that there are several types of stuffed vegetables, or dolmas, in the region. Dolma is really a name for the filling, but in vernacular for a long time it's been known as the entire filled veggie. Today's recipe is for what's commonly known as šarena dolma, or colorful stuffed veggies. The combination of several different fresh vegetables together in a pan, the dish looks especially vibrant... and thus the name.
One surprising fact is that even though all these vegetables are essentially simmering in tomato sauce in a covered pan in the oven, each keeps its own flavor. Therefore stuffed onion (or sogan dolma), is different than the stuffed tomato, which is different than stuffed peppers. This delectable dish is perfect when you have guests over as it has something for every taste. Also, it's great for potlucks or picnics.
I'm finishing today's story here. With the intensive filming schedule I haven't had time to write a text worth your while. However, since we're talking about videos, my sister and I are working on finding a way to host them on the site. Currently they're too big, and we're exploring options. Meanwhile, below is a list of the videos that are finished, and links for the FB where you can take a look at them if you haven't already. If you have ideas of what you'd like to see in a video, jot it down in comments.
STUFFED APPLES - Walnut stuffed apples or tufahije (singular: tufahija) are a quintessential Bosnian dessert recipe. When these no-frills ingredients (walnuts, poached apples, simple syrup and some whipped cream) collaborate you get a very elegant treat.
RUSSIAN SALAD - This egg, veggie, meat and pickle salad topped with mayo is a holiday staple.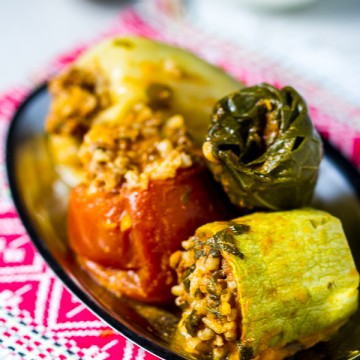 Dolmas: Stuffed Vegetables
Ingredients
Vegetables:
3 to

matoes

medium

2

zucchini

medium, quartered

4

bell peppers

smaller

4

yellow onions

small to medium

7

kale or swiss chard leaves
Filling:
15

ounces

ground beef

1

yellow onion

2

garlic cloves

3.5

ounces

rice

round grain

¼

teaspoon

pepper

½

teaspoon

salt

1.7

ounces

milk
Sauce:
28

ounces

water

1.5

teaspoons

paprika

1.5

teaspoon

salt

7

ounces

tomato sauce

1

teaspoon

sugar

3.5

ounces

butter

1-2

tablespoons

parsley
Instructions
Wash and deseed all vegetables. Make small cups out of each except for the onions and the chard.

In a larger bowl, combine all filling ingredients, and mix with your hands until incorporated.

Bring water to boil in a small pot and add onions. Boil for 5 minutes and take out. Dip chard into boiling water for 30 seconds and take out. Cool onion, and press lightly in the middle until it falls out and you're left with a few outside circles.

In a large pot, place all sauce ingredients. Bring to boil and turn off.

Stuff all vegetables with the filling. Stuff chard as you would stuff cabbage leaves by placing a small amount of meat in the middle, folding the sides in and toward yourself. Place in a deep pan. Heat oven to 395°F.

Cover pan, place in the oven and bake for 1 hour. Take the lid off, and bake another 10 minutes.