Here's an easy baked chicken and rice recipe. Quick and tasty, this one pan combination is a perfect meal to make after a long day at work. Just add a salad.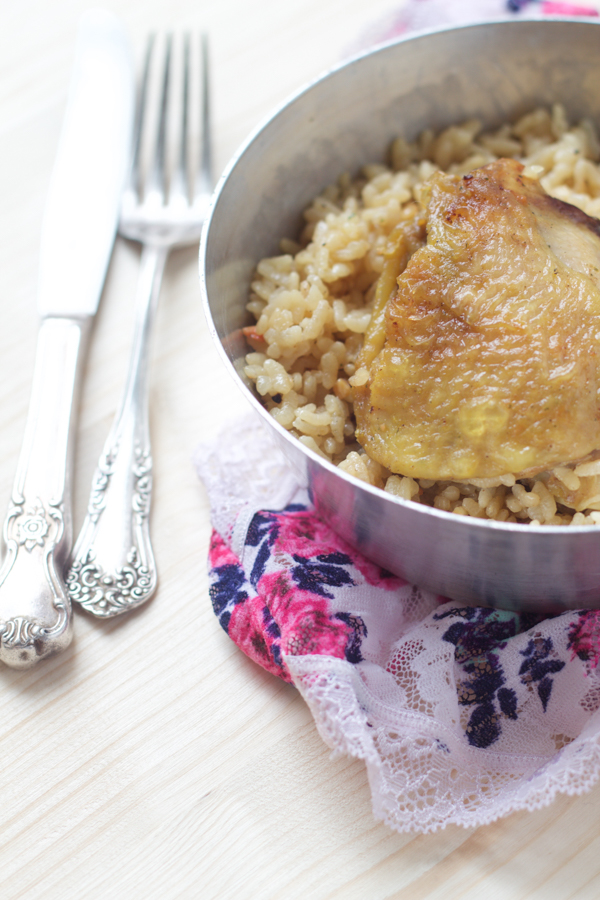 (BOSANSKI)
If we're to be honest I'm a fan of neither chicken nor rice. Chicken, because I'd rather eat beef. Rice, because it was a daily occurrence during the siege. But if done well in combination, baked chicken and rice easily measure up. (I do like chicken pies though. Chicken bump pie, and chicken layered pie for example.)
When you bring one culture's cuisine to its most basic level, which would be the most commonly used ingredients, it turns out they're not that different. Globally, most recipes have some combination of rice, meat, and/ or flour because all are easily available. Preparation is what sets them apart. But before we jump into this particular baked chicken and rice that my sister does so well (thanks for the recipe!), I'd like to explore something most cultures also have in common: superstitions. You know, those things you don't do to make who knows what not happen, or the things you do to make who knows what happen.

Do you have any? Do you go another way when a black cat crosses your path? Do you avoid walking under ladders? Do you bundle up with a book every Friday the 13th to avoid going outside and risk something bad happening?
Myself, I don't know how I feel about them. But throughout the years (perhaps it's the life asserting its control or maybe it's the surroundings I find myself in), I've become increasingly superstitious.  Nothing extreme. For example, I find most of the ones below funny, more than anything else. But there are some things I do now I know 20 year old Aida would laugh at. Such as moving from the space I'm in a little bit when I hear bad news (the ubiquitous pomjeri se s mjesta or move from your space as to not be in the same position as the misfortune you are talking about).
Like baked chicken and rice, some superstitions are universal. In addition to the evil draft everyone freaks out about, here are some interesting, useful, funny, and some downright scary superstitions from the Balkans.
New Moon and Money. At night during new moon take out some currency (it has to be yours and not borrowed). With the hand that's holding the money, make three circles around the top of your head and chin each. This act is believed to bring unexpected money into your life.
Tuesday, Tuesday. Tuesdays are thought to be unfortunate for cutting nails or hair, washing clothes, etc. So do yourself a favor, and say no housework or beauty routines on Tuesdays. Also, don't remove spiderwebs before noon on any day of the week, bad luck to do so.
No returns.  Let's say you left your house and realized you forgot something. It is considered bad luck to go back to your home to get it right after leaving. (I've broken this superstition a million times, and trust me, nothing bad will happen to you if you go back to get the car keys. Or the passport. Something a family friend was terrified to do, and missed her flight.)
Don't refill that drink. Yet. It is thought unlucky for the unmarried to refill their drinks while the glass is still half full. Wait until it's completely empty and then refill. While you're at it, if you're unmarried, when eating dinner in big company don't sit at the table's corner.
After a funeral, stay out. It is thought unlucky to go home straight after a funeral. Generally people will go grab a drink or coffee, and then return home. This is so you don't bring bad vibes from the cemetery home.
Take the trash out, please! Keeping trash around the house invites the sheytan aka the devil in. Apparently, so does the act of whistling inside.
More on avoiding the sheytan. Don't sleep under the walnut tree. Avoid ditches at night, and also places where wood is cut. Don't step on eggshells.  At night, don't pick your cat up with your right hand, only with your left. And if you ever see a cat on a street at night, never shoo it away because it very well could be the sheytan transformed into a cat (The Master and Margarita anyone?).
Pick up your purse. Don't leave a purse, or your wallet on the floor to avoid being poor.
Inside out. It's thought to be good luck to wear an item of clothing inside out (such as a sock, tank top, even undies). Especially if starting something new, or important (something like the first day of school, or before an important sports game).
Leave ants alone! Don't step on ants outside, it will rain. Stepping on them inside will shoo away good luck from the home.
Itching. Palms itching seem to have different definitions. Most common is if your right palm itches you'll have unexpected expenses, while if your left palm itches you'll gain unexpected money. Some say both palms itching brings money. Nose itching, however, indicates you'll get angry or in a fight with a person you're in the company of at the moment.
Spilled coffee. If your coffee spills, dip a finger in it and lick it. This indicates a gift or money is coming your way. Not sure if it's placebo, OCD, or indeed the superstition, but this one really seems to work for me.
And at the end, a houseleek.  If you see this plant (common houseleek) in someone's home, steal it. If you succeed you brought yourself, and the person you stole it from, good fortune.
I hope you're now not too scared to eat the baked chicken and rice, recipe below.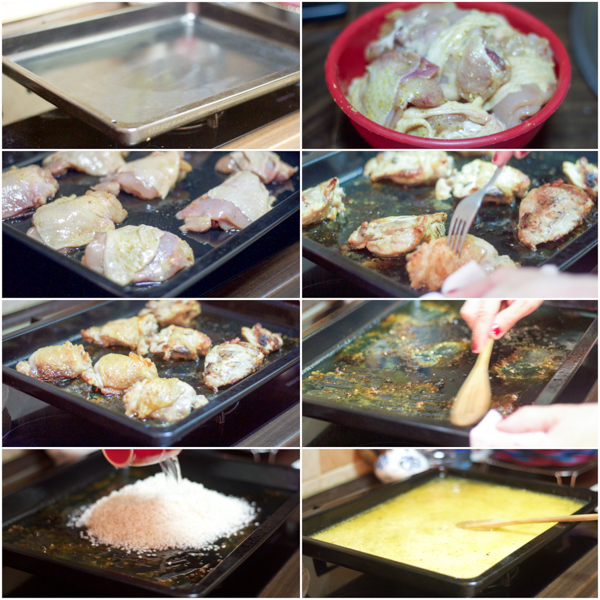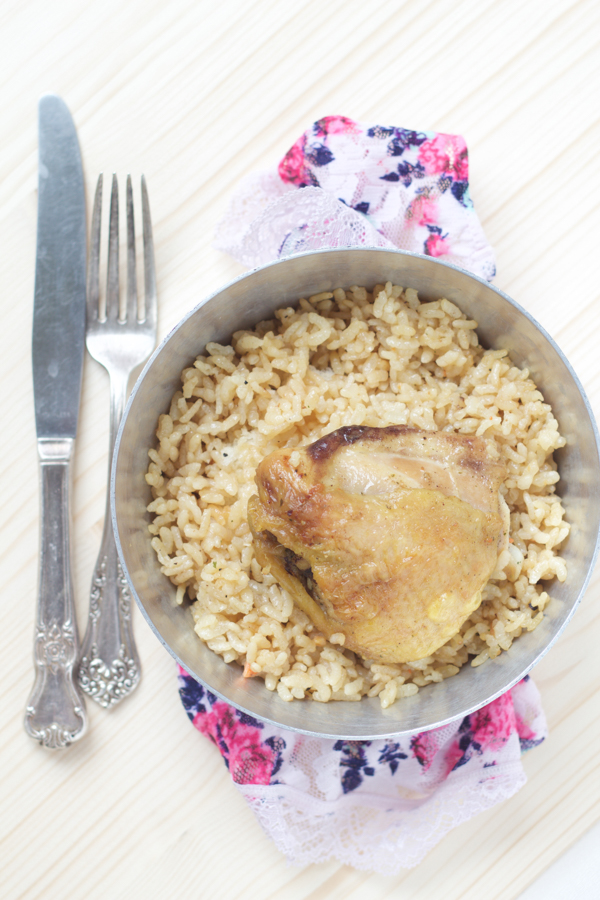 Print
Baked Chicken And Rice Recipe (Pečena Piletina Sa Rižom)
Author:

Balkan Lunch Box

Prep Time:

10 mins

Cook Time:

1 hour

Total Time:

1 hour 10 mins

Yield:

4

-

6

1

x

Category:

Main Course
---
6

chicken legs (or thighs)

4 tablespoons

oil
(Optional) 1-2 tablespoons Vegeta or 1 crushed chicken bouillon

1 tablespoon

salt

1 teaspoon

ground pepper

1.5 cups

rice (white, round grain)
---
Instructions
Heat oven to 480°F.
Wash chicken. Make a marinade by mixing 3 tablespoon oil, salt (or Vegeta or bouillon), and pepper. Cover chicken in marinade thoroughly and leave for a few minutes to absorb. Cover baking pan with the remaining oil, add chicken and place pan in the oven. Bake 15 minutes.
Take the pan out, flip the chicken around and return pan to the oven. Lower heat to 360°F and bake another 15 minutes.
Take the chicken out of the pan and set aside. Carefully scrub the chicken parts remaining in the pan after the baking. Add rice and 4.5 cups of water. Spread all in the pan evenly. Bring heat up to 480°F again, and bake rice in the oven for 25 minutes.
At, or near the end (when there is a quarter of an inch of water left in the pan above rice) turn off the heat and add chicken into the pan. Leave in the oven for a few minutes to absorb, then serve.
---
Notes
A good ratio of rice to water is 1:3 (one cup of rice to three cups of water). For this recipe we used 1.5 cups of rice to 4.5 cups of water.
If your oven doesn't go to 490°F or you feel uncomfortable baking at high temperatures, lower it to 450°F or 425°F, bake longer, and check more frequently for done-ness.