Here is a recipe for Bosnian chicken pie, or how I called it, chicken "bump" pie. Imagine if pancakes, pizza and chicken pot pie had a baby. Yeah, that good!

So here's the thing... not everyone knows about the chicken "bump" pie (kvrguša) in the Balkans. Kvrguša comes from the Krajina region (NW Bosnia). (Btw, I'm in the old country at the moment and will be treating you to some old school culinary tidbits). And we won't even get into pronunciation. It's hard enough to give food names an approximate translation. (Quick detour... All my international food bloggers out there, what are your tips for translating regional dishes' names?)
"Kvrga" loosely translates to a "bump," the kind you get when you hit your head against the wall or trip over a small stool. Or any sort of bump really. It's a great nickname for a man you don't want to meet in dark. One time my relatives were getting scammed out of money until they threatened to get Kvrga involved. It didn't matter they didn't know Kvrga, just the mention of him solved a pretty big problem. My best guess is the "bump" in this pie's name came from the shape of chicken parts. As they rise from the flour mixture there is a subconscious association of knuckles or bumps.
We love chicken bump pie so much around here, we even have a version 2. Other chicken delicacies on the blog include the classic chicken and rice bake, and chicken pie. It's not traditional per say, but I love my kvrguša with a dab of ajvar (ajver). Uhhhhh!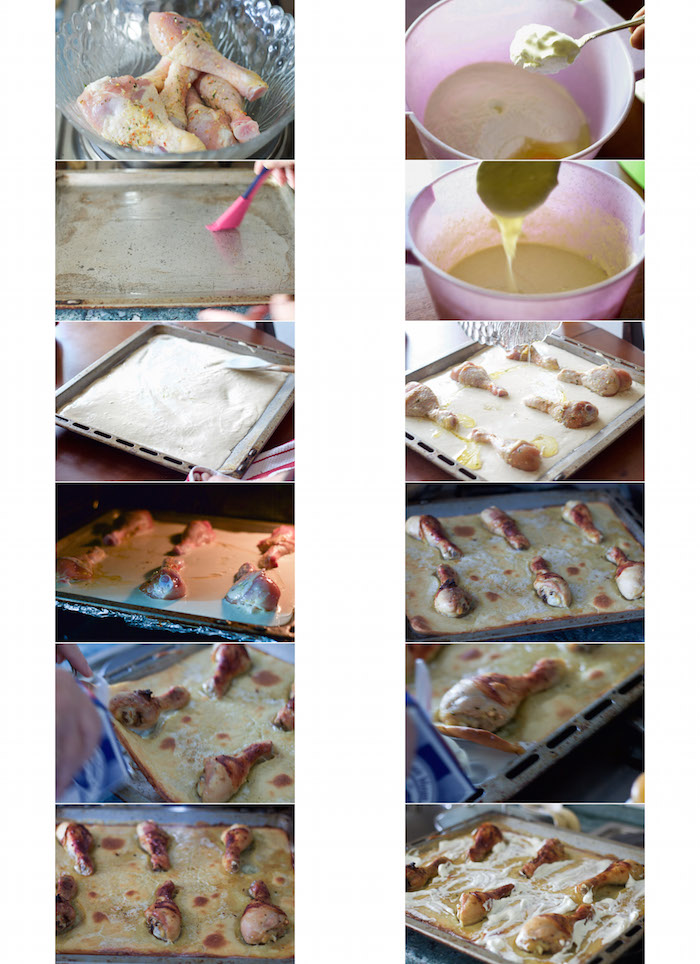 So what is this pie? In taste it's sort of a removed version of the chicken pot pie. Except instead of the crust on top and filling in the middle, kvrguša is more similar to pizza in shape where the crust is on the bottom and filling (generally just chicken, sometimes with more or less sour cream/ milk), is on the top.
It's a comforting meal. People either quite like it or not at all, and this preference seems to be evenly divided. Women tend to like it a little more, why with chicken not counting as the real meat in men's eyes here. I love it! Recipe below is my mom's. It's one of my favorite versions. Once you make it, I bet you'll like it to. It could easily become one of those easy ones you quickly turn to when you are back from work and don't have much time or energy on your hands.
Will you let me know how it turns out?
Chicken "Bump" Pie (Kvrguša)
Ingredients
6

pieces

of chicken

thighs, drumsticks, either or both

1

pound

flour

1

tablespoon

sour cream

1

egg

1

tbs

salt

2

and ¼ cups lukewarm water

4-6

teaspoon

butter

½

cup

milk

6-8

tablespoon

sour cream

Oil
Instructions
Set oven to 480F. Oil a baking pan, and place inside the oven to warm up.

Wash the chicken. Place in a bowl. Add seasoned salt and 2 tablespoon of oil. Mix, then set aside.

Combine flour, sour cream, egg, salt and water, and mix well until smooth (about 5 min). (You can use a hand mixer.)

Carefully take the hot pan out of the oven, and pour the flour mix in. Shake pan lightly to even out the mixture. Distribute chicken parts on top evenly. Follow up with remaining oil from the bowl.

Return the pan to oven. Bake for 20-25 minutes at this temperature. Check on it often making sure it's not catching too much color on top. If it blushes too quickly, cover with foil.

Turn the temperature down to 390F. Bake additional 20-25 minutes. The dough should be light yellow with brown overtones, just a little bit crunchy and tough, while softer in the middle. (The parts underneath the chicken will be softest.)

Take out and put 1tsp of butter near each chicken piece. Return to oven for 5 minutes.

Take out and pour milk evenly underneath the pie, starting at each corner. Turn the oven off and return the pie in for another 10 minutes.

Pour sour cream over the pie.
Notes
You don't have to oil the pan generously, a small amount of oil will suffice. However the pan has to be absolutely hot when you pour the mixture in, as not to stick.
The flour mix density should be something between a pancake and crepes.
Eat with sour cream.