Pogacha, traditional Balkan bread, is one of the most well known delicacies coming from the region. This, just-the-right-amount-of-tough, milk and yogurt, no-rise bread can be on your plate before you can watch a movie from start to finish.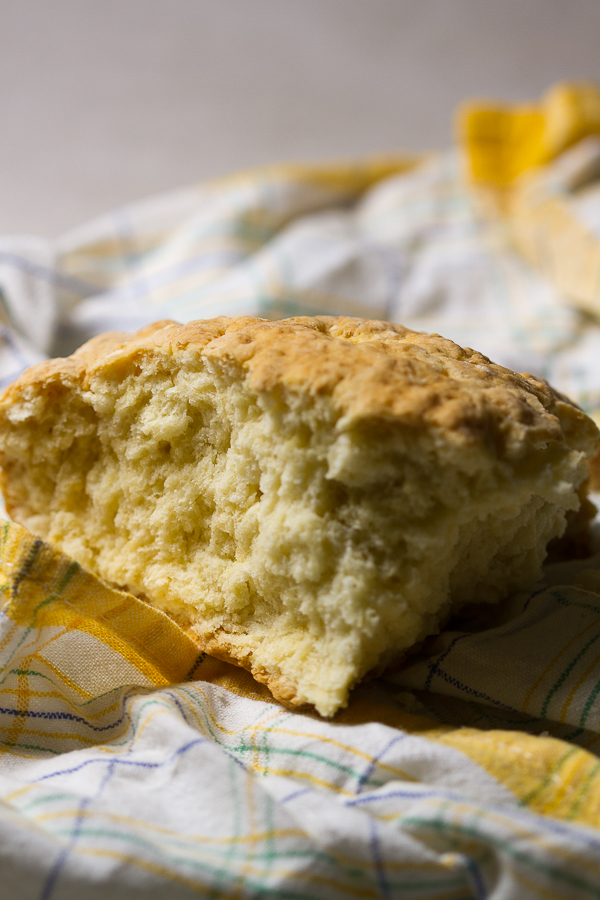 I don't need to say much about pogacha.
If you know it, you know it.
If you don't, you'll love it after the first bite.
Pogacha is the traditional Balkan bread that you'll run into at every Balkan gathering, especially during holidays. This milk and yogurt based bread is more tough yet more bread-like than the homemade bread itself.
Instead of yeast, baking powder+baking soda are used as leavening agents. This results in a bread that isn't meant to rise as high as the regular bread, however it does achieve some height in the oven during baking.
There doesn't exist a person that's tried it and didn't love it. And if you're not sure if you love it, just add ajvar (ajver).
***
Here's the continuation of the 35 things I've learned for sure in 35 years from last week. (Read the first part here.)
Take One Accessory Off.  Before you go out, take off one accessory. Simpler is always better. (Via Coco Chanel)
Easier To Ask Forgiveness Than Permission. You've heard this one, I'm sure. Some actions are best completed on instinct. Going through the proverbial red tape will slow you down and kill motivation. Do what you need to do now, and ask for forgiveness later.
Exercise Every Day.  Hard one. Most will fail.  I fail at it often. However for the past few months I've been exercising regularly. It's good for body and mind. If you need extra motivation ponder this:  when surveyed, most wealthy people shared one daily habit, exercise.
Do Grooming At Home. Don't be the asshole who clips their nails outside, or the idiot who puts on makeup on the metro. It's disgusting.
A Paperclip Can Be Used For Everything. My favorite imagination exercise is by Tony Buzan (memory guru who came up with mind mapping). Think of an object, and then list as many uses for it as possible in one minute.  A paperclip for example. Most people write five to ten literal uses for a paperclip (clipping things together, using it to get the SIM card out, etc.).  This is a limited view of a paperclip. Tony recommends we write down as many things we can think of within a minute, and only then think of a way we can apply a paperclip to it. For example: shoes, ear, doors.  A paperclip can hold a shoe together if the shoelace is too short, it can be made into earrings, or used to pick a door lock. The point is to learn seeing things in a new way.
When Indecisive Jump Into Action. Starting is the hardest. Just start.
Screw Disapproval. Stop wanting to be liked by everyone. Learn to live with disapproval. Don't give energy to people who dislike you. Focus on those who do instead.  Trying to please everyone will drive you insane. It's not worth it. Learn to be comfortable in the discomfort of others disapproving of you and your decisions. You'll be a much happier person because of it.
Leave Walls White. I've had my walls painted many colors.  It's good to experiment and you should. Ultimately, though I found that white walls are the cleanest, most expanding for the space, and most relaxing for the mind.
Visit a Psychologist As You Do An Internist. Most of us go to the internist once or twice a year. Sort of a physical tune-up ritual to see that things are going alright health-wise. In the same manner, schedule a psychologist visit at least once a year for a mental check up. It doesn't mean we're weak, sick, or don't have our shit together. But it doesn't hurt to have someone neutral confirm this.
Quantity Produces Quality. Quantity doesn't easily translate into quality. (Having five sweaters doesn't mean even one is good.) But where action is concerned quantity eventually will produce quality. Let's say you run for a few months. You'll get better at it. Same with other habits too. This especially applies to writers and those in the creative fields. I know many people who are waiting for the right moment to start photographing, writing, and exploring their talents. For most of them this time will never arrive. Starting now, even if the output is crap, is still better than not producing anything. When Aleksandra and I started filming video, we had one course under our belt and zero other knowledge on filming. (Photography is quite different from film.) Still, we kept on. It was frustrating, there were tears, and disappointment. But a few videos later we "got it". In fact, one of our first videos garnered a fantastic 2 million views.
Embrace Your Inner Child. Every time you get happy and every time you get hurt, it goes directly to the core of your being. This core of your being is a little child. How happy and how sad you'll be depends a lot on how you treat this child. Remember how on the plane you're taught to take the oxygen mask first? Same with your inner child. Listen to them, talk with them, take them out, buy them ice-cream, tend to their needs.
Clean After Yourself As You Go.  Via Leo Babauta. He writes a blog on minimalism and every now and then something that I read on his site completely changes the way I do things. This isn't by chance as he practices what he preaches. Clean after yourself as you go is a habits that saves time and brings mental clarity. Try it for one day. After you drink coffee wash your cup and let it dry. After you wake up, straighten out your bed. After you change, put the old clothes in the hamper or back in the closet. The mental space you'll get from doing these simple actions will astound you.
If You Want Something Done Ask A Busy Person To Do It. You've heard this one before too. But there is a reason the world exists of people who get a lot accomplished and those who float by. People who are busy manage time better. Another task on top of the tasks they already have isn't going to break them. On the other hand, someone who has an entire day to do something, will probably accomplish very little. So choose wisely when you ask someone for a favor, and go in favor of the busier person.
Wait To Respond. In the moments of high emotion, especially moments triggered by anger, envy, humiliation or resentment, wait to respond. Yes, we've all been pushed to the brinks of our patience. We've all been targeted by assholes. Sometimes it's our dearest who hurt us the most. In those moments, it's understandable for you to want to spew out a lot of stuff (much of what you don't actually mean), but try your best to wait. Not only does it make you more dignified, but it actually gives you time to come up with a right response to whatever brought you to that state in the first place. The things we say and do stay with others. And we've all had moments when we've been the asshole. So, just wait. You'll be happy you did.
You Can Live Without Who's Not Here. The hardest lesson of my life. In the past few years I've lost two people closest to me. It was excruciating. I've never experienced pain like that before. But life does go on. And it does get better. You get into new routines. You meet new people. You get happy again. No one ever takes their space, but new equally important spaces are created, and life gets beautiful again.
Don't Be Afraid To Let Go. We're terrified to let go of friendships, of relationships and things that don't honor us anymore. We hate to be on the losing side of things. Yet, if you don't make space for new experiences, people and things, you'll get stuck. Just because you've known someone forever or had something forever, doesn't mean that they still need (or deserve) a place in your life. It's healthy to take a look at your life and do housecleaning from time to time.
Treat Your Hairstylist Well. By my own very unscientific calculations, it's harder to find a good hairstylist than get into a great college. Once you find a hair soulmate, don't let them go. Bring them presents, tip well, and make sure they're grooming replacements in case they retire. Better yet, don't let them retire.
Great Hair + Great Lingerie = Great Day. There was a show called Swan where supposedly ugly girls came to get operated on and compete for the title of the Swan. The joke was (which not many people seemed to get), these weren't ugly girls, just unkept. Most of those girls, to look great, could have skipped the surgeries and start by fixing their hair and losing a little bit of weight. Or just fixing their hair. They would have been fantastic. My advice to you is this: no matter how bad you feel, put on quality matching lingerie (why are you waiting for a special occasion to wear great underwear?), and get your hair done. If you do this for a while, you'll start to feel invincible.
If you take just one piece of advice it's this one: 
Laugh. Life is absurd, surreal and unforgettable. So laugh hard whenever and wherever you can.
Print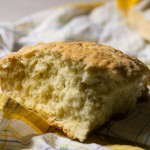 Pogacha: Traditional Balkan Bread
Author:

Prep Time:

20 mins

Cook Time:

40 mins

Total Time:

1 hour

Yield:

4

1

x
---
16 ounces

white flour

1/2 tablespoon

baking powder

1/2 teaspoon

baking soda

1 teaspoon

salt

1

egg

7 ounces

Greek yogurt (mix ahead until smooth and runny)

3.5 ounces

milk
Oil
---
Instructions
Heat oven to 495°F.
In a large bowl, combine flour with baking powder, baking soda and salt. Stir or shake.
Add egg, milk and yogurt. Work the ingredients first with a wooden spatula as long as you can. Take over with your hand and work continuously until you get one smooth ball (about 7-8 minutes).
Transfer the ball into a (9-inch in diameter) oiled round (or square) pan, and flatten evenly with your fist as you lightly punch the dough in on all sides. Take a fork and stab the bread with it several times.
Transfer to the oven and lower the temperature to 400°F. Bake 35 to 40 minutes turning halfway. If it starts to blush too much, cover with foil.
Take the bread out, wrap in a clean kitchen towel and leave to cool for 35-40 minutes.
---