Pogacha (pogača) is a traditional bread without yeast. It was once baked daily in every Balkan and Central European home. There are as many ways to prepare pogacha as there are stars in the sky. Here's an easy, mouth-watering version.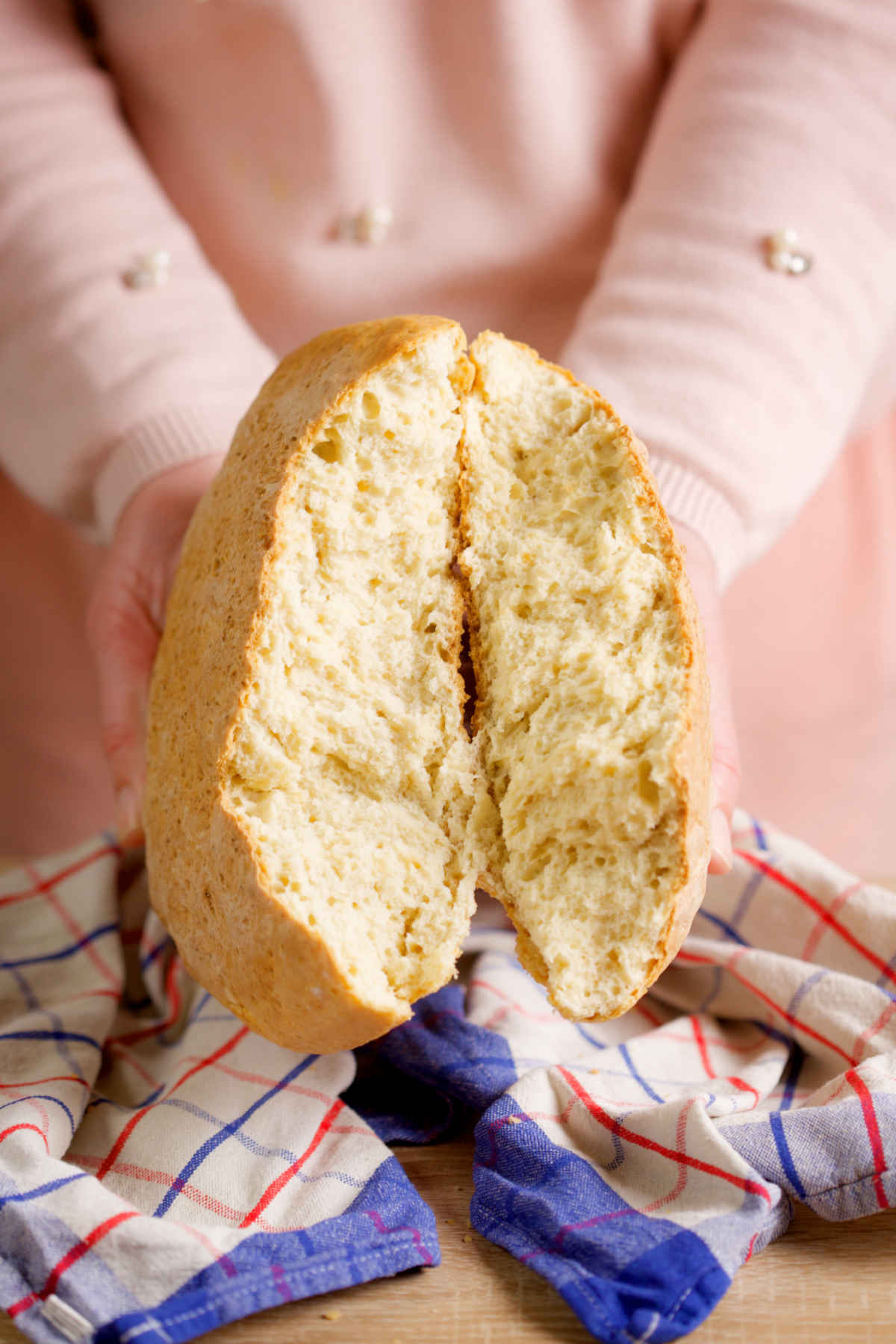 Jump to:
Background
Pogacha (pogača) is almost synonymous with bread in the Balkans.
There are many kinds of pogacha. There is the Christmas kind (e.g. česnica or Božićna pogača). And also the flower looking kind (e.g. rose or ruža pogača).
Today's recipe is for the everyday kind. Slightly crunchy outside. Incredibly soft inside.
And mouth-watering everywhere!
As per wikipedia, the pogacha name is most likely a union of Latin panis focacius, meaning "bread baked on the hearth." You can find several versions of it in every former Yugoslav state, from Serbia to Slovenia.
One could say that historically, pogacha indeed was baked in fire.
Let me clarify.
It used to be baked in a sač (Bosnia) or peka (Croatia). This is a large, round metal pan with a bell shaped lid. Once the food is placed inside a sač and the lid closed, it's buried in hot ashes and live coal.
This method circulates the heat. It creates a sort of natural convection oven. The food is at the same time cooked in its own juices, and baked.
(Just imagine how flavorful the bread made this way is!)
Although sač is used mostly in restaurants today, it's also how pogacha got its round shape.
Yeast-free Bread
Historically, pogacha was made without yeast. (This has since changed.) Instead, baking soda and/or baking powder were used as leavening agents.
This method results in bread that doesn't double up like regular bread. However, it does achieve some height during baking. It's also much easier to digest. 
It's often made with milk, sparkling water, or yogurt. These give it a recognizable, slightly sour taste.
Pogacha tastes best on the day it's made, but after it rests for 30-60 minutes. After you bake it I urge you to smell it. You will never forget that warm, homey, welcoming aroma.
Ingredients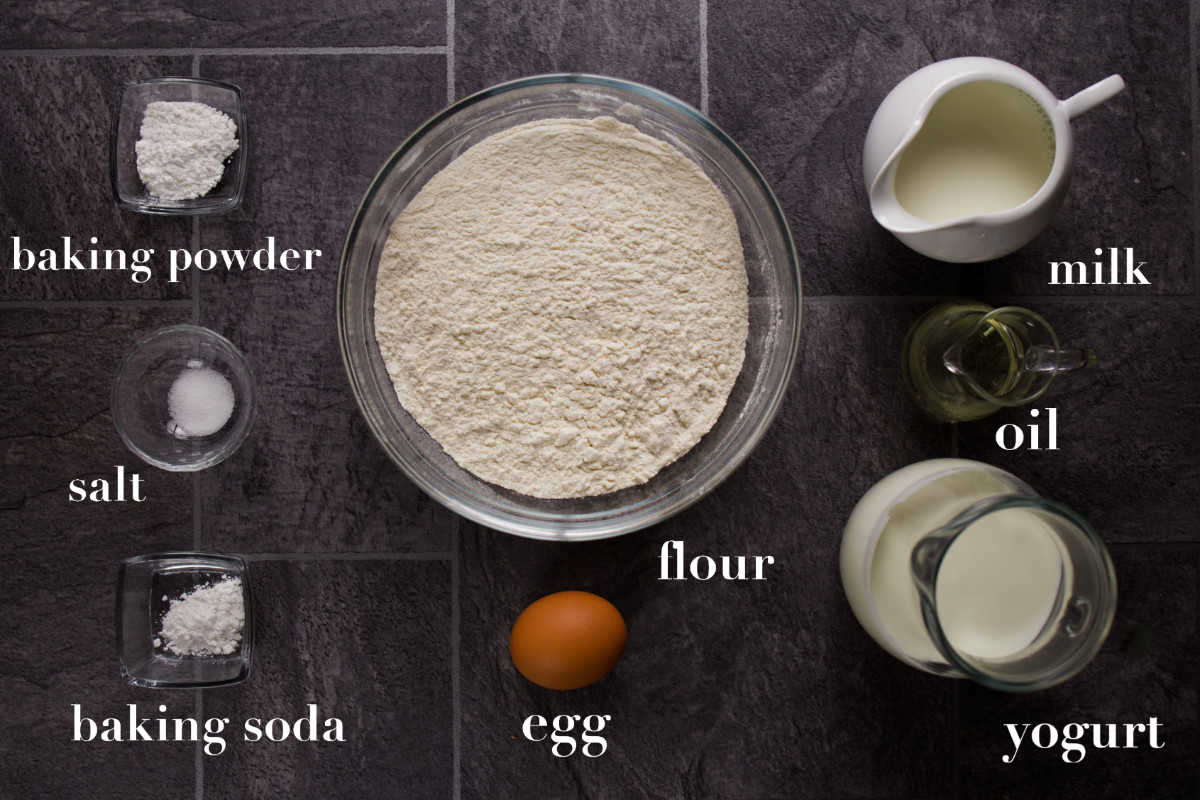 Flour: White flour is preferred, but you're welcome to experiment. (Here's a corn flour bread idea.)
Yogurt: Sub plain yogurt with Greek, but stir in a little water to get a fluid consistency. Alternatively, 50/50 kefir to yogurt ratio works too.
Egg: Optional. However, it helps form a richer, more tender dough while binding ingredients.
Baking soda and baking powder: These are often used interchangeably in some Balkan bread dishes. However, today's recipe uses both to aid the taste. (For differences between the two take a look at the Pro Tip below.) 
Instructions
Instructions on how to make pogacha bread.

Combine dry ingredients.

Shake.

Add wet ingredients.

Knead with spatula.

Knead with hand.

Transfer to pan.

Punch with fist.

Pierce with fork.

Bake.

Cool.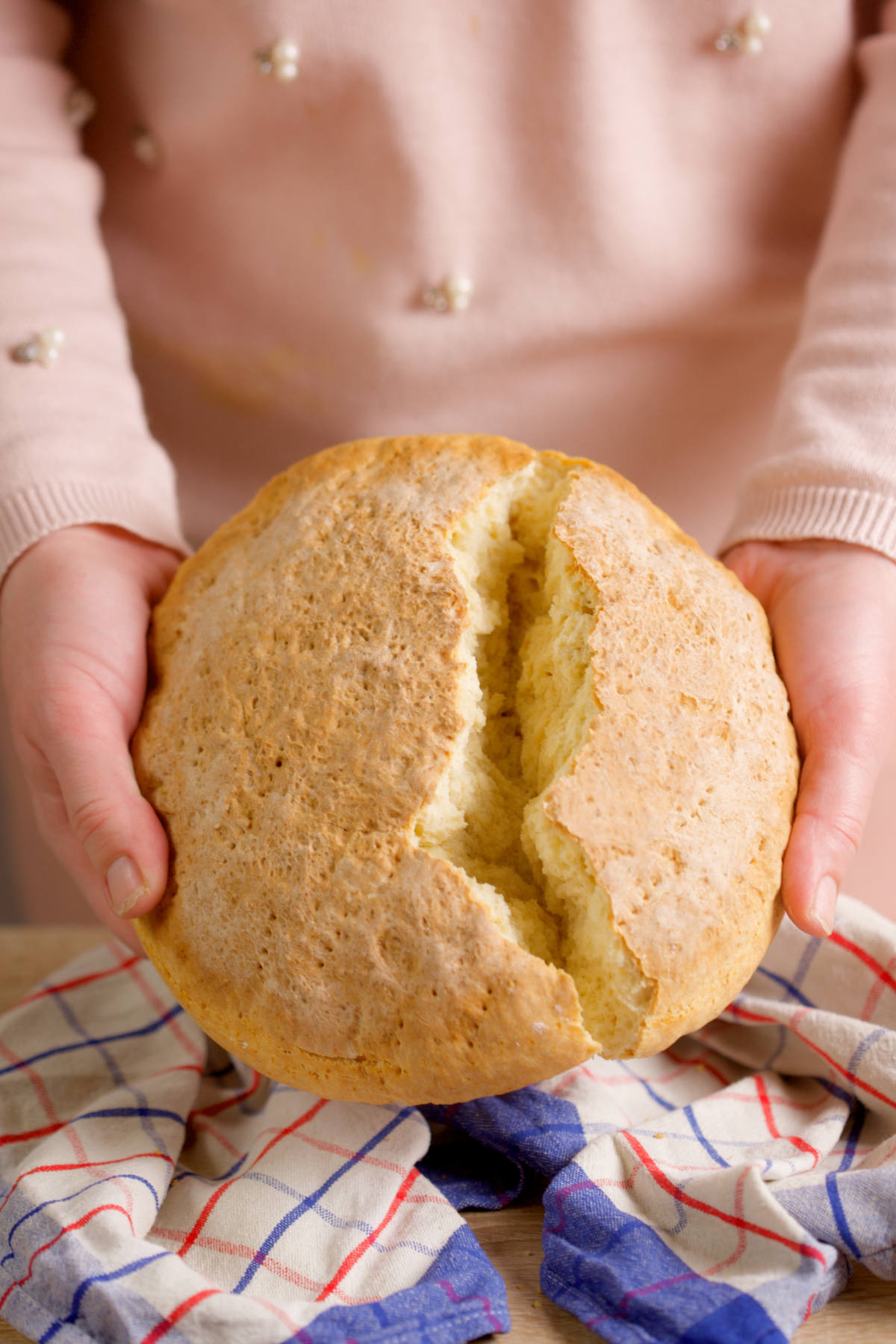 Kneading: If kneading by hand, knead at least 7-10 minutes. You'll get a round soft but not sticky dough ball. The longer you knead, the less sticky it'll be. Add a little more flour if necessary, but no more than a couple of ounces. (Using a stand-alone mixer? Follow its directions to get a soft dough ball.)
Punching: Once you transfer the dough ball to the pan punch it to flatten it. The punches are supposed to be light, done with just enough strength to spread the dough around the pan.
Piercing: After punching the dough, pierce it several times with a fork. Keep the holes shallow. This step helps the airflow nicely during baking.
Size: Leave a little bit of space between the dough and pan walls to allow the dough to grow while baking.
Waiting: It's best to wrap it in a kitchen towel and wait at least 20-30 minutes before eating pogacha. For the best taste smear butter over pogacha immediately after taking it out and before wrapping it up.
Expert Tips
Here's how baking powder and baking soda differ.
Baking soda:

Baking soda is a base mineral. This compound is used in households for everything from baking to cleaning. It also goes by bicarb soda and soda bicarbonate.
Coupled with something acidic, plus a liquid, baking soda acts as a leavening agent. It lends a slightly sour taste to recipes.
Baking powder:
Baking powder is a combination of baking soda plus an acid. Because it already has acid in its composition, it only needs something liquid to act as a leavening agent.
In addition, the baking powder works in two ways. It first helps the dough rise at the beginning, and again when it is exposed to warmth (like baking or frying). It tastes neutral.
How to use baking soda instead of baking powder in a recipe?
Use ⅓ of the baking powder volume and double up the amount of vinegar or lemon juice to activate it.
For example: if a recipe asks for 1 teaspoon of baking powder, you can use ⅓ teaspoon of baking soda and ⅔ teaspoon of lemon juice instead.
How to use baking powder instead of baking soda in a recipe?
Use 3x the amount of baking soda.
For example: if a recipe asks for 1 teaspoon of baking soda, use 3 teaspoons of baking powder. Since baking powder has acid in its constitution, acids are unnecessary.
How to use baking soda AND baking powder together, and why?
Some recipes (like our yeast-free yogurt pogacha) require both baking soda and baking powder. This is done to achieve a slightly tangy taste and a nice brown color while baking.
In this case baking powder amount should be at least double that of baking soda.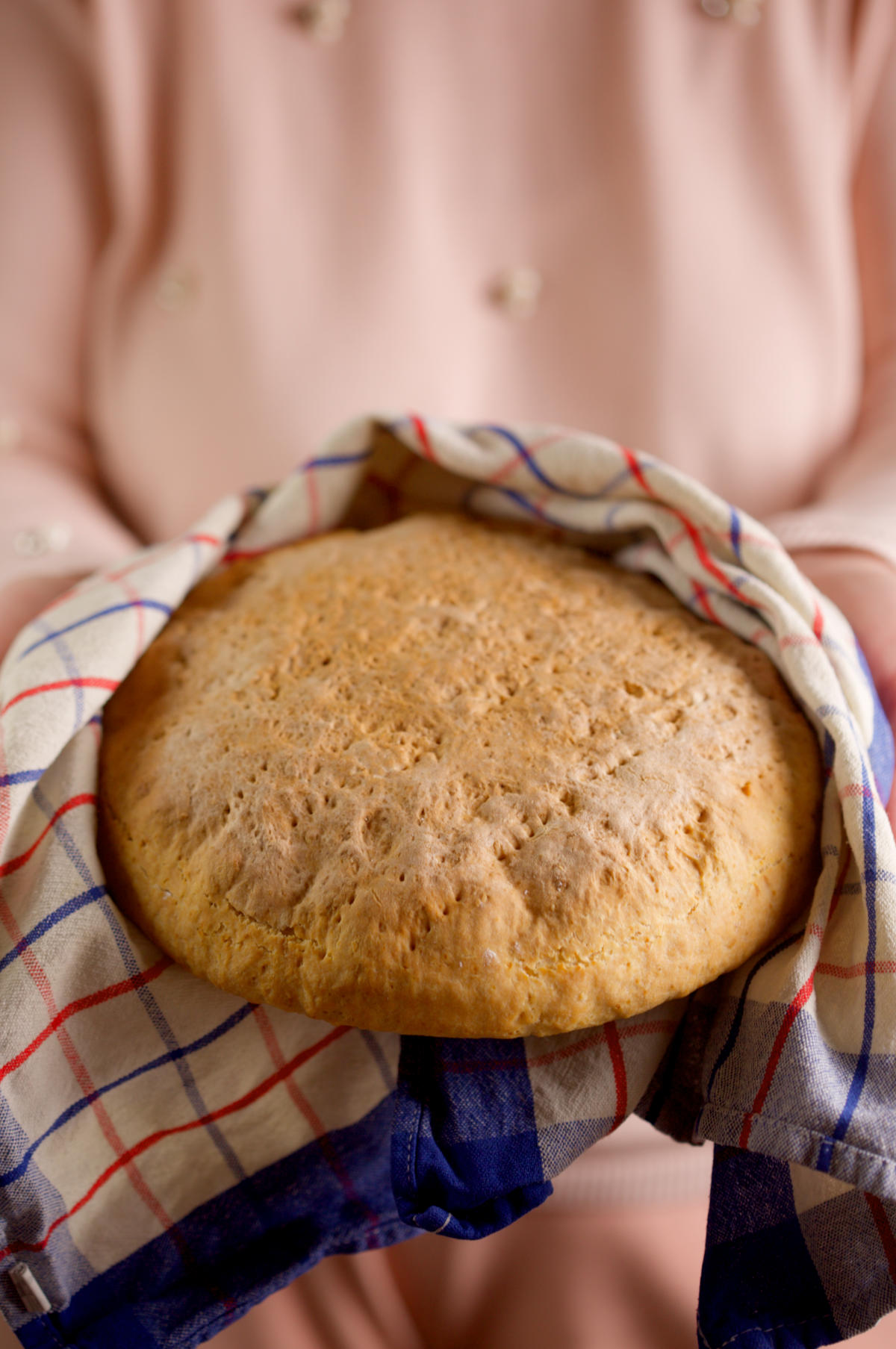 More Carb Recipes
Thoughts?
If you make today's Pogacha and like it, please consider leaving a ⭐️⭐️⭐️⭐️⭐️ (5-star) rating. This will help others find the recipe more easily!
You can also leave a comment, I read EVERY one! Finally, if IG is more your thing, consider tagging us @balkanlunchbox.
Prijatno and bon appetit!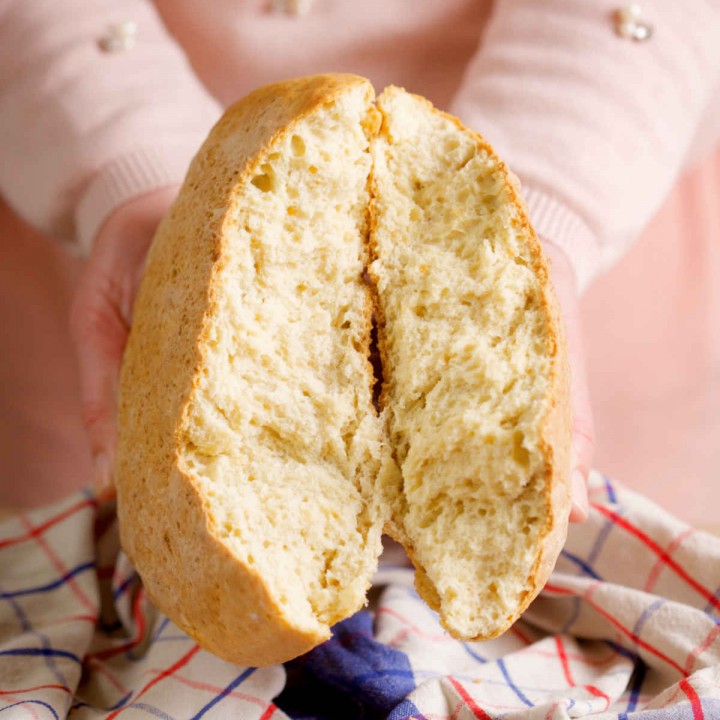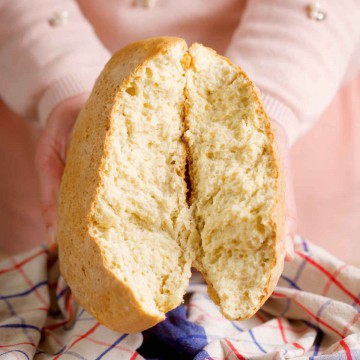 Pogacha (Pogača): Traditional Balkan Bread (Yeast Free, W/ Yogurt)
Pogacha (pogača) is a traditional Balkan bread. We're bringing you a yeast free, yogurt version you can make in less than an hour. 
Ingredients
18-20

ounces

white flour

½

tablespoon

baking powder

½

teaspoon

baking soda

1

teaspoon

salt

1

egg

7

ounces

plain yogurt

3.5

ounces

milk

Oil
Instructions
In a large bowl, combine flour with baking powder, baking soda and salt. Stir or shake. Heat oven to 495°F/ 250°C.

Add egg, milk and yogurt. Work the ingredients first with a wooden spatula as long as you can.

Take over with your hand and work continuously until you get one smooth ball (about 7-10 minutes). The dough should be soft but not sticky.*

Transfer the ball into a (9 inch/ 23cm in diameter) oiled round pan. Flatten the dough evenly with your fist as you lightly punch it on all sides until evenly distributed in the pan. Take a fork and stab the bread on the surface several times.

Lower oven temperature to 400°F/200°C. Bake pogacha 35 to 40 minutes, turning the pan halfway.* If it blushes too much, cover with foil.

Take the bread out, wrap in a clean kitchen towel and leave to cool for 35-40 minutes.
Notes
*Step 2: Add a little more flour as necessary, but not more than 1-2 ounces.
*Step 5: By turning it halfway it's meant that the pan should be turned 180°.
Egg is optional, but recommended.
Sub plain yogurt with Greek, but stir in a little water until you get a fluid consistency. Alternatively, use kefir and yogurt (50/50 ratio).
Total time does not include waiting for it to cool down.
Nutrition information is based on 3 servings.
Nutrition
Serving:
1
/2-⅓ pogacha
Sodium:
1074
mg
Sugar:
6.7
g
Fiber:
4.7
g
Cholesterol:
61
mg
Calories:
706
kcal
Saturated Fat:
1.8
g
Fat:
4.6
g
Protein:
24.3
g
Carbohydrates:
137.4
g
More Recipes To ❤️