Jam rolls: just the right thing for a perfectly sweet and juicy end of the day.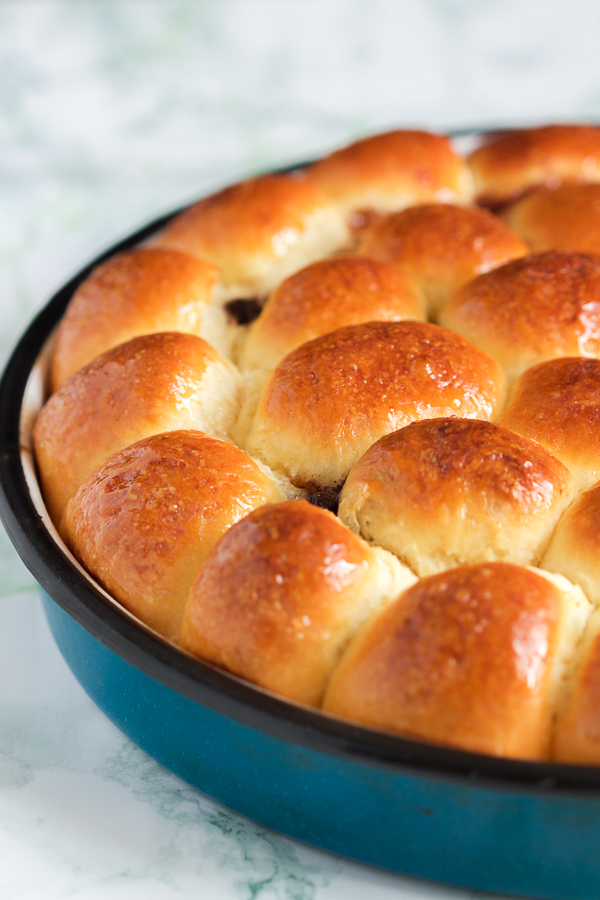 I'll keep it short today.
We are making jam rolls. Soft, smooth, comforting. A perfect, light dinner along with your favorite tea. I say dinner because, in the Balkans, lunch is the largest meal of the day. So the warm, juicy rolls are the most perfect way to finish the day off.
Preparation and ingredients are very similar to the Nutella rolls we made a few weeks ago. Except this time, we'll use marmalade or jam to stuff them.
There is something about sweet preserves (check out BLB's orange jam) making them the perfect pairing with the milk based dough. Each bite melts in your mouth. They're a perfect TV binge food. I admit, I like to eat them a few at a time, wrapped up in a blanket with my favorite show on.
Are you in?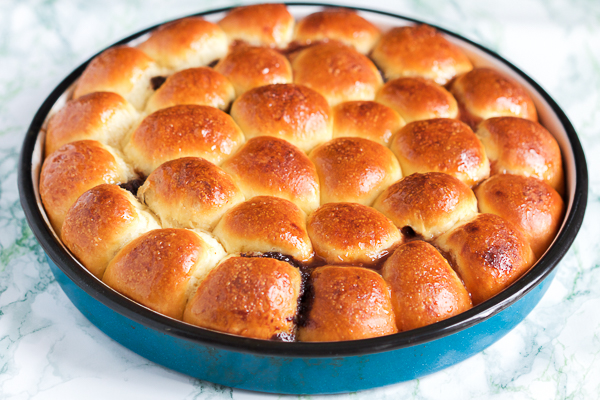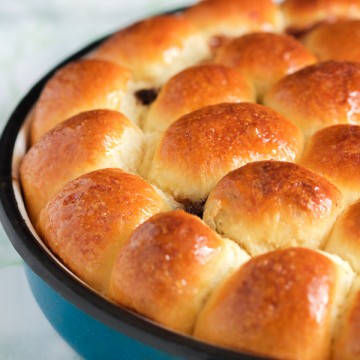 Marmalade Rolls
Jam rolls: just the right thing for a perfectly sweet and juicy end of the day.
Ingredients
½

tablespoon

baker's yeast

1

tablespoon

sugar

28-32

ounces

white flour

3

eggs

1

teaspoon

salt

12-14

ounces

warm milk

3.5

ounces

oil plus a little more

10-12

ounces

jam

plum or other

4-5

tablespoons

butter
Instructions
Mix yeast and sugar in warm water. Leave aside for 10-15 minutes.

In a large mixing bowl, combine flour, 2 eggs, salt, oil and the yeast mix. Start adding warm milk as you mix the flour until it becomes dough. Keep working it with your hand until you get one smooth, elastic dough ball. Cover the bowl with a kitchen towel and set aside in a warm place for about 30-60 minutes or until the dough doubles in size.

Dust working space with flour. Take the dough out and cut in half. Take one half and work it with your hands another 5 minutes, then spread it out into a rectangle with a rolling pin. Cut 15-16 squares. Place one teaspoon of jam in the middle of each square and make each into a small ball. Easiest way to do it is to pinch opposite corners of the square, and do that for all four sides, twice. Alternatively, you can roll the square into a ball.

Place each roll into an oiled pan (the one used was 12 inch in diameter), keeping the pinched side down  starting on the sides of the pan towards the middle until you fill the pan. Heat oven to 390°F.

Mix the remaining egg yolk and 1 teaspoon oil and paint each roll. Top with a tiny slice of butter. Leave aside for 20-30 minutes so they rise a little bit.

Bake 15 minutes, then turn the pan around 90°. Bake another 15+ minutes. Be mindful as in the last few minutes as the rolls may start to blush faster due to the egg and butter on top. (If they blush cover them with foil.)
Notes
Serving size is about 3-4 rolls per person
Consume rolls while hot or warm along with some tea. They are not tasty the next day.
Nutrition
Serving:
3
rolls
Sodium:
313
mg
Sugar:
11.7
g
Fiber:
3.6
g
Cholesterol:
68
mg
Calories:
549
kcal
Saturated Fat:
6
g
Fat:
18.9
g
Protein:
13.1
g
Carbohydrates:
82.2
g