Plums encased in a potato based dumpling dough, boiled and breaded. An old Balkan delicacy.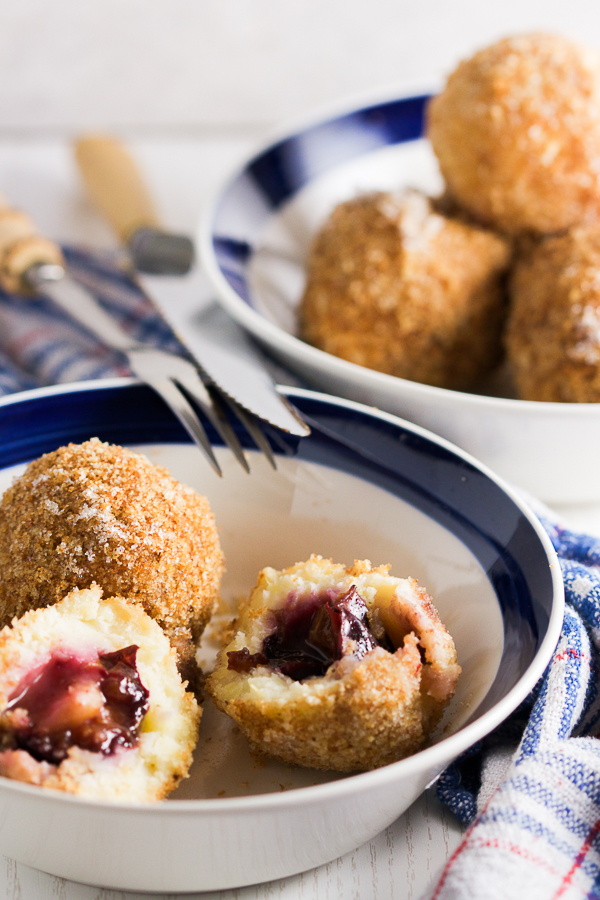 I've heard about Ksenija's plum dumplings - known here as knedle - from my sister, but there was never a time to get together and make them. Sister said they were the best she's ever had.
But one afternoon when plums were the right ripeness, Ksenija and sister came over for coffee plus a Balkan dumpling lesson.
Unusually unprepared, I asked Ksenija to stop by a grocery store before arriving and get the few remaining, albeit most important ingredients. Plums, for one.
Plums for knedle have to be on the smaller side, and completely ripe. When they are more close to red-purple than blue-purple, when they're more squishy than hard, when they're the size of a ping pong ball or smaller, that's when they're the right plums for dumplings. As her family made plum dumplings for generations, Ksenija has an instinct for these, so I wanted her to pick them out.
Ksenija is a beautiful woman.
I know what you'll say. Every woman is beautiful in her own way. True.
But only a handful of women in our lives are beautiful effortlessly. It's purely a matter of nature, and there is nothing the rest of us can do but admire. Even the environment can't diminish this kind of beauty. Not smoking. Not wars. Not life.
"I like interesting people," Ksenija says. She enjoys an equally deep friendship with a cat lady as she does with someone of a higher social standing, although she doesn't give a sh*t about social standing. And there she is, standing in my kitchen now. I smugly think she must find me interesting too.
To be honest, it never occurred to me preparing these dumplings would be kind of like preparing the meat ones. I can't even remember having good plum dumplings before. Did I ever have them before?
I have a hard time recalling their taste because they're incredibly hard to categorize. They're sweet. So they're a dessert. They're also on the heavy side. As in, you'll be pleasantly stuffed after consuming a few. Consuming a few more is overkill. (If you're known to overdo dessert, go ahead, skip the main course. You won't stay hungry.)
Come to find out, in Dubrovnik people eat knedle with sour cream on the side. This option sounds fantastic, and is way beyond a Sarajevo palate. People in Sarajevo are terrified of salt and sugar getting it on.
Probably why my efforts to introduce PB&J sandwich here failed.
On top of all, plum dumplings are so detail oriented. Just as a naturally beautiful woman is beautiful in spite of the accoutrements, the accoutrements (in our case: sugar, dough, and bread crumbs) are what make the plum dumplings beautiful.
Before sister and Ksenija arrived, I cooked potatoes in salt water (an equal mix of old and young ones as those were the only potatoes left in the grocery store), and mashed them without adding anything.
They were already cold by the time the two of them came, which is preferable anyway. I read another dumpling recipe that said it's best if potatoes spend some time in the fridge mashed like that, before being made into dough.
Sister and Ksenija are from the golden Yugoslav generation. Tito's pioneers, long summers on the Adriatic coast, guitars and camp fire. Generation that swallowed Dostoevsky, Dreiser, and Hesse before reaching high school. Back when the books were porn, and you were nothing and nobody if you didn't read.
Nothing else I read would have helped me make these dumplings on my own without her hands on instruction. Hopefully I broke the process down enough with the photos and description to dispel the dumpling enigma for you. Every step is included.
You know how I feel about folks who lie about ingredients to prevent others from replicating a dish so I'd never do that to you. Luckily, I'm surrounded by folks like Ksenija who not only teach me something new, but are also cool with me sharing this with you too.
Onward.
We are now at the point where mashed potatoes are mixed vigorously with flour until they become one smooth, consistent ball of dough, which is then divided into two loaves. Each loaf is worked further, and cut into several one inch rounds.
Meanwhile, the plums are washed, dried, and pitted by making a swift cut on one side to let the pit out, while leaving each plum in tact. Each plum is placed into a dough round, covered with a spoon of sugar, and rolled up into a golf ball sized dumpling.
By the way, you'll need between 27-32 plums for the recipe. I can't be more exact than that.
Because potatoes.
You can't guess how willingly they'll turn into dough. They may be dry and make the dough tough and sinewy. They may be wet and turn the dough into a squishy mush. You'll have to balance out their personality with flour, just like when making bread. A little bit more flour to soak up the wetness. A little less flour if they're naturally dry. Similar to making phyllo. You'll need a strong determination, just like when making ajvar (ajver).
As always when we get together, sister, Ksenija and I talk about all sorts of relationships. Multifaceted layers of connections with ourselves, lovers, friends and family. A complicated tug of war between what we need, think we need, and get. Inner and outer conflicts, with an occasional sweet release, that remain ever the same through time even as political systems change.
We plunk dumplings into boiling water and give them plenty of time to rise up. We do this a few times over until all the dumplings descend and then ascend. After that, Ksenija throws them in a pan with bread crumbs, and I take over and dip them in sugar.
Sister is the main tester. Sister says these are the best she's ever had.
Plum dumplings come out transformed into brown compact balls. Sugar sparkles. They're gorgeous to look at. When you take the accoutrements off a beautiful plum remains. The three of us agree we can't be anything less than ourselves.
I feel a tug of thankfulness to have strong women around me.
P.S. What main course goes great with these?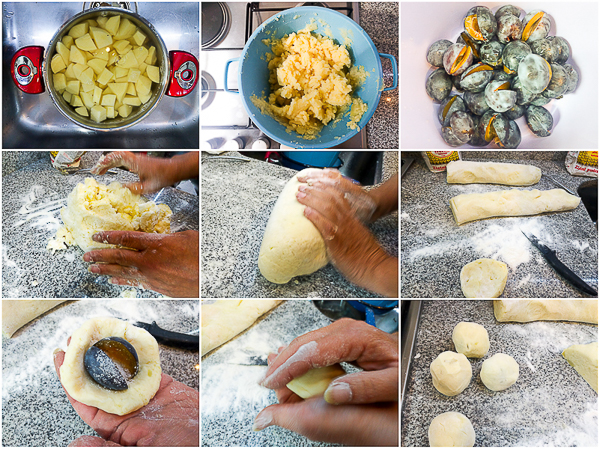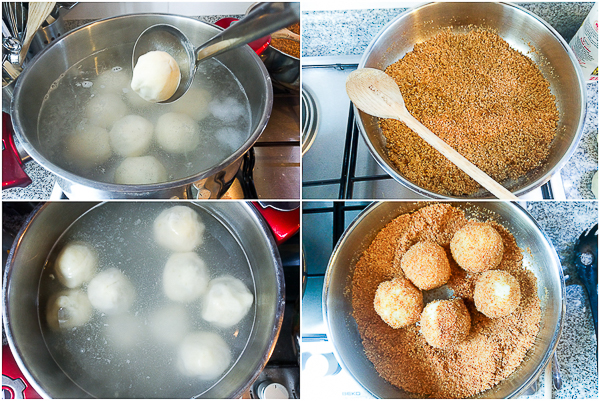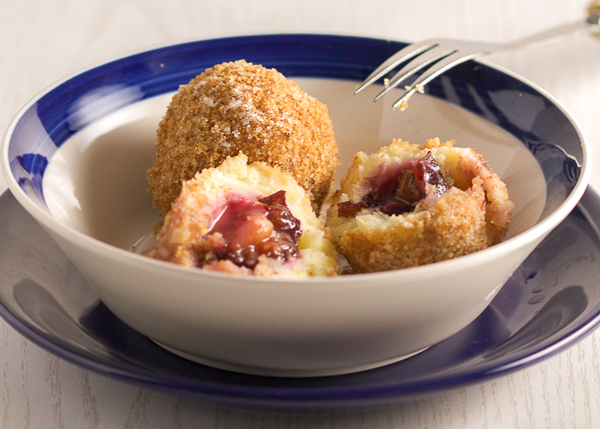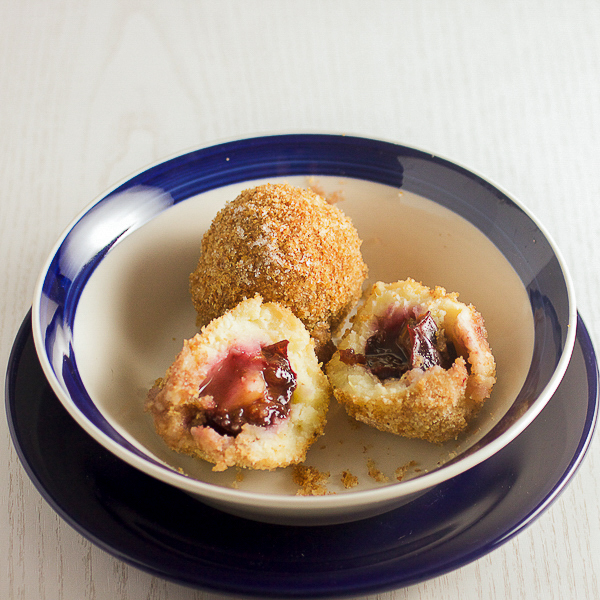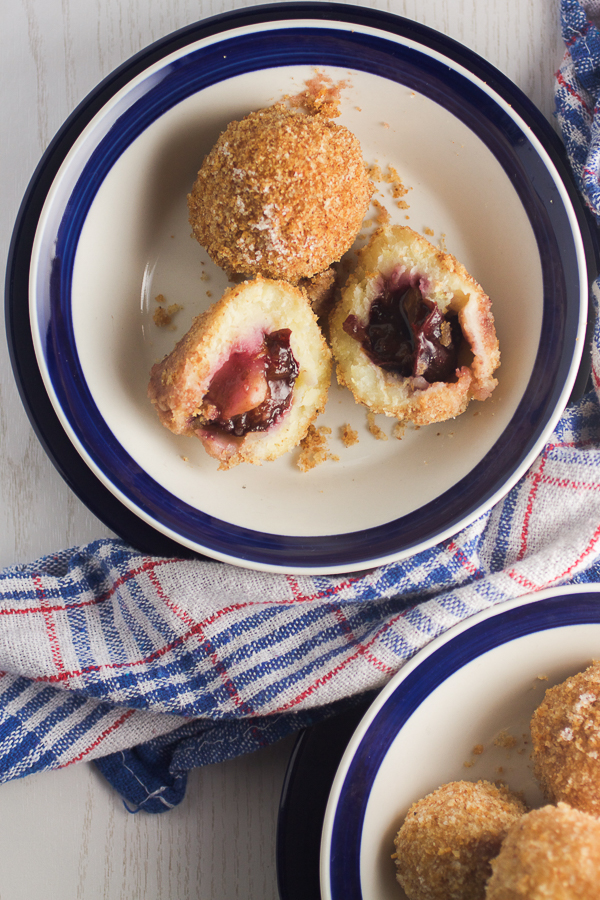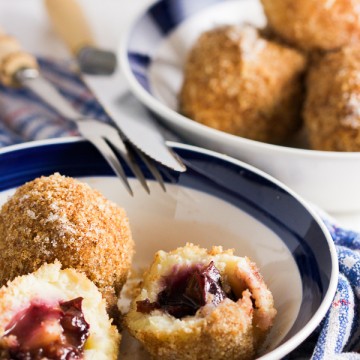 Knedle: Balkan Plum Dumplings
Ingredients
3

pounds

older potatoes

2

teaspoons

salt

30-35

plums

smaller, ripe

5

tablespoons

butter

soft or melted

13-15

ounces

white flour plus a little more

1

egg

1

teaspoon

of oil

12-14

ounces

breadcrumbs

10

ounces

white sugar
Instructions
Peel and dice potatoes. Place in a deep pot, cover with water, and add salt. Bring to a boil on high. Lower the temperature and continue boiling for about 15 minutes, or until potatoes are soft when you test them with a fork.

Strain potatoes and mash them. Leave aside for an hour to cool. Meanwhile pit each plum by cutting it along its natural longitude on one side, and taking the pit out. Do not cut in half completely, instead leave plums in tact. Take the butter out of the fridge so it's soft.

Dust the working area with plenty of flour. Add mashed potatoes, egg, butter, more flour and start working the ingredients into dough. How much flour you use will depend on the kind of potatoes you end up with. If the potatoes are dry, use less flour. If the potatoes are wet, use a little more. The dough should be on the softer, more elastic side, but not falling apart. It needs to be just tough enough to be worked into dumplings, and hold a plum inside without separating.

Divide the dough it into two loaves. Work each loaf a few minutes more, and then cut each into one-inch dumpling rounds. Meanwhile, fill up a large pot with a gallon or two of water, leaving ample space on the top. (The water level will rise as you place the dumplings in.) Place the pot on stove on highest, cover, and bring to a boil.

Take a pitted plum, place a teaspoon of sugar into it, and transfer onto a dumpling round. Form everything into a ball making sure that the plum is safely secured inside the dough. Repeat until you are out of rounds or plums. The number will vary, but with this recipe you should end up with around 30 dumplings.

By this time the water should be boiling. Uncover it, lower the temperature to medium, and start placing formed dumplings in. They'll sink to the bottom. They are finished when they rise up, so take them out one by one. It may take up to 15-20 minutes for the dumplings to rise, sometimes longer, just make sure you got your eye on the water. Stir the water occasionally so the dumplings don't clump together, and don't put too many in at any one time. As there are a lot of dumplings, you'll have to boil them in rounds.

Meanwhile, simmer breadcrumbs and oil in a larger pan for 3-4 minutes, and prepare a bowl with sugar, and set aside. After taking each dumpling out of the boiling water, roll it in bread crumbs first until it's covered on all sides. Afterward, transfer the dumpling into the bowl with sugar and repeat.

Consume warm. (Optionally serve with sour cream.)
Notes
Preparation and cooking time isn't listed because it depends on several factors. For example, whether (cooked and mashed) potatoes are left in the fridge overnight, how long it takes one to make the dough, how big the boiling pot is (determines how many dumplings are in at any one time), etc. Each time will be a little shorter, but keep in mind that overall plum dumplings do take a considerable amount of time.
A serving size is about 2 dumplings, thus this amount of ingredients yields about 15 servings.
If you have some dough left over, you can form it into gnocchi (as the dough is pretty much the same), place in a freezing bag, freeze, and then make gnocchi later.
Since plum dumplings take time to make, you can double the ingredients and make a big batch and then freeze a portion. You freeze them after they're formed into dumplings, but before they're cooked. Once you're ready to make them, boil water, and throw them in frozen. Then follow the rest of the steps.