Sweet, tangy orange jam made from organic oranges. With only three ingredients, and completed under an hour, you won't find a sweeter way to start off your day. (And impress your entire family with your newfound jam prowess.)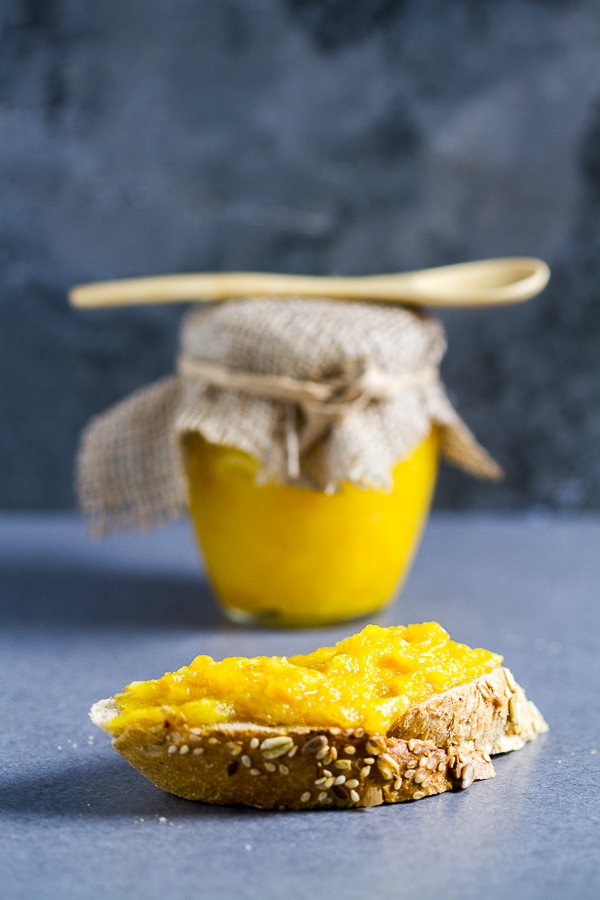 When mom told me about an orange jam she made in under an hour, I was skeptical at how tasty this could really be. Could a jam made that fast be any good? How long does a jam take anyway? But mom rarely has a bad day in the kitchen, and everything she's recommended up until now has been great. I had to test this.
Now, I'm not a jam and preserve expert. It's all the same to me: cook some fruit, make it sweet and it's good to go. Just recently did I find out the real difference between marmalade, jam, and jellies.
According to Mrs. Wages (not affiliated) jellies are made from fruit juice and sugar, and can be cooked or not. They're the the weird, elastic, see-through kind. Marmalades are a chunkier and more jelly-like versions of jams. Jams are made by crushing fruit and cooking it with sugar until it becomes a thick, sweet spread. Jams are my favorites.
There are also preserves, fruit butters, and syrups (such as the strawberry syrup we did). We'll stop here for now.
Another thing I was curious about regarding mom's recipe was this citrus business. I've tried orange jam before, but I couldn't place the taste. I'm Bosnian-American. I've spent enough time in both places where I feel equally at home in each. However, when it comes to food I'm all Balkan. Plum me up! And if you can throw in some walnuts I'll be in your debt forever.
So I fully expected when the day came to make my very first jam, it would be the plum jam. (Just like a parent expects there will come a time when they'll teach their kid to swim.) Maybe even the strawberry jam.
But the orange jam? That was a big - and turns out, delicious - surprise to me.
You may remember we've ventured into the preserve-like category with ajvar (the eggplant and red pepper spread), and pindjur (the tomato and red peppers spread). This will be way easier than either of those.
If orange jam is new to you, here are a couple of ideas on how to use it. Eat it on bread or on pastries, use it for rolls or strudels, serve as an appetizer or a side dish, or on top of your ice cream. There are no wrong answers here. I like to grab it on a spoon and eat it by itself. I also like it as a dessert after a heartier meal like moussaka.
You must have two things though. Completely organic navel (no or little seed) oranges. And a brand new scotch brite sponge with a scrub top. You'll have to wash and scrub those oranges as best you can as we will be using everything: from pulp to peel.
Let's try it out, shall we?
P.S. If you are looking for even more interesting jam options, here's one from Ksenia At The Immigrant's Table: Russian kumquat jam with Chinese spices. Her jam is the perfect pairing of sweet and spicy, which you can make milder with an addition of cottage cheese. Also, check out her blog for more Russian inspired fantastic goodies.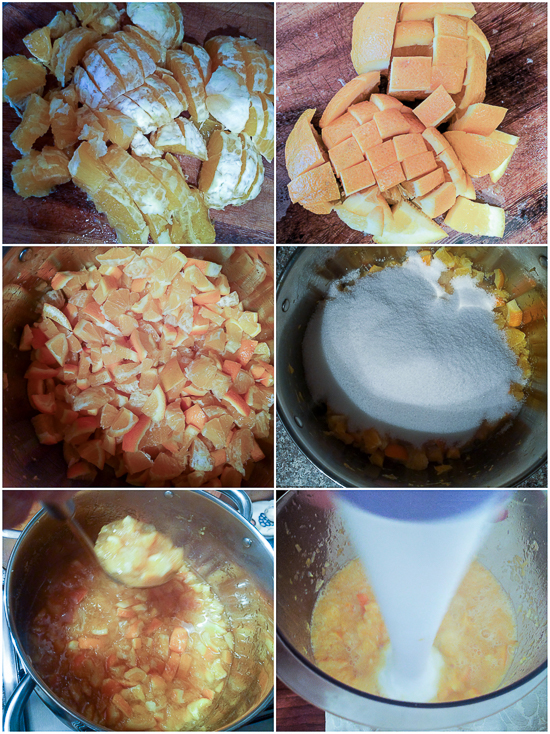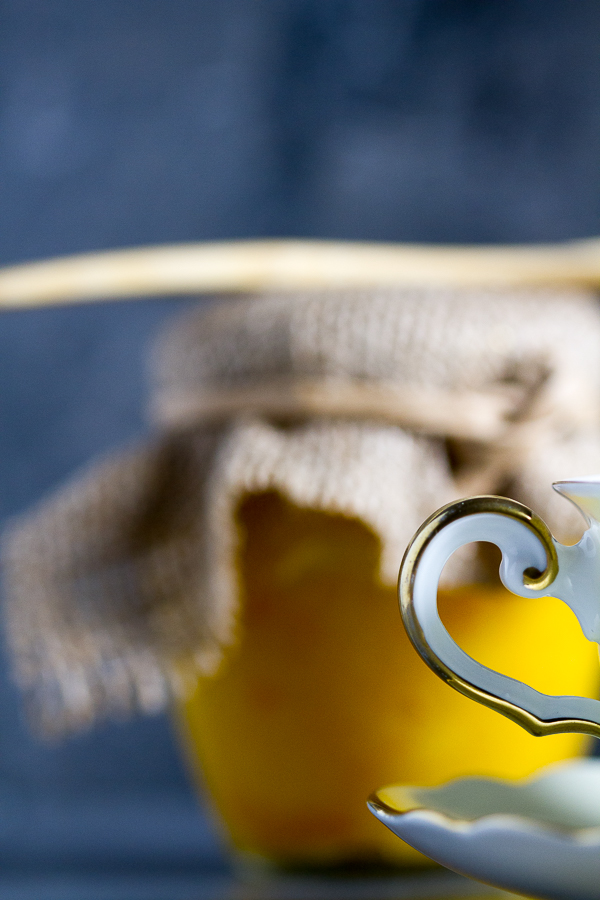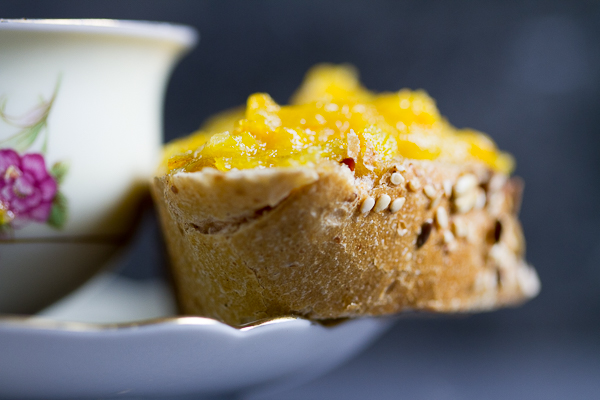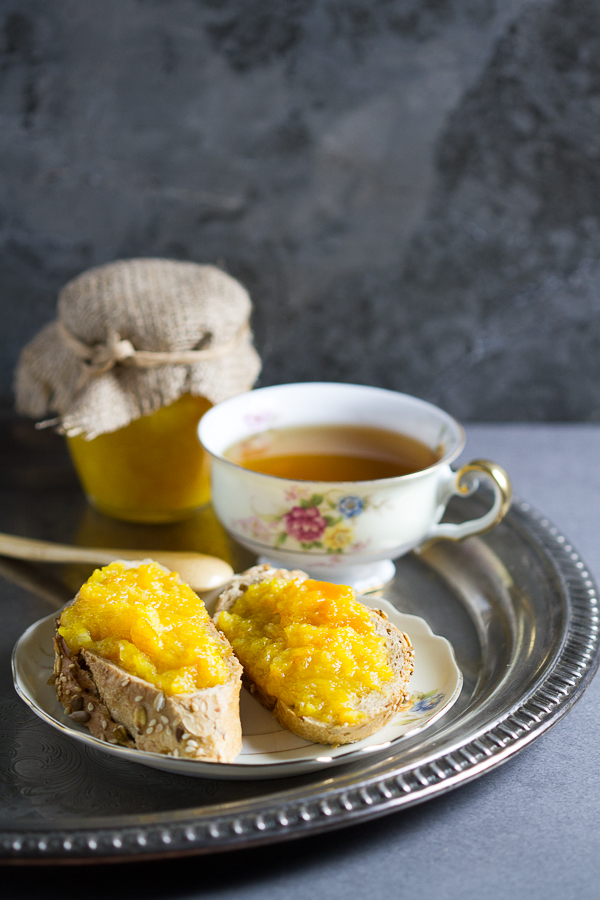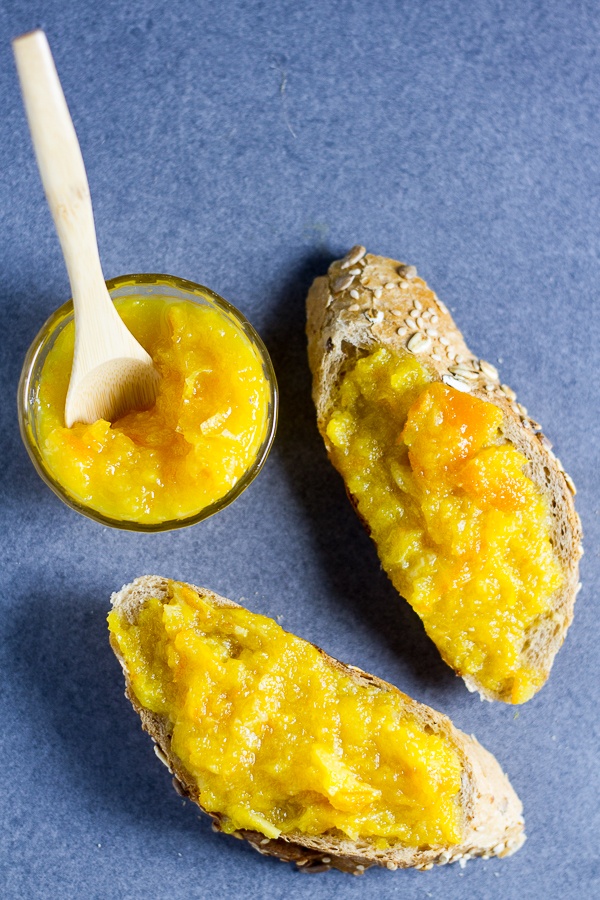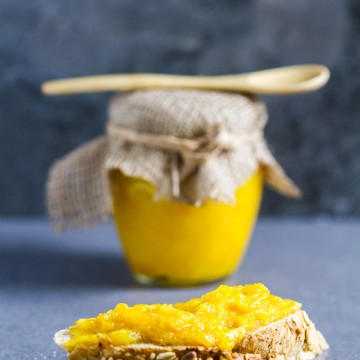 Orange Jam (1-hour, 3-ingredients)
Sweet, tangy orange jam made from organic oranges. With only three ingredients, and completed under an hour, you won't find a sweeter way to start off your day. 
Ingredients
4

pounds

organic seedless navel oranges

or about 15-17 medium ones

1 to 1.5

pounds

granulated sugar

1

teaspoon

vanilla extract

1

lemon

juice only

Brand new sponge with scrub on top
Instructions
With a new sponge wash all oranges thoroughly, and scrub the debris off their skin.

Peel about half of them (7-8), discard the peel, and then dice into medium sized chunks. (If there are seeds, deseed them.)

Cut off ends of unpeeled oranges, and dice into smaller chunks while keeping the peel on.

Place all in a deeper pot. Add one half to a cup of water. Turn on low and cook for 40 minutes stirring once every five minutes or so.

Add sugar and vanilla and cook for another 10-15 minutes. Add lemon juice in and stir.

Heat oven to 390F. Parallel to jam cooking, wash your jars thoroughly and dry them. Place on a baking sheet and put in the oven. Warm them up for about 15 minutes. This will sterilize them.

Transfer jam to a mixing bowl, and with a stick blender (or a stab-mixer), and blend down to a desired consistency.

Carefully transfer jam into hot jars. When the jars and jam cool down, transfer to a cool, dark place (or the fridge).
Notes
You will get about 5-6 medium size jars of jam with this volume of ingredients.
The recipe used 1.5 lbs of sugar, but less can also work. Let your taste for sweet be the guide here.
Play around with the amount of water you add. If the oranges you're using are exceptionally juicy, you may not need to add any.