Apricot raisin walnut cookie boats: a simple cookie with a complicated name. Apricots and raisins ground in a meat grinder, combined with sugar and chocolate, then topped off with a walnut.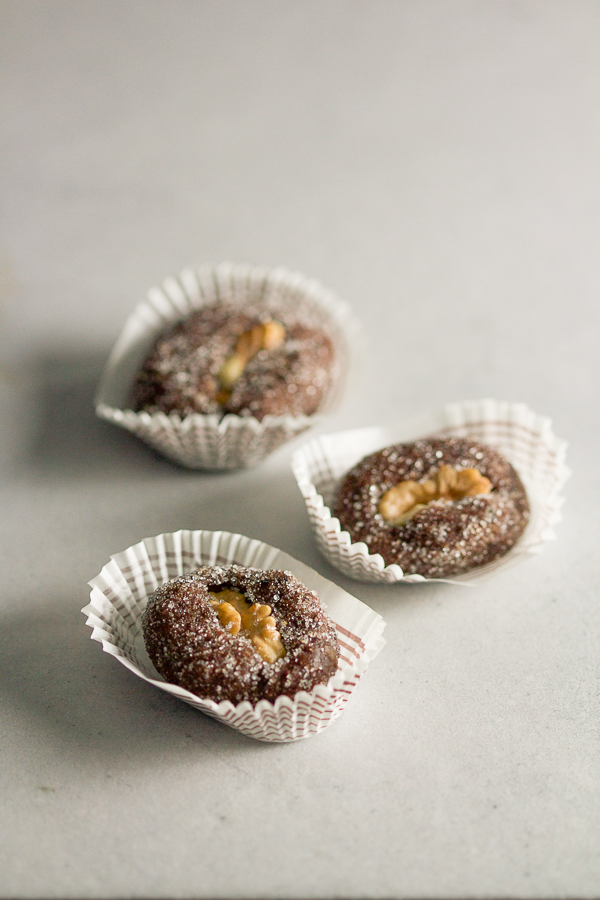 I'll be straight with you. The last couple of dessert recipes were made and photographed around the holidays. This one too. Generally I don't make this many cookies and desserts in a row (although, why not?.), so we can thank the holidays for the onslaught of sweets.
Today's recipe, the apricot raisin walnut cookies, is something my mom picked up a few years ago. Since then it's been in our regular holiday rotation.
We call them little boats.
These are traditional cookies in a sense that the apricot, the raisin, and the (omnipresent) walnut are the kind of ingredients you'll often find in cookies here. Although the combination of the same may be a little bit more contemporary.
For one, this is the first dessert in a while where a whole walnut is used (well, half of it), rather than ground. And the difference isn't subtle at all.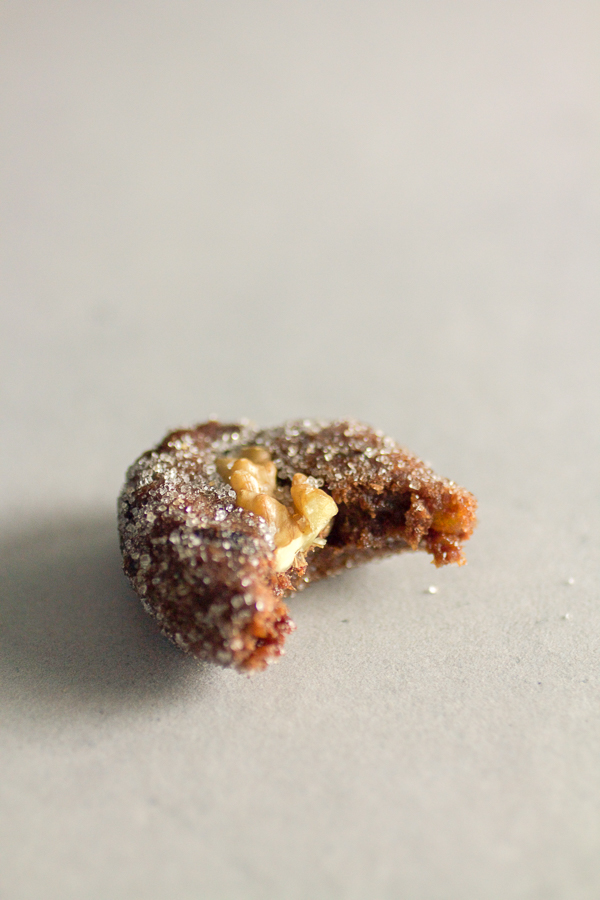 Kind of like translations.
How much does the meaning of something change with the movement of its main components?
I read somewhere Haruki Murakami first has his books translated from Japanese to English, and further translations are translated from English into other languages. Maybe this has changed by now.
Still, I wonder how much this process changes the meanings of his words. Do languages have to be in the same family of languages to be well understood?
My instinct says no. Otherwise how would we understand Marquez in Bosnian, or how could someone in France be so touched by the Russian classics?
But do we miss out on the nuances? Do we miss out on the culture? Is what we do by translating a recreation of the work itself?
An old friend of mine succumbed to an illness. It was the first time I saw someone astute capitulate under the heaviness of their own mind. For a brief period during which our orbits touched, my intellectual life was illuminated to an inconceivable degree. My friend had that kind of an effect on people.
We read a ton together. And apart. And came up with different ways to read. We invented games out of it. Our favorite game was to put a text into an online dictionary (this was before Google translate, so think of an even worse conjuring of words) and have it spit out translations. (We were sure we discovered a way Joyce wrote Finnegans Wake.)
Try it sometime.
Take a paragraph from your favorite book and then translate it into another language. If you are monolingual, find the original writing in the original language and get a passage translated online. You'll find yourself in a familiar yet different land, as if you returned home after many years.
Recently, I played around translating Bukowski. From Bosnian, I translated some of his stories into English, and compared it to his original writings to see how different these were. (No translating tools, just me.) He's one of the rawest writers we've ever had the gift of reading.
(If you're were tricked into thinking 50 shades of grey – that abomination of literature and abuse of the English language – was a book about sex, I urge you to read Bukowski's short stories. There is real copulation for you.  (Alternatively, try Miller's Tropic of Cancer.)
A note for the prude soul: Bukowski's writing'll insult you, piss you off, and also get you to see some truths about life. If you met him in person you'd probably hate him, but it doesn't take away from his genius. James Altucher has a nice article on Bukowski.
I've translated only the beginning paragraph of the story.
(My translation from Bosnian that was previously translated into Bosnian from English by a translator):  The most beautiful woman in town
Kes was the youngest and most beautiful of five sisters. Kes was the most beautiful woman in town. Half-Indian, with slim seductive body, she was fire in movement. She was like a spirit pressured into a shape that cannot be held. Her hair was long and black, like silk, and it moved and bent with the movement of her body.  Kes was either very happy or deeply sad. In between did not exist for her. Some said she was crazy. Idiots said that. Idiots would never understand Kes. Men only saw a sex machine in her, and didn't care whether she was crazy or not. And Kes danced and seduced, kissed everyone, but except in one or two cases, as soon as the thing would turn serious, Kes would somehow slip away, get away from them.
(Bukowski's original text, from here ): The most beautiful woman in town
Cass was the youngest and most beautiful of 5 sisters. Cass was the most beautiful girl
in town. 1/2 Indian with a supple and strange body, a snake-like and fiery body with eyes
to go with it. Cass was fluid moving fire. She was like a spirit stuck into a form that
would not hold her. Her hair was black and long and silken and whirled about as did her
body. Her spirit was either very high or very low. There was no in between for Cass. Some
said she was crazy. The dull ones said that. The dull ones would never understand Cass. To
the men she was simply a sex machine and they didn't care whether she was crazy or not.
And Cass danced and flirted, kissed the men, but except for an instance or two, when it
came time to make it with Cass, Cass had somehow slipped away, eluded the men.
As witnessed, the meaning is still here, but the beautiful nuances of his language get lost in the text that was translated twice over.
It reminds me of how these apricot raisin walnut cookies translate from one recipe into another. Many have the same ingredients. By exchanging the volumes and the sequence of steps we end up with something familiar and new at the same time.
I hope you like them.
Print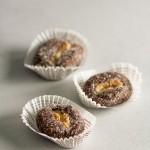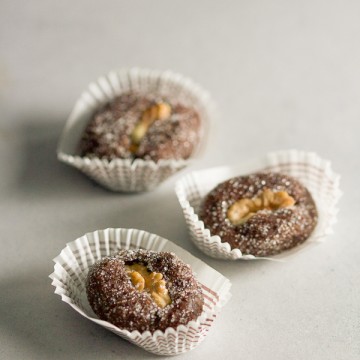 Dried Fruit & Walnut Cookie Boats
Author:

Prep Time:

40 mins

Total Time:

40 mins

Yield:

17

1

x

Category:

Dessert
---
5 ounces

dry apricots (pitted)

3.5 ounces

raisins

3.5 ounces

prunes (pitted)

1.5 ounce

cocoa powder

1.5 ounce

corn starch

9 ounces

powdered sugar

2 tablespoons

lemon or orange juice (fresh)

1

egg white
(Optional) 1 teaspoon sour cherry brandy or rum

35

walnut halves (de-shelled)

2

–

3

ounces granulated sugar
---
Instructions
In a meat grinder, grind apricots, raisins and prunes together.
Wet (or oil) your hands to prevent sticking and transfer ground fruit into a deeper bowl. Add cocoa powder, starch, powdered sugar, juice and egg white. Mix until completely integrated.
Transfer granulated sugar into a smaller bowl.
Make small rolls (1/2 size of a golf ball) out of the mixture. After forming each ball, flatten it a little bit between your palms, and press a walnut half into it. Afterwards roll in granulated sugar and set on a flat pan or baking sheet.
Leave in a dark, cool place to dry. Later when they toughen, transfer into a container or a cookie jar, and keep up to two weeks.
Notes
This amount of ingredients should yield about 35 cookies. Serving size is about 2-3 per person.
Take note that raw egg white was used to congeal the ingredients together. Raw eggs may cause unwanted reactions. Some use apple sauce or sugar syrup as a binding agent instead.