Hazelnut chocolate balls are dark chocolate truffles enriched with crunchy ground hazelnut. This easy, no-bake, 30-min dessert is also known as "little bombs."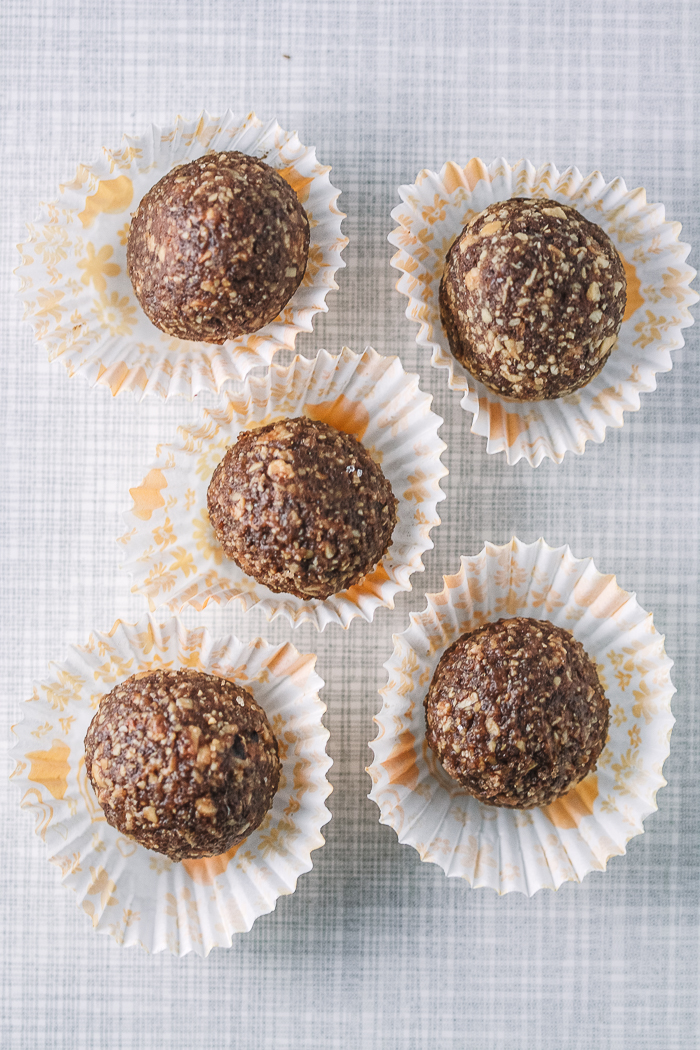 Hazelnut Dessert
Like most households, ours become factories of business around holidays, amplified by mom's dedication to desserts. I don't know if it comes with age, if it's compulsion or competition, but she sets the tempo impossible to follow.
For 2019-2020 holiday season alone she made over fifteen types of desserts: hazelnut chocolate balls (truffles), pralines, butter cookies, Raffaello, puffed rice cookies, crescents, rolls and I forget what else.
She also made her classic chocolate walnut cake, while Aleksandra made the meringue cream one.
As we divide everything between our homes, it's only fair we support mom's plan to give us diabetes by offering a helping hand. To this effect, much of my December was spent running between homes to roll, bake and make a long list of sweets.
You might remember how I noticed that every Balkan dessert is made with walnuts. Whole, chopped or ground... You say 'dessert' and a walnut appears.
To break this monotony my niece Riana asked we put hazelnuts in some. We agreed.
First we made walnut bites with hazelnuts.
These are the easiest snacks to make. They're basically a baked mixture of ground walnuts and sugar. If you do it correctly they're soft, chewy and crunchy at the same time.
Hazelnuts being hazelnuts - of greasier consistency than walnuts - caused the bites to come out OK, but not as crunchy. They also required more space in the pan as they flattened out.
Taste-wise no one complained. They were good. Riana was delighted. (Although, I didn't tell her one of the batches ended up on the floor after I tried to get the bites separated from the pan, process made difficult by their earlier flattening.)
One hazelnut dessert was not gonna cut it, so I had to think of another one.
Little bombs came to mind.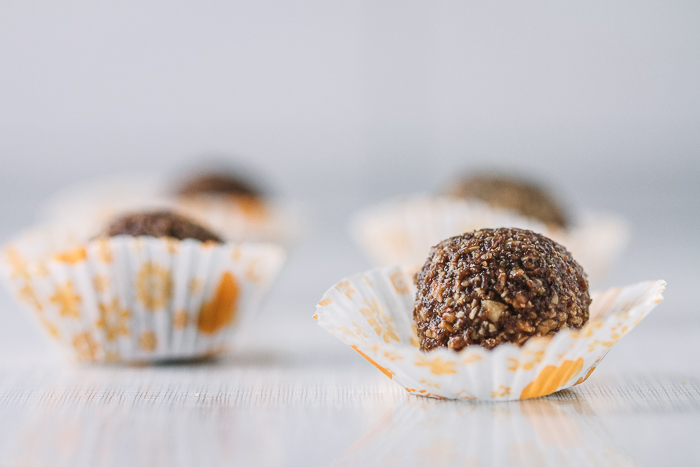 CHOCOLATE BALLS (LITTLE BOMBS)
Little bombs, or bombice (pronunciation: "bombitze") are dessert balls (truffles) made with different ingredients. They're what's nowadays called a no-bake dessert. Quick and easy.
Honestly this is a good dessert, but by no means sophisticated. You won't blow anyone's mind with chocolate balls.
That's what quick and easy usually means.
But quick and easy also means that you can have a decent dessert within 30 minutes. Not bad!
We even have a story in our family about these chocolate truffles.
On one of their first dates Aleksandra and her husband went to a pastry shop. It was a fancy one with tens of different desserts, one better than the other. She asked for a little bomb. My brother-in-law was amused. "Out of all these sweets you choose the one they make from remains of other cookies."
The point with chocolate balls is that they're tasty enough and fast enough. And sometimes that's good enough.
INGREDIENTS FOR HAZELNUT CHOCOLATE TRUFFLES
As my brother-in-law confirmed you can make chocolate balls out of anything.
Any kind of chocolate - from dark to milk - can be used. Other ingredients adjust to chocolate. If chocolate is sweet the other ingredients are toned down in sugar, and the other way around. Dark chocolate is best for hazelnut chocolate balls. (Dark chocolate includes baking chocolate, which is just a specific type of it.) Due to the dark chocolate's slightly bitter taste, you can go to town with sugar in other ingredients.
Other popular ingredients for chocolate balls (and truffles in general) include cookie crumbs (ground biscuits), dried fruit, nuts, jams, sprinkles, even rum.
I make chocolate balls with a crunchy addition (some type of nut). Nuts can be anything: walnuts, almonds, hazelnuts, etc.
One step that cannot be skipped however, is nut roasting. More on that later.
As far as size, I like the hazelnut chocolate balls on the smaller end. (On average they range from size of a marble to the size of a tennis ball.) But then again, I have a thing for making food smaller, and I got that from mom.
For example, I still receive complaints about the size of sarma (stuffed sour cabbage), which, individually are the size of a large man's thumb. As it takes time to prepare them and the acidic sour cabbage leaves have a nasty habit of biting the skin, most people make their rolls quite large to hurry up the process.
Meanwhile, every person who actually tried making theirs the size of mine (and by extension the size of mom's and Aleksandra's), can't get over how much tastier little sarmas are. There is something about smaller bites that makes food delicious. (The only time to disregard my sizing advice is when making meat dumplings.)
My hazelnut chocolate truffles (balls) are the size of one of those round chewing gums you get from a gum-ball machine.
HAZELNUT SHELL
Unlike the walnut - ready for use as soon as you get it out of its shell - shelled hazelnut has a flimsy, brittle skin. It's not unlike cigarette paper in look and feel. This skin is milk chocolate brown, and is peeled off after a roast, but before hazelnuts are ground.
It's easiest if you buy hazelnuts already shelled, roasted, peeled and ground.
However, there are two reasons to go the DIY route: cost effectiveness and taste.
The more hazelnuts (and other nuts) are processed before you buy them, the more expensive they are. More importantly, unless you have a nut specialty store, the freshness factor is questionable. Ground hazelnuts from a bag that's been sitting on a grocery store shelf for who knows how long, don't make for a good dessert. Thus, paying more doesn't necessarily mean you'll be getting the best stuff.
Also, hazelnut shell and skin seem to protect and seal in the freshness. In other words, you're getting fresher stuff if you do it yourself.
Yet again, buying hazelnuts is faster. If time is an issue for you, go this route.
How to roast (toast) hazelnuts
To roast hazelnuts preheat oven to 300°F. Lay shelled hazelnuts on a baking sheet, pan or foil. Roast for about 20-30 minutes. Keep a close watch to prevent them from burning. They're done when the skin starts to peel off.
As you are toasting them, a nice side effect is your kitchen and home filling up with beautiful aroma.
Once they're finished roasting, take the hazelnuts out of the oven and cover the pan for a little while. Later place them on a kitchen towel. From here you can rub the towel between your hands. Or you can rub hazelnuts between your hands if you prefer, but be careful not to burn your fingers. Either way the skin should come off easily.
Shelled, skinned hazelnuts are ready for grinding, chopping or mincing, and then prepping your hazelnut chocolate balls.
HAZELNUT NUTRITION
PROS:
Antioxidants. Hazelnuts are full of antioxidants, particularly vitamin E and folic acid.
Constitution. Hazelnut constitution: water content is 6%, protein is 13%, carbs are 17% and the oil (higher than even walnut) is 62%.
Calories. There are approximately 90 calories in 10 hazelnuts, 630 calories in 100g, or 850 calories in 1 cup.
Aroma. They have the best aroma out of all nuts. The aroma intensifies 600+ times when hazelnuts are exposed to heat. This is due to a flavor compound called filbertone which is also widely used in the perfume industry.
Taste. Terrific. That is to say, hazelnuts (especially when partnered up with chocolate), taste like heaven.
CONS:
Primary allergy. Hazelnuts can cause primary and secondary allergies. Primary allergy is the actual allergy to hazelnut. It is potentially life threatening. If you're allergic to other nuts there is a high probability hazelnut will be problematic for you.
Secondary allergy. Secondary allergy is the type of allergy that arises due to the person's existing allergy to pollen. A hazelnut protein mimics it. This type of allergy is not life threatening, and it can be reduced by processing hazelnuts.
Cost. More expensive than most nuts.
Skin. Papery, tasteless skin that needs to be removed after shelling and before consumption.
TIPS FOR MAKING HAZELNUT CHOCOLATE BALLS (TRUFFLES)
Bigger batch. Hazelnut chocolate balls are worth making in larger batches. Moreover, the first batch will disappear before you know it. Doubling up ingredients somehow doesn't double up the effort needed to go into making these.
Oil your hands. Above all, to easier shape the dough into balls, oil your hands with vegetable (or other) oil before you start formatting them. This will make it less sticky.
Storing hazelnut chocolate balls. After formatting balls, keep them in a dry, cool place for a few hours. You can later transfer them to some type of cookie box (plastic ones are OK). If using milk or egg whites in your truffles, they will last about 10 days. Consequently, if not using egg whites or milk, they can easily last up to 3 weeks. You don't have to keep these truffles in the fridge. A cool, dark place will do just fine.
Raw egg white. The recipe for hazelnut chocolate balls asks for a raw egg white. In cooking, raw egg whites bind ingredients. If you've eaten meringue, chocolate mousse, tiramisu or homemade mayo you've consumed raw eggs without noticing. Regardless, a raw egg white, such as the one used for this recipe, may be the source of trepidation for you because of salmonella. Salmonella is a type of bacteria that affects intestinal tract and causes food poisoning. If you take care of your hand hygiene, get free-range, organic eggs and use them quickly there is extremely small chance you'll contract it. Besides, salmonella usually resides in egg yolks. Egg whites are not particularly supportive of bacterial growth. I've used egg whites for ages and have never had any problems. No one in my family has had problems with it either. However, I have heard from people who have experienced this type of infection that it's not a fun ride. So if you'd like to substitute, I understand.
SUBSTITUTIONS
Substitution for raw egg whites. To clarify, I haven't used it, but have heard aquafaba is a great substitute for raw egg whites. Aquafaba, or "water-bean" is the water in which beans are soaked or stored. It's the water that comes in the can of beans. If you decide to use aquafaba, use the equivalent of the egg white volume. One medium egg white weighs about 40 grams (equivalent to 40 milliliters, or about 1.4 ounces). Vegan recipes often use aquafaba in lieu of egg whites. (If you use it, drop me a comment below about your experience.)

Rum and substitutes. Rum, liqueur, vanilla, etc., are flavor enhancers. You'll find them in many baking recipes. Specialty rums, such as dark or spiced rum, are great at bringing out dessert flavors. (Using actual rum is better than using the extract.) More importantly, rum also helps with binding. As you probably know, both contain alcohol. If you abstain from it, ask for a non-alcoholic version at your store. Otherwise, use orange or lemon juice, or a reduction (reduction is when you boil the juice down a bit until it becomes syrup-like). But, make sure to adjust to your taste as, in this case, it will lean toward citrus flavors.
HAPPY NEW 2020
There we were, Aleksandra, mom and I, making desserts and laughing. White from flour, exhausted, our hands oily to prevent stickiness.
No rest for the oven either. One after the other, desserts popped in and out.
But it went fast. What would have taken one of us weeks, it took the three of us a couple of days. Don't be afraid to ask for help, and don't be afraid to offer a helping hand. It'll make it easier on everyone.
We survived another holiday season. And the memories are glorious.
All the sugar, and chocolate, walnuts and hazelnuts. And the oiling of our hands, and mess in our kitchens. Ignoring of politics, smog and craziness on the outside. Me telling them there will never be a normal time in the Balkans. And mom's telling us "no way, how could it when no one's normal here."
And we're cracking up.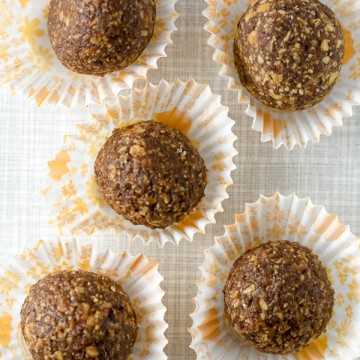 Hazelnut Chocolate Balls (Truffles)
Dark chocolate truffles enriched with ground hazelnut. Easy, no bake, 30-min dessert.
Ingredients
1

teaspoon

of oil

for hands

5.5

ounces

hazelnuts

shelled, roasted, skinned and ground

5.5

ounces

dark or baking chocolate

grated

5.5

ounces

powdered sugar

1

egg white

or 1.4 ounces aquafaba

1

teaspoon

sour cherry liquor

or rum, non-alcoholic option: orange or lemon juice*

3-4

ounces

chopped hazelnuts

shelled, roasted, skinned and chopped
Instructions
Oil your hands to prevent sticking.

In a medium size bowl combine all ingredients. Mix well with hands until the mixture has the texture of clay.

Form little balls (the size of half a golf ball).

Dip balls in chopped hazelnuts to cover on all sides. Leave in a cool place to toughen.

Transfer to a cookie box. Keep in a dry, cool place for up to 10 days.
Notes
Walnuts or almonds can be used instead of hazelnuts.
Store in a cool, dark place for up to 10 days.
If using orange or lemon juice, the best is to make a reduction by boiling them on low until they have syrup consistency.
Nutrition
Serving:
2
truffles
Sodium:
10
mg
Sugar:
16
g
Fiber:
1.3
g
Cholesterol:
2
mg
Calories:
157
kcal
Saturated Fat:
2.5
g
Fat:
9.1
g
Protein:
2.5
g
Carbohydrates:
18
g