Chocolate hazelnut truffles, just the right amount of sweetness and the right amount of crunch. 30-min from start to finish.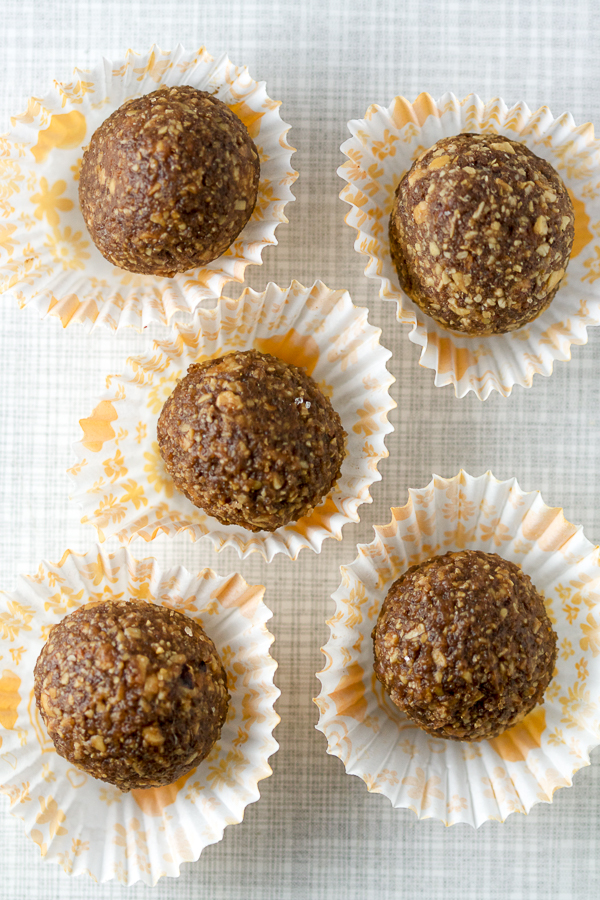 Want to explore your truffle options? I'll make the choice a little harder on you. How about fig truffles or homemade Raffaello? And something similar like the apricot boat cookies?
*
When I decided to start spending more time in Sarajevo some year and a half ago, people thought I was crazy. My U.S. friends wondered why I'd go back to a country that's falling apart in transition, while my Sarajevo friends, many of whom would leave BiH today if they had a chance, wondered why in the world I'd leave the U.S.
The amount of judgement and vitriol surprised me. What came out of those conversations is how wrapped up and involved we become with other people's decisions. By making a choice for themselves, it's as if others are doing something to us. How could they make this change without our approval? What does this say about us? Decisions we make? Are we on time? Are we late?
Sometimes, I too fall into this rabbit hole. Recently, a friend's daughter made a bad and potentially dangerous, life choice. One she can still reverse, or otherwise change the trajectory of her life. When I heard about it, I was furious. Judgmental. Until I put it into perspective.
We don't know any more about what life holds for someone else, than we know about our own. If we did, we'd chose the right career, partner, city from the start. We'd avoid place where the accident will take place. We'd stop that heart attack. There would be no broken marriages. No bad friendships. Less bad choices. We'd know which people to avoid and which people to cling to. Every decision would be right.
Unfortunately, graduated to that extent of equilibrium, our lives would be the equivalent of a life of an android.
People may make all the right choices. And still end up with a life they did not bargain for. There is no positive thinking that can think events into existing. How many marriages do you know that seem perfect on the outside, but the man has loved another woman for years? How many put together colleagues do you know, but you're aware of the anxiety they live with to present themselves as perfect? If you think you don't, look deeper and you'll find (as someone I used to know used to say) everyone has wrinkles. We all do. Some of us are just better at covering them up.
A few souls understood me. They knew before I said anything. I was leaving to be around family. Is there anything more normal, anything that makes more sense than that? Once we become acutely aware that death awaits us, how there hasn't been a generation that's learned to trick it, everything, other than living life the way you feel like living it, retreats into shadows. What this means is up to you. But you don't have much time, even if you live to a 100. Start now.
Having lost two family members in four years, these thoughts vibrate through my mind often. One of them, expecting to die any day, did too much. You could never find him sitting down. Just by having coffee together, you'd feel his mind buzzing. New ideas. New research. New places to go. New information. He was one of the most intellectually stimulating people I've known. But he could never slow down. He couldn't even nap alone. He had to be surrounded by people to know life was not passing him by.
The second one, equally brilliant, scheduled things sometime into the future, as if he'd live forever. He didn't do one tenth of the things he wanted to do. It was as if he thought planning, thinking and imagining would be enough in lieu of doing.
After losing them I tiptoed on the balance, penetrating the middle of doing too little and too much. The inability unwillingness to accept things as they were exhausted me. This too was judgment. Who am I, who are you, to say who did too much or too little? They did the right amount. Otherwise, they would have been different people. Otherwise, they wouldn't have had a big impact on the rest of us.
I've usually done things my way. Now this is more pronounced. Freedom arrives once you accept vulnerabilities. Incessant need to present yourself in a certain way, plus the addiction to please others, falls by wayside.
Today, some of my days are filled with grad school. Some of my days are filled with client work. And some of my days are filled with me walking to my mother's house so she can teach me how to make chocolate hazelnut truffles, sweet little treats we call little bombs or bombice over here.
I don't know how long we'll be able to do this. Few years? Few decades? Who knows. But today we're here. And we're mushing sugar and chocolate and hazelnuts. And we're oiling our hands so the mixture doesn't stick to them. I'm telling her there will never be a normal time in the Balkans. And she's telling me no way, how could it when no one's normal here. And we are cracking up.
I'm not saving anyone's life. I'm not gonna change the world. But I did change my own. In my world location has nothing to do with success and happiness. I construct it all as I go along. Only I get to decide on too much or too little. Everyone and everything else falls by wayside. I don't tolerate opinions on my life.
Neither should you.
I'll go all melodramatic on you, but in words of Tyler Durden, this is your life and it's ending one minute at a time.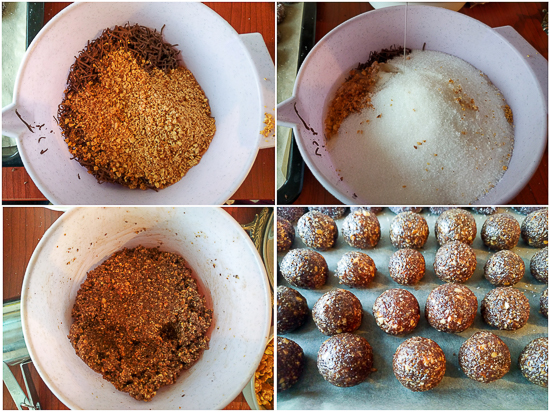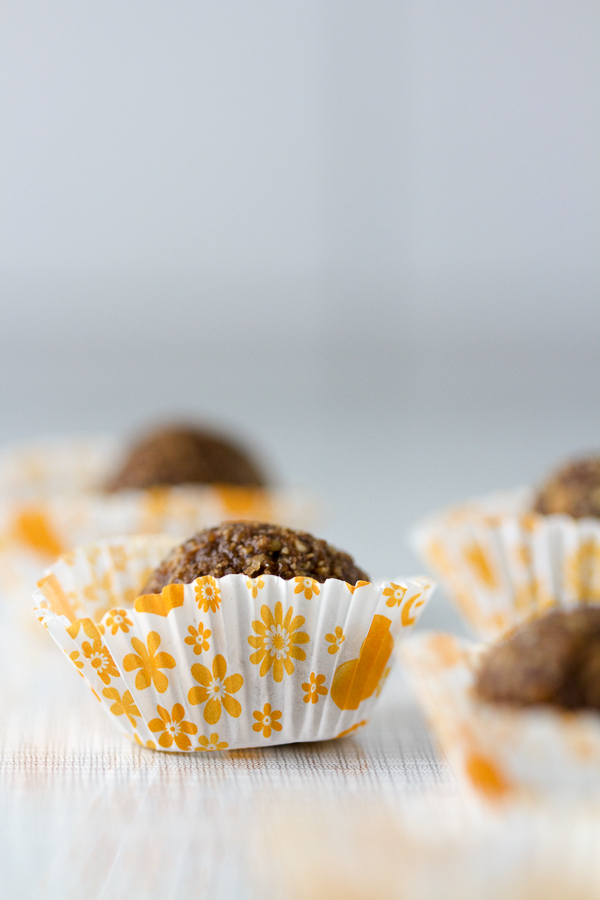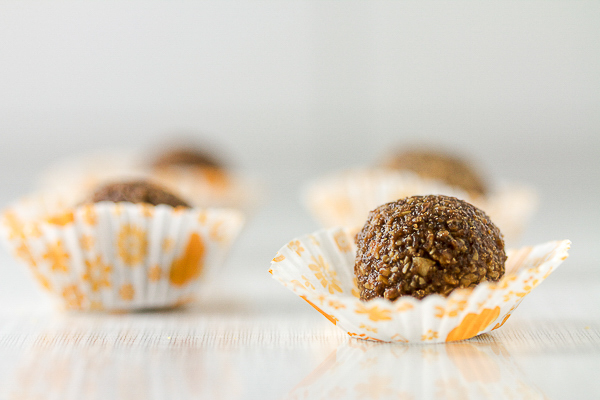 Print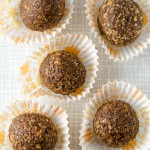 Little Bombs aka Chocolate Walnut Truffles
Author:

Prep Time:

30 mins

Total Time:

30 mins

Category:

Dessert
---
Scale
Ingredients
Oil

5.5 ounce

s roasted hazelnuts (ground)

5.5

dark or cooking chocolate (grated)

5.5

white sugar

1

egg white

1 teaspoon

cherry liquor (or rum)
---
Instructions
Oil your hands to prevent sticking.
Combine all ingredients into a bowl. Mix well with hands until the mixture has the texture of clay.
Form little balls (the size of half a golf ball). Leave in a cool place to toughen.
---
Notes
Substitute walnuts instead of hazelnuts as another option.
You'll end up with about 30 truffles. Serving size is about 2-3.