Baked veal sauce with eggplants and peppers. Bring the sophistication and the grown-up feel of a restaurant to your home.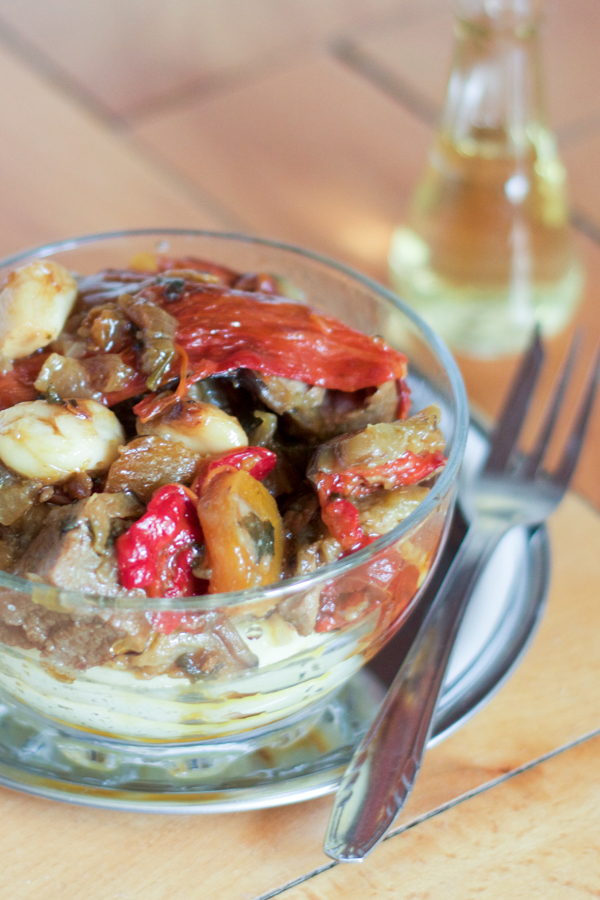 (BOSANSKI)
I promised to bring you this recipe a while back. I first tried it last Eid at Ms. Izeta's (remember the veal and eggplant sauce I almost didn't try, and then fell in love with?), but it took a while to make it.
It takes some time, this one. A symphony of simultaneous steps. But we are busy folk. We love 3-ingredient, 20-min dinners.
And this sauce, this veal, eggplant and pepper sauce requires more involvement. It wants a relationship, a partnership. A mere passing by won't do. It asks for patience.
We start by roasting bell peppers at fiery temperatures for thirty minutes or so. After this, they're peel ready.  Eggplant will also be peeled, but fresh, and left to sweat out its bitterness with a generous amount of salt. Then there is veal, slightly simmered on oil with onion and carrot.
After this they're ready to be united in a glass bakeware, and baked. There are a few more details, of course, all in the recipe.
In an hour or so, the sauce you make will be the most grown up sauce you've made. Every ounce of the effort is well worth the wait.
P.S. Other veal recipes I'm in love with include: veal sauce (sitni ćevap, or a very simple version of goulash), traditional okra and veal sauce (known as bamija, this meal is present on all holiday tables), as well as the Romano bean veal stew (known as boranija).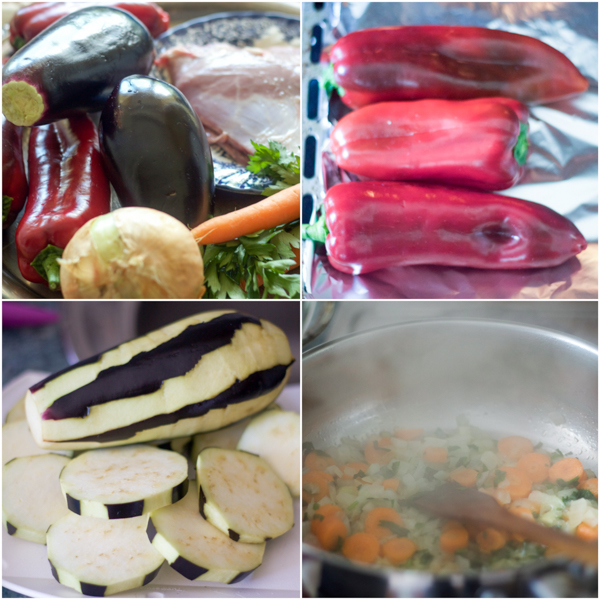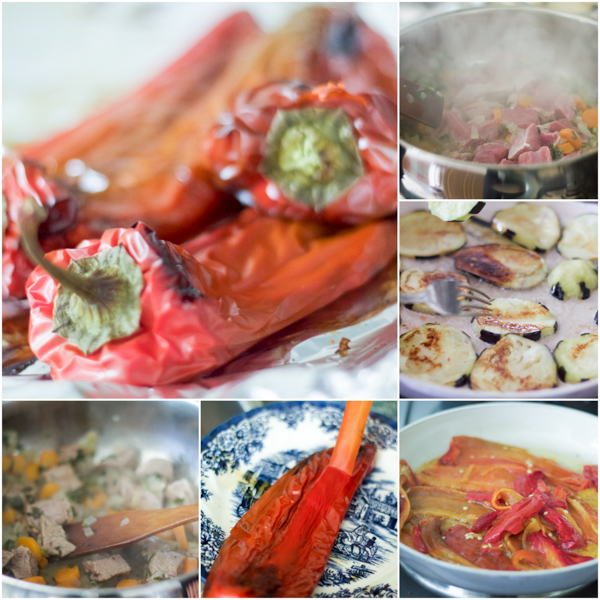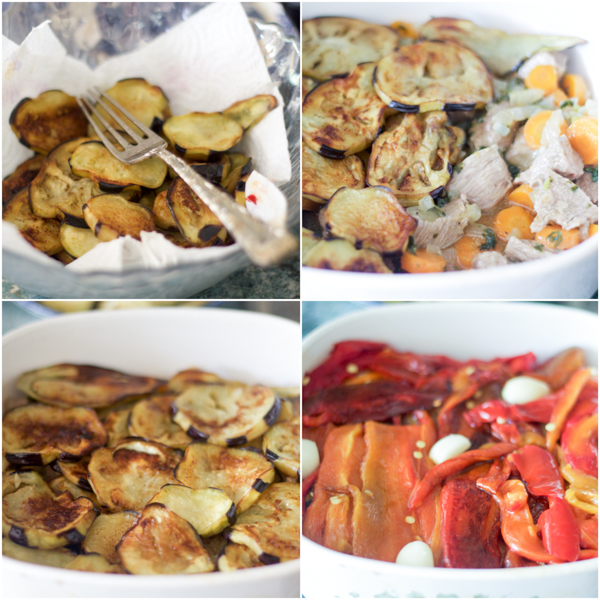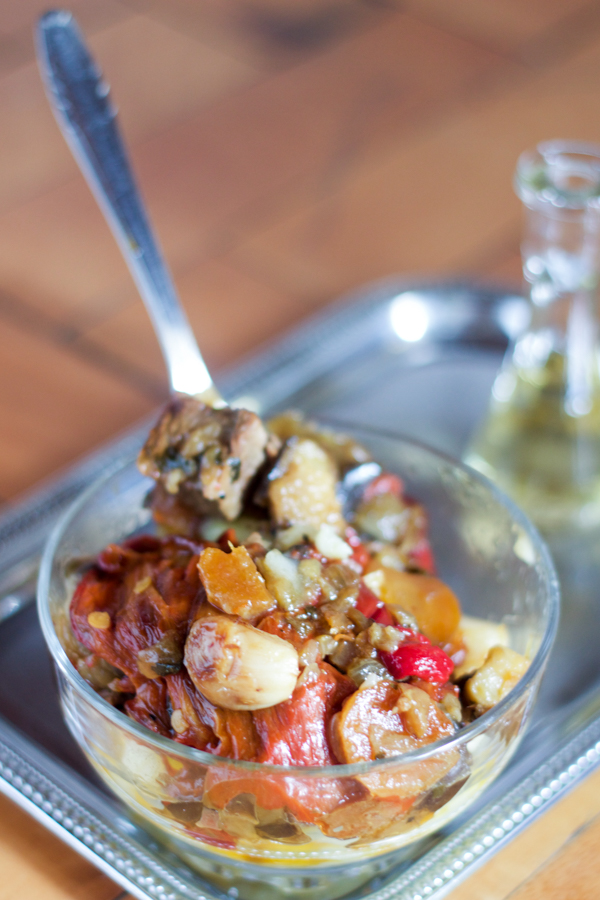 Print
Veal Sauce With Eggplants And Peppers
Author:

Prep Time:

10 mins

Cook Time:

120 mins

Total Time:

2 hours 10 mins

Yield:

4

-

6

1

x

Category:

Main Course
---
3

red bell peppers (large)

2

eggplants (medium to large, peeled, cut into rounds)

4

–

5

tablespoons salt (for eggplant)

1/2 tablespoon

butter

6 tablespoons

oil (divided)

1

onion (medium, diced)

2

carrots (medium, diced)

4

–

5

strands parsley (diced)

1

pound veal (cut into chunks)

1/2 teaspoon

pepper

1/2 teaspoon

salt (or

1 teaspoon

vegeta)

4

–

5

garlic cloves (peeled)
---
Instructions
Heat oven to 480-500°F.
Place peppers foil and roast for 20-25 minutes (or until ready), turning occasionally as the peppers start to get brown patches on the skin.
Pour a generous amount of salt over peeled and cut eggplant and leave it to sweat out the bitterness.
In a skillet, melt butter and 1 tablespoon of oil over medium heat. Add onion, carrots and parsley and simmer until onion crystalizes. Add veal and seasonings. Simmer and stir for 10 minutes, adding a little bit of water at a time if necessary to prevent burning. Remove off heat and transfer into glass bakeware.
Take peppers out of the oven and seal in a plastic bag for 10 minutes. Take them out of the bag, peel, take the stems off and deseed. Heat up 2 tablespoons of oil in the skillet on high, and add peppers. Fry for 10 minutes making sure they don't burn. Take out of the skillet and aside.
Wash eggplant and pat dry. Add 4 tablespoons of oil to the skillet and brown eggplant on all sides for 10 minutes, making sure it doesn't burn. Add a little water if necessary. Leave on a paper napkin to soak up the extra oil, and transfer to glass bakeware, layering them over the veal sauce. Follow with layering the peppers on top of eggplant in glass bakeware. Garnish with garlic.
Bake at 450-475°F on medium rack for one hour. Turn the bakeware occasionally to prevent burning. If it blushes too soon, cover with foil.
---
Notes
Serve alone, or over potatoes, couscous, pasta, or polenta.