Fried chicken liver with onions is a fantastic way to dip your toes in the land of organ (aka offal or variety) meats. In addition to being delicious and affordable, this pan-fried chopped chicken liver is keto, low carb, and paleo all in one. You will love it and that's a promise!
Jump to:
Quick Background
Years ago when I started dabbling in the kitchen, I was useless. Luckily, people close to me didn't crush my culinary aspirations. For this I'm thankful as otherwise Balkan Lunch Box wouldn't exist today.
Even with all the terrible things I cooked, there was one sauce I nailed each time.
It was easy to make. Inexpensive. And it went well with most sides.
However, even though they couldn't stop eating it (it's that delicious!), people squirmed upon finding out the sauce was made from organ meat. So I stopped telling them.
If you're wondering what this secret sauce was, it's the fried chicken liver with onions we're making today!
Function, Form, Taste
The liver filters an organism's blood.
It detoxifies and neutralizes bad substances so they can be eliminated from the body. It produces a digestive substance called bile, and stores energy in the form of glycogen, a sugar.
Does this mean it is full of toxins then? No!
This important organ doesn't actually store toxins. Instead, after it filters them liver sends them on their way.
Chicken liver has a smooth and shiny texture. (Look at the ingredient photo.) It's light, soft, and slick (not slimy though!). When you handle it, it will almost slip away from your fingers.
When raw it ranges from tan to burgundy in color.
Tan, pale shades indicate iodine deficiency. Don't eat this type!
Green liver shades indicate bile infestation. Don't eat this type either!
Yellow-ish shades indicate more fat content and some cooks prefer it.
When you're just starting out I recommend you go for the usual maroon or dark purple kind.
When prepared chicken liver turns brown.
Out of all the livers, this one has the mildest taste.
It has a slightly tart, grainy texture while being soft at the same time. If done the right way, graininess almost disappears.
Finally, the taste has a touch of gaminess. So slight though it can almost pass for muscle meat.
Ingredients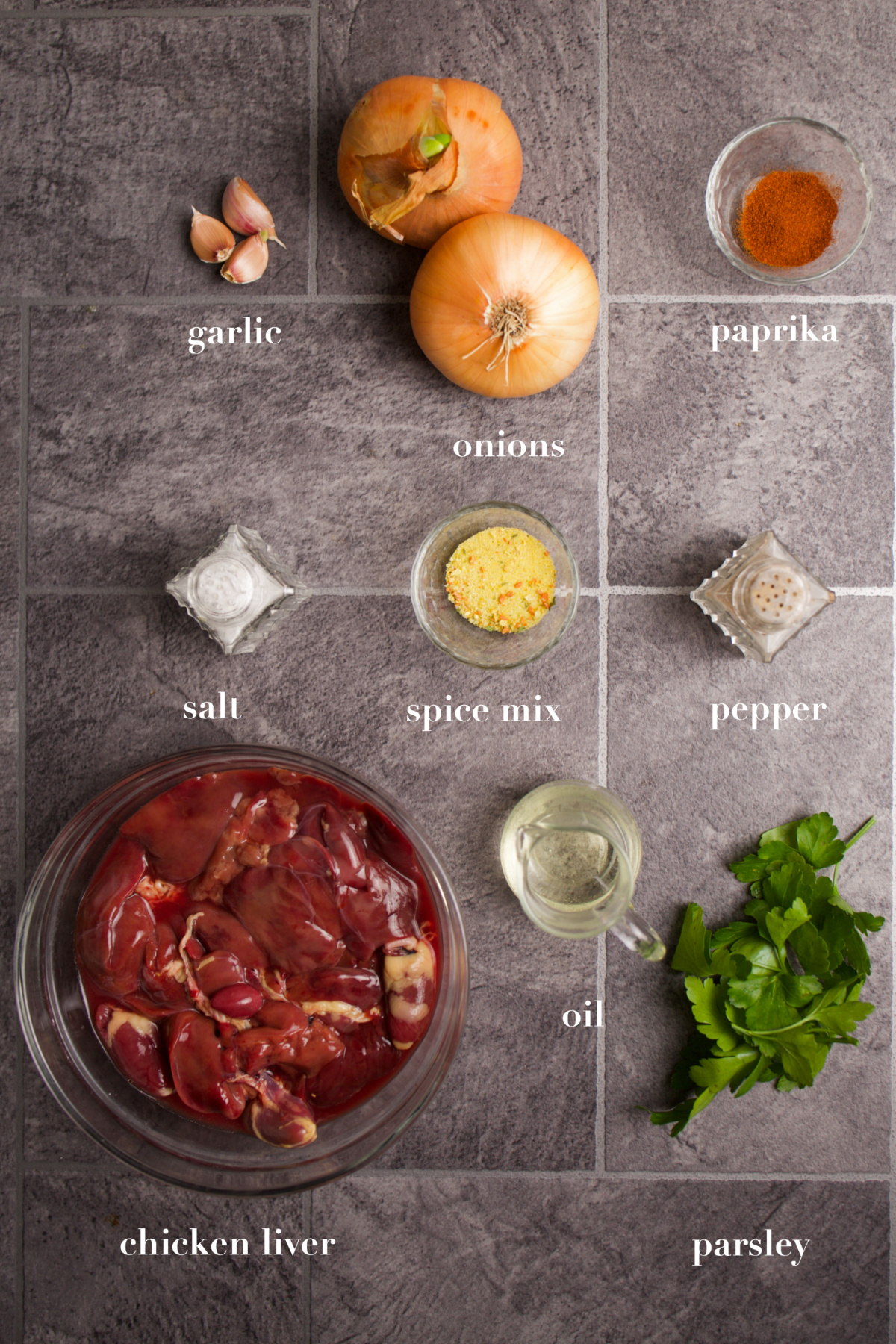 Ingredient Notes
Vegetables: Starting the dish with onions and garlic is the best way to bring out the flavor. Later you can add carrots and peppers also.

Herbs: Parsley brings freshness to this dish. Sub with Italian herb mix, or herbs lighter on the flavor spectrum (celery, coriander, etc.).

Spices: Sub with smoked or hot paprika. (Salt and pepper can be subbed with Vegeta or Začin C if you use them.)
Fats: Sub oil with lard or roll liver in bacon and fry.
Liquids: Add chicken stock instead of water. For a smokey taste add a little whiskey.
Lightning-fast Instructions
(Our lightning-fast instructions are here to give you an idea of how to make this dish. For more detailed information look at the recipe card below!)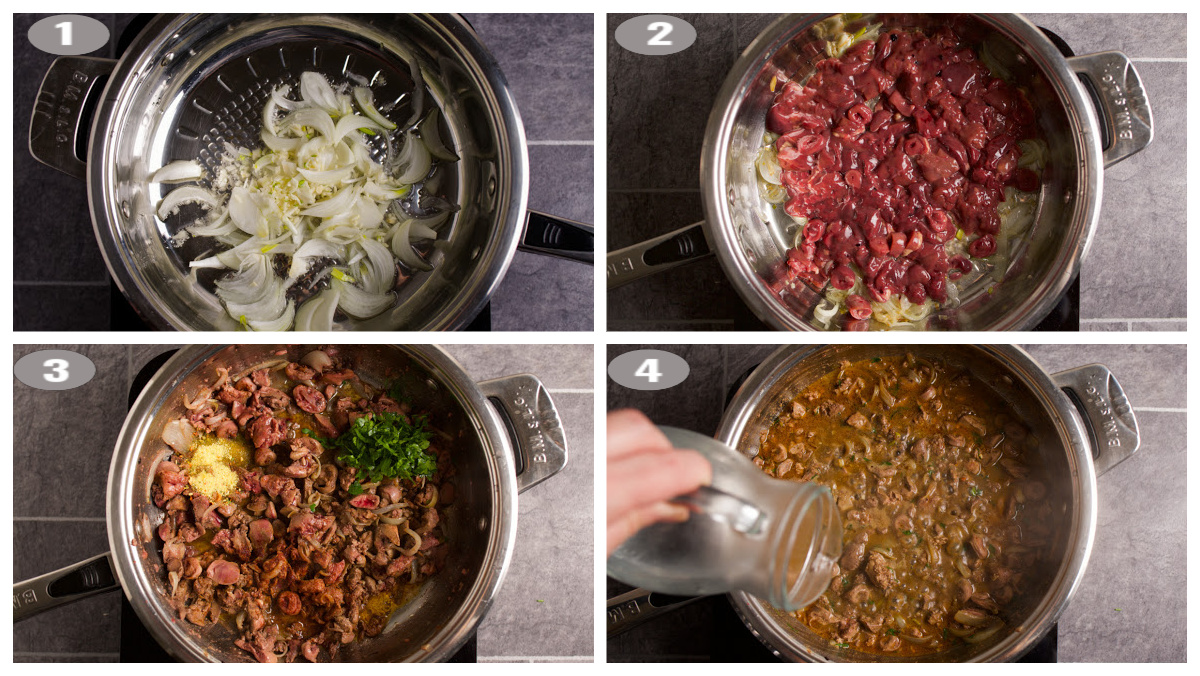 Cook garlic and onion.
Add liver to the skillet.
Add seasonings.
Add water. Cook some more.
How to handle organ meat? (Cleaning, Storing, Freezing...)
Offal (animal organ meat) is more volatile than muscle meat. Therefore, you should have an idea for what you want to do with it even before you buy it. (That's where today's fried liver with onions recipe comes in handy!)
After you bring it home keep the liver in the fridge and consume it within a day. Otherwise, freeze it immediately. It can stay frozen for up to 3 months.
When getting ready to prepare it first wash the fresh liver under running water.
On the other hand, preparing frozen liver requires you to thaw it. You can:
Transfer it to the fridge the night before.
Or immerse it in lukewarm water for at least an hour. (It may take up to 3 hours, so take that time into account when planning your dish.)
Finally, drain it, remove the connective tissue and it's ready for use.
Expert Tips
Overcooking: Don't fry chicken liver longer than necessary as the meat will become chalky.
Reheating: A big no-no! Eat what you can, and dispose of the rest.
Adding herbs and spices: For best flavor don't add them to the meat before you start cooking it. The right moment to add herbs and spices is after the meat simmers with garlic and onion first.
Marinating: No need to marinate organ meat. Some submerge it in milk for a while to remove the taste of blood and iron. I find this unnecessary with chicken liver as it's mild.
Checking for doneness: Don't cut it with the knife to see if it's done while frying it because the juices will escape.
Liquids: Only add warm or lukewarm liquids (such as wine, water or broth) to fried chicken liver. Otherwise the meat will harden.
Cooking in white wine: Another way to make this recipe is with wine. Fry meat for 10 minutes, add 1oz flour and stir to make a roux. Add 3.5 ounces white wine and simmer up to 15 minutes.
Chicken Liver Nutrition
The liver is nutritionally dense. It's a source of several vitamins (A, B, D, E, and K) and minerals (copper, iron, magnesium, and phosphorus, and zinc).
It's best known for being an excellent source of iron.
Iron deficiency is prevalent.
This is especially true for women who need twice the amount of iron as men. The need is due to the menstrual cycles. Pregnancy also requires a lot of iron, as otherwise women can go into anemia.
(You've probably heard that many women crave liver during pregnancy.)
Recommended daily dose for men is approximately 10mg, while for women it jumps up to 18-22mg.
According to WebMD organ meats are also great for:
lowering the risk of Alzheimer's;

helping increasing energy levels;

reducing the risk for cancer and heart disease;

strengthening the immune system.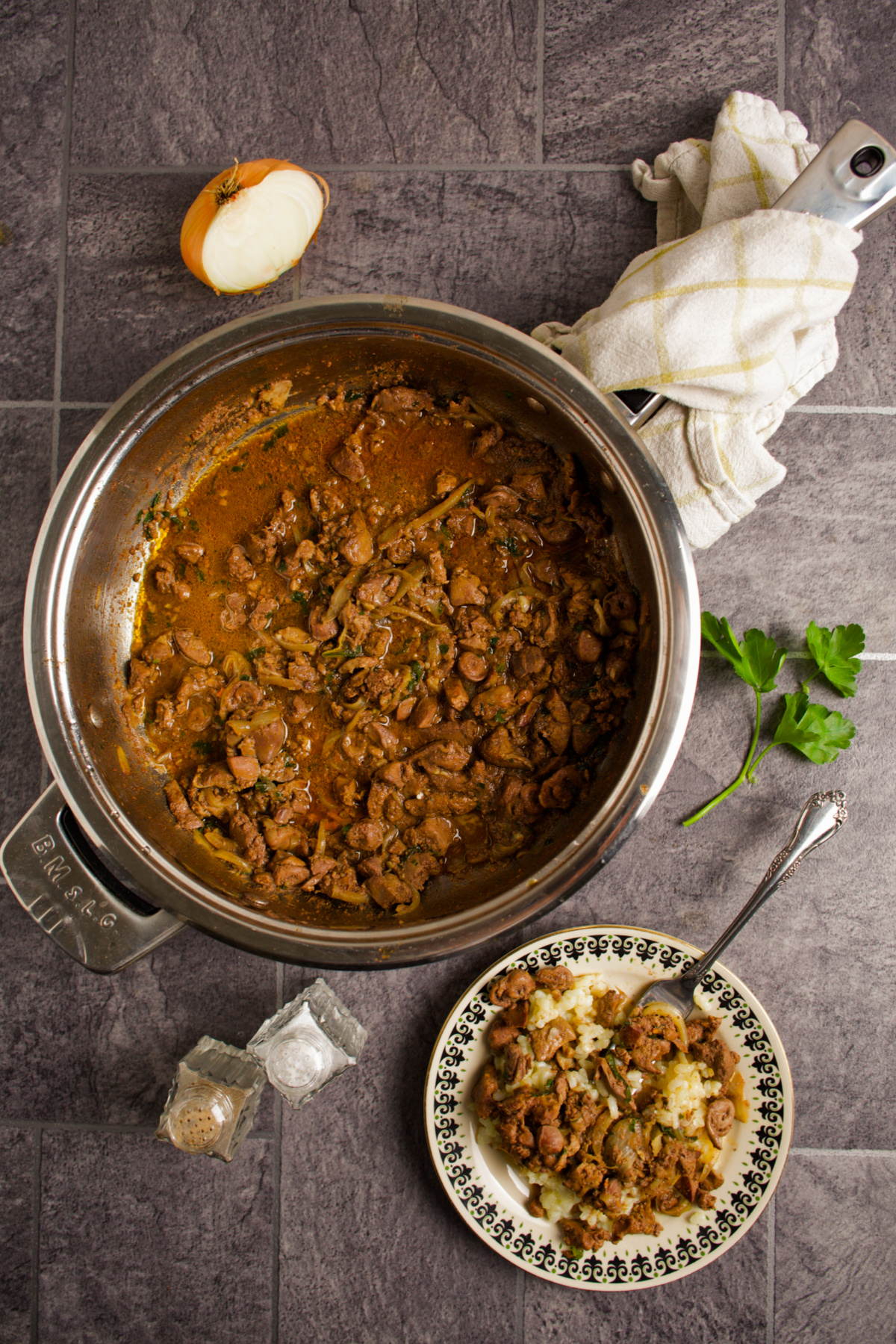 Organ Meat Consumption in the US
After wondering why my friends squirmed (or worse, called it dog and cat food!) when I mentioned liver, I wanted to find out why. It was funny they drew the line at eating organs while most wear animal skin.
I was surprised to find out that in the US organ meats are not consumed as much as in other parts of the world. (They're menu regulars in at least France, Greece, India, Turkey, Japan, Lebanon, and Russia.)
Historically, in the US it was the oppressed who ate variety meats. The upper classes looked down at this food.
Then, WWI and WWII rolled around. Each time, the government marketed cooking organs so that muscle meat could be sent to the troops. But after each war organ meats were once again designated to the poor and the oppressed.
In the recent past, however, paleo, keto, and carnivore diet movements have slowly but surely been reintroducing offal back into mainstream America.
Oh, and in a funny twist of fate, nowadays posh restaurants are repackaging these meats and selling them back to the upper classes.
What To Serve With
More Great Recipes
Would You Do Me a Favor?
If you make today's Fried Chicken Liver and like it please consider leaving a ⭐️⭐️⭐️⭐️⭐️ (5-star) rating. This will help others find the recipe more easily!
You can also leave a comment, I read EVERY one! Finally, if IG is more your thing, consider tagging us @balkanlunchbox.
Prijatno and bon appetit!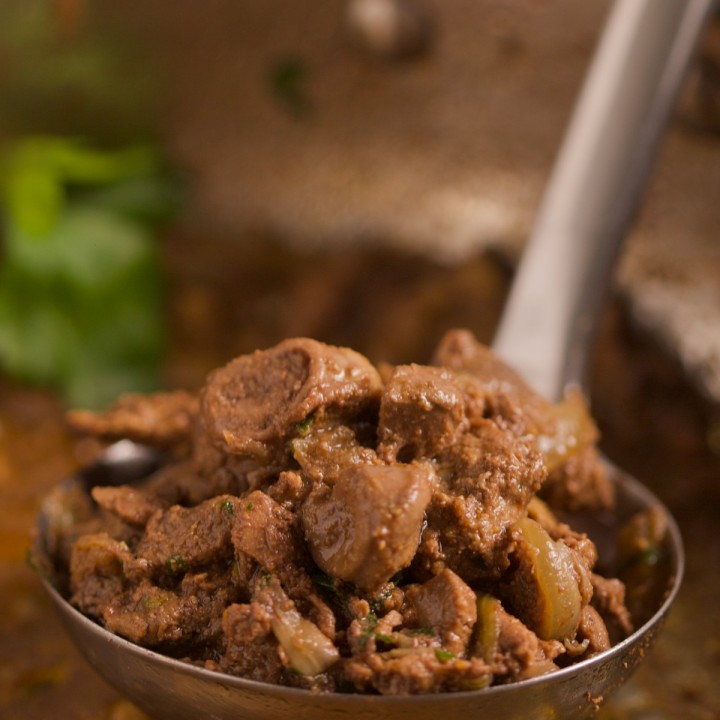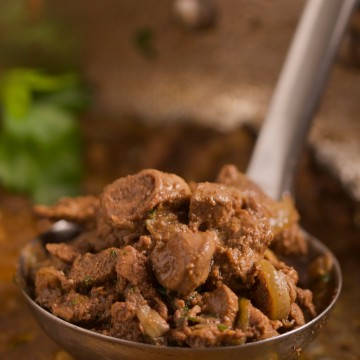 Fried Chicken Liver
Chicken liver is a perfect low-carb, nutritious, paleo and keto dish. Also, super tasty!
Ingredients
2

garlic cloves

2

yellow onions

medium, diced coarsley

1

pound

chicken liver

washed thoroughly

1

teaspoon

seasoned salt

1

tablespoon

parsley

½

teaspoon

salt

2

tablespoons

Oil
Instructions
Generously oil a larger skillet and put on high until oil heats up. Add onion and garlic and cook until transluscent.

Take out the non-meat stuff (tendons, etc.) from the chicken liver and add to the skillet.

Add the seasonings. Stir, and lower the temperature to medium. Simmer for a total of about 6-7 minutes.

Add warm water, stir and continue cooking for another 3-4 minutes.

Eat right away. Do not reheat or keep in the fridge.
Notes
Look for the liver that's maroon or dark purple in color. It will turn brown with cooking. 
Don't fry the liver for too long, lest it becomes chalky. 
Eat what you can, and dispose of the rest. Don't hurry to add the seasonings. Meat should be simmering with garlic and onion first for the best taste. 
Don't cut with a knife to check whether it's done as the juices will escape. 
Adding wine: Another way to make this recipe is with wine. Fry meat for 10 minutes, add 1oz flour, and stir to make a roux. Add 3.5 ounces white wine and simmer for up to 15 minutes.
Nutrition
Serving:
1
of 4
Sodium:
956
mg
Calcium:
26
mg
Vitamin C:
26
mg
Vitamin A:
12648
IU
Sugar:
2
g
Fiber:
1
g
Potassium:
353
mg
Cholesterol:
391
mg
Calories:
221
kcal
Trans Fat:
1
g
Monounsaturated Fat:
6
g
Polyunsaturated Fat:
3
g
Saturated Fat:
2
g
Fat:
13
g
Protein:
20
g
Carbohydrates:
7
g
Iron:
10
mg