Controversial, fantastic, and easy chicken liver sauce: those that didn't eat it before will love it, and those who did will love it even more.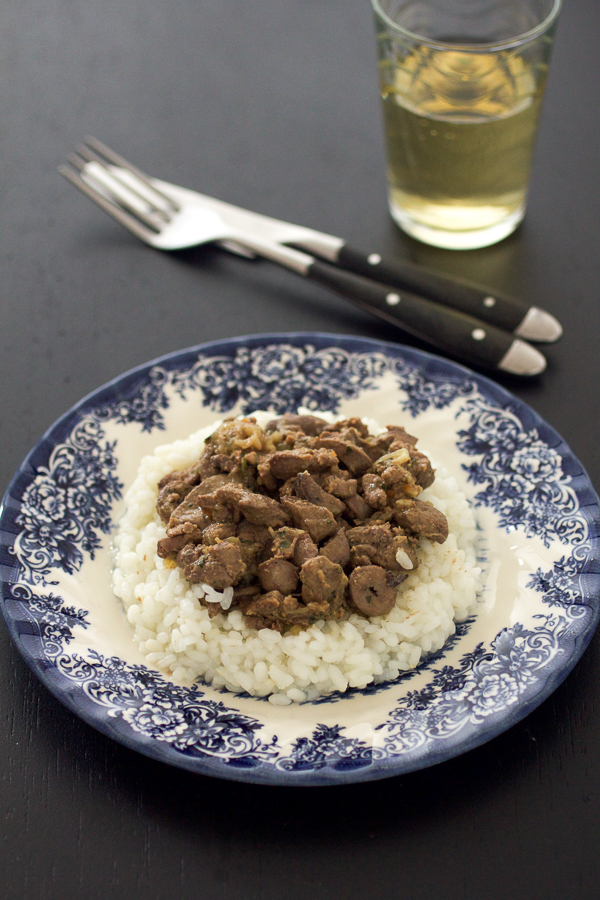 When I just dipped my feet into cooking, I cooked terrible. There was this one sauce I made over and over I was really proud of. It consisted of chopping up peppers and simmering them in water until they were too soft, their skin curled up on top, and their taste was void of taste. I'd make pasta on the side, and splash this pepper water on top. Horrific does not begin to describe it.
It must have been the college atmosphere; even though we had more kitchen equipment than most kitchens in the world, most students waited for the next holiday to eat a decent meal. So when I'd whip up my mushy pepper creation, I actually had a line of about two or three hungry people that ate it. I am thankful they didn't squash my culinary aspirations as otherwise BLB wouldn't exist today.
There was one thing I nailed each time: a simple chicken liver sauce. Cheap. Easy to make. It went well with everything: bread, rice, mashed potatoes, eggs, pasta, ramen, you name it. And it was light, making it versatile enough for breakfast or dinner, as it did not leave one with a stuffed feeling most meats tend to.
I did notice people squirmed if I mentioned liver although they couldn't deny how delicious it was.
The lines that people draw are always curious to me. After all, most of us wear animal organs (skin being the largest organ on mammals, and leather being animal skin) and a lot of us eat animal muscles and fat too. But we are squeamish about internal organs.
I couldn't figure it out. So I ceased mentioning what the sauce was made out of. And the sauce continued to be loved by many.
I draw my lines too. I can't imagine myself eating animal brain or eyes. Although five years ago I couldn't imagine eating raw fish, and now dream of sushi like I'm Jiro's daughter. It's important to push those lines further every now and then.
I leave you in this spirit, and urge you to try this liver sauce. It may just change your entire concept of eating.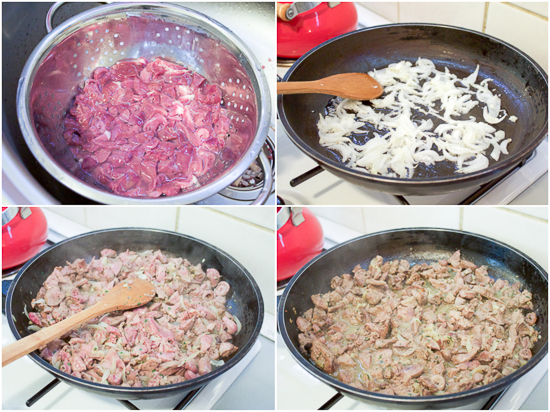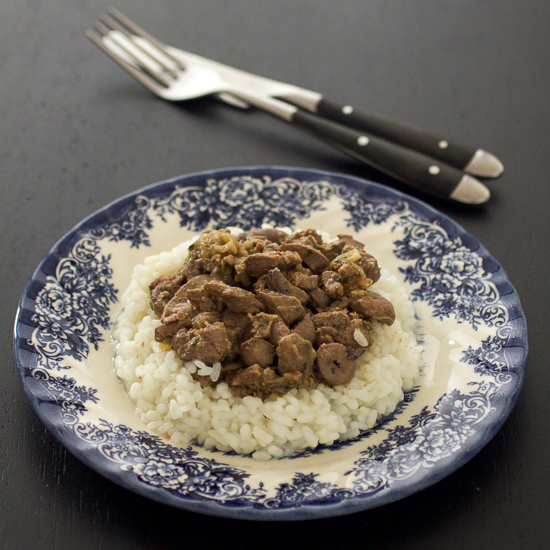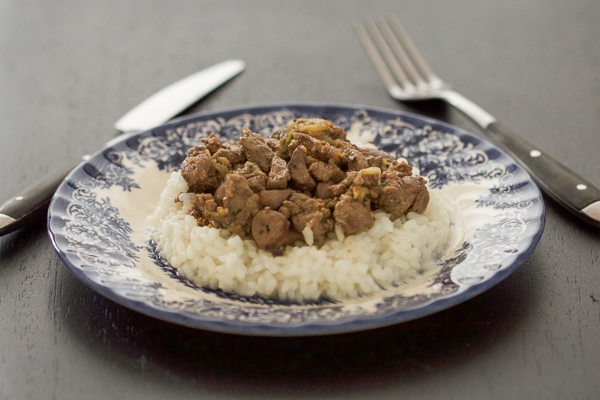 Print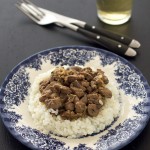 Chicken Liver Sauce
Author:

Prep Time:

10 mins

Cook Time:

25 mins

Total Time:

35 mins

Yield:

6

1

x

Category:

Main Course
---
Scale
Ingredients
2

garlic cloves

2

yellow onions (medium)

1

pound chicken liver

1 teaspoon

seasoned salt

1 tablespoon

parsley
Salt to taste
Oil
---
Instructions
Generously oil a larger skillet and put on high until oil heats up. Dice the onion coarsely, and mince garlic. Add to the skillet and simmer until it crystalizes. Add a little bit of water as needed to prevent burning.
Thoroughly wash chicken liver and dice coarsely taking out non-meat stuff (tendons, etc.). Add to the onion and garlic, add the seasonings in, stir, and lower the temperature to medium. Simmer for a total of about 20-22 minutes, however add two cups of water during simmering, one after about ten minutes, and the second a few minutes after that.
---
Notes
Make rice, eggs, or mashed potatoes on the side. Alternatively, eat liver with bread and without sides.
VARIATIONS:
Paleo: use coconut, olive oil or lard instead of sunflower oil. Use salt and pepper instead of vegeta/ bouillon.
Low carb: use butter instead of sunflower oil.
Gluten-free: use gluten-free butter instead of sunflower oil.
Keto: season with salt and pepper instead of vegeta/ bouillon.