Easy meat sauce recipe coming to us from Bosnia. Also known as mini ćevap (not to be confused with traditional ćevap sausages) this diced beef sauce is perfect for pasta, polenta and more. Major bonus? It's quick!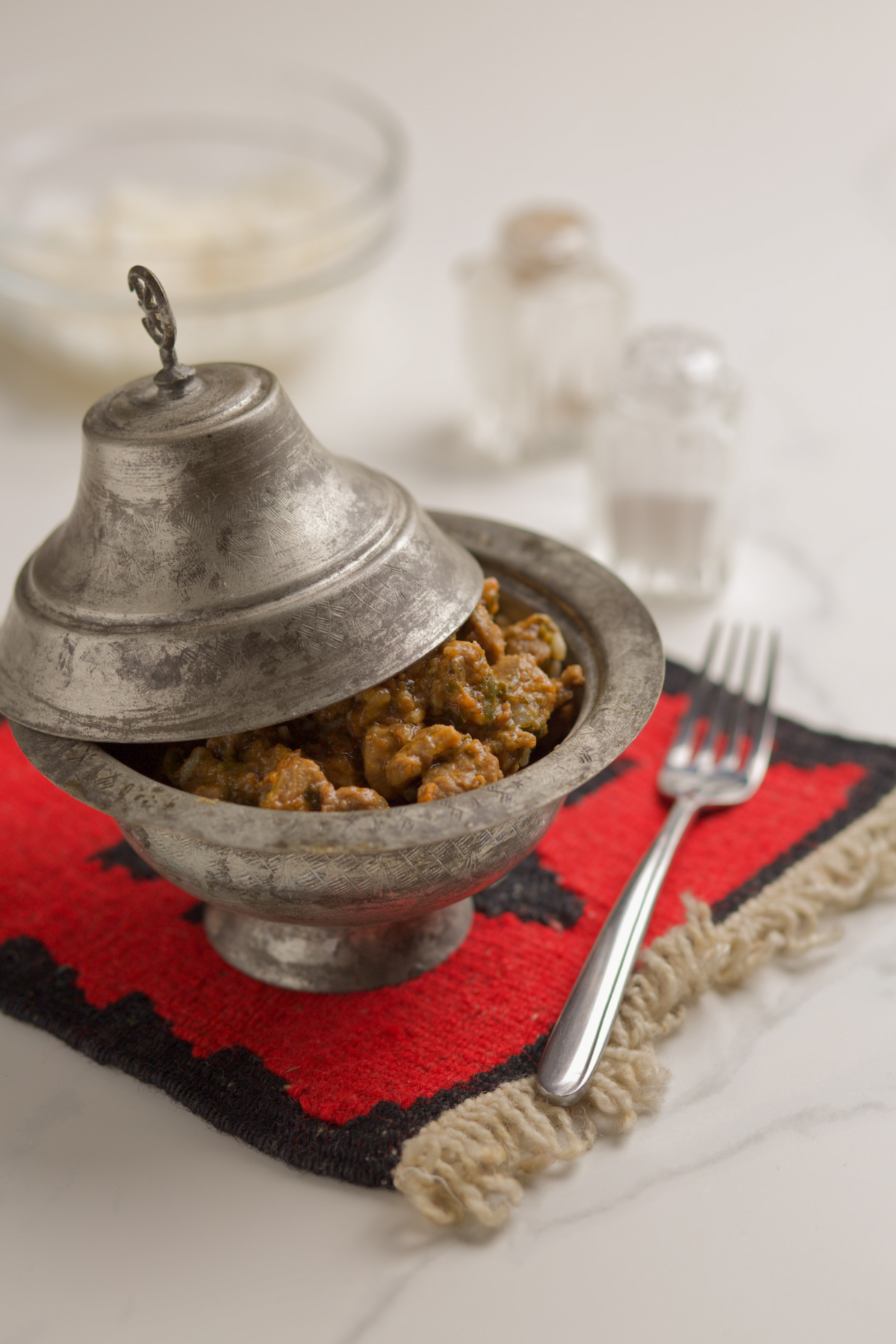 Jump to:
What Is It
If you're familiar with Bosnian cuisine you may have thought this would be a recipe for ćevapi, a well-known grilled minced meat dish. Well, you're in for a surprise!
But first, let's clear up the confusion!
Term ćevapi isn't specific only to that one famous grilled delicacy! In fact, there are several different ćevapi dishes! BUT because it is the most popular, most people assume those are the only ćevapi that exist.
How do you know which one is which?
If the name of the dish is ćevap only, it's the grilled sausages. But if it has an adjective in front of it, it's another ćevap dish. In this case, it's usually some type of beef sauce.
(Want another example? Jump over to the Boss sauce, aka 'hajj ćevap.')
Today's mini ćevap (sitni ćevap) refers to the beef that's diced small. It's a tender beef sauce achieved by simmering beef with onion until they sweat out the goodness. Think of it as a versatile, goulash-type meal.
Unlike regular goulash, however, fluid content is halved. As a result, you get a sauce with meat that greatly depends on its own juices for flavor.
Ingredients
Ingredient Notes
Oil and butter: Oil serves to prevent butter from burning. You can use less.
Garlic: If using granulated garlic use ¼ teaspoon as a substitute for one clove. For garlic powder the substitution is ⅛ for each clove.
Onion: No subs here! I support using granulated or powdered onion for most homemade sauces. But this dish's flavor depends greatly on meat and onion simmering together for a while. Original recipe calls for sliced onion, however I dice mine.
Parsley and celery: Fresh is best. If using dried exchange each tablespoon of fresh herbs with one teaspoon of dried herbs.

Pepper: Using peppercorn is recommended. Otherwise add ground black pepper to taste.
Beef: If at all possible use fattier cuts such as T-bone or rib eye. In the absence use the chuck.
Crushed Tomatoes: Substitute with tomato sauce, or 2 teaspoons of vinegar.
Other Veggies: In some regions, carrots and peppers are added.
Lightning-fast Instructions
(Our lightning-fast instructions are here to give you an idea of how to make this dish. For more detailed information look at the recipe card below!)

Simmer all ingredients (except paprika and tomato sauce) together (20 min).

2. Add tomato sauce, paprika to the sauce and simmer some more (20 min).

3. Add water (or broth), bring to a boil, simmer (5 min), and serve.
Meat Notes
This is a red meat dish with a sauce similar to goulash, with one key difference.
Both dishes are forgiving of old cuts of meat. (No need to use veal, though I won't stop you!) However, the best Bosnian meat sauce is made with fattier off-the-bone cuts like T-bone or rib eye.
I know what you're thinking: "Aida, you crazy! I'm not wasting T-bone on a sauce!"
Yet it won't be a waste! It'll be the most delicious, finger-licking sauce with the meat you've had in your life.
If you are still hesitant, you can get away with stew chuck. The dish won't be fantastic, but it will still be great.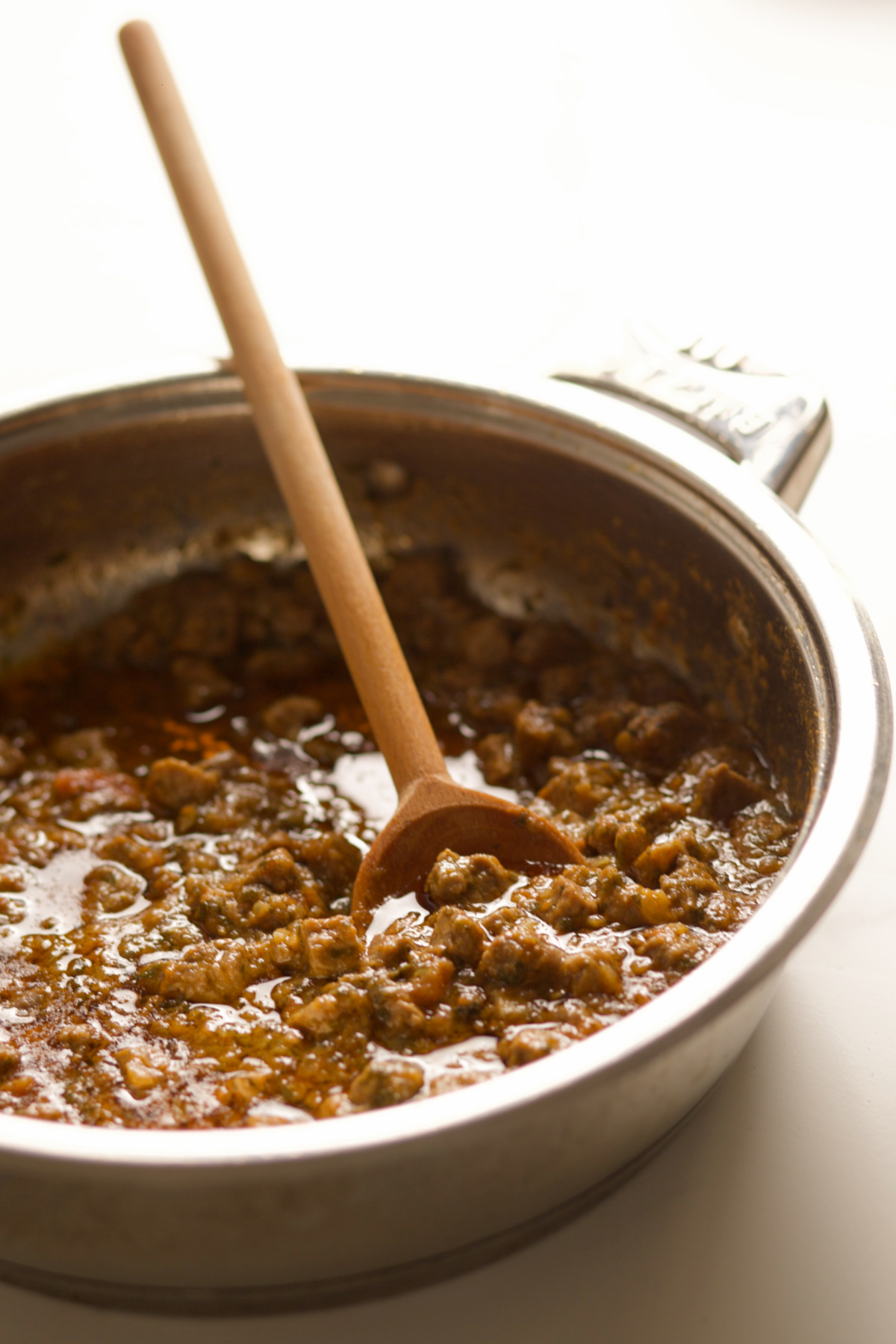 Mini Ćevap Sides
In Bosnia mini ćevap is popular during Ramadan fast breaks. (Ramadan is the Muslim fasting month.) However, you can find it in most local food restaurants all year. It's often served in traditional tin or copper dishes called 'sahan' (see the first photo).
Back in the day, it was served as a stew with a side of bread. But I like it best with sides. Here are some side ideas:
Recipe FAQs
What to do with leftover meat?
Freeze it. Refrigerate it and use it in a sandwich or as a dipping sauce later. Alternatively, you can eat leftover meat the next day with a different side.
How can I add flavor to meat sauce?
If using larger chunks, marinate meat for a couple of hours before preparing your sauce. You can also use different seasonings and wine to add flavor to a meat sauce. Finally, the longer you cook it, the more flavorful a meat sauce is.
More Delicious Meat Recipes
Would You Do Me a Favor?
If you make today's Easy Meat Sauce Recipe and like it, please consider leaving a ⭐️⭐️⭐️⭐️⭐️ (5-star) rating. This will help others find the recipe more easily!
You can also leave a comment, I read EVERY one! Finally, if IG is more your thing, consider tagging us @balkanlunchbox.
Prijatno and bon appetit!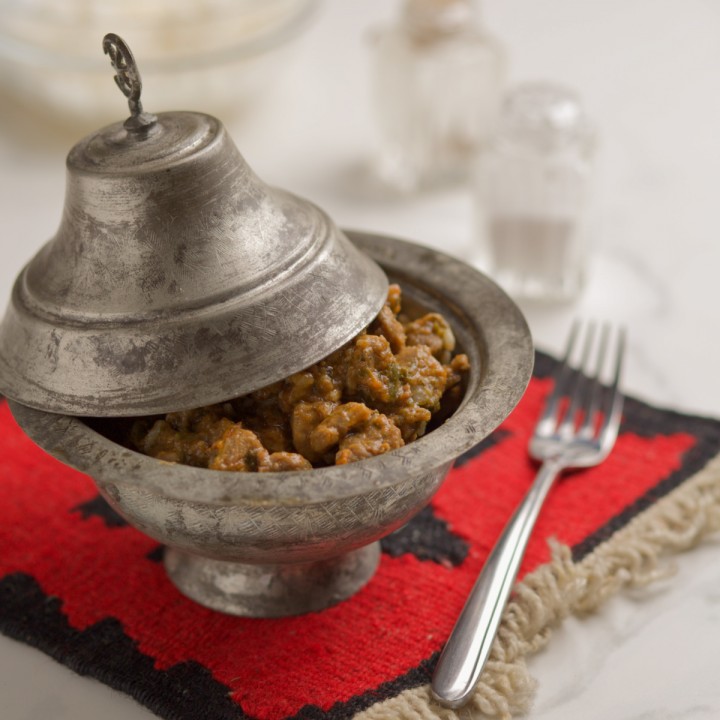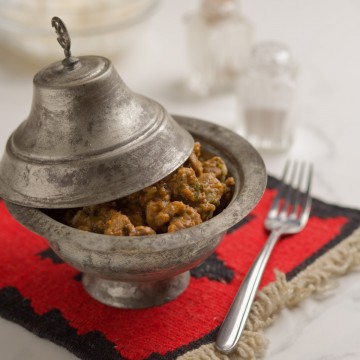 EASY Meat Sauce Recipe: Bosnian Mini Ćevap
Easy and quick meat sauce recipe coming to us from Bosnia. Also known as mini ćevap this diced beef sauce is perfect for pasta, polenta and more. 
Ingredients
1.5

ounces

oil

3.5

ounces

butter

1

yellow onion

large, peeled, sliced

1-2

garlic cloves

minced

3-4

tablespoons

fresh parsley

minced, or 3-4 teaspoons dried

3-4

tablespoons

fresh celery leaf

minced, or 3-4 teaspoons dried

Salt to taste

A few peppercorns

1.5

pounds

beef

cubed, preferably T-bone or rib eye

½

teaspoon

paprika

4

ounces

crushed tomatoes

or tomato sauce or 2 teaspoons vinegar

1.5-2

cups

water

lukewarm, or beef broth
Instructions
In a deep pan combine oil, butter, onion, garlic, parsley, celery, salt, pepper, and meat. Stir well and simmer over medium for 20 minutes or until water expeled by the meat and veggies almost evaporates. 

Add tomato sauce, paprika and sugar. Stir and simmer another 20 minutes or until sauce juices thicken. 

Add water (or broth), bring everything to a boil and simmer another 3-5 minutes. Serve over a side of your choice. 
Notes
Original recipe calls for a sliced onion, however I diced it for the video.
Substitute (if you must) with the chuck.

 
Recipe adapted from: Lakišić, A. (2015). Bosanski kuhar. Svjetlost.
Nutrition
Sodium:
505
mg
Sugar:
2.8
g
Fiber:
1.8
g
Cholesterol:
179
mg
Calories:
711
kcal
Saturated Fat:
22.2
g
Fat:
57.5
g
Protein:
41.2
g
Carbohydrates:
5.8
g