Polenta, or cornmeal porridge (pura), ranks among the Balkan breakfast favorites. This meal takes less than 10 minutes to make and will have everyone beg for seconds: from your children to mother-in-law. For best taste, combine with sour cream and (if you dare) minced garlic.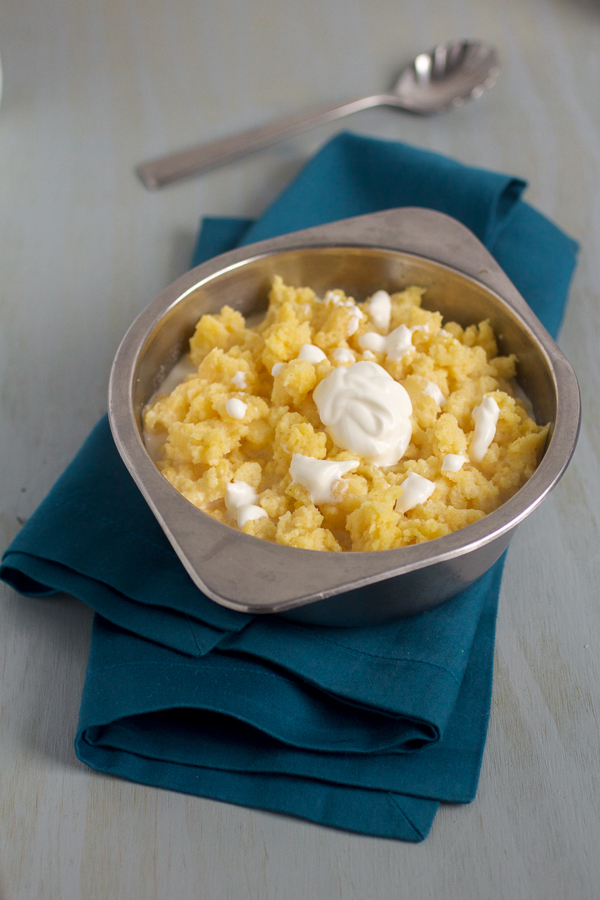 Let's say you have about ten minutes to make a great breakfast. And let's also say you want to make something that your family will love, but you're not in the mood for the 'traditional' breakfast of sorts. The type where you'll have to make eggs (different for every family member mind you), combine them with meat, get the biscuits ready, etc...
You might want to consider something different but filling, something that becomes a hit as soon as the melted sour cream starts sliding down its sides, cooling it just enough to quickly put it in your mouth and close your eyes in pure pleasure.
Polenta is a porridge like meal made from cornmeal. For this recipe you can buy either polenta, or medium ground cornmeal. Cornmeal is a much coarser version of corn flour, aka flour made from corn (or maize).
Please note I used Indian Head Yellow Corn Meal for this recipe (no affiliation). If you get the regular corn flour, the cooking may increase to 30-40 minutes, sometimes over an hour even. If you're getting polenta, make sure it's an instant form if you want to avoid long cooking times. In short: read the directions on the bag, regardless of what you end up buying. I find the taste is just as great with instant polenta as it's with corn flour polenta, unless of course, your flour is coming straight from the flour mill.
Polenta (pura) is best consumed hot to warm (be careful not to burn your tongue), as it hardens up relatively fast. It's useless warming polenta up again, although (for other recipes) you can fry it at this point and serve as a side.
Some people like to pour milk, buttermilk, or kefir over their polenta in addition to the sour cream. You're welcome to try all versions out until you find the perfect combination for you.
P.S. May I recommend a few meals to eat porridge with? How about the drunken schnitzels? Sauteed spinach? And goulash of course!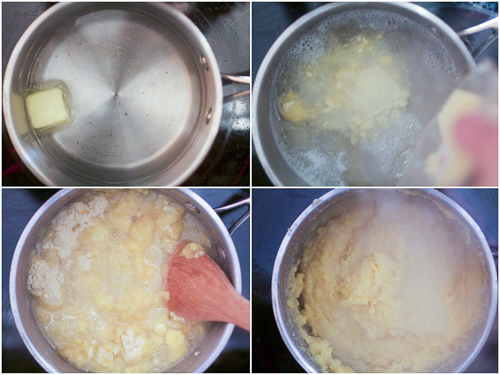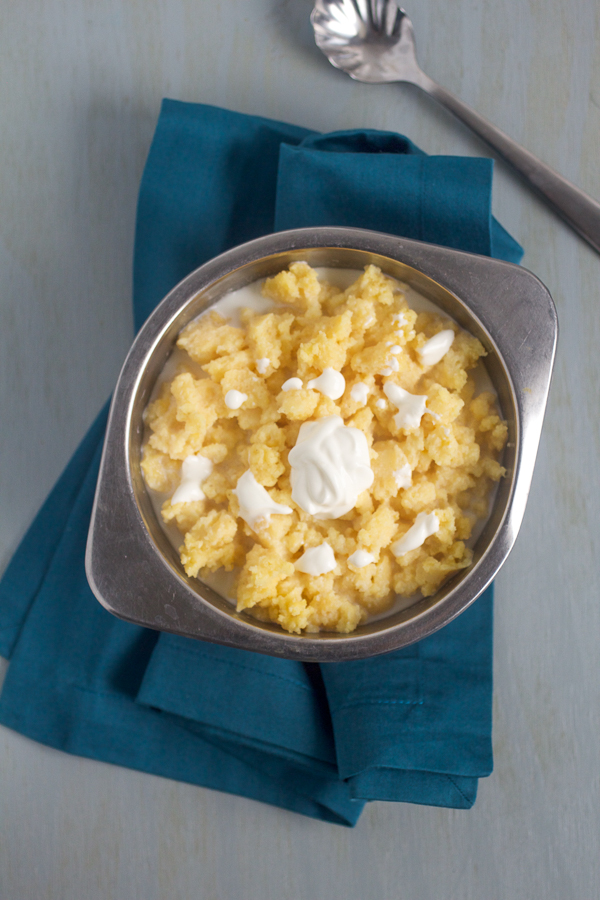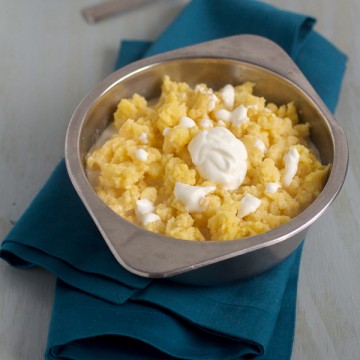 Polenta aka Cornmeal Porridge Recipe (Pura)
Ingredients
2

cups

water

1

tablespoon

butter

1

cup

cornmeal

or polenta

1-2

garlic cloves

minced

salt to taste

sour cream

milk

buttermilk or kefir (optional)
Instructions
Combine water and butter and bring to boil on high.

Lower to medium, and carefully stir in cornmeal. Continue stirring vigorously for 5-6 minutes, or until the mass is evenly whisked in the pot. By this time the water will evaporate, and you'll end up with a thick yellow mass.

Remove and serve immediately. Top with sour cream, garlic, and buttermilk (optional).