Today we handle the Pressure Cooker Beef Cutlets cooked in beef stock infused with minced vegetables. Quickly fired up to seal the juices inside, these mega soft and ripe schnitzels (cutlets) will impress family AND guests alike. Ultra easy way to immediately upgrade your cooking CV!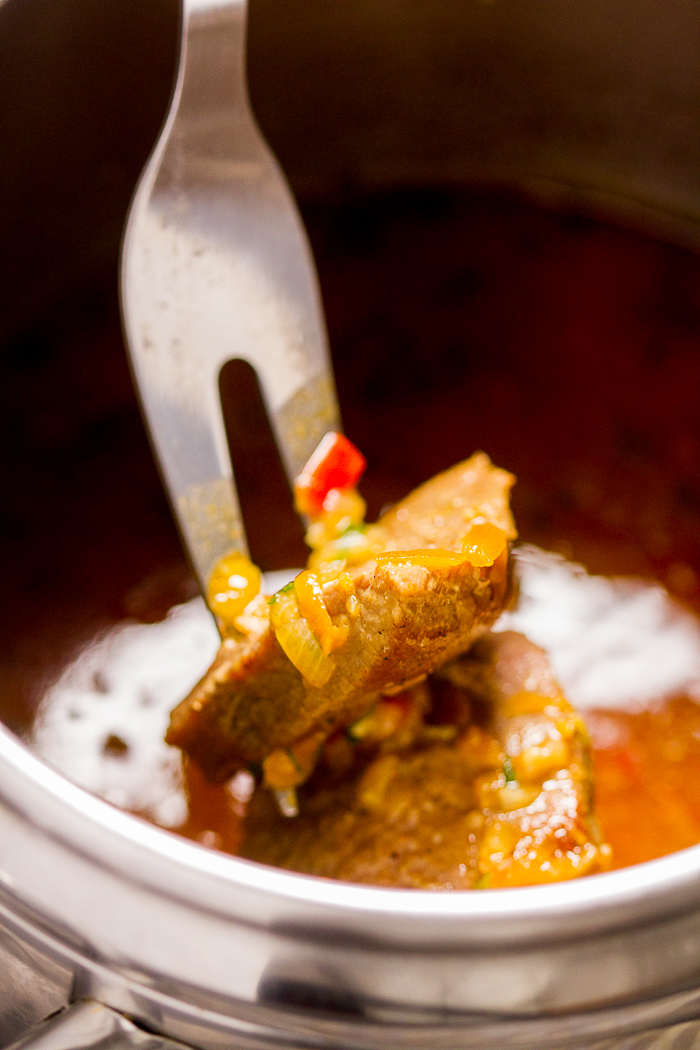 A short one today! At least as far as the recipe is concerned.  And the article? Well you're getting a blast  from the past. I'm posting an old overview of Balkan cuisine for new readers still wondering what strange land they landed on when they found BLB.
However this time I'm including a bonus: a recipe for Beef Cutlets made in a Pressure Cooker.
Just recently we did schnitzels, but that time we dunk them in a lot of red wine after breading them. Today's cutlets are more soft and sensual. They have a "falling off the fork" feel AND tender taste you'll love.
This is achieved primarily via two crucial preparation steps.
But before we talk preparation let's talk beef. When you go to your grocery store ask for younger beef cutlets. Baby beef if possible. We've talked about this before, but in the Balkans there are three stages of beef you can buy.
The first and youngest is veal. Then comes the baby beef. And finally regular beef.
Baby beef is soft but more mature than veal. It has a more grown-up taste. Not yet as fully matured as regular beef, it keeps more of its softness, but offers just the right amount of fullness of taste. Here's a nice explanation. If all you can get is beef then ask for or look for more tender pieces.
These Pressure Cooker Beef Cutlets do not require marinating. In fact, even seasoning is limited to the basic, classic, salt and pepper to taste. The cutlets are then thrown in hot oil for a couple of minutes on each side to seal in the juiciness. (That's the crucial preparation step 1.)
Then they mix with simmered veggies (onion, garlic, carrot, celery root, bell pepper) that have been sizzling on butter for a hot second, and cooked in beef broth. Baby beef and veggies are combined. Pressure cooker is closed. (Crucial preparation step 2.) Side is prepped. Food is made.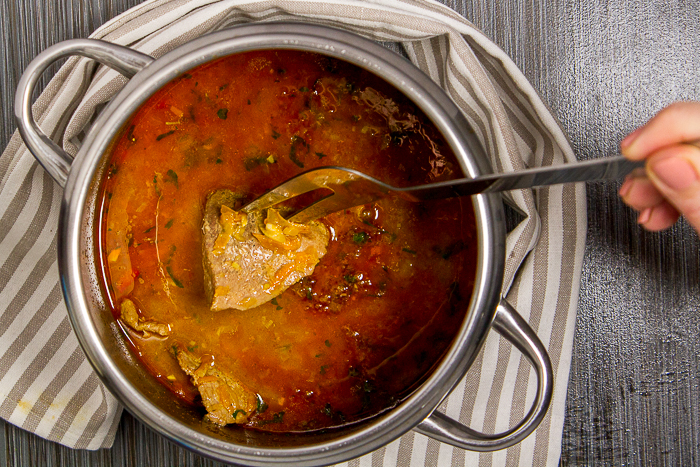 As always when making beef cutlets (or anything else really) in a pressure cooker, really make sure you're following the directions. Pressure cookers are amazing. They'll save you time. They'll achieve softness with any ingredient you can think of. Especially meat.
However, improper use can get you seriously hurt.  Use the directions plus common sense and you'll be ok.
If you're here for more information on and about Balkan food and cuisine, scroll down.
If you're here for the recipe scroll down even more.

WHAT IS BALKAN FOOD LIKE? BOSNIAN FOOD?
It's no secret I'm crazy about Balkan (especially Bosnian) food and cuisine, but why should you care about it? If you've come across this blog randomly you may not be familiar with the Balkan region, let alone its cuisine.  You may even wonder whether you should be spending your precious time preparing something unfamiliar.  If this describes you then this article will answer some of your questions... it may even surprise you, because you've been preparing Balkan food all along.
Let's start with the Balkans... 
The Balkans is a peninsula in Southeast Europe. It's easy to find - it's located to the right of "the booth" (Italy), just across the Adriatic. It consists of the countries that back in the day formed the former Yugoslavia, plus a few more. As far as this blog is concerned, we will be talking about the food that encompasses the ex-Yugoslavia region. As I am from Sarajevo, and grew up there before moving to the US as a teenager, a lot of focus will be given to food from Bosnia and Herzegovina. (For the curious ones, Bosnia is smack in the middle of ex-Yu. Btw, I'll be referring to it as Bosnia for short, so when you see Bosnia think Bosnia and Herzegovina, or B&H).
How similar is food across different Balkan countries?
Very much so. Of course there are regional differences, but for the most part Balkan cuisine consists of similar things across different countries in the area. Some Balkan cuisine basics are the dolmas, or stuffed vegetables (peppers, onions, eggplant, zucchini, even tomatoes). Then there are soups and stews ranging from bosanski lonac (Bosnian pot), all the way to riblja corba (fish soup).  The ubiquitous pita or pie is a household staple and it consists of cheese, meat or veggies rolled in dough/ phyllo, and then baked.
In terms of meat, beef is at the top (especially veal), and then chicken. Local lamb is very popular, as well as pork for those who eat it. (Note: if you're making dinner for someone from the area, ask. Pork can substituted with beef for most recipes.) Although not an everyday meat, sheep also makes an appearance, especially during Bajram (Eid). At last, there are the cured meats such as suho meso or dried beef, and prosciutto. Meat is prepared every which way, especially on the grill, of which ćevapcici or grilled meat sausages, are the most popular.
Desserts range from cakes and pastries to syrupy delicacies such as kadaif and baklava.
What about those Balkan Food regional differences?
To answer this let's start with Balkan geography. The region is blessed with beautiful features. It is crocheted with hills, valleys and mountains, some of which are part of the Dinaric Alps. Rivers abound (such as the Danube for one), while the south is bordered by a gem in the form of Adriatic sea.
As such, you'll find more seafood delicacies in Croatia and Montenegro, on the coastline. Croatia also boasts some of the best prosciutto in the region, often said to be beaten into perfection by the heavy storms called (sing.) "bura." People in non-coastal areas eat a heavier diet due to harsher winter conditions so in Bosnia and Serbia you'll find more meat centric flavors.
Historically Balkans has hosted Greeks and Romans, Illyrians, Ottomans, Austro-Hungarians, and many more civilizations. These historic circumstances allowed Balkan food to develop into a colorful, hearty, cuisine that has adopted all the best flavors, and developed them into something unique yet familiar.
Balkan food is not foreign or new, think of it as your favorite meals with a twist.
Balkan Food is Homemade all the way... 
Whether they live in a city, town or a village, most people prepare food from scratch. Balkan culinary tradition is such where people are used to eating something homemade. You'll often hear it said that people need to be "eating something with a spoon," and fast food for the most part does not allow for that. (Although this too is changing, at least in the "fast food" sense, where now you can grab some pita or sandwiches, on the go easily.)
In the villages people prepare most everything themselves. This includes growing produce, curing meats, and canning vegetables. These traditions are changing slowly as younger generations are moving to cities for jobs. One farmer from Croatia recently expressed this sentiment on the radio when he said "our kids don't want to be farmers, they want to be managers and directors."
Meanwhile, in the cities, people buy food at local farmers' markets (each town has a few). If the situation in the flailing farming industry is not taken care of soon - across the region - we could see a lot of these local delicacies destroyed, and economies that will heavily depend on importing produce and meats they have been growing on their own land for centuries.
Finally, homemade has to do with economic reasons as well. It is more affordable to prepare something at home. Going to restaurants, for most, is kept for special occasions such as birthdays, weddings, and other celebrations.
Reasons why you'll love Balkan food... 
You're already familiar with Balkan food. It's basically a nice twist on your old favorites: breads, pastas, pastries, stews, grilled foods, and pies.
It's easy to make. Trust me! Until a few years ago I couldn't crack an egg (in my defense, there were no directions on the carton). I threw my first pita dough in the trash (third and fourth too).
You're not alone. I'll guide you step by step. Each recipe on here is thoroughly written, and accompanied by photos. If there is anything you're confused on, I'm just a click away. More experienced cooks may even be annoyed at the amount of detail in the recipes, but I'd rather you know for sure how to do it, then have to do the guesswork.
It's affordable. In 2011, it cost an average $35 to go out to dinner in the US for one person. For that amount of money you can cook up a storm.
It uses ingredients you already have. Most of Balkan cuisine can be made with stuff that's already in your fridge. Got some peppers, rice, ground beef? You're good to go! Potatoes? Great! Forget the unpronounceable $20 spices you'll never, ever use again. Ok, you may have to find one. But even that one is not mandatory by any means.
Still in for this adventure? Yes? I invite you to start by looking at the recipes on here. And I solemnly swear you'll be licking your fingers if you try any of them.
To your success!
Aida
Print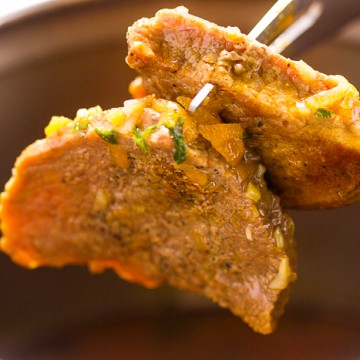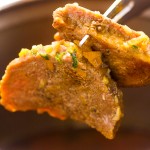 Pressure Cooker Beef Cutlets
Author:

Balkan Lunch Box

Prep Time:

15 mins

Cook Time:

45 mins

Total Time:

1 hour

Yield:

6

1

x

Category:

Main Course
---
1.5

pounds beef cutlets (round or loin, preferably baby beef, cut into

8

-

10

cutlets)
Sea-salt and ground pepper to taste
Oil

2 tablespoons

butter

1

onion (large, minced)

3

garlic cloves (minced)

2

carrots (medium, grated)

2 ounces

celery root (grated, or

1

-

2

celery stalks minced)

1

red bell pepper (or red bull's horn pepper, minced)

1 tablespoon

seasoning mix (Vegeta, or

½

crushed beef bouillon)

1 tablespoon

paprika (mild)

1 tablespoon

flour

3 cups

beef broth

1 tablespoon

parsley (minced)
(Optional) mashed potatoes, rice or pasta for 6
---
Instructions
Season each cutlet on both sides with sea-salt and ground pepper to taste.
In a deep skillet, warm up oil on high and then lower temperature to medium high. Fry cutlets about 3-4 minutes on each side and remove off heat.
In a pressure cooker heat up butter on medium. Add onion and garlic and simmer for a 2-3 of minutes, frequently stirring. Add carrots, celery root, pepper, seasonings and continue simmering and stirring for 8-10 minutes. Finally add beef broth and flour and stir again.
Place cutlets into the pressure cooker and close it. Cook for 20-25 minutes or until the meat is tender (follow your pressure cooker's instructions).
While the cutlets are cooking prepare your side.
Serve cutlets hot with a couple of scoops of sauce over the side.
---