Today we handle the Pressure Cooker Beef Cutlets cooked in beef stock infused with minced vegetables. Quickly fired up to seal the juices inside, these mega soft and ripe schnitzels (cutlets) will impress family AND guests alike. Ultra easy way to immediately upgrade your cooking CV!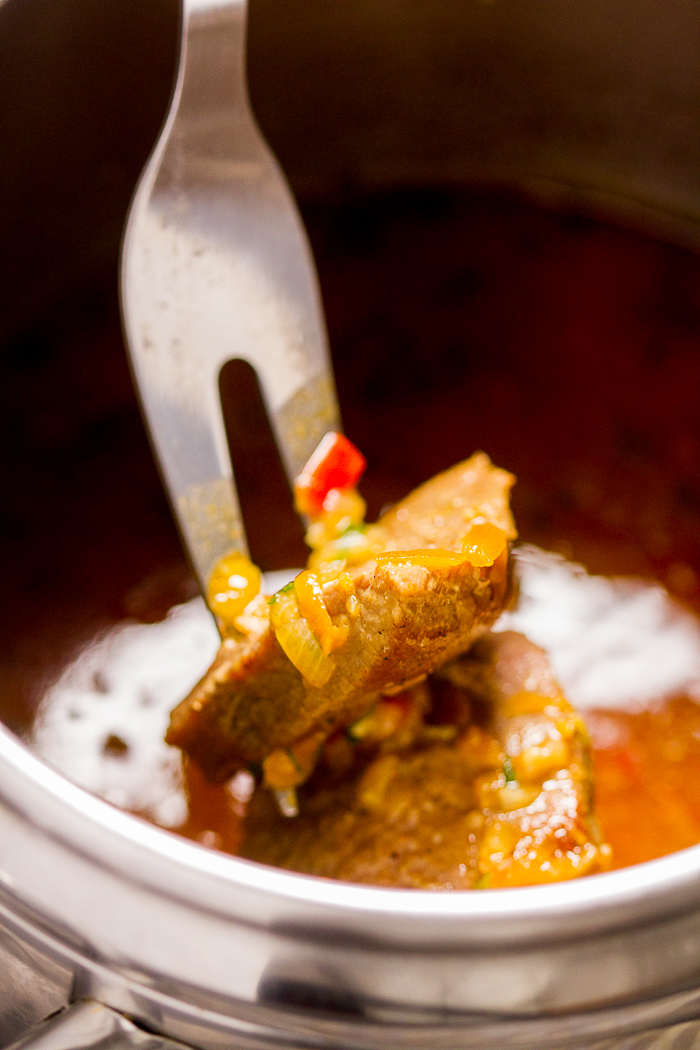 A short one today! At least as far as the recipe is concerned. And the article? Well you're getting a blast from the past. I'm posting an old overview of Balkan cuisine for new readers still wondering what strange land they landed on when they found BLB.
However this time I'm including a bonus: a recipe for Beef Cutlets made in a Pressure Cooker.
Just recently we did schnitzels, but that time we dunk them in a lot of red wine after breading them. Today's cutlets are more soft and sensual. They have a "falling off the fork" feel AND tender taste you'll love.
This is achieved primarily via two crucial preparation steps.
But before we talk preparation let's talk beef. When you go to your grocery store ask for younger beef cutlets. Baby beef if possible. We've talked about this before, but in the Balkans there are three stages of beef you can buy.
The first and youngest is veal. Then comes the baby beef. And finally regular beef.
Baby beef is soft but more mature than veal. It has a more grown-up taste. Not yet as fully matured as regular beef, it keeps more of its softness, but offers just the right amount of fullness of taste. Here's a nice explanation. If all you can get is beef then ask for or look for more tender pieces.
These Pressure Cooker Beef Cutlets do not require marinating. In fact, even seasoning is limited to the basic, classic, salt and pepper to taste. The cutlets are then thrown in hot oil for a couple of minutes on each side to seal in the juiciness. (That's the crucial preparation step 1.)
Then they mix with simmered veggies (onion, garlic, carrot, celery root, bell pepper) that have been sizzling on butter for a hot second, and cooked in beef broth. Baby beef and veggies are combined. Pressure cooker is closed. (Crucial preparation step 2.) Side is prepped. Food is made.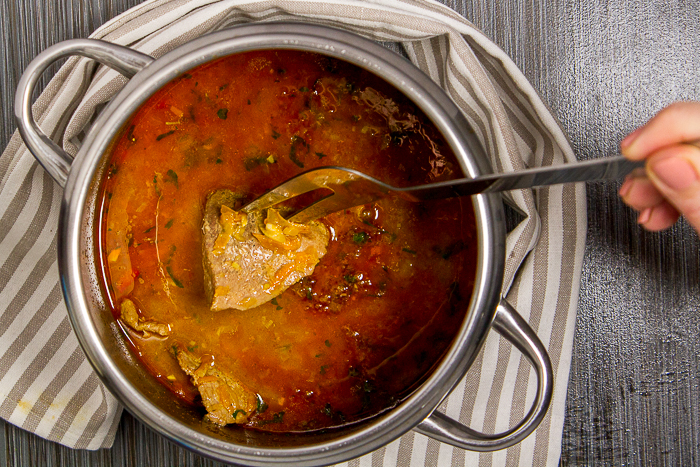 As always when making beef cutlets (or anything else really) in a pressure cooker, really make sure you're following the directions. Pressure cookers are amazing. They'll save you time. They'll achieve softness with any ingredient you can think of. Especially meat.
However, improper use can get you seriously hurt. Use the directions plus common sense and you'll be ok.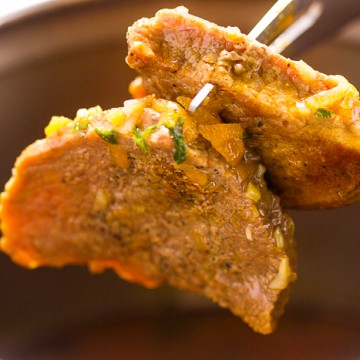 Pressure Cooker Beef Cutlets
Ingredients
1.5

pounds

beef cutlets

round or loin, preferably baby beef, cut into 8-10 cutlets

Sea-salt and ground pepper to taste

Oil

2

tablespoons

butter

1

onion

large, minced

3

garlic cloves

minced

2

carrots

medium, grated

2

ounces

celery root

grated, or 1-2 celery stalks minced

1

red bell pepper

or red bull's horn pepper, minced

1

tablespoon

seasoning mix

Vegeta, or ½ crushed beef bouillon

1

tablespoon

paprika

mild

1

tablespoon

flour

3

cups

beef broth

1

tablespoon

parsley

minced

Optional mashed potatoes, rice or pasta for 6
Instructions
Season each cutlet on both sides with sea-salt and ground pepper to taste.

In a deep skillet, warm up oil on high and then lower temperature to medium high. Fry cutlets about 3-4 minutes on each side and remove off heat.

In a pressure cooker heat up butter on medium. Add onion and garlic and simmer for a 2-3 of minutes, frequently stirring. Add carrots, celery root, pepper, seasonings and continue simmering and stirring for 8-10 minutes. Finally add beef broth and flour and stir again.

Place cutlets into the pressure cooker and close it. Cook for 20-25 minutes or until the meat is tender (follow your pressure cooker's instructions).

While the cutlets are cooking prepare your side.

Serve cutlets hot with a couple of scoops of sauce over the side.