Balkan bean stew with kielbasa: a perfect hearty stew for these unstable spring days. Quickest version yet. No roux. And no wait for the beans to soak. Just a quick boil and they're ready for cooking. Easily a GLUTEN-FREE option.
Grah or pasulj, or the bean stew, is a staple meal in the Balkans.
All of us go through a grah graduation of sorts. We like it as children. Hate it as teenagers and young adults.
At maturity, we finally come to a place of understanding that grah is as Balkan as the pita itself.
There are different variations. Here is the one with kielbasa. As always, if making it for someone from the area, check whether they eat pork. If not, use a chicken kielbasa.
Variations: use a gluten-free kielbasa for a gluten-free meal.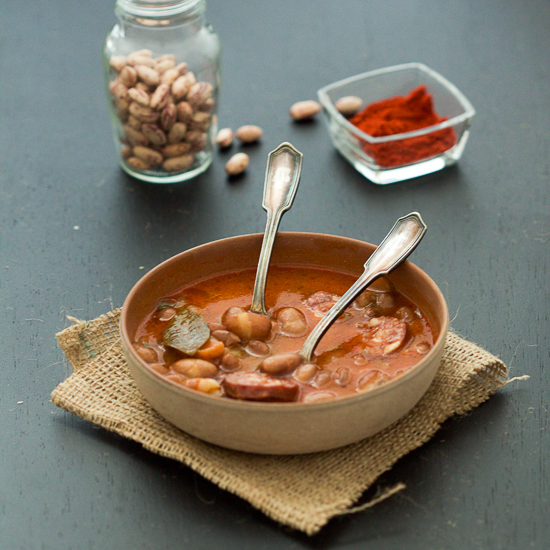 Although not a stew or a soup, soft and moist BAKED ROMANO BEANS will leave you breathless, and we promise they're the most perfect side dish on Balkan Lunch Box.
We've also explored Macedonian baked beans in a pan. We've got a fast version for you called TAVČE GRAVČE, as a well as a more traditional version you can find here: GRAVČE NA TAVČE (BEANS IN A PAN).
Our favorite bean stew recipe though, is the CLASSIC BALKAN BEAN SOUP/ STEW. Are we blowing your mind yet? Happy cooking!
Recipe by Samir H.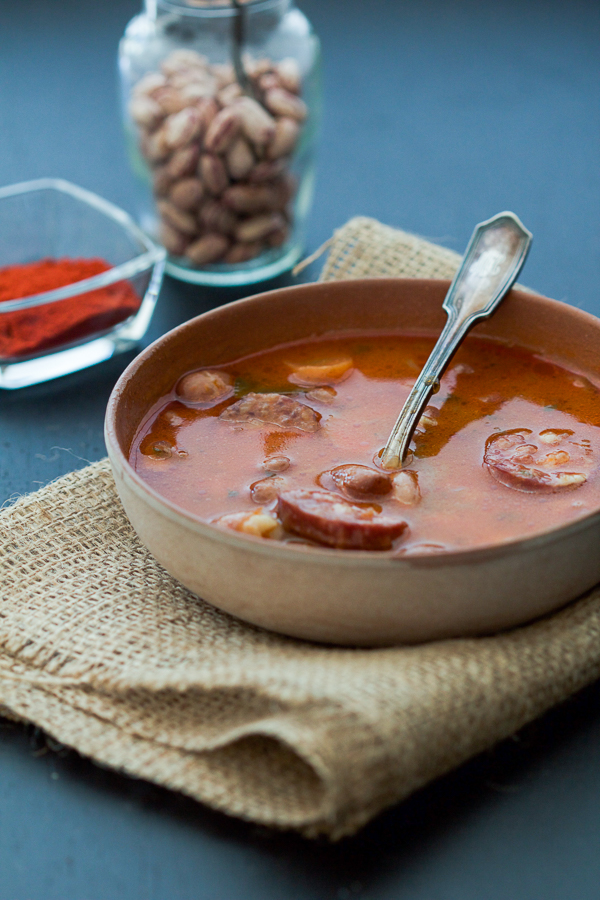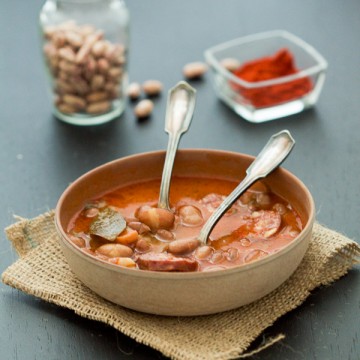 Bean Stew with Kielbasa
Ingredients
10.5

ounces

dry beans

navy, red kidney or other

2

tablespoons

butter

1

yellow onion

medium, diced

2-3

garlic cloves

minced

2

carrots

medium, diced

1 9-

oz

kielbasa

pork, turkey or chicken, cut into ½ inch rounds

1

tablespoon

parsley

minced

2

bay leaves

¼

teaspoon

ground pepper

or peppercorn

1

bouillon cube

or Vegeta

Optional 1 tablespoon paprika
Instructions
In a deep pot, cover beans with water and bring to boil on high. Lower to medium and boil for 5 minutes. Strain, wash well, and discard the water. Set aside.

In a pressure cooker* heat butter on low to medium. Add onion, garlic and carrot and simmer, stirring frequently. Add kielbasa and stir again. Add seasonings and continue stirring. Fill up the pot with 4-5 cups of water. Add beans and close the pressure cooker.

After the first steam, cook beans for about 20 minutes (or use the stew setting on your pressure cooker).

Serve warm.
Notes
Eat bean stew for late lunch or early dinner. It gets better after a day or two in the fridge. Skip eating it in late afternoons or evenings as it can be heavy for the digestive system at night.
*If using a regular pot, cooking time will be longer. The beans are done when they're soft, but not falling apart, about 60-90 min.
VARIATIONS:
Gluten-free: use gluten-free kielbasa and bouillon cube. Vegeta is gluten-free.
Low-carb: use a low-carb kielbasa.