Macedonian baked beans are a beloved classic. This easy, 3-ingredient version will bring you the best taste in the quickest amount of time.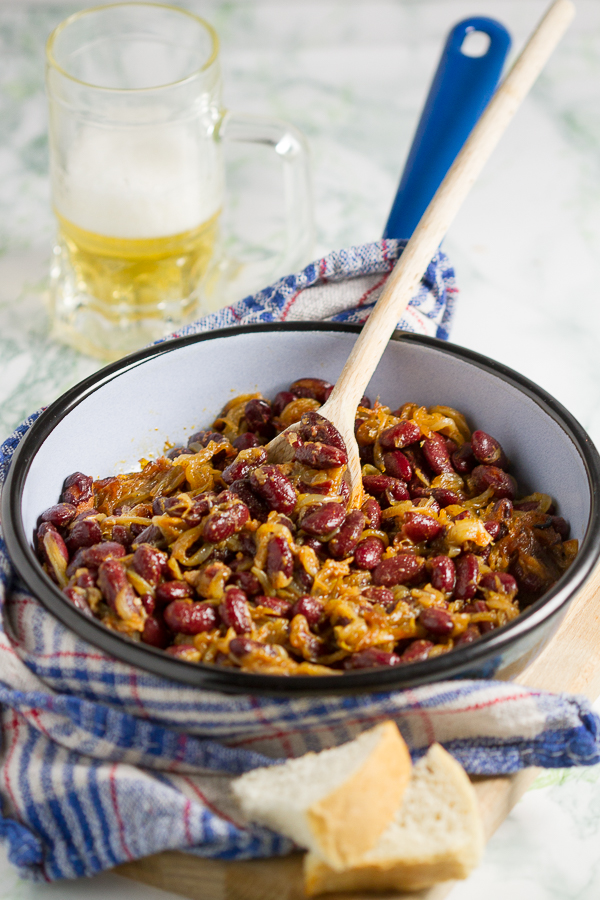 Gravče na tavče is translated to beans in a pan. It's somewhat of a misnomer because these are baked beans. However, I'm sure there are some recipe versions where these beans are prepared in a pan. In the region, it is Macedonia that's most known for this dish.
The one we're doing today is a quick and light take on Macedonian baked beans. More contemporary than traditional. For example, instead of dry white butter beans we'll be using dark red canned beans. More shortcuts, but the flavor is not at a loss for it.
In Bosnia, this dish's called grah prebranac, loosely translated to sorted beans. Again, not certain where the name came from. If I were to take a guess, the name came about based on the way dry beans are prepared. Prebrati means to sort something out, and sorting out is what is done to dry beans before they are washed and used. Once a bag of beans is brought home from the store or market, beans are carefully sorted through and the debris is removed. (The debris being leaves, branches, weeds, grass, ground, or anything that got into the beans while they were picked and dried.) So grah prebranac, or gravče na tavče then, if we are to take the literal version, are sorted out beans in a pan.
One measure of maturity (or of getting old?) is the type of food we start to enjoy. Is it that our palates become welcoming to the things we didn't enjoy before? Or is it nostalgia, that ailment and its treacherous ways, making us think our years will return via tastes from our childhood?
I never thought twice about prebranac. It was just a side dish to me. A dish which of course finds itself on the dining table together with the other stuff. Pies. Meats. Soups. Salads. A dish which naturally is then forgotten about.
And then, during a Balkan party somewhere in the US, a beautiful girl I know, after having a bit of everything there was to eat (she ate a lot), went back for seconds but brought back one dish only. What else but the Macedonian baked beans?
Did it ever happen to you to see someone wear something (a pair of shoes, a lipstick shade), and based on your admiration of that person, you find yourself interested in the same thing? Suddenly no other shoes are good enough, no other lipstick exists. In that very moment, watching this girl come back with a plate full of baked beans, I had to have them. And the next day. And the next week. So it continued.
(I have to make a small admission to you. I hate crystalized onions. This dish has a lot of onions. All crystalized. The best taste requires a 1:1 onion to bean ratio. As much as I hate crystalized onions - not sure why, it probably has to do with the texture- throughout my experimentation over the years, I've come to accept that onion is not only needed, but necessary for most dishes. And so it is with this one. What I do is remove them if they're in big chunks and eat the rest. I get the flavor without having to eat them.)
This dish can be enhanced with a piece of meat. Some add kielbasa or some dried beef. We'll try that the next time. For now, we're sticking with this quick, tasty version.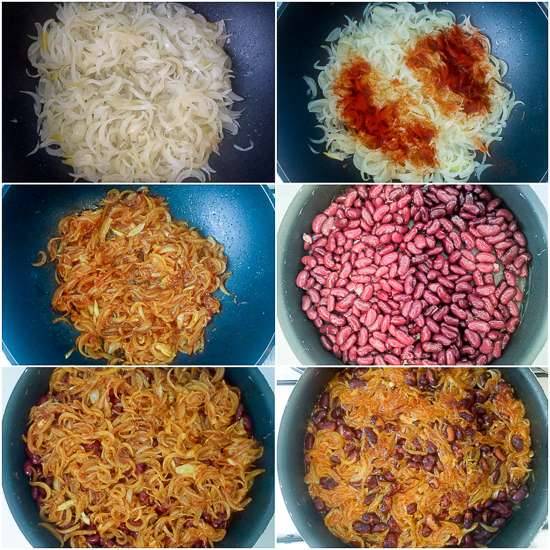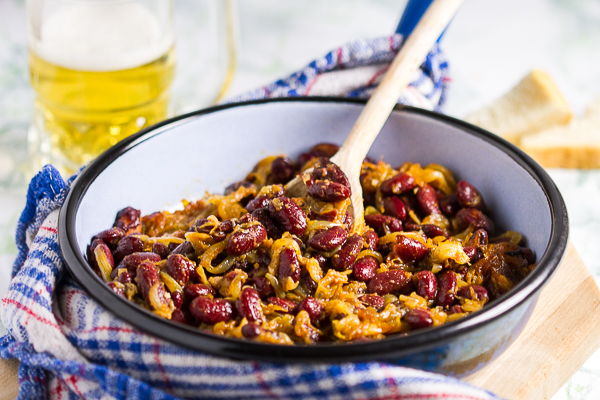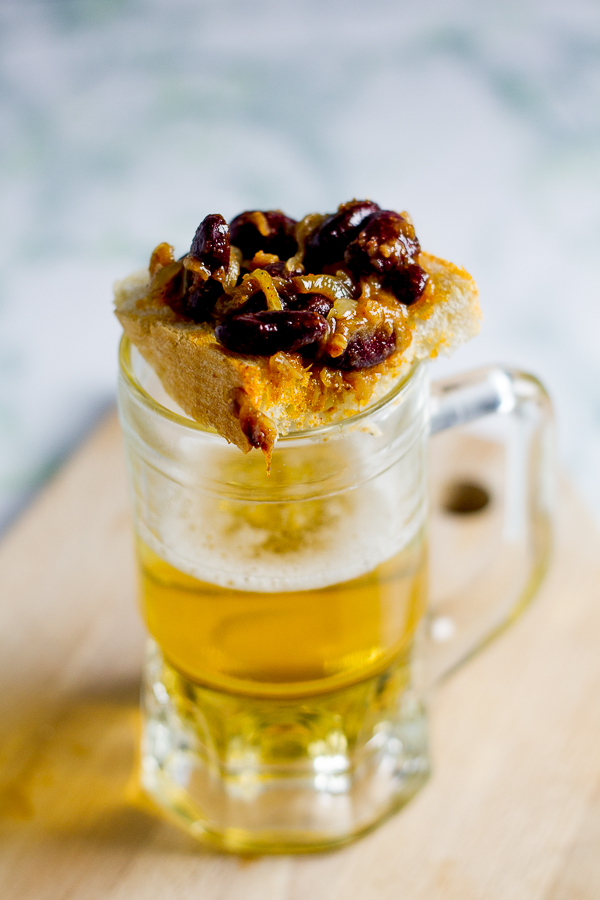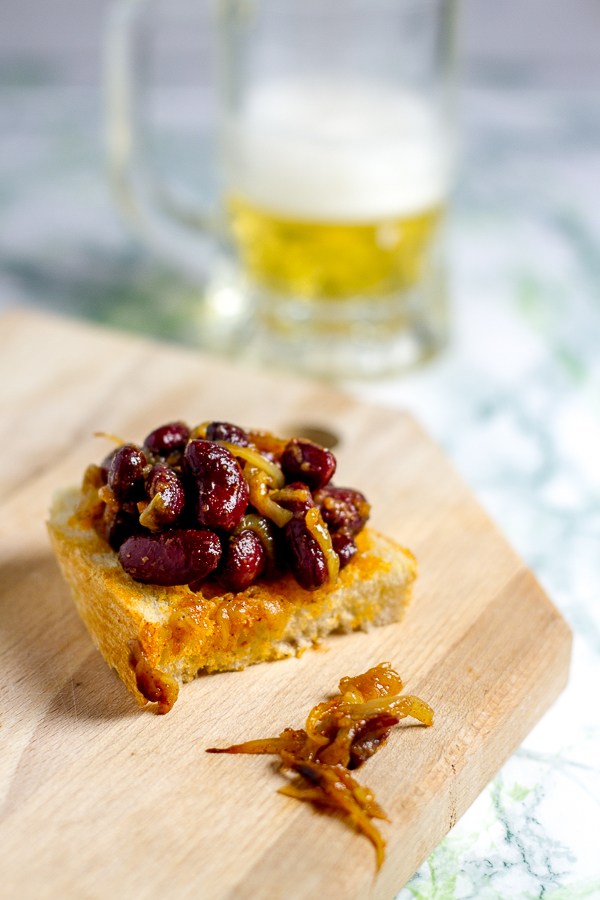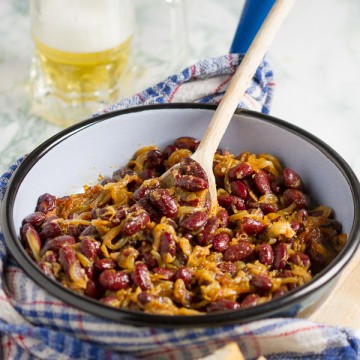 Gravče na Tavče: Quick Version of Macedonian Baked Beans
Ingredients
16

ounces

giant dark red kidney beans

canned

16

ounces

yellow onions

about 3 medium onions

3.5

ounces

oil

¼

teaspoon

ground pepper

1

tablespoon

seasoned salt

1

tablespoon

paprika
Instructions
Empty beans into a coriander and wash thoroughly. Place into a 12 inch diameter square or round pan and set aside.

Heat oven to 480F.

Peel and chop onions into medium chunks, and place into a wok. Add oil and simmer on high for 4-5 minutes. Bring the temperature down to medium and simmer another 2-3 minutes. Finally, bring the temperature down to low and add the seasonings in. (If making in a pan, add a little bit of water throughout.) Simmer for the last 2 minutes.

Pour onions over kidney beans and add a cup of water. Stir well and place in the oven. Bake for 40 minutes, stirring once or twice at the beginning, and turning the pan around about halfway through. Add just a little bit more water if necessary. (The beans shouldn't be dry, but they shouldn't be swimming in water either.)

Serve alone, with eggs and/or kielbasa.
Notes
Use dark red kidney beans from a can, and weigh them after you drain the liquid out. In an upcoming recipe we'll make Macedonian baked beans with dry beans.
The trick is to have a 1:1 beans to onion ratio.