Fried Dough Balls (Uštipci, Mekike, Lokumi) are savory mini donuts you'll love from the first bite. Delicious, easy and fast, they're great by themselves, or as a side to a larger meal. You'll make these over and over!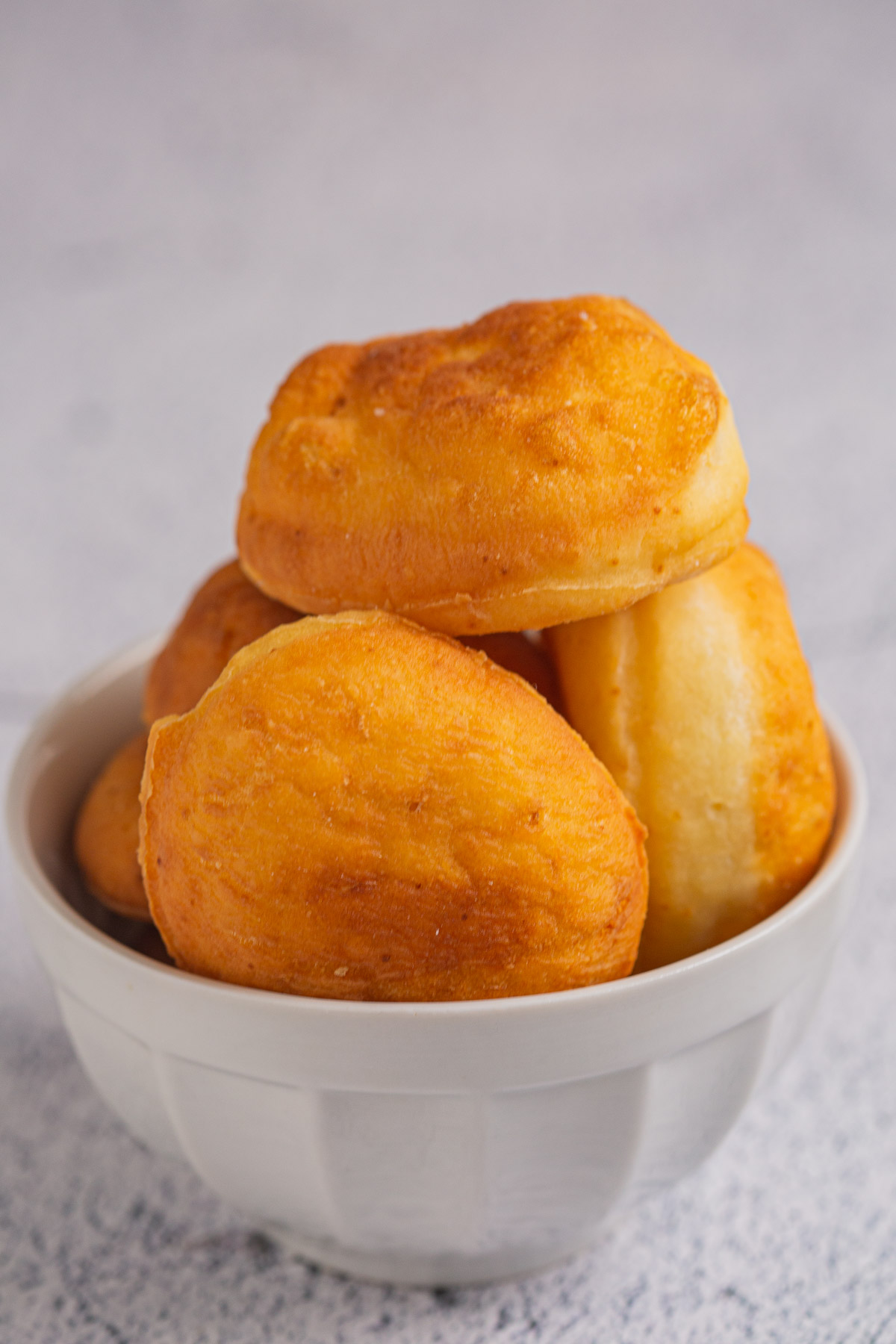 Jump to:
What Is It
Soft and airy on the inside and slightly crunchy on the outside, uštipci are everyone's favorite breakfast bite-sized carb. (I love fried dough balls best while hot when the steam rushes out as you tear one apart.)
Easy to make, you can top them with jams and preserves, or serve with the local charcuterie board meza. They also taste divine with a dollop of ajvar (Balkan pepper spread), or as a side to moussaka.
You've seen Balkan mini donuts elsewhere under different names. They're your beignets, castagnoli, jersey wonders, filhos, and mandazi! In fact, even in the Balkans they have several aliases:
mekike,
lokumi, and
peksimeti.
While there are slight regional variations, here are two main ways to make them:
One way is to make a fluid dough resembling batter, and fling it (piece by piece) into scorching oil with a tablespoon. These are your typical, traditional uštipci. Big, thick, and greasy in just the right way.

The second way is what we're doing today. These mini donuts require a drier dough, rolling pin and of course, scorching oil. (They're closer to what's called lokumi.) They come out smaller, sweeter, and impossible to put down.
Either way, to say these mini donuts will imprint on your brain's pleasure center from the moment you try them is an understatement!
Why You'll Love Uštipci
These mini donuts are super fast! (30-ish minutes start to table!)
They taste divine (Think donuts, but more savory and less dough-y)!
Uštipci go great with EVERYTHING!
And you can make them in an air fryer too!
Ingredients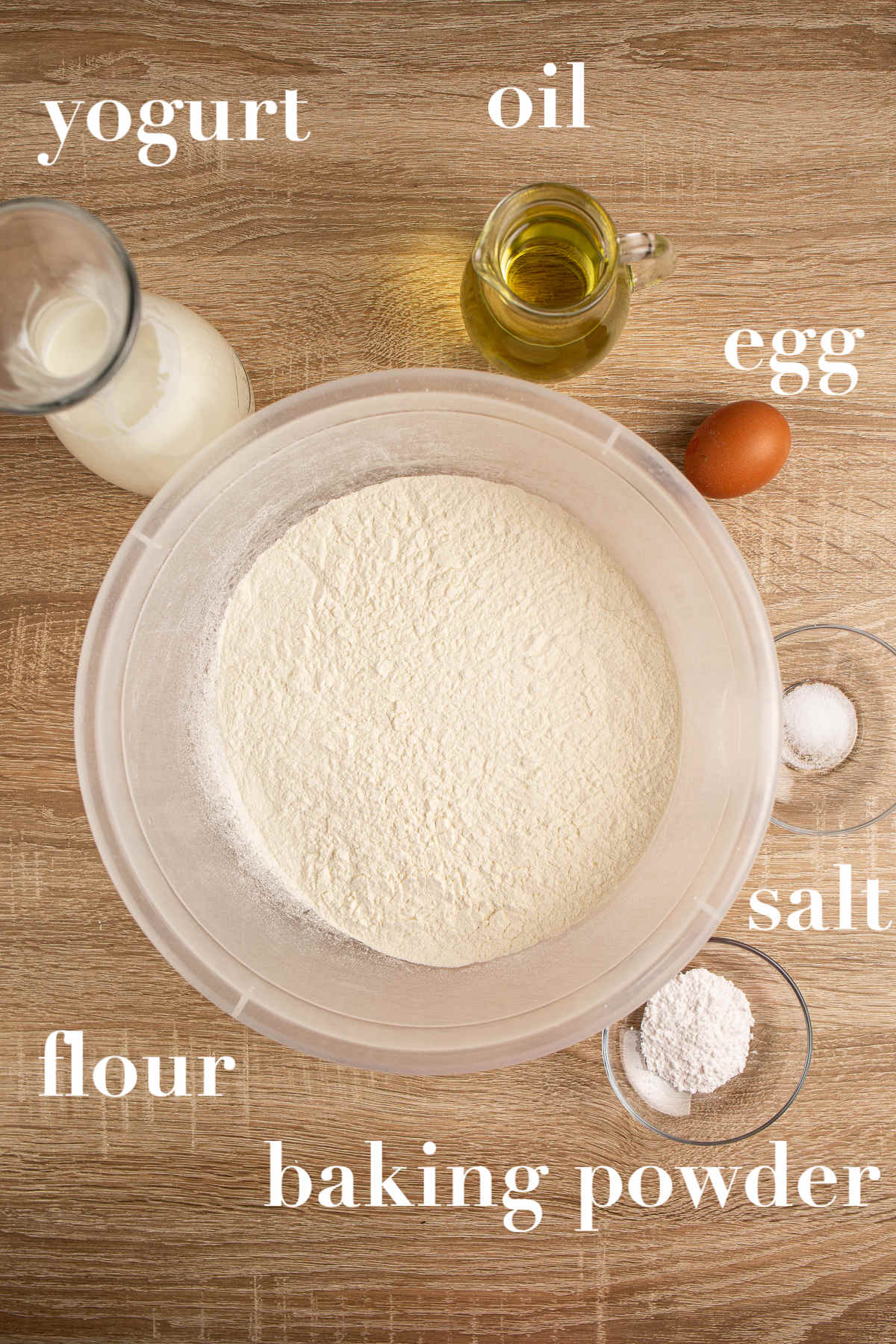 Ingredient Notes
Yogurt: Plain yogurt with 2.8% fat is best. If looking for alternatives to make uštipci dough, your best bet is the Greek plain yogurt, with some prep. (Stir it until it's completely fluid, you may add a little water to it, and use a tiny bit more volume for the dough.)

Flour: Regular white flour is best. For buckwheat fried dough balls switch out 3.5 ounces of white flour with buckwheat flour.

Baking powder: Some recipes rely on yeast to make fried dough balls bigger. However we were impatient and we used baking powder. They still achieve a great size when fried, and taste just as good.

Oil: Vegetable oil was used to fry uštipci. For a healthier option sub with safflower, avocado or peanut oil. DO NOT use olive oil as it's unsuitable for deep frying. This is because its smoking point, or temperature at which an oil starts to break down, is incompatible for deep frying.
Lightning-fast Instructions
Our lightning-fast instructions are here to give you an idea of how to make uštipci (Balkan mini donuts). For more detailed information look at the recipe card below!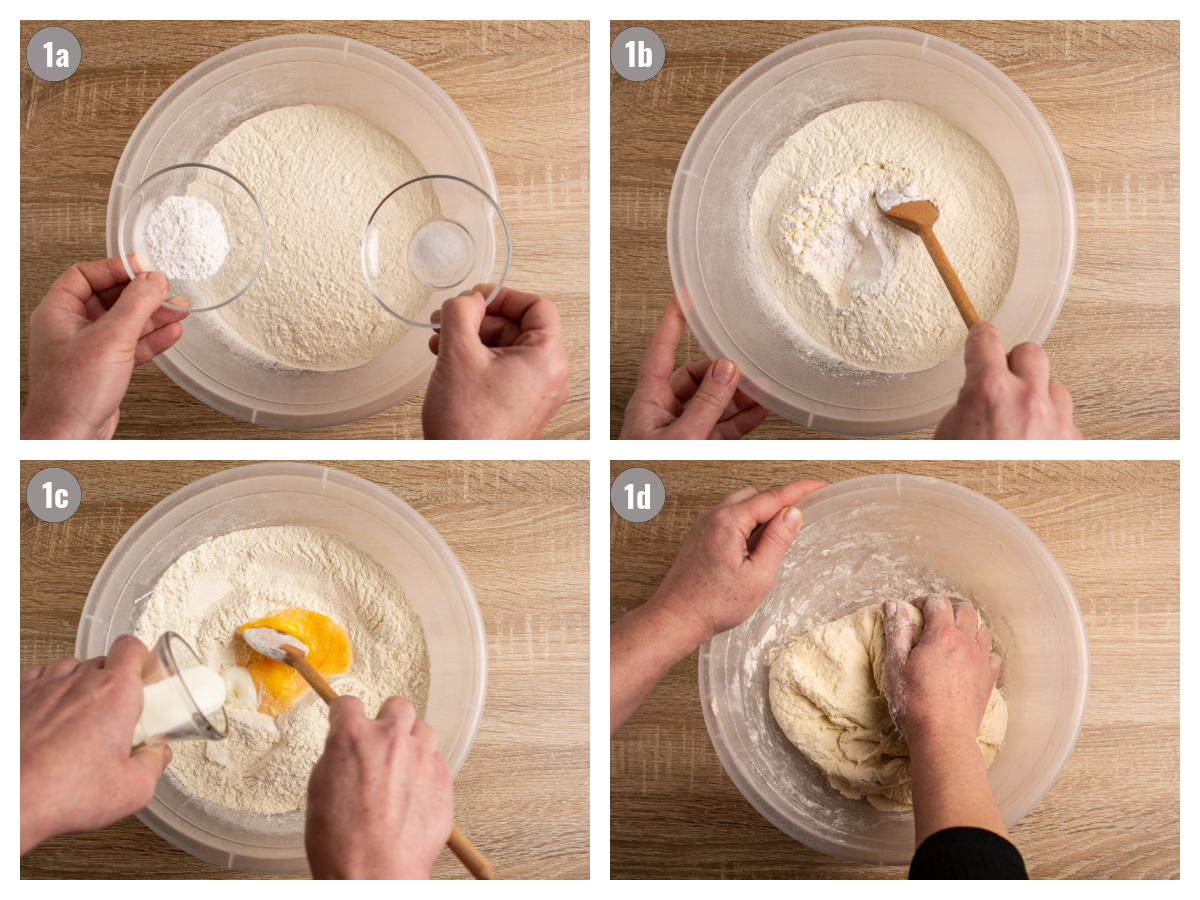 Combine uštipci dough ingredients and make it.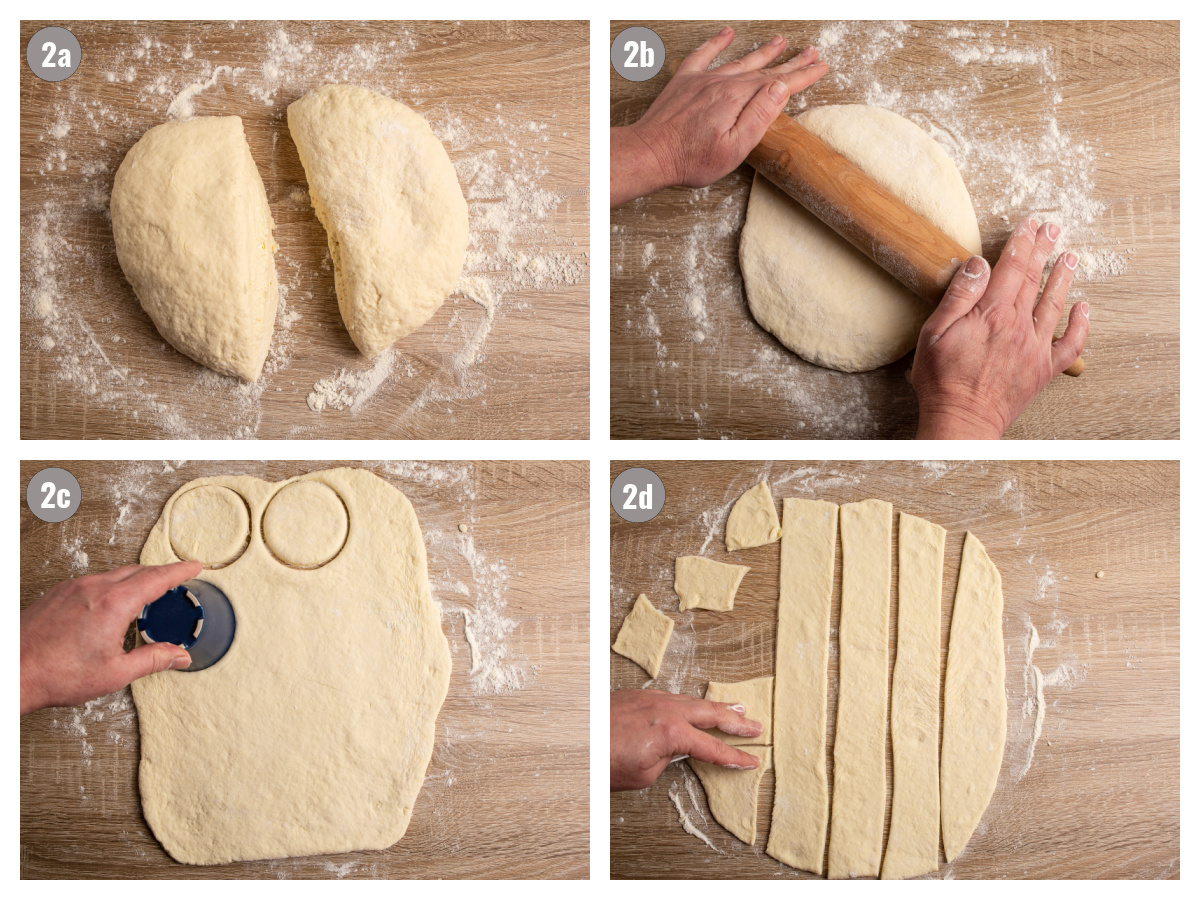 2. Divide the dough, roll it out, and shape mini donuts with a cup (2c) or a knife (2d).

3. Fry uštipci in really hot oil on both sides for a few minutes. (Not pictured: rest on paper towel to get rid of extra oil.)
Expert Tips
Shake It: as you're dropping mini donuts into hot oil, shake the pan lightly (we mean lightly!!!) from left to right, so that extra flour falls off of them. This will help them to grow as they fry.
Handling/ Freezing: keep the dough in the fridge for up to a day. However, once you make these, eat them. They are amazing when you make them, taste great up to a few hours, and horrible overnight. Freezing is an absolute no-no!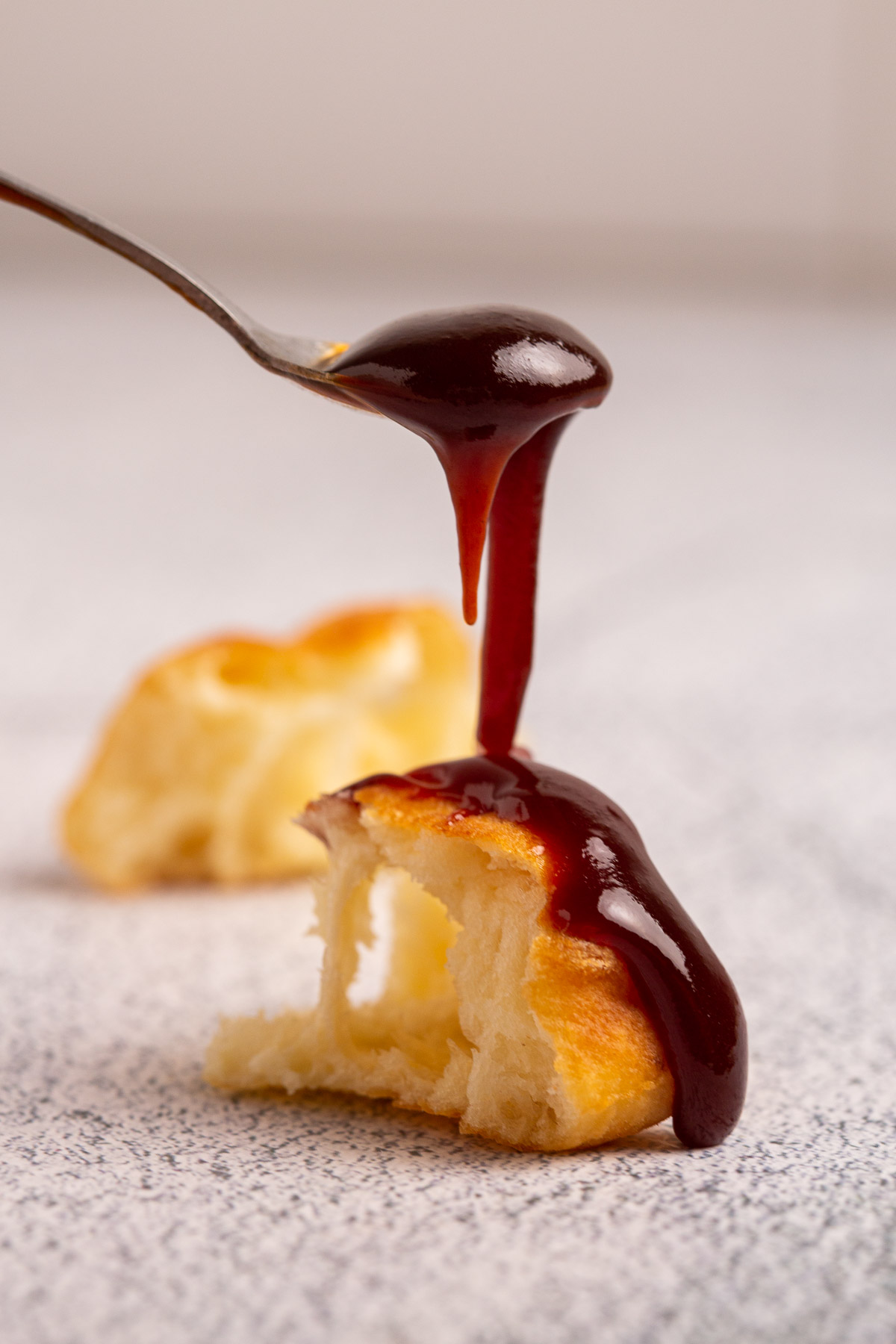 More Carb Love
Would You Do Me a Favor?
If you make today's Fried Dough Balls (Uštipci) and like them, please consider leaving a ⭐️⭐️⭐️⭐️⭐️ (5-star) rating. This will help others find the recipe more easily!
You can also leave a comment, I read EVERY one! Finally, if IG is more your thing, consider tagging us @balkanlunchbox.
Prijatno and bon appetit!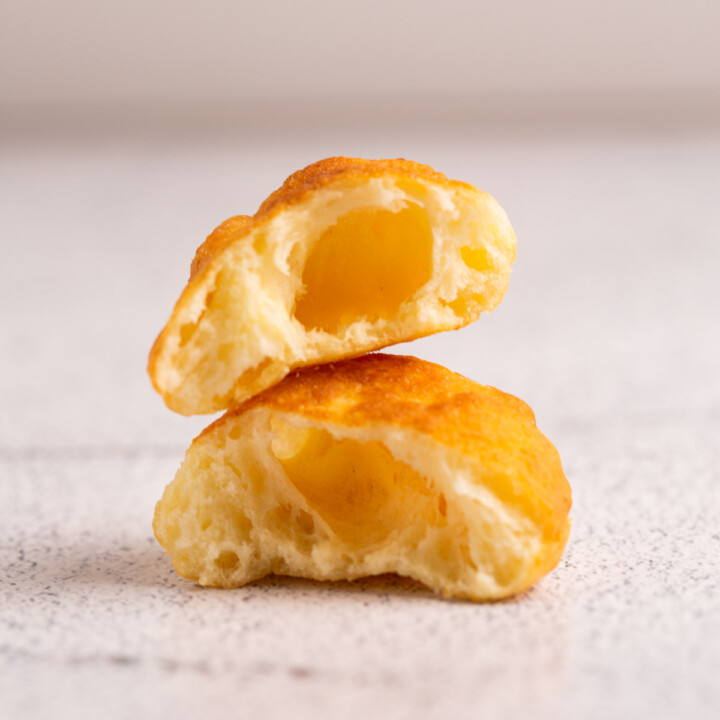 Fried Mini Breads
Fried Dough Balls (Uštipci, Mekike, Lokumi) are delicious savory mini donuts. Eat them for breakfast, lunch, or dinner. Or just because!
Ingredients
16

ounces

white flour

plus a little more

1

egg

1

teaspoon

salt

3

teaspoons

baking powder

16

ounces

plain yogurt

17 oz if using Greek yogurt and stir until smooth first

11-15

ounces

oil

volume depends on pan size
Instructions
In a deep bowl add flour, salt, and baking powder. Whisk until they integrate. Continue by adding the egg and yogurt. Using a wooden spatula, your hands, or both, knead ingredients until you get a medium soft dough ball. (The dough should be thicker than pancake batter, and softer than pizza dough.)

Flour your working area. Transfer the dough on it and cut it into two equal balls. Roll out the first ball with a rolling pin until it's the thickness of a finger. Using a cup, or a glass, make small circles in the dough (or cut into squares or diamonds with a knife).  Cut as many pieces as you can. Collect remaining dough around the pieces and add to the second dough ball.  Roll out and cut the second dough ball. 

In a deep pan heat up a generous amount of oil on high. (Amount of the oil will depend on the size of your pan, but the oil has to be incredibly hot!) Lower to medium and start adding the dough pieces in carefully. (Fry the dough in batches, don't overcrowd the pan.) As you add dough in each time, lightly shake the pan from side to side so the excess flour falls off. The dough pieces will rise as they're frying. Fry a couple of minutes on each side. When they blush nicely they are done. Transfer each piece to a plate with a paper towel so it collects the excess oil. 

Eat while they're warm. Keep up for a few hours (not overnight). (The dough can be kept in the fridge overnight.)
Nutrition
Serving:
1
of 6
Sodium:
646
mg
Calcium:
225
mg
Vitamin C:
1
mg
Vitamin A:
114
IU
Sugar:
4
g
Fiber:
2
g
Potassium:
209
mg
Cholesterol:
37
mg
Calories:
792
kcal
Trans Fat:
1
g
Monounsaturated Fat:
34
g
Polyunsaturated Fat:
15
g
Saturated Fat:
6
g
Fat:
56
g
Protein:
11
g
Carbohydrates:
62
g
Iron:
4
mg