Here we take a slight detour to the east into the couscous zone (not a Balkan delicacy but delicious nevertheless), as we make a couscous sauce with chicken and veggies.

Today we'll take a break from Balkan cuisine so I can share with you a couscous sauce stuffed to the brink with vegetables, and chicken softened to the max in a deep, long simmer. What gets this recipe a place on the blog is the special part it plays in my family's history. From our home to yours, here it is...
P.S. The sauce is versatile. If you aren't a fan of couscous try it with rice, over bread or with fried mini breads.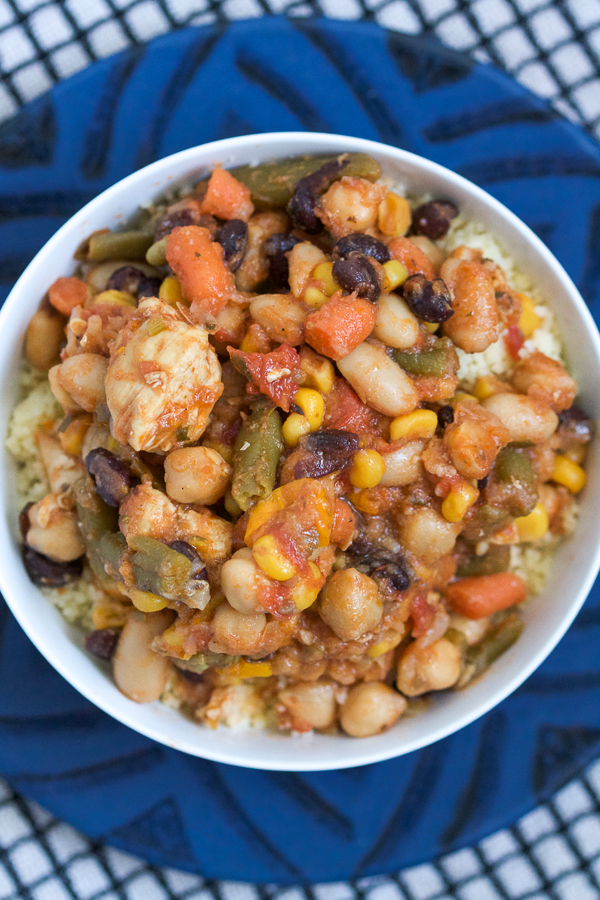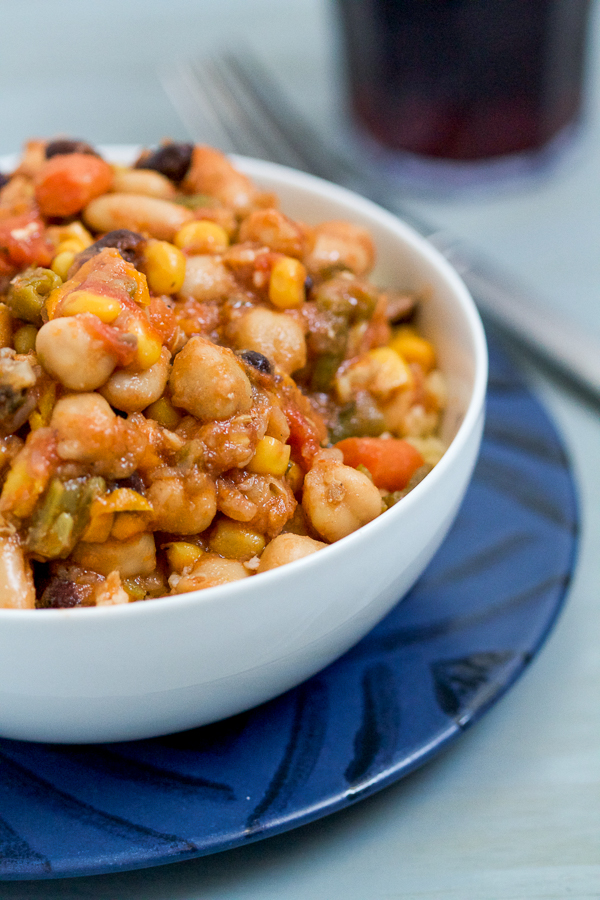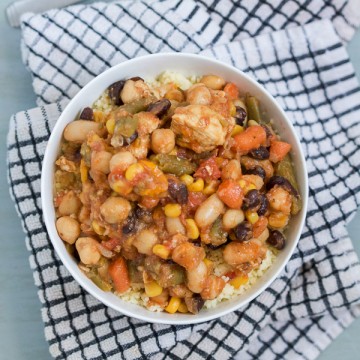 Couscous with Chicken and Veggie Sauce
Ingredients
1

yellow onion

large

1

carrot

large

1

red or yellow bell pepper

large

1

pound

chicken

mutton, fish or veal

1

garlic clove

minced

1

teaspoon

seasoned salt

⅕

teaspoon

ground pepper

⅛

teaspoon

ginger

¼

teaspoon

curry powder

1

tablespoon

parsley

8

ounces

cannelinni beans

8

ounces

black beans

8

ounces

chick peas

8

ounces

green beans

8

ounces

corn kernels

8

ounces

diced tomatoes

2

cups

of water

Oil

4

tablespoons

tomato sauce

1

teaspoon

sugar

1

box of couscous serving 6
Instructions
Heat up 1 tablespoon of oil in a deep skillet over medium heat. Dice onion and carrots, then add to the skillet. Cut up the bell pepper and combine. Simmer and stir everything together, occasionally adding a little bit of water. (You'll be adding about 2 cups of water to the sauce throughout the cooking process.)

Cut the chicken up into medium sized chunks. When the onion crystalizes, add the chicken in. Simmer for 15 minutes, and add the seasonings. If you are adding fresh vegetables, go ahead and add them now. Otherwise, continue simmering meat for another 30 minutes, mixing and adding a little bit of water at a time.

Make the couscous on the side. If you'll be adding canned vegetables, take them out of cans, wash them really well and leave in coriander.

Add canned vegetables to the skillet, and simmer for the final 15-20 minutes. A few minutes before the end, add tomato sauce and sugar, and mix thoroughly. Serve the sauce warm over couscous.
Notes
If you can, steam the couscous over the sauce as it simmers. This is a bit complicated, so you can go for a simpler option of cooking couscous based on the box directions. Still comes out great.
Also, feel free to use mutton, veal, or fish instead of chicken.