This one is an easy one: creamy cauliflower soup. Exactly what it sounds like. And it takes thirty-ish minutes or so from start to finish.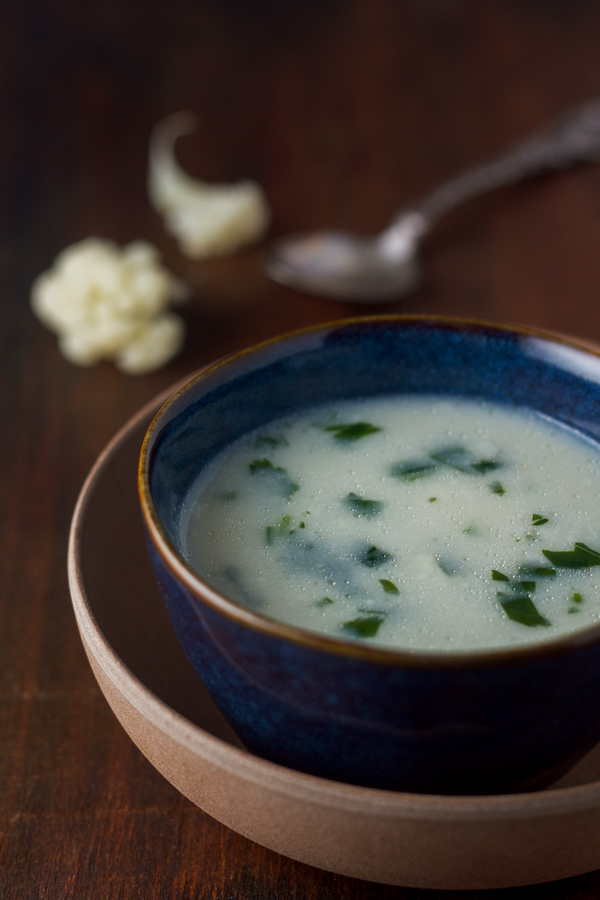 There are so many different diets out there, so many different ways of eating. From low carb, to carb only. From high protein to no protein at all. From vegetarian, vegan, even freegan (a type of anti-consumerist diet where people dive grocery store dumpsters for fresh food).
Most of these diets have nothing to do with each other. In fact, their followers will get into scathing arguments over whose plan has the moral ground on eating.
Yet each one of these diets has one thing in common. And if you start paying attention, you'll notice it too. Each one recommends we eat more vegetables. Even the veggies we're not crazy about. Like the cauliflower.
I know I know. It's so bland. It's yellow. There isn't much to it. But when you spice it up with a few ingredients, blend it down, and cook it for a while, you get a really good soup. Perfect for the type of prolonged winter we've been having.
Yes, the awful winter that's been dragging on. Just as we thought it was finished, just as a few blossoms finally peeked through, it showed its teeth again to remind us it's not going anywhere. At least for a few more weeks.
You remember cousin Avi from Snatch and how he feels about England? Well that's how I feel about winter.
I've never experienced a longer one in my life. Partially, this is due to me having been spoiled by mild DC winters. Partially, this is due to the atmosphere around me. Everyone is impatient for a lasting sunshine. Even people who lived in Sarajevo their entire life are sick and tired of this particular winter. Except for the few excitable skiers who love that the snow lasted from December into February, everyone's been dreaming of short sleeves and sandals.
Here and there comes a chain of a few sunny days in a row. I prohibit myself from enjoying them, knowing well that spring is nowhere near us. The remaining winter is furious and ready to unleash the last array of calamity at any moment.
There is a tradition in the US of letting a groundhog named Phil predict the winter's length. If the groundhog sees his shadow when it's taken out, the winter is supposed to last another six weeks. If not, the spring comes early. Although his success rate of prediction is apparently only 21% correct, and it's questionable whether even those 21% correctness apply to outside the US anyway, Phil did see his shadow this year. However, I didn't need a groundhog to tell me we have to endure at least a few more weeks of this.
In the words of cousin Avi, don't go to Sarajevo (in the winter)!
Instead, grab a cauliflower, make a little soup, and let's wish this winter away already! (And for extra credit, you can ferment some cabbage!)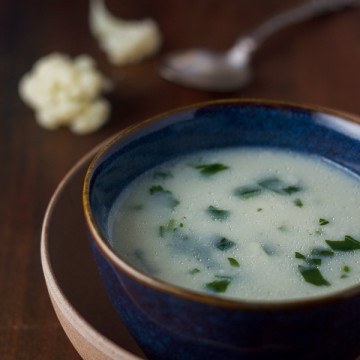 Cauliflower Soup (Supa od Karfiola)
Ingredients
1

cauliflower head

large, stem cut, florets broken apart

2-3

tablespoons

salt

10

ounces

vegetable broth

2

tablespoons

butter

2

tablespoons

oil

1-2

tablespoons

flour

7

ounces

milk

3

ounces

heavy cream

1-2

tablespoons

parsley

minced
Instructions
In a medium pot place cauliflower florets, cover with water and add salt. Bring to a boil on high. Lower to medium and boil additional 10 minutes.

Drain well. Leave a few florets aside. Transfer the remaining florets into a blender or food processor. Add broth and blend.

In a medium pot heat oil and butter on medium. When butter melts lower heat and add flour. Stir continuously until it turns into a roux, about 1-3 minutes. Add blended cauliflower and continue stirring. Add milk and heavy cream and continue stirring. Take the florets you left aside, rip them up into chunks and add in. Bring soup to a boil and remove off heat.

Garnish with parsley.
Notes
If the soup thickens too much for your taste use 10 ounces of milk and skip heavy cream.
Nutrition
Serving:
1
bowl
Sodium:
5551
mg
Sugar:
4.1
g
Fiber:
1.8
g
Cholesterol:
48
mg
Calories:
252
kcal
Saturated Fat:
10.2
g
Fat:
22
g
Protein:
5.3
g
Carbohydrates:
9.9
g