Simplest and fastest egg drop soup recipe without cornstarch. Only 5 ingredients and 10 minutes are needed for this keto, paleo, low-carb, vegetarian AND gluten-free soup! Shall we?
Jump to:
What Is It
We have a thing for soups (see: Semolina Noodle Chicken Soup, Beef Noodle, and Minestrone). But this one holds a VERY special place in our hearts!
To prepare it you'll whisk a beaten egg in the hot broth until small ribbons or 'flowers' are formed. This process is how the soup got its name.
It's hard to know exactly where it originated as soups with eggs and egg drop noodles are widespread. There is the Chinese flower soup, Italian Stracciatella, and more.
However, regardless of how many versions exist our egg ribbon soup is the simplest and possibly tastiest of them all!
Why This Recipe Works
For a soup made so quickly, it's ABSOLUTELY delicious! It'll be the best 10 minutes you'll spend this week!

You probably already have all the ingredients on hand.

This soup has LESS THAN 2% CARBS per serving. That's as low carb as it gets!

It's also keto, paleo, vegetarian and gluten-free!

NO CORNSTARCH, which means the soup doesn't become slimy or gelatinous. Instead, the broth is light and incredibly smooth.
Ingredients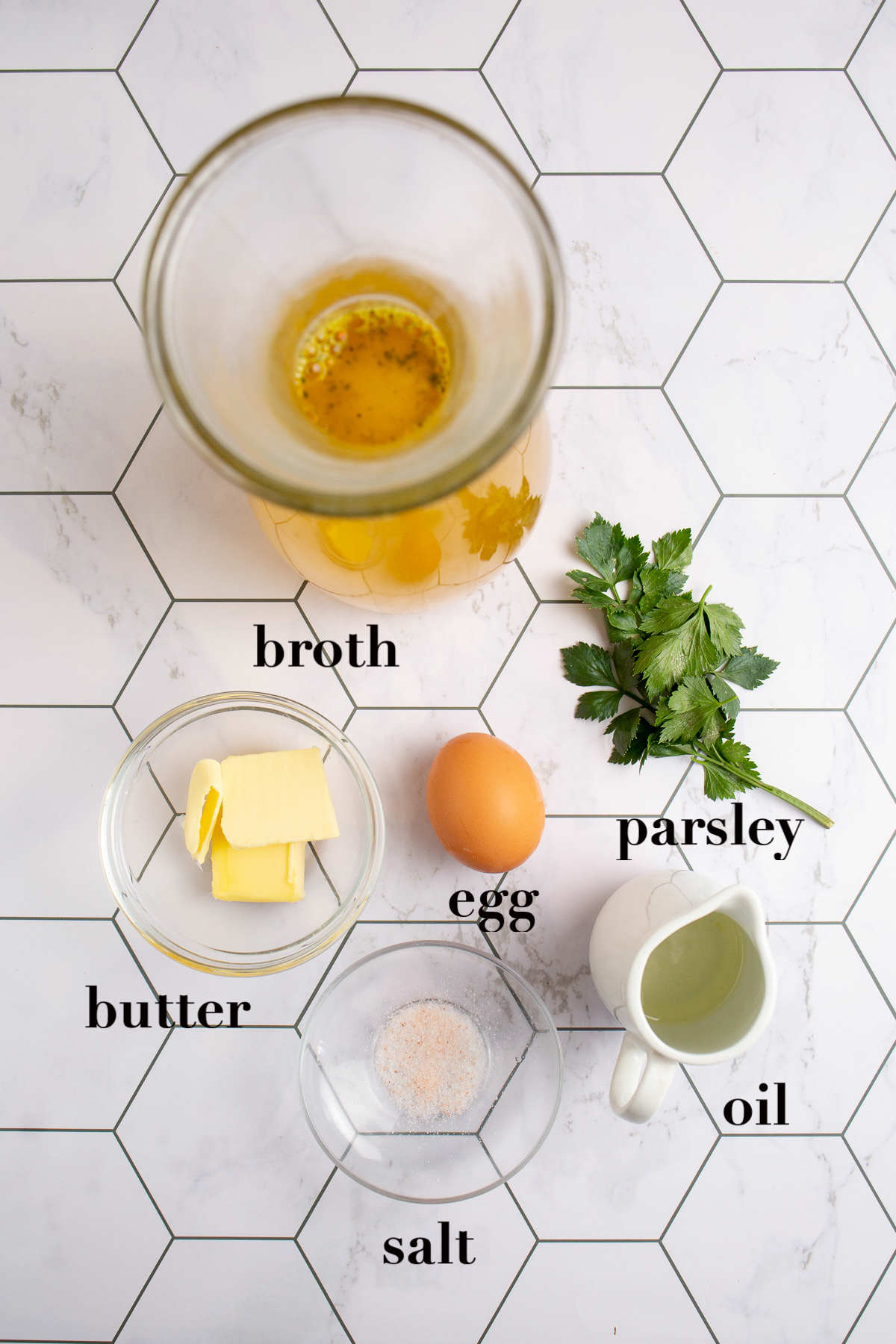 Ingredient Notes
Stock: Sub with different broth or bouillon (cubes, cubed stock, or stock granules all work). All flavors work! We prefer chicken as it naturally goes well with eggs.
Egg: Sub with duck, goose, or quail egg.
Additional seasonings: Paprika, ginger, or Vegeta.
Parsley: Sub with green onion.
Thickening agents: For a thicker broth add a tablespoon of flour to the melting butter before adding the broth. This will make a light roux.
Lightning-Fast Instructions
(Our lightning-fast instructions are here to give you an idea of how to make this dish. More detailed information is on the recipe card below!)

1. Heat up oil. Add butter.
2. Add stock. Stir. Bring to a boil.
3. Beat an egg. Add salt.
4. Add egg to soup. Whisk. Cook.
5. (Optional) Garnish.
Expert Tips
Taste: While egg ribbons taste like delicious, steamed scrambled eggs, the overall soup flavor depends on your choice of soup stock or broth. Take note that this is the kind of soup that tastes best when made, and for up to a couple of hours.

Storing & Reheating: While we don't recommend it at all, if you do choose to keep the soup overnight, keep it in the fridge. In this case you MUST boil it before serving, not only reheat. The taste of the egg will definitely change.

Thickening: A light roux or cornstarch will thicken it. However, cornstarch is broken down by enzymes which later causes sliminess. So, if you want a thicker egg drop soup make sure to go with the roux.
Recipe FAQs
Is egg drop soup bad for you?
Not at all. It's nourishing and tasty. You'll probably be putting it in your regular rotation.
Can egg drop soup go bad?
Yes. We recommend you eat this soup within a few hours of making it. If it tastes sour when you try it, discard it. While there are sour egg drop recipes, this soup isn't supposed to be sour at all.
Is egg drop soup good for you when you're sick?
Like most warm liquids, egg drop soup feels great to eat when you're down with a cold. We don't claim any medicinal properties though.
More Comfort Food You'll Like
Potato Soup
Dive Bar Veal Stew
Cream of Spaghetti Squash
Bey's Soup
Meaty Minestrone Soup
Would you do me a favor?
If you make today's egg-drop soup and like it, please leave a 5-star rating, comment, or tag @balkanlunchbox on Instagram. (P.S. I read every comment!)
Prijatno and bon appetit!
10-Minute Egg Drop Soup Recipe (Without Cornstarch)
May we have 10 minutes of your time for this no cornstarch Egg Drop Soup? This 5 ingredient (ok 6 if you garnish with parsley!) soup is comforting, savory, and nutritious. Oh and also keto, paleo, low-carb, vegetarian AND gluten-free.
Ingredients
2

tablespoons

oil

2

tablespoons

butter

4

cups

chicken broth

hot

1

egg

½

teaspoon

salt

Optional 2-3 tablespoons parsley (minced)
Instructions
In a medium pot heat up butter and oil over high until butter melts. 

Add chicken broth and bring to a boil.

(Parallel to step 2) In a small bowl beat an egg and salt until the egg yolk and egg white are completely integrated. 

Lower the temperature to low. Slowly pour the beaten egg into the broth while whisking energetically (1-2 min). Cook another 3-4 minutes. 

Garnish with parsley and serve.   
Notes
Substitute chicken broth with vegetable or beef broth, or bouillon. If using bouillon use 2 teaspoons of powder, or 2 cubes, per 4 cups of water. Furthermore, you can substitute parsley with green onion, or omit it completely.
For a thicker soup make a light roux. This is done by adding a tablespoon of flour to the melted butter and whisking it together until it turns dark yellow. Then add the broth.   
It's best to consume this soup within a few hours of making it as the egg changes consistency after a while. Otherwise, keep it in the fridge and bring it to a boil before serving. Be aware the taste won't be the same as when you first made it.  
Nutrition
Serving:
1
of 3
Sodium:
1455
mg
Sugar:
1.1
g
Fiber:
0.1
g
Cholesterol:
65
mg
Calories:
188
kcal
Saturated Fat:
4.6
g
Fat:
16.2
g
Protein:
8.5
g
Carbohydrates:
1.6
g