Egg drop soup recipe: appetizer choice you'll never regret! This 20-min, heart warming soup will bring the family back to the dinner table. What are you waiting for? 
Egg drop soup, like the hash brown pie, is an enigma.
There is the smooth broth leaving a trace of warm comfort as it travels through the body. Along, it brings the yellow, fluffy, egg softness. Eggs… not baked, not fried, almost poached, but not really. Eggs just right. In their purest, simplest form.
Take a look at the recipe. I guarantee you'll think "this is way too easy. It can't possibly be any good. If it were I'd have figured out the recipe earlier." Or at least, that's what I thought when I first had it explained to me. Then I made it, and it was exactly what it promised it would be. It left me surprised. And completely filled.
Recipe and the text below are by Samir Hajdarević.
***
Fighting to push away the sleepiness (which overpowered me) caused by early rising , I got ready in a hurry, because, regardless that it was Sunday many responsibilities awaited me. The scene repeated, on this day, for years. Behind the kitchen door my mom would wait for me. In a big hurry, she moved from one spot to another, simultaneously doing a few things at once. She was like a movie director conducting a dress rehearsal of a large ensemble, preparing it for the opening night; everything had to be in its place, correct and served on time.
Long, massive, dark Austrian table (covered with snow-white, ceremonial cloth) would always become the central spot, and in that moment was slowly being arranged with many different, varied courses. In the middle of the table, along with a brass candle holder, was a nest-like, small, weaved basket, enveloped on the inside with a white napkin, and completely filled up with eggs. With a long, warm embrace, mom and I wished one another a happy Easter.
I concentrated on each egg carefully. Mom always made decorations as diverse as possible. She avoided egg dyes and ornaments from the store. Instead, she preferred to do it traditionally. She placed eggs in a large pot whose insides she previously enveloped with onion peels to protect them, and then added another layer of the peels, covered everything with water, and placed on the stove until it boiled, after which she'd wait fifteen minutes or so and the process was finished. The onion peels, which she collected carefully throughout the year, gave eggs a brown-red hue.
Green she got by cooking nettle, blue from minced cabbage, yellow from common madder or turmeric root… Darker shades she got by adding a little bit of soot (grandma, for example, liked a darker yellow, alas common madder, for whose root she went into the field with a hand shovel, produced a light yellow; because of this, she used soot from the fireplace to darken it).
For eggshell print decorations, mom used plant leaves small enough to cover the egg. It was usually the clover, or the leaf of Japanese rose that she grew for a long time. She'd lay a leaf on the eggshell and envelop with a net (new pantyhose were best for this purpose), and then bound everything tightly. The cooking process colored the eggshell while leaving a pale trace in the spot where the leaf was. Later, all the egg needed was a polish with a kitchen towel soaked in oil, to give it that shiny gloss.
My grandmother used a different egg decorating technique. She used some sort of sharp, thin, pencil made out of wood, to transfer the melted candle wax. Later, when she colored the egg, the entire egg was painted except the part which was covered in wax. Grandma, she'd dip the top of the pencil into the wax and slowly draw decorative lines and symbols on top of the eggshell like an artisan on a ceramic vase.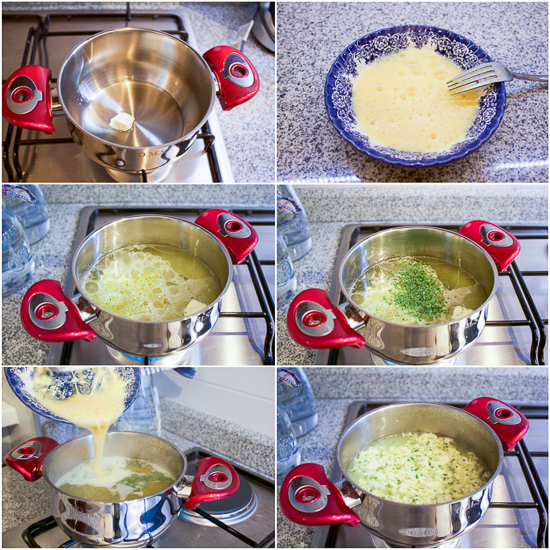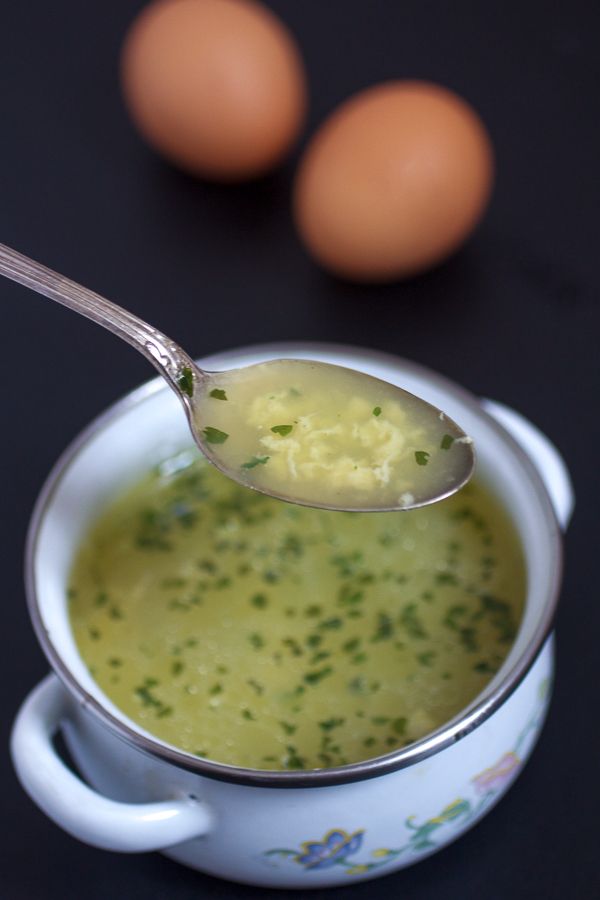 Print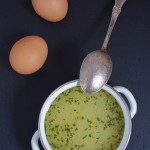 Egg Drop Soup
Author:

Prep Time:

5 mins

Cook Time:

15 mins

Total Time:

20 mins

Yield:

4

1

x
Category:

Appetizer
---
Scale
Ingredients
2 tablespoon

s oil

1 tablespoon

butter

1

egg

1/4 teaspoon

salt

1

vegetable bouillon cube

1 tablespoon

parsley (minced)
---
Instructions
In a medium pot, combine oil and butter. Set heat to lowest setting and wait until the butter has melted. Meanwhile, beat an egg and add salt.
Add 3.5 cups of water to the butter and oil, and a bouillon cube. Raise the temperature to medium and bring to a boil. Add parsley.
Pour the egg mixture into the broth, and mix vigorously with a spoon for 15-30 seconds. Leave for 3-4 minutes, and then turn the heat off.
---