Easy to do savory crepes with a spinach and cheese stuffing, and a review of Julia Child's My Life in France.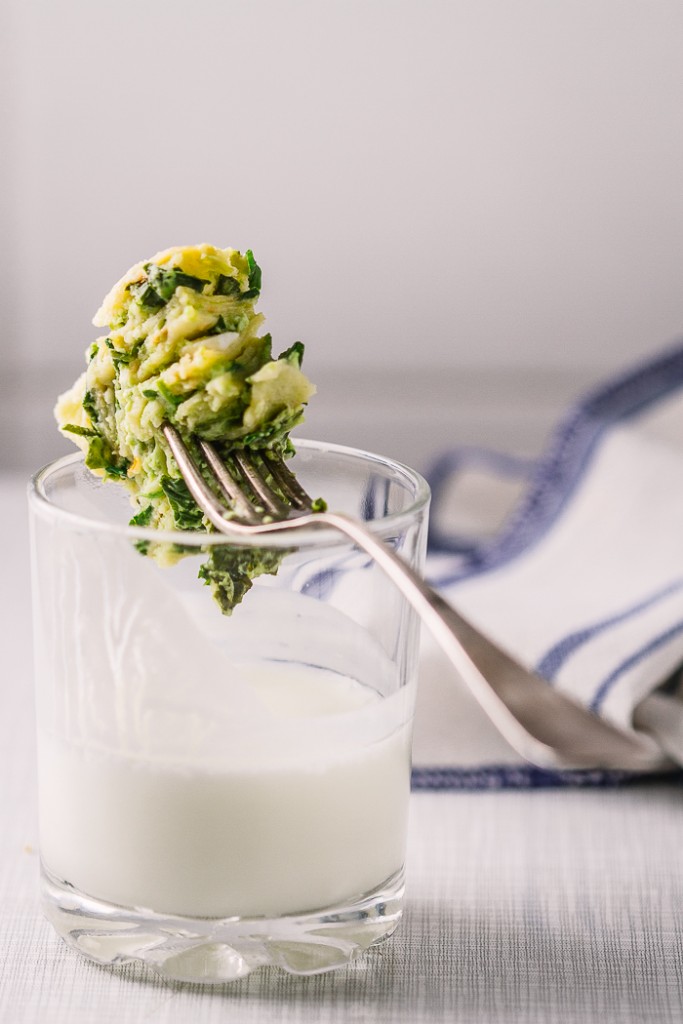 You grow up on chocolate on bread and you grow up on crepes, if you grow up near my part of Europe.
We call them palačinke (pah-lah-cheen-keh) and the batter is more or less the same as the French crepe batter. (Although, if you follow the blog, you may've read about my encounters with a Belgian crepe maker who insisted crepes come from his country.)
According to wiki, main difference between palačinke and crepes is that crepe batter chills in the fridge for a few hours before frying. Not a huge difference then as palačinke batter can be left in the fridge too.
Ingredients are also almost the same. Should the use of butter in crepes versus oil in palačinke constitute enough of a difference for them to be considered cousins, not brothers? Does the small pinch of sugar some add to palačinke drastically divide these two?
I don't think so. They're the same thing. Thin pancakes if you will.
At some point, someone somewhere whisked up a batter. Thicker batter (plus a raising agent like baking soda) allowed for formation of thicker patties. That's how pancakes came to be. Meanwhile, runny batter went straight onto a scorching pan to be swirled into thinness. These became our crepes, aka palačinke.
That's all there is to it.
Since, we've found a million ways to make crepes and pancakes decadent. We smear them with jams, marmalades and chocolate. Maple syrup, honey and molasses. Whipped cream. Fruit.
But then at some point, someone somewhere filled crepes with savory fillings thus making the world's first savory crepes.
I had my issues with savory crepes. If you've had crepes with sweet fillings all your life, it's challenging to imagine them differently. But a crepe - observed as an entity separate from its sweet filling - as soft, elastic and lacy as it is, is also bland.
Once I understood this, it changed my perspective on savory.
We don't eat crepes to eat crepes. We don't eat pies to eat crust, or empanadas because of the dough. These are just wrappers.
We eat them because of what's inside.
For crepes, the filling and flexibility with which they welcome that filling is what places them into a class of their own. Not the batter.
Top a pancake with bacon and it's still not quite a meal. It can't be what a crepe is or do what a crepe does. A crepe you can fill up with meats, cheeses and veggies. Fold it every which way. Bake it further in the oven.
You can't do that with a pancake.
There are a few crepe recipes on Balkan Lunch Box, including two for savory crepes. One is for crepes with a mushroom stuffing plus tartar sauce. The other is for fried crepes filled with ham and cheese.
Today we're adding another savory crepe recipe to the repertoire: those with spinach and cheese.
SAVORY CREPES WITH SPINACH AND CHEESE
The trick to making crepes into a meal is a hearty filling.
My vegetarian followers will have to forgive me.
I love vegetables. They're the most important food group in the world. But at least once daily I love a substantial piece of meat in my dish.
Beans, legumes, eggs, tofu and avocado don't do it for me. They're a delicious, albeit a short-term substitute.
I like biting into meat. I like feeling it under my teeth. Chewing its substance down.
I'm like my father that way. I'm not full until I can feel the heaviness of food in my stomach. A satisfying heaviness. I almost never feel full after eating a salad no matter how rich it is.
There is one exception to this. Balkan pies. A good cheese or spinach pie will keep me full.
It can go either way with savory crepes. I am full after I eat fried ham and cheese ones, but mushroom tartar crepes - while delicious - still require a piece of chicken, or something on the side if I'm to stay full.
Recently I was on a Julia Child binge and crepes popped up on my radar again. Synchronistically, soon after I also saw a crepe pie somewhere.
The dots connected so I tested a few out, and decided to go with a savory crepe pie with spinach and cheese. The stuffing is reminiscent of the one used for Balkan pies, but the topping is similar to the heavy cream and egg moussaka topping.
The result is a soft, thick and generous golden crepe pie. A hearty dish! Similar and dissimilar to phyllo dough pies. It doesn't congeal the same way phyllo does when stuffed. Crepes are still relatively independent, but spinach and cheese add a nice dimension to it.
It's separate - yet combined - with a perfect final touch achieved by baking connecting everything into a nice meal. Like a good marriage.
JULIA CHILD CREPES
My brother makes the best crepes in the family. But his instructions are cryptic. I rang him to get his recipe.
"Take 500g or so of flour, eggs, sugar, salt. Some milk. Some water. Then add a little more water. Plus a little more. Then if it's too thin a little more flour. A little more water. A little flour. A little water. A little…"
It didn't work out well for me.
I then got used to using Aleksandra's volumes, as her crepes are good too. Pretty sure we used hers for blog recipes before.
In honor of Julia Child, this time around we'll use her crepe recipe. It's from Mastering the Art of French Cooking. When I first made them, they were exactly what I expected: perfectly French crepes.
Also, the crepes I've been eating all my life. Aka palačinke.
I did a couple of things differently. She used a 6 inch pan, I used a 9 inch. Instead of her 25 crepes, I got 12-13. I also found my soup ladle, which holds ½ cup, is the perfect amount of batter for my pan.
As a rule, I don't pour oil onto the pan when frying crepes. I first heat the pan. When scorching hot, I carefully coat it with oil dabbed on a paper towel, or napkin.
Perfect technique to avoid overwhelming the pan with oil, but greasing it just enough for that perfect, non-sticky crepe.
One of Julia's steps I did follow was leaving crepe batter in the fridge. Instead of recommended 2-3 hours, the first time I left it overnight. Due to (I assume) butter, it thickened. It necessitated addition of ½ to 1 cup of water once before I fried them.
When I added water, I whisked fervently to get a smooth consistency. Fat separates from the rest of the batter when left for a while. (Note: when I tested leaving batter in the fridge for just a couple of hours it didn't need more water.)
Crepes came out great. The filling did too. And baking sealed it perfectly.
So for the next time I'd like to test crepes with stuffings other than spinach and cheese. Meat maybe? Ground beef? Marinara and mini meatballs?
Endless possibilities indeed.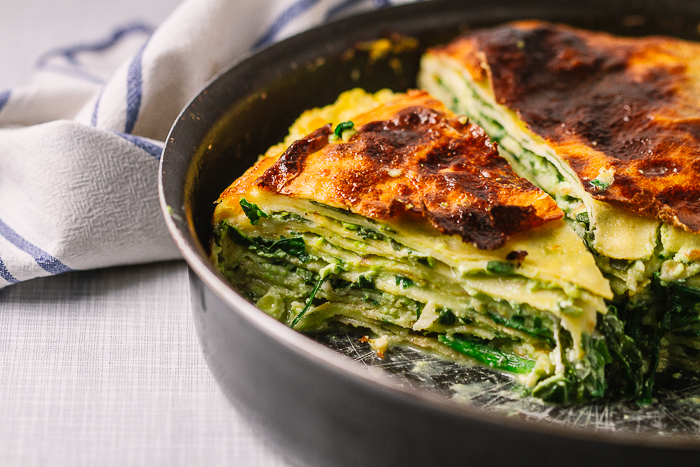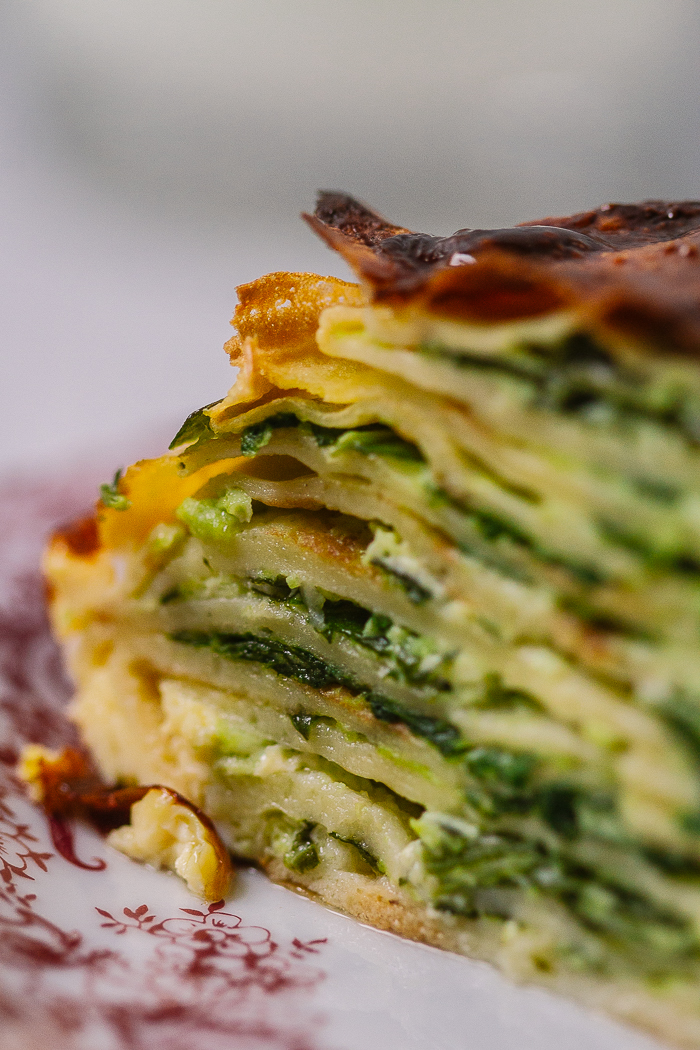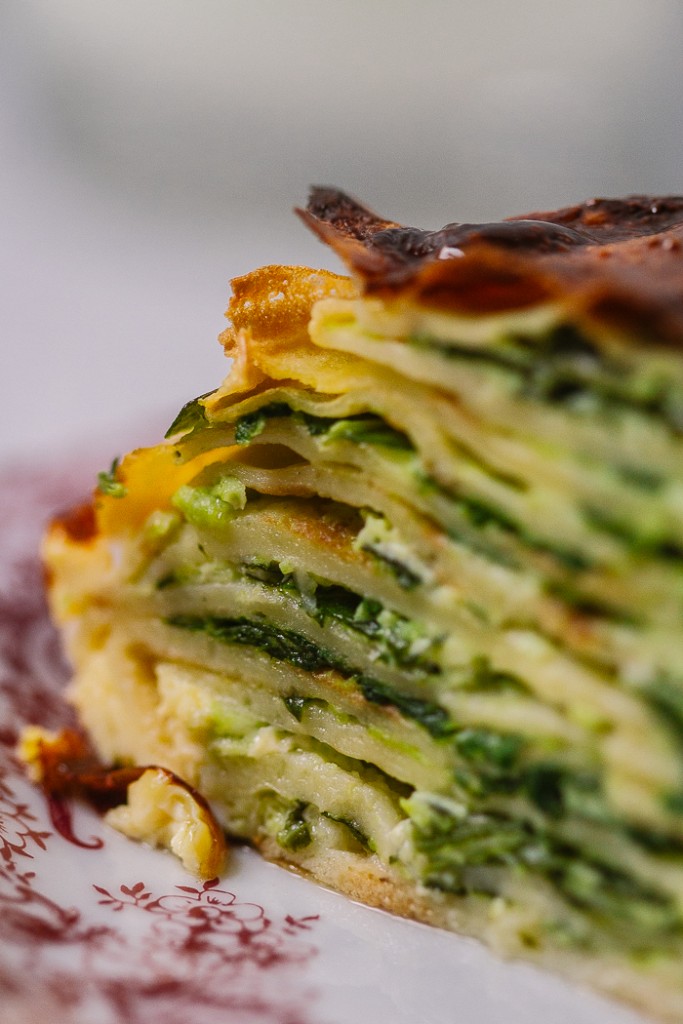 (And you thought you came here for savory crepes with spinach and cheese!)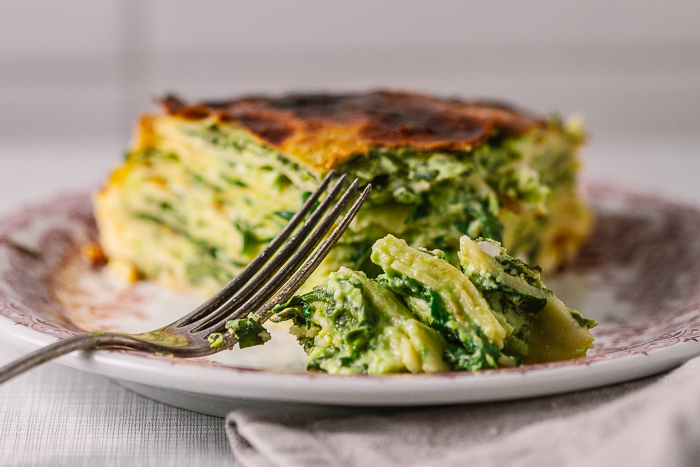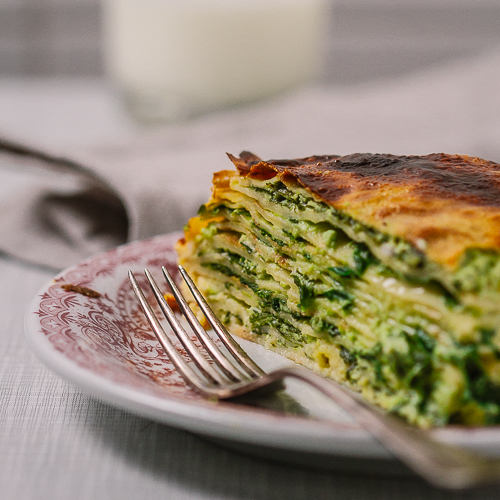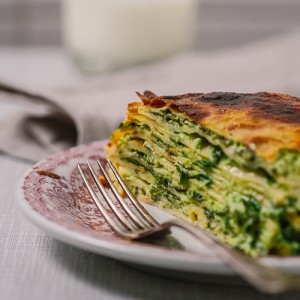 Savory Crepes with Spinach and Cheese
Easy to do savory crepes with a spinach and cheese stuffing.
Ingredients
Crepes (Julia Child's recipe):
1

cup

water

cold

1

cup

milk

cold

4

eggs

½

teaspoons

salt

1 ½

cups

flour

4

tablespoons

melted butter

A rubber scraper

9-

inch

crepe pan

½

cup

oil
Filling:
14

ounces

baby spinach

washed and cut into thin strips

4

eggs

6.5

ounces

feta cheese

9

ounces

ricotta cheese

7

ounces

sour cream

1

teaspoon

salt

2

tablespoons

melted butter

1

round 10-inch baking pan
Topping:
3

–4 eggs

8

ounces

sour cream
Instructions
In a medium mixing bowl combine all crepe ingredients (except oil). Blend on high with a hand mixer for 2-3 minutes, or until smooth. Turn the mixer off and use the rubber scraper to scrape bits of flour from bowl sides. Blend again for 1-2 minutes. (Optional: leave batter in fridge for a couple of hours before frying crepes.)

Heat the crepe pan on high. When the pan is hot, dip a paper towel in oil and coat the pan with it. Using a ladle, pour ½ cup batter onto the pan and quickly swirl it around until batter coats the pan evenly. Fry on medium to medium high for about 1 min and 15 seconds on each side. Transfer to a plate. 

Repeat until you run out of batter. You should have 12-13 crepes. 

Make the filling by combining all ingredients in a medium mixing bowl and whisking until completely integrated. 

Heat oven to 395°F (200°C). Coat baking pan with oil and place one crepe on the bottom. Spread 2-3 tablespoons of the filling over the crepe evenly. Repeat until you run out of crepes and filling. (Do not put the filling on the top crepe.) Whisk up the topping in a small mixing bowl. 

Place the crepe pie in oven and bake for 15 minutes. Pour the topping over it evenly and return to the oven for another 15-20 minutes. If it starts to blush cover with foil and add another 2-3 minutes. Serve hot. 
Notes
If you leave the batter in the fridge for longer than a couple of hours, whisk it well before use. If it's too thick, add some water a tablespoon at a time and whisk it in well. 
Note that in the video we used our regular crepe batter recipe, extremely similar to this one. (You can find it in our ham and cheese crepe recipe.) You are welcome to use it, or use Julia's. Both are great. 
Nutrition
Serving:
1
/6 pie
Sodium:
1273
mg
Sugar:
4.3
g
Fiber:
2.3
g
Cholesterol:
378
mg
Calories:
808
kcal
Saturated Fat:
28.4
g
Fat:
63.1
g
Protein:
27.2
g
Carbohydrates:
35.3
g