A fancy, special-occasion Chocolate Hazelnut Cake that will quickly become your favorite dessert. Not only are the hazelnut health benefits sky-high, but the taste is reminiscent of both Nutella and meringue. This moist chocolate cake is a perfect marriage of substance and tenderness.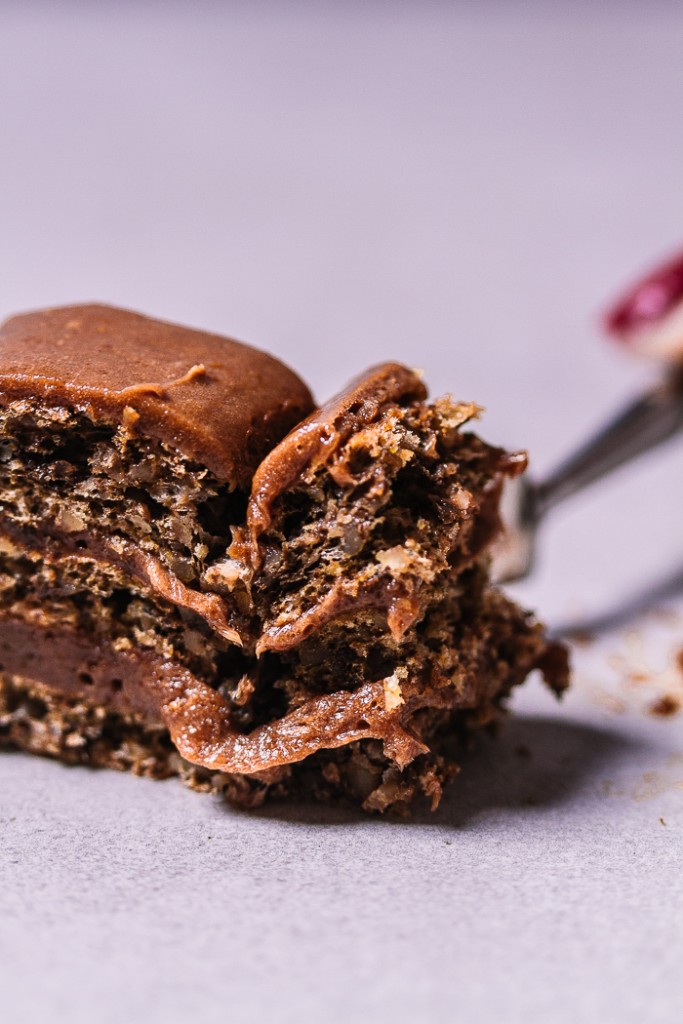 CHOCOLATE HAZELNUT CAKE
People are more terrified of baking than any other food related activity. It has a terrible reputation. As if a few lucky bastards were born with the baking gene while the rest of us can go… sigh in desperation.
For a long time I believed the propaganda.
Most texts about baking describe it in terms of a complicated chemistry experiment. You get one ingredient a little bit off and immediately a) explosion, or b) the entire mixture is headed for the trash can. It doesn't sound worth the time, does it?
Except, most great bakers I know do measure, but not as meticulously as we're led to believe.
(Besides, aren't all culinary efforts chemistry experiments anyway?)
I'm not one to be deterred. After a few colossal misses, I did learn to make two cakes well. Let me clarify. I learned to make two great cakes. Let me further clarify. I learned to make them really well.
(While colossal, my misses were no more tragic than the failures I at first had with other more challenging recipes. What matters is to keep going. Have courage my friend!)
Btw, you may remember these two as Mama's chocolate walnut cake and Majda's cake. Mama's cake is the classic Balkan birthday cake. It's all egg yolks this, egg whites that, plus walnuts. Not-for-the-weak-hearted-force-of-nature-cake.
It looks and tastes just the way a high quality chocolate cake should!
The second is our late Majda's cake. Cake part is made from meringue (egg whites and sugar mixed into submission), it's painted with a (fluffy egg yolks, whipping cream, butter and walnuts) filling slash frosting that's whipped up over a double boiler.
To me, this meringue cream cake tastes better than Pavlova. And I quite like Pavlova.
So when I decided to cake it up again on the blog it had to be an admirable, non-walnut cake. Most of the desserts on the blog (and all over the Balkans), are admittedly walnut-influenced. It felt like a good time to opt out for no reason other than to evoke that Nutella moment chocolate achieves when paired with hazelnut.
(You can certainly use walnuts instead. The taste will not suffer one bit.)
Besides, everyone loves a good chocolate hazelnut cake. What better way to start off the New Year?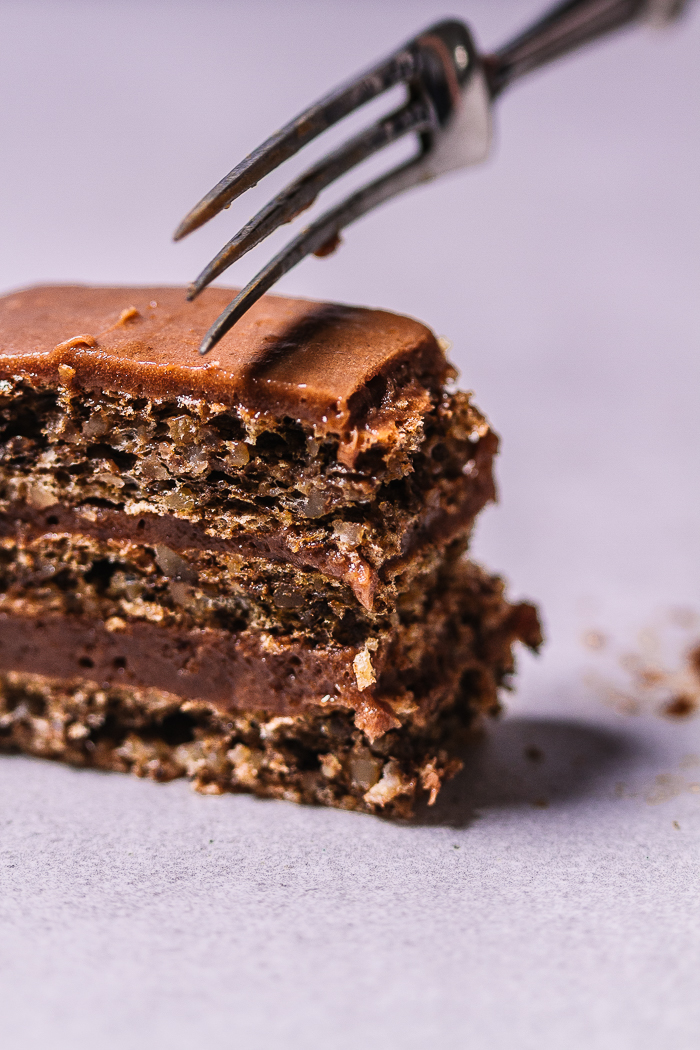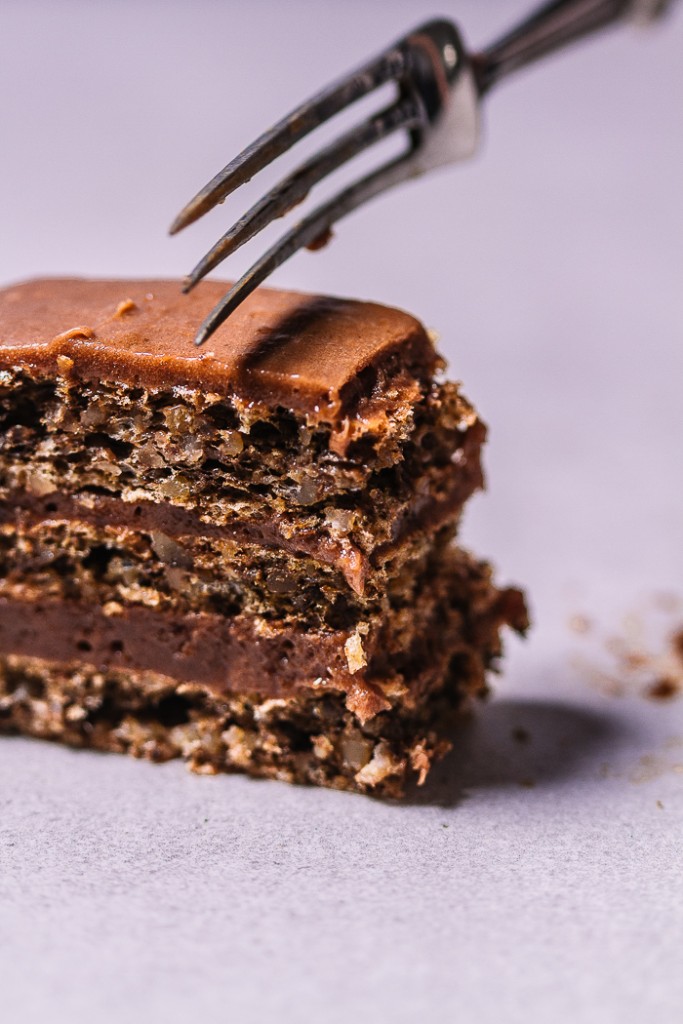 WHAT'S A DOUBLE BOILER (WATER BATH, BAIN-MARIE)? HOW TO DIY A DOUBLE BOILER?
I see I lost you. Come back here!
Double boiler, water bath or bain-marie (all more or less the same thing), is a makeshift steamer. An easy technique with which you create a heat source from water or steam plus some cookware. (Essentially, ingredients are being steamed or processed via water heat.)
Bain-marie is also great hack to know for melting chocolate - try melting it this way instead of the microwave or stovetop, it'll blow your mind - and perfect for thermally processing dessert eggs!
Oh those scary dessert eggs! Let's talk about a shitty little bacteria you know as salmonella. It's usually found in egg yolks. It causes horrid food poisoning.
Salmonella is rare.
Otherwise, with the amount of homemade ice-cream, meringue, eggnog, mousse, meringue and tiramisu (all consisting of raw or lightly cooked eggs) we ate so far, we all should have been infected at least once. (Granted, I'm saying this light heartedly, as someone who wasn't.)
However, it's good to avoid the small possibility of contracting it anyway. Processing egg yolks in a double boiler is a great to do this, all while achieving the creaminess and pull of a high quality dessert.
To DIY a double boiler you need two pots. A bigger and a smaller one. Smaller pot should snuggly fit inside the bigger. It should partially be submersed in the water, while comfortably resting its handles on the edges of the bigger pot. Meaning, it shouldn't completely plop into the bigger pot.
(Feel free to use mixing bowls instead of a smaller pot. If you do, check whether your bowl is heatproof. Also, I don't recommend using bowls if you'll be mixing ingredients with a hand mixer. If you're very coordinated, go for it. If like me you're on the clumsier spectrum, don't.
Whatever you're using be careful. Don't mix too earnestly. Coordinate your movements so that the mixer cord doesn't come near water. Keenly watch the pots so they don't tip over by accident, causing damage to yourself and the kitchen in the process.)
Now fill the bigger pot ⅓ to ½ with water and bring to a boil. (Obviously, the water level should be low enough not to splash outside once you place the smaller pot in.) Lower temperature to medium or low. Then place the smaller pot into the bigger pot. Put ingredients in the smaller pot, and start working them; or, depending on the recipe, let them cook on their own.
Voila! You've got yourself a double boiler. Double boiler process is slow, gentle, even and tender.
There are two indicators that egg yolks have been sufficiently thermally processed over a double boiler. One is the color. Egg yolks will turn pale yellow when complete. Think of raw wood. Because it's important to take note of the color, wait before adding ingredients other than sugar, and maybe flour, for several minutes. Second is the consistency. Once processed, mixture will easily separate from pot (or bowl) sides.
(Tip: Double boilers are also a way to get great, fluffy French inspired scrambled eggs. Watch this video of Jamie Oliver demonstrating it!)
Double boiler is also used in oven baking. A deep pan is filled with water while ingredients, wrapped in foil or parchment paper, are placed into it. An example of a water bath recipe is BLB's boss sauce.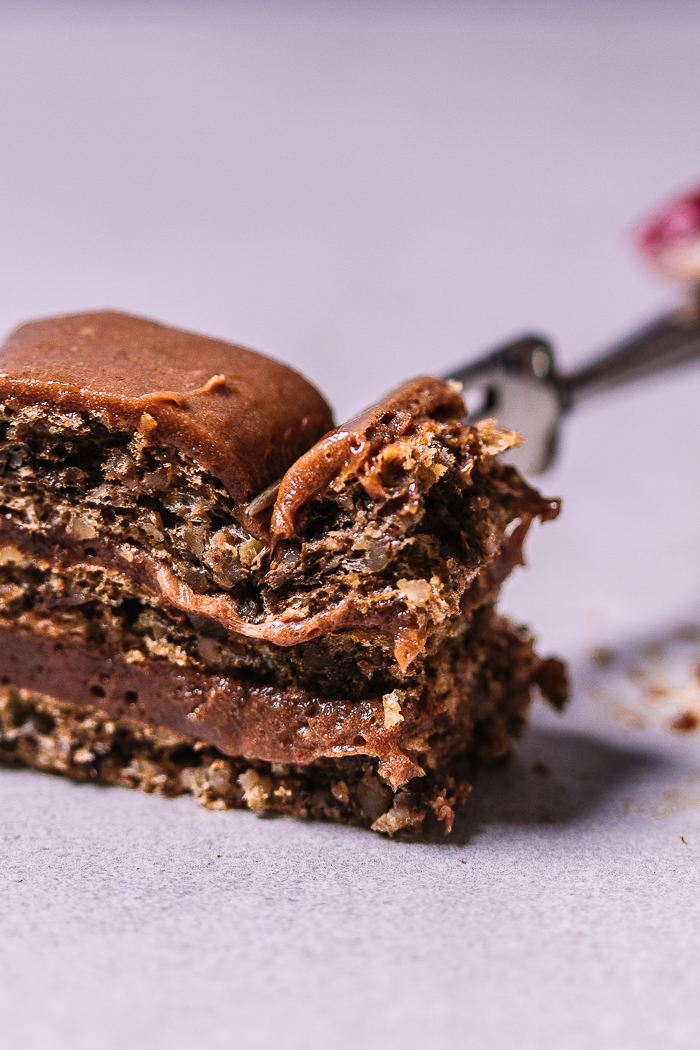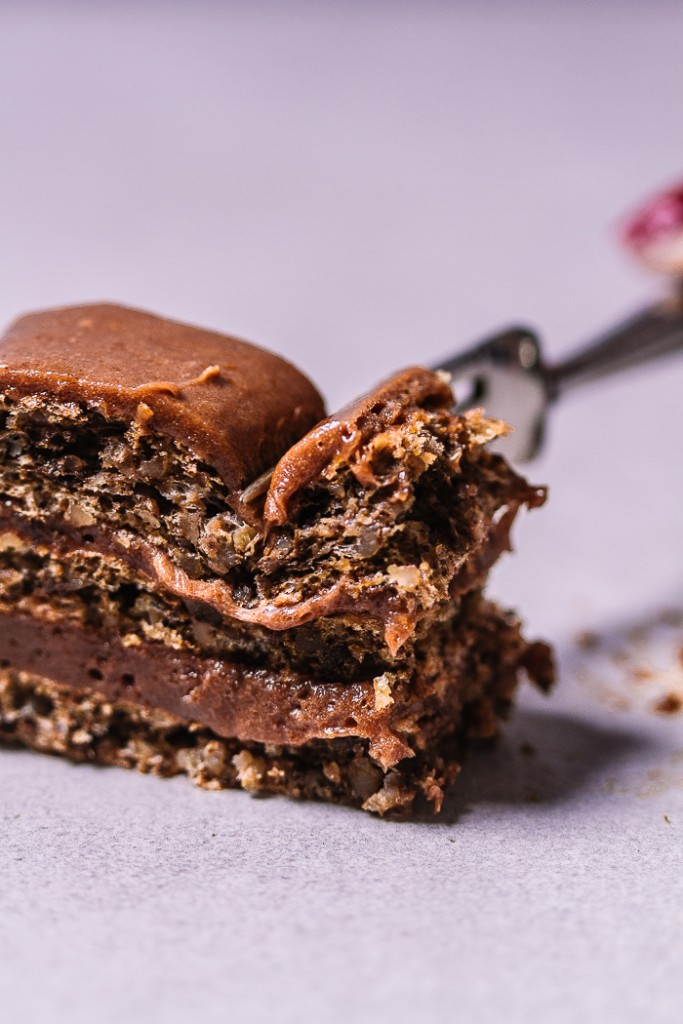 ORIGINS AND TASTE OF OUR HAZELNUT CHOCOLATE CAKE
The cake is originally called Šamponeze (pronounciation: shah-ump-oh-nay-zay… on the other hand hazelnut chocolate cake is just fine). I got the recipe from a family friend. Although I ate it for the first time just a couple of years ago at her home, it's definitely a thing around here.
Or at least it was in the 1980s, when it was all the rage in Belgrade pastry shops where it was sold in cookie form. People seem to remember it by a small pink sugar button on top which must have been icing of some kind.
Regrettably, I've only tried it as a cake.
What made me fall in love with it is the amount of substance it possesses. It's perfectly filling. When you eat a piece of this hazelnut cake you know you've eaten a dessert. You feel this from your mouth to your toes. Richness is there, the right amount of moisture, slight crunch of hazelnut and egg whites baked together, chocolate taste amplified by hazelnut...
You feel satiated after a piece of Šamponeze.
I'll admit, I'm a sponge cake hater of sorts.
I love fondant. I love icing. I love ice cream cake.
But when I cut through a piece of cake with my fork, I want it to return with substance. It can be fruit. Meringue too. It can even be candy.
It has to be substantial though! Not in size necessarily, but taste. When I crave sweets, I crave substance. This chocolate hazelnut cake is exactly that.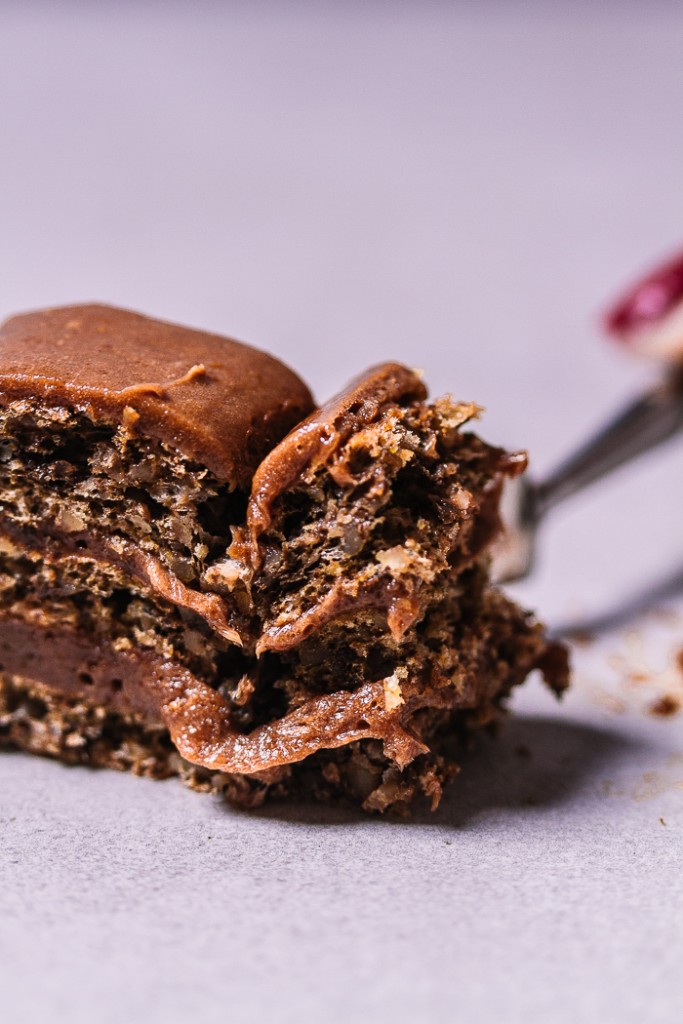 HAZELNUT NUTRITION AND HEALTH BENEFITS
Hazelnuts are native to Eurasia. Their bushy trees reproduce quickly, so they've been in abundant supply since prehistoric times.
Visually, hazelnuts resemble chestnuts. Except hazelnuts are smaller, crunchier, and covered in thin brown skin slightly reminiscent of blotting paper.
The best way to get the skin off is to roast them at 300°F (150°C) for fifteenish minutes. Once they cool off, rub them in between your fingers. The skin peels right off. I recommend roasting hazelnuts whether the recipe calls for it or not as aroma and taste are unmatched.
Oregon is the largest hazelnut producer in North America, while Turkey, Spain and Italy produce most European hazelnuts. The plant ripens August through October, depending on the type. If you won't consume them right away, it's best to refrigerate or freeze them. They keep fresh up to a few weeks.
Hazelnuts are great substitutes for walnuts and almonds. Compared to those two, hazelnuts are milder in flavor. (Aroma and flavor increase as you bake or roast them!) They can be consumed whole, chopped or ground. Hazelnut flour is a thing also, and I hear it's even better and sweeter than almond flour.
Popular also is the hazelnut liqueur, in taste reminiscent of amaretto (liqueur made from almonds). I haven't run across hazelnut brandy though, or found much about it. If you know something, leave a comment.
Hazelnuts pair fantastically with other food (salads particularly), wine, and chocolate. Especially chocolate.
Hazelnut nutrition similar to walnuts, although hazelnuts may have an an even higher content of natural oils and fats. They're rich in folic acid and vitamin E.
If you weigh a hazelnut, 6% of its weight consists of water, 62% of oil, 13% of protein, and 17% of carbs.
Hazelnut health benefits are also abundant. They're made up of mono-saturated fatty acids (good fats). (You can read more about mono-saturated and polyunsaturated fats here.) Thus we extrapolate the largest hazelnut health benefits consist of helping prevent heart disease and supporting cardiovascular health.
The oil factor makes hazelnuts a perfect companion for egg whites in cake making. While egg whites keep the batter together and later give it that crunch, hazelnuts encourage the moisture factor.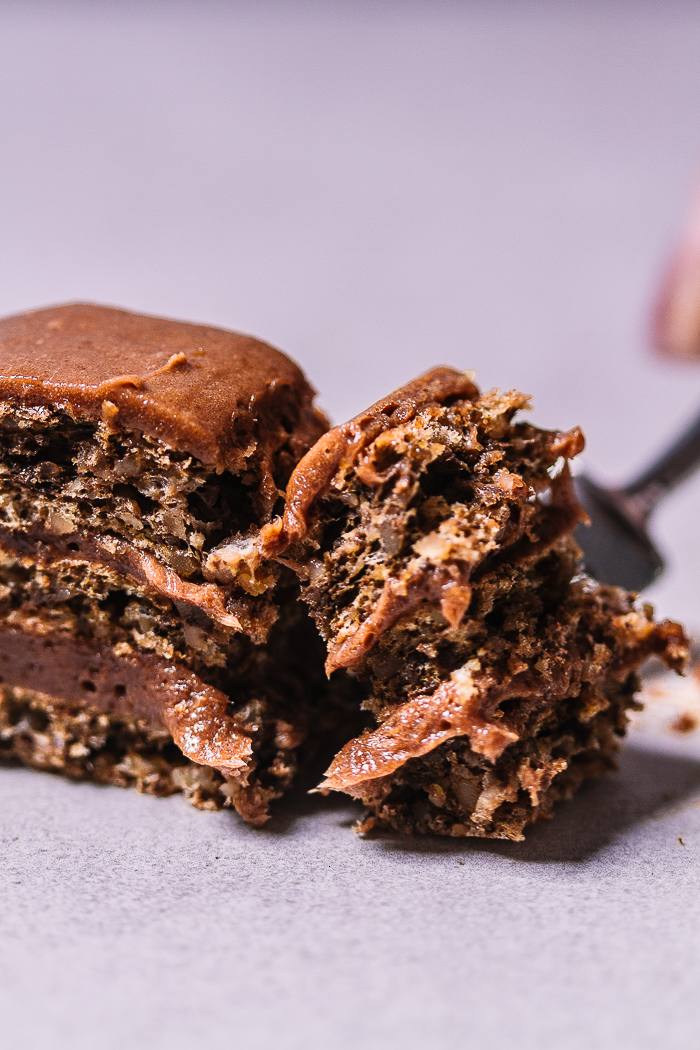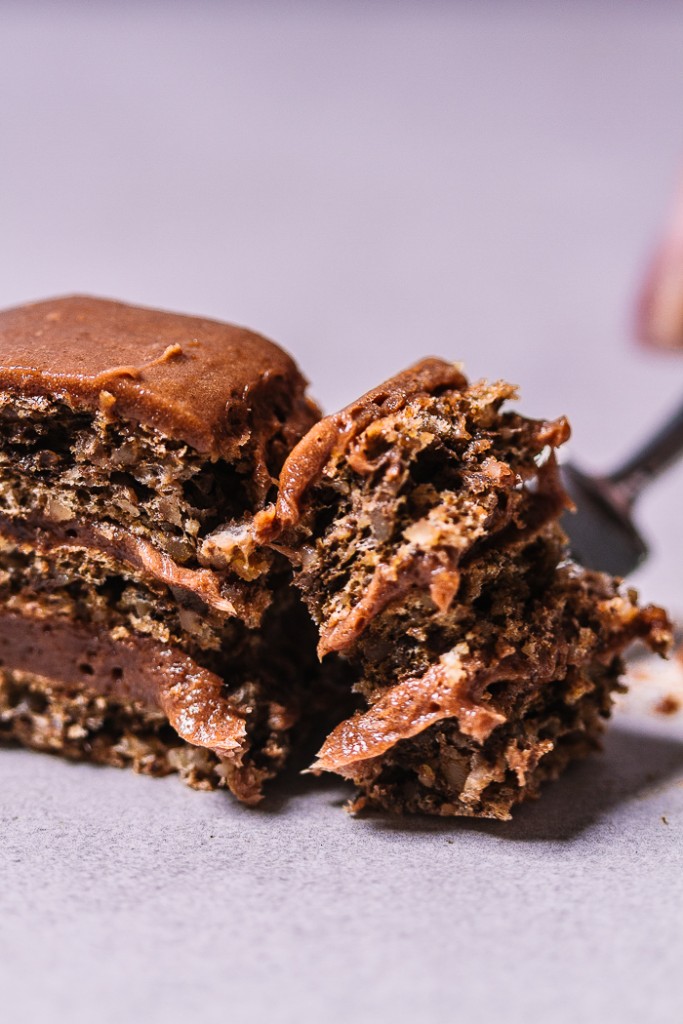 BAKING TIPS REFRESHER
Repetition... As mentioned above, my main tip for baking has to do with repetition. The more you do anything, the better you get.
Your capabilities... You're not biologically or genetically incapable of baking. It's just a preconceived notion supported by scaredy-cats. Squash them!
About baking a brand new (to you) cake for the first time... Even if you're an experienced baker don't expect a new cake to come out perfectly the first time. Get good at making it before you share it. Repeat after me "I will not be making a new cake for the first time if I'm expecting guests, celebrating birthdays, or having family over for the holidays!"
Longer is better... Often, when baking a cake (like this chocolate hazelnut cake) you're participating in a drying process. So if you have to choose between 45 minutes at 350°F (180°C) or one hour at 320°F (160°C), bake it for one hour. I've tested this several times and longer periods work better.
(You may have noticed in the recipe that I had makeshift dividers in the baking pan to separate batter into 3 equal rectangular pieces. There are probably baking gadgets that do this. But I'm a minimalist and try not to have too many gadgets if I can get away with it.
Optionally, you can bake the cake as one big piece and cut it into 3 pieces. This option didn't work for me. The cake broke in several pieces, and it was harder to peel the parchment paper off.)
Three bakes technique... If you're generally apprehensive about baking cakes, do a three bake technique I have.
The first time I watch someone else bake it and ask lots of questions. (This is usually the person that gave me the recipe.) And I write it all down longhand. If they make a mistake, I write it down. If they fix a mistake, I write it down. If they're doing strange things, I write it down. Sometimes I even film it on my phone.
I then study the notes and clips.
The second time I do it together with them. I ask the questions that are unclear, and try to get my hands into all steps.
The third time I do it by myself.
If you decide to utilize this three bakes technique don't let much time lapse between first, second and third times. Memory is a strange thing.
I promise, you'll have to do this techniques just a couple of times for different cakes. After you do, the following new cake will be a piece of cake.
See what I did there? 😉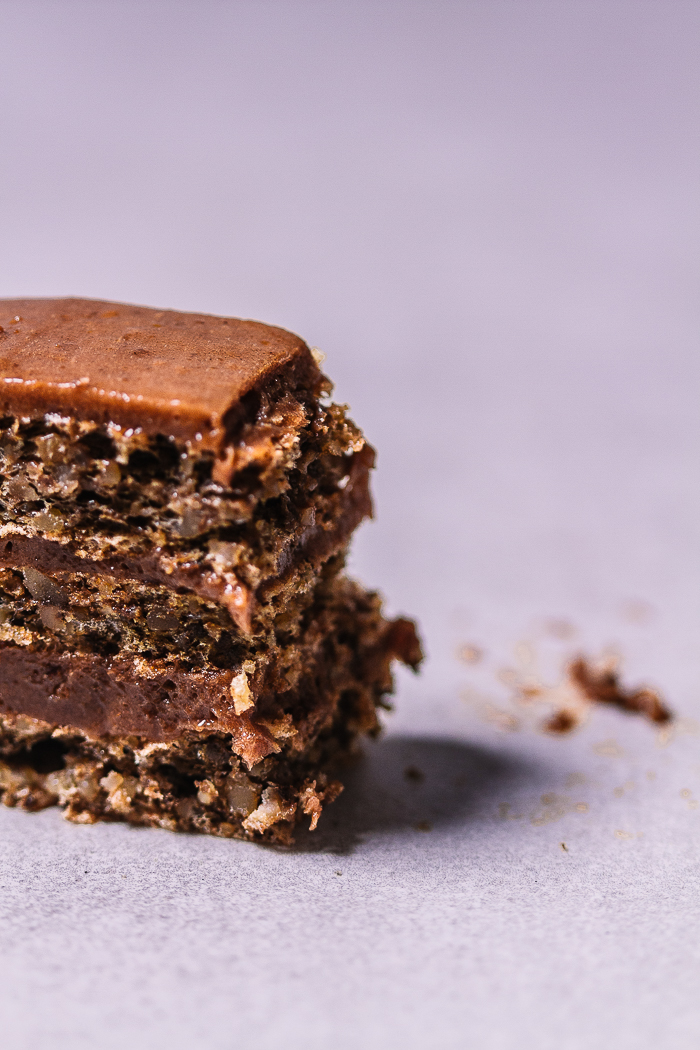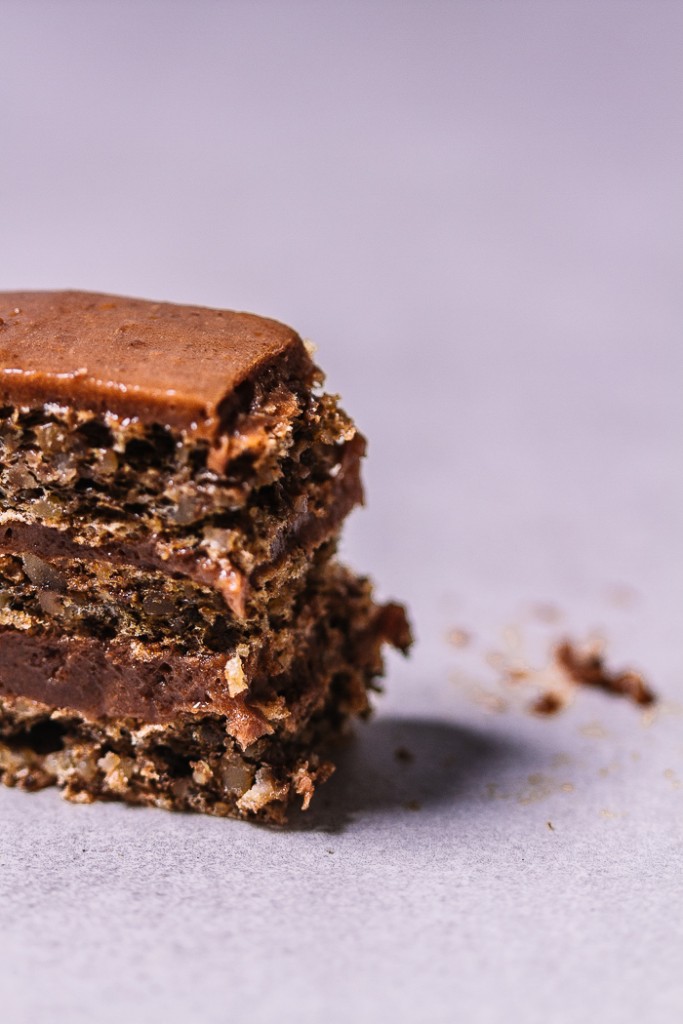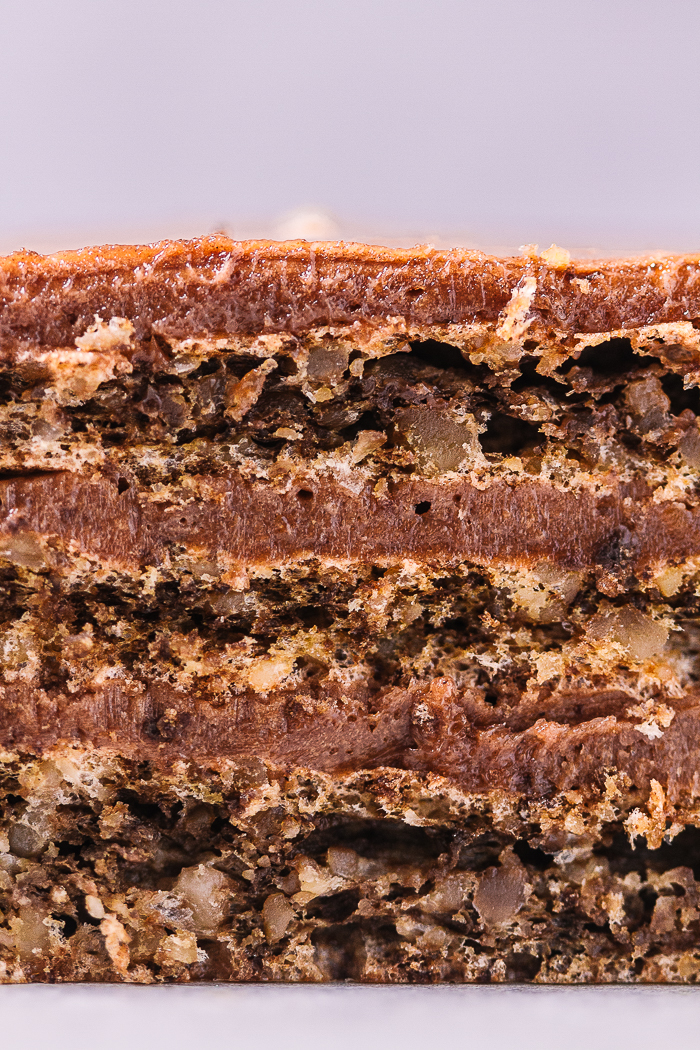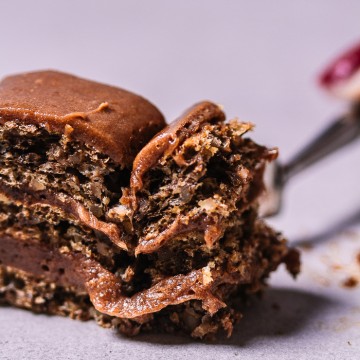 Chocolate Hazelnut Cake
A fancy, special-occasion Chocolate Hazelnut Cake that will quickly become your favorite dessert. This perfectly moist chocolate cake is a perfect marriage of substance and tenderness. 
Ingredients
Cake
10

egg whites

Pinch

of salt

1.7

ounces

sugar

1

tablespoon

vinegar

10.5

ounces

hazelnuts

roasted, peeled, ground
Frosting & Filling: 
10

egg yolks

14

ounces

confectioner's sugar

5

ounces

water

3.5

ounces

baking chocolate

9

ounces

butter
Instructions
Cake:
In a medium mixing bowl start mixing egg whites plus a pinch of salt with a mixer of choice. When the mixture becomes frothy (soft stiff phase), add sugar (slowly), and continue mixing. Add vinegar and mix a few more minutes until ingredients are whipped into stiff peaks. Turn the mixer off and remove from the bowl.

Add hazelnuts to the bowl and stir with a wooden spoon until batter integrates. Heat oven to 320°F (160°C). 

Line a baking pan (approximately 13x17 inches, or 33x43cm) with parchment paper. Leaving about ½ an inch of space in between layers, use the batter to create three equal rectangles the thickness of about 1-inch. (If it proves too hard to keep batter separated you can makeshift dividers out of foil. Check out the video for visual.)* 

Place in the oven and bake (or rather dry) on 320°F for 1 hour.  Check the cake every 15 minutes or so, and turn the pan 180° about 30 minutes in. Depending on the strength of your oven, you may have to cover the cake with foil if it starts to blush early. (Meanwhile, prepare the frosting and filling).

Set aside to cool completely. Once cooled, carefully separate cake from the parchment paper so that it doesn't break. 
Frosting & Filling:
Make a double boiler (water bath or bain marie). Fill a large pot ⅓ with water and bring to boil on high. Lower to medium and place a smaller pot with egg yolks into the large pot. (The smaller pot should be touching the water in the larger pot.) Add confectioner's sugar and water to yolks and start mixing with a hand mixer. Mix for several minutes.

When eggs and sugar integrate, turn pale yellow (almost white) and start separating from the pot walls, add in baking chocolate. Continue mixing over double boiler. Once completely integrated, turn the stove off and take the smaller pot out of the larger. Set aside to cool for 10 minutes.   

Add butter into the bowl and mix until integrated. Remove the mixer and cool in the fridge for about 20 minutes.  
Combining Cake, Frosting & Filling: 
Place the first cake third onto a long cake platter. Empty ¼ of frosting and filling onto it and spread evenly with a spatula. Lightly place the second cake third on top of the filling. Empty ¼ of the frosting and filling onto it and spread evenly with a spatula. Repeat for the third cake piece.

Use the remaining ¼ of the frosting and filling to paint the cake all sides.

(Optionally) Decorate cake with a few handfuls of ground or chopped hazelnuts or grated baking chocolate on top. 

Leave cake in the fridge to stiffen for at least 2 hours, preferably 4.  
Notes
*Ultimately you can bake the entire batter as one big rectangle and divide it into three equal pieces after it cools. This is not recommended because it's hard to separate cake from the parchment paper in one big swoop. 
If you can't buy roasted hazelnuts, roast them yourself. Heat oven to 300°F (150°C) and roast hazelnuts on a baking sheet for fifteen minutes. After they cool off, rub them and the shells will fall off. 
Don't like hazelnuts? Use walnuts instead! 
Recipe yields about 10-12 pieces of cake. Calorie information is based on cutting the cake into 10 pieces. 
Nutrition
Serving:
1
piece
Sodium:
212
mg
Sugar:
11.6
g
Fiber:
3.2
g
Cholesterol:
267
mg
Calories:
631
kcal
Saturated Fat:
18.1
g
Fat:
46.3
g
Protein:
11.7
g
Carbohydrates:
46.3
g