Perfect three ingredient jam crescent cookies (butter, eggs and flour) filled with the preserve of your choice, then baked. The result is a buttery soft crumble-in-your-mouth perfection. Happy New Year!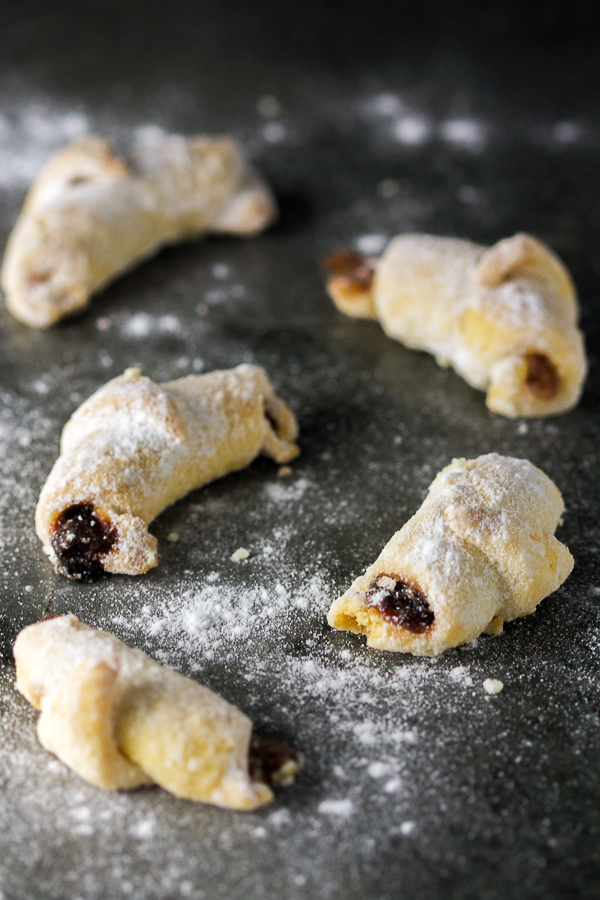 Dry cookies? Not so!
What we are doing here falls under the category of "dry cookies."
I find "dry" to be a misnomer, but because there are so many softer and more moist cookies on the repertoire for the holidays these jam crescent cookies (and most butter cookies), get unfairly labeled.
Honesty is this blog's policy. Honestly? These crescents are a bitch to make!
Generally, I'm no fan of chocolate-free cookies. But these cookies are so soft, so full of moisture, they become a part of your mouth as soon as you start to eat one. They're succulent, buttery and soft. They're not dry for a second.
The butter does wonders for the dough, confectioner's sugar coats them just right and a generous splash of jam fortifies the sweetness.
Plus, the batch is so big (72 cookies), they're worth spending an afternoon on (with a pause).
These keep well. You can leave them on a terrace or in a cool place for a few weeks and they'll still be fresh.
And they're a great present too. Just pull out a tin box, fill it up, and put a bow on top.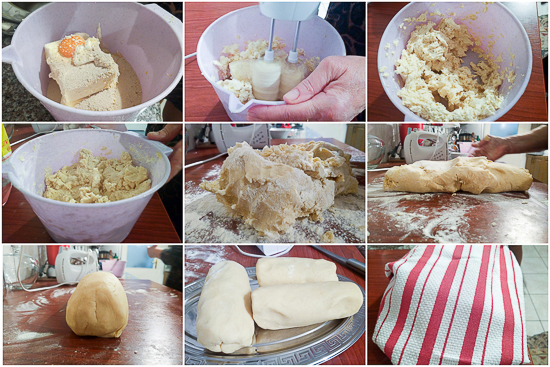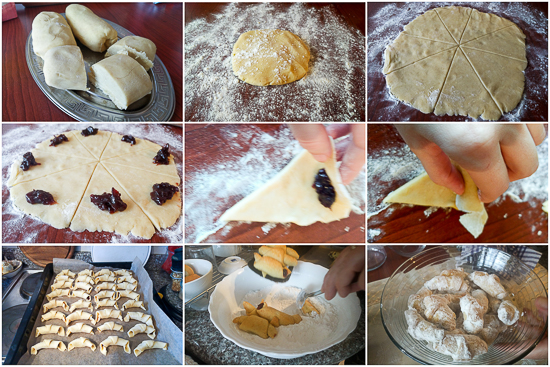 Butter Dough? Ugh!
The point of difficulty for these jam crescent cookies is the dough.
Typical butter dough that is. If you've made any type of butter cookies you know what I'm talking about! Butter and flour have to leave their baggage behind and make friends. Really close friends if the cookies are to succeed.
This is hard to achieve at first.
Butter has to be room temperature. Definition of room temperature (for cookie making butter) means soft enough to swoop the knife or mixer through with ease.
You also have to be patient. The dough has to rest in the fridge for hours. Then it has to adjust to the room temperature after being taken out and before all that cookie work. Thus that pause in preparation. (Meaning, you won't be eating these cookies today.)
You could, of course, read through Smitten Kitchen's elaborate article on techniques for an easier way to make butter cookie dough.
I'd say reading her post is a smart thing to do.
It's also the one thing I forget every time I am about to make these. My cookies are an elaboration. Hers cut to the chase. I've tried analyzing my forgetfulness. Maybe I'm scared to do them differently because they work so well the old fashioned way.
As for you, whichever way you do the dough, these jam crescent cookies are worth it.
Our Jam Crescent Cookie Originator
Upon arriving to the US, we discovered a small community of Bosnian immigrants that lived in the DC area.
Like us, they left one life in exchange for another. Like us, some lived through the war, and still crossed the street apprehensively observing high points around them. They looked suspiciously at the hills. They flinched at flashes of glass as windows opened. This is the kind of walking you learn when snipers are around, and snipers abounded in Sarajevo during the early nineties.
Others spent time elsewhere during the war, but were asked to leave their second homes behind once the war was over. European countries like Germany were giving money to Bosnian refugees to send them back to their burned out cities so they could start building again. However the US still had a refugee program through which people could apply to come to the promised land. Many did.
And that's how there appeared a big mélange of Balkan people in, and around Alexandria, Va.
We took to each other quickly. These friendships were our lifelines in those years. Generations separated into their own comfortable rhythms, but we all shared the music, cultural idiosyncrasies and jokes no one else could understand.
And we shared our sweet language, which as the years passed kept dividing and growing that we had to cling on to it like spurned lovers. Those words, those accents, those sounds we owned so well, suddenly sounded foreign. English, in its unassuming and sneaky way, started to show up in our sentences until some completely abandoned the old language in favor of the new.
One of the families we became friends with was a couple with two daughters. Both daughters took after their mother and were beautiful. Lanky but soft, possessing ivory complexion and dark, dark hair, they resembled princesses from Russian fairy tales.
One was my age, and for a while we were close friends. The older was a few years ahead of us and had a disability that determined she would not be able to participate in all of life's experiences.
But their mother, oh boy, the world rarely sees an unstoppable figure like her. She was the one who pulled the most. As a teenager, I found her overbearing. It was as if she hung above us like an umbrella, just waiting for the world to hurl itself down on us. And in those years we wanted to hurl ourselves onto the world instead.
That woman created things into reality when and where she could. And when she couldn't, she relied on her endless imagination to bend the world to her will. She did this for both daughters, especially the older one.
Results were fantastic. A fully able person had not experienced even half of what this young woman did, all thanks to her mom.
The mom did all this (to us seemingly) effortlessly and with humor.
This dark, heavy, relieving humor is specific for Bosnia. It's our therapy. Brutally honest. It assesses the culture with no reservations. It boils down mentalities into basic of generalizations. It's truthful. It shows potential for potential.
You know when you laugh things become a little easier. Suddenly perfections become imperfections, and imperfections are perfect the way they are. Dark humor is Bosnian wabi-sabi. Suddenly you don't envy anymore. Suddenly there is sunshine where there ain't any sunshine.
Suddenly, life is good.
And life was good. We made it good. We picked up the pieces. We rebuilt. Day by day, year by year, we became as essential (important even?) part of DC metro like generations of immigrants before us.
One couple opened up a restaurant. We hung out there, celebrated NYE, July 4th, and Halloween. There was finally a place to buy pita. A place to buy the well-known Vasina cake. A place to sit down and talk, cry and laugh. And send the boss to hell in proper Balkan slang (by telling him to go screw his mother), and then hear about a new job opening.
We celebrated most holidays together. And although as a young adult I was running away from traditions and to parties of my own, secretly I enjoyed attending these. There was a feeling of familiarity, of being around people who genuinely wanted you to succeed and saw a part of their own success in your growing up.
The food at these parties was indescribable.
Usually there were so many of us at least one huge table would have to hold the entire spectrum of entrees. I feared at some point one of these tables would break under the heaviness and kill someone. Still not sure how this was avoided.
You could eat anything there – from pitas, salads, to cakes, schnitzels, strudels and baklavas – and the hostess would even pack up a few things for you to take home.
Each time. Every time. Every hostess.
In all that opulence though, my favorite were the jam crescent cookies made by my friends' mom.
For every occasion she'd come with a present for everyone. Sometimes this was a lighter for the ladies who still smoked, that flickered a small penis as they reached to light their cigarettes. Sometimes everyone got a stuffed ballerina toy.
But often, she brought along these jam filled margarine crescents. I don't think she knew, but for me they were the beginning and the end of every celebration.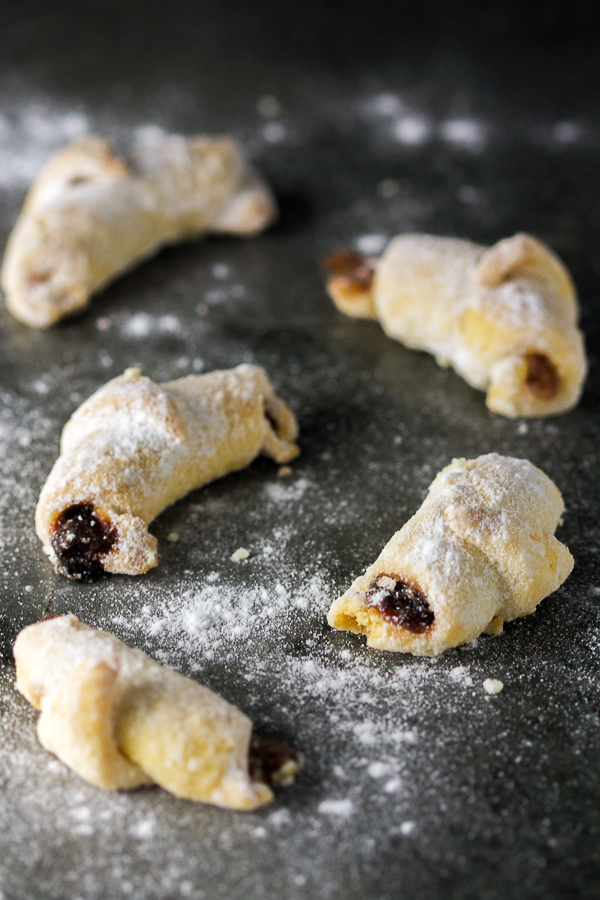 She gave mom the recipe before mom moved back to Sarajevo. Since then, these crescents are a regular rotation at our holiday table.
Every time I eat them, I am reminded of those early years in the US. And I'm reminded of this time when we went to NYC together, just the women and girls except our disabled friend who had travelled somewhere with her father.
While we were doing the regular Manhattan tourist-y things, the mom kept on walking behind the group, turning around frequently. Later that night, at the hotel, for the first and only time, I heard her say anything direct about it all. "I keep walking and looking to see where she is to make sure she crosses the street safely."
I started to understand her in that moment. But I fully understood her only several years later, when I couldn't fall asleep because I was listening to someone's breathing to make sure they were still alive.
Jam crescents are a happy occasion now. They are a tribute to a wonderful woman, and her family that keeps on growing.
And the fantastic folks I met along the way and of becoming an adult in between two worlds, in a small community that grew large. A community that held each one of its children in a tight cocoon until we were ready to spread our wings.
We've all flown further than we ever imagined.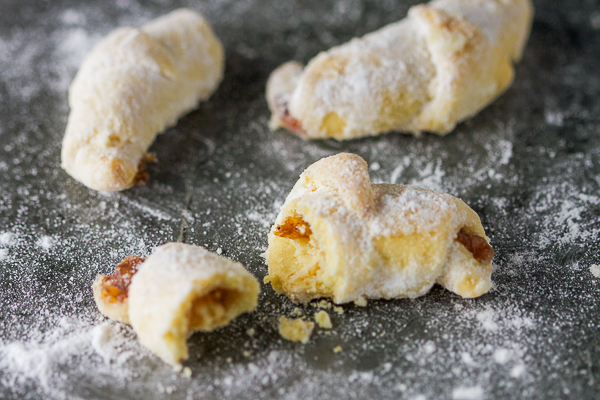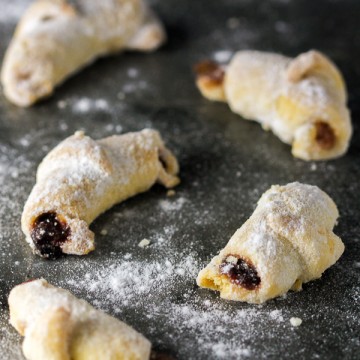 Jam Filled Butter Cookies
Perfect three ingredient jam crescent cookies (butter, eggs, and flour) filled with jam and baked. Classic combo for the win!
Ingredients
16

ounces

butter

room temperature

2

egg yolks

1

egg

3

tablespoons

sour cream

3

tablespoons

baker's yeast

Zest from 1 lemon

22-24

ounces

white flour

plus more to work the flour

12-14

ounces

jam

plum, fig, rose hip or other

14-16

ounces

confectioner's

powdered sugar

1

tablespoon

vanilla powder

or ½ tablespoon extract
Instructions
In a large mixing bowl place butter, egg yolks, egg, sour cream, baker's yeast, lemon zest and vanilla. With a hand mixer (set to the lowest setting and gradually increasing) mix until completely integrated. Remove mixer.

Continue kneading with your hands while adding the flour in batches. The dough will be hard to work with, but keep mixing to the best of your ability, and adding flour in between. (It takes patience and about 20 minutes.) When the dough is hard, buttery and the thickness of an ear lobe, it's ready to rest. Divide into three equal parts. Knead each part a few more minutes. Cover and transfer to the fridge. Leave for 4-6 hours (preferably overnight).

Take the dough out of the fridge and let rest until it's room temperature (45 to 60 minutes).

Sprinkle a generous amounts of flour on your working area. Divide each dough piece into three (you'll end up with 9 dough pieces total). Take the first smaller piece and work it with your fingers for a minute. Finally, roll it out with a rolling pin until it's round and of the thickness of about 2 pennies stacked together. Cut into eight slices. Put a teaspoon of jam on the thicker end of each slice. Roll each slice from the thicker to the thinner part making sure the jam stays inside. (Some of the jam will come out during baking.) Heat oven to 425°F.

Repeat step 4 for remaining dough.

Take a baking pan and cover with parchment paper. Place crescents onto it leaving some space in between each. (You'll probably have to bake in batches. Do not bake two pans of crescents at the same time in the same oven!)

Lower temperature to 350°F.  After 20 minutes turn the pan around. Keep checking the crescents and if they start to turn golden yellow, cover with foil. (They burn fast, so check often!) Depending on your oven it will take between 30-40 minutes in total to bake one batch.

Take out and leave to cool for 20-30 minutes.

Carefully transfer baked crescents into a large bowl filled with confectioner's sugar. Roll them around until they're covered on all sides. Transfer to a tray or a cookie box.
Notes
You can substitute with margarine, but butter is preferred.
Measurements yield 72 crescents (8x9). Serving size is about 3 cookies.
Total time to make is about 2 hours total.  However the dough needs to settle in the fridge for at least 4 hours, preferably overnight, and then adjust to the room temperature for a period of time before cookie formation. Finally, there is a wait period between cookies cooling off and being dusted with confectioner's sugar.
Keep in a cool place for up to a couple of weeks.