Crunchy puffed rice and cornflake bites soaked in chocolate, you'll never think of cereal the same way.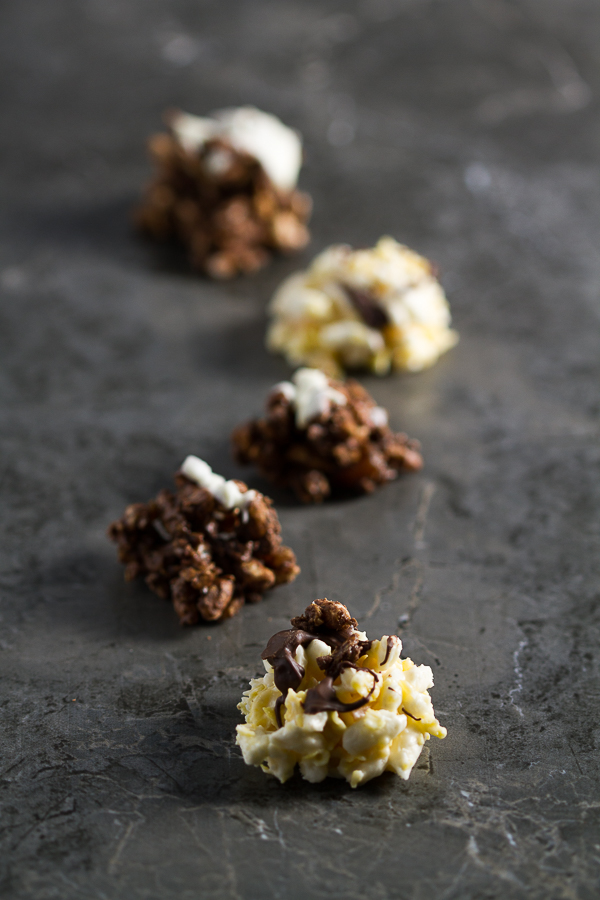 Generally I'm not a fan of combinations. But recently mom made a few types of bites, and I came across these. Could not be simpler. Rice puffs mixed with crushed cornflakes, the mass divided in half, each drenched in different chocolate and set to dry. The result is a crunchy, energy-bar like taste, with chocolate overtones.
They're far from energy bars however, so don't be fooled as this is definitely a dessert. So if you're out of ideas, and guests are coming over for coffee, there's an idea for you.
A little housecleaning. To the new newsletter subscribers, hello and welcome! We love having you here. To the veterans, hello and how are you? We love having you here too.
It's been a while since the last recipe post. We've been busy making more videos. We also met Marwah, BLB's first (and may we say favorite) reader! She was lovelier than we could imagine. I was also finishing up coursework for my master's. Then of course there is work. On top of this I had two rounds of guests at the house.
Because summer. Because Sarajevo.
You've been pretty clear in your response to videos. As in, you want as many as possible. So Aleksandra and I locked ourselves in our lab-dash-studio, and thought of new ways to please you.
Want to see what's been filmed? Go to the menu, and click on the list of recipes. Recipes with the video will be designated as such.  When you click on the post of your choosing, video will be under the recipe.
Lazy?
That's ok. I'll list the new videos below. Grab that crunchy puffed rice slash cornflake bite and read – view along!
CRESCENTS – Simplest crescents filled with jam. Milk infused dough, rolled out and stuffed with a jam of your choice, then baked. A perfect way to treat your family on a Sunday morning. (Kiflice)
BALKAN LAMINGTONS (SCRUFFIES) – What brownies are to the English speaking world, are Coconut Chocolate Dessert Squares aka Scruffies (known as čupavci) to the people in Balkans, and are a form of Balkan Lamingtons. These busy, spongecake-like squares (first they swim in chocolate, and then drape themselves in coconut), are made in under an hour. And take even less time to eat. (Čupavci)
HASH BROWN PIE – If you love hash browns, you'll adore this hash brown potato pie. Finished in 60-min or less, topped with sour cream and minced garlic, it's a pie unlike any other! (Kljukuša)
FRIED MINI BREADS – Make yours a perfect bite with these savory pastries with a hundred names: Balkan fried mini breads. (Peksimeti)
CHEESY MEAT CASSEROLE – Meat and cheese pasta casserole: another in a series of one-pan, under an hour recipes. Chewy and soft, you get all the necessary ingredients in this one, your carbs and proteins. Just add a salad for some greens. (Zapečeni makaroni)
BOSS SAUCE  – Gratifying mushroom and veal sauce: first simmered with tomatoes, peppers and onions, garnished with a drip of heavy cream, and then baked in foil (parchment paper) using a water bath. (Hadžijski ćevap)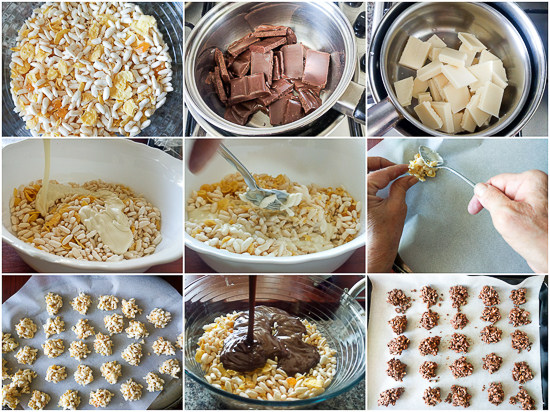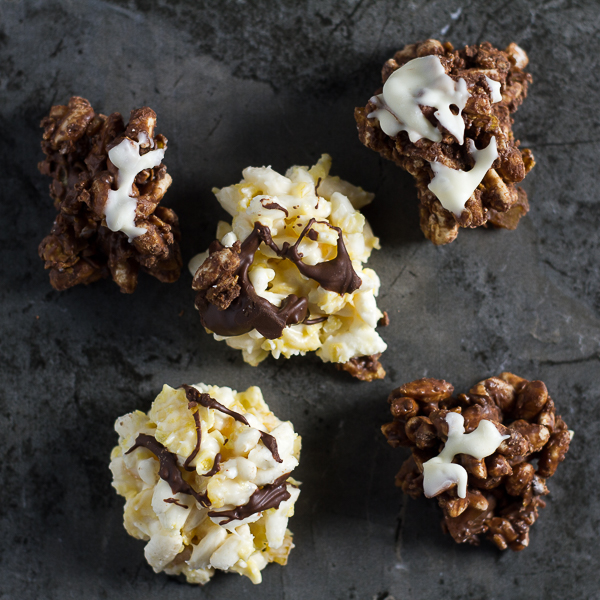 Print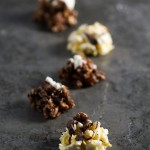 Puffed Rice and Cornflake Bites
Author:

Prep Time:

30 mins

Total Time:

30 mins

Yield:

10

Category:

Dessert
---
Ingredients
1.5 ounces cornflakes
1.5 ounces puffed rice
1.5 ounces caramelized sugar
7 ounces white chocolate
7 ounces dark baking chocolate
---
Instructions
Crush cornflakes and sugar and mix with puffed rice. Integrate well. Divide mixture in half. Place each in a deep bowl.
Melt chocolate separately over slow heat. Pour white chocolate over one and dark chocolate over the other bowl until it completely covers the mix. Stir. With a spoon, format small balls out of ingredients, and place on baking sheet to cool down overnight. (Optionally, decorate each bite with a few drops of the chocolate of the opposite color.)
Transfer to a plastic container and keep in fridge after that.
---
Notes
VARIATIONS:
Gluten-free: use gluten-free cornflakes, chocolate and puffed rice.