Extra-crunchy puffed rice and cornflake bites congealed with chocolate. I promise, you'll never look at cereal the same way.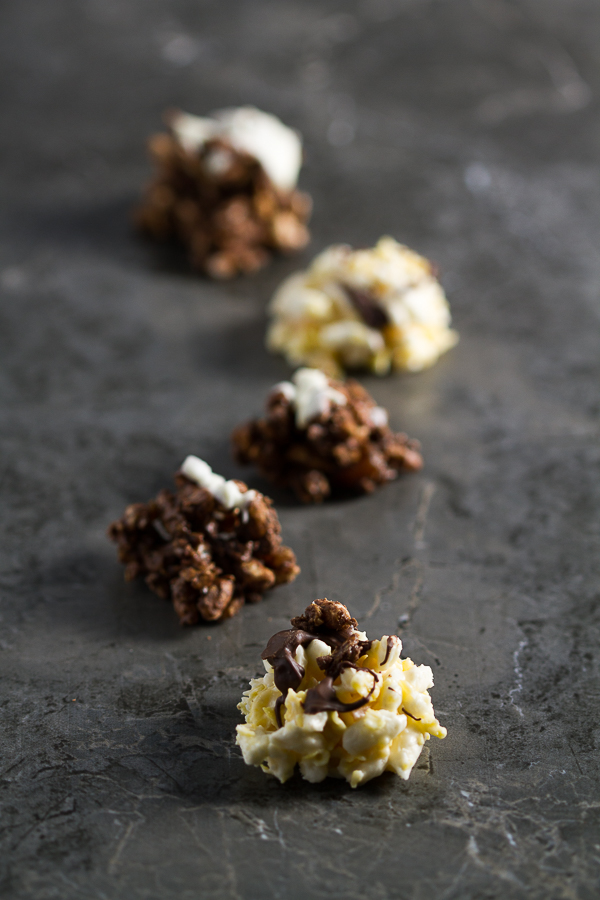 I'm usually not a fan of combining many flavors.
This may surprise you, but I also don't jump at the opportunity to try new food. When I was young I was such a picky eater, no one would have predicted I'd run a food blog. (That and you know, there was no internet when I was a young child.)
But recently mom made a few different types of energy-bar like bites. She didn't advertise them. Instead, she left them hanging out on her counter for a few hours.
A wise woman! She knew I'd eventually come snacking.
I tried them and loved them. Specifically, I loved these cornflake and puffed rice bites.
Could not be simpler to prepare too! (Such a plus, especially come December!)
Rice puffs and crushed caramelized sugar are combined with crushed cornflakes, and then the mass is divided in half. Each half is drenched in a different type of chocolate, mixed until integrated, formed into small bites, and set to stiffen for a few hours.
The result are these crunchy, (real) chocolate infused energy-bar inspired bites. I called them puffed rice and cornflake bites, but you can call them whatever you want.
I'm warning you though: these are not health bars! They're a dessert. A dessert so crunchy, and melt-in-your-mouth chocolate-y you'll eat ten before you realize it.
(If you're looking for a protein fix you're better off checking out the recipe index for protein bombs such as the veal roast or chicken liver sauce.)
You've been asking for more videos, and we've been obliging. When you get to our recipe index, each recipe that's been filmed has a "VIDEO" designation next to it.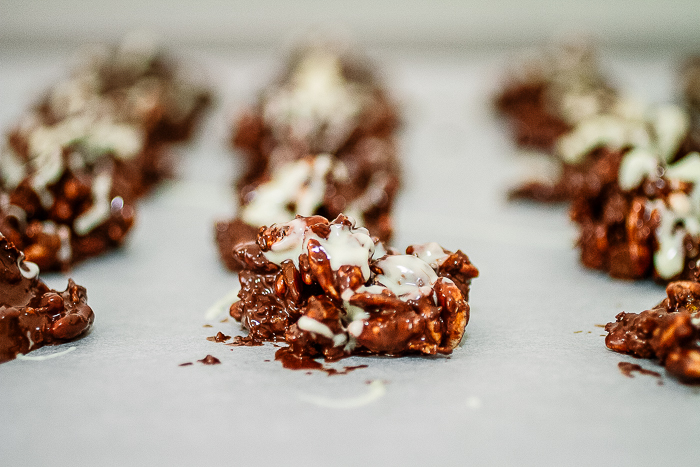 Meanwhile, check out some of the food we're making in the upcoming week:
CRESCENTS - Simplest crescents filled with jam. Milk infused dough, rolled out and stuffed with a jam of your choice, then baked. A perfect way to treat your family on a Sunday morning. (Kiflice)
BALKAN LAMINGTONS (SCRUFFIES) - What brownies are to the English speaking world, are Coconut Chocolate Dessert Squares aka Scruffies (known as čupavci) to the people in Balkans, and are a form of Balkan Lamingtons. These busy, spongecake-like squares (first they swim in chocolate, and then drape themselves in coconut), are made in under an hour. And take even less time to eat. (Čupavci)
HASH BROWN PIE - If you love hash browns, you'll adore this hash brown potato pie. Finished in 60-min or less, topped with sour cream and minced garlic, it's a pie unlike any other! (Kljukuša)
FRIED MINI BREADS - Make yours a perfect bite with these savory pastries with a hundred names: Balkan fried mini breads. (Peksimeti)
CHEESY MEAT CASSEROLE - Meat and cheese pasta casserole: another in a series of one-pan, under an hour recipes. Chewy and soft, you get all the necessary ingredients in this one, your carbs and proteins. Just add a salad for some greens. (Zapečeni makaroni)
BOSS SAUCE - Gratifying mushroom and veal sauce: first simmered with tomatoes, peppers and onions, garnished with a drip of heavy cream, and then baked in foil (parchment paper) using a water bath. (Hadžijski ćevap)
P.S. By the way, Aleksandra and I had the pleasure of meeting Marwah, BLB's first, and possibly favorite, reader! She was lovelier than we could imagine.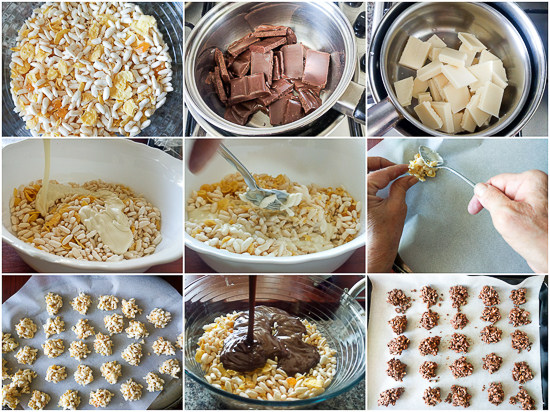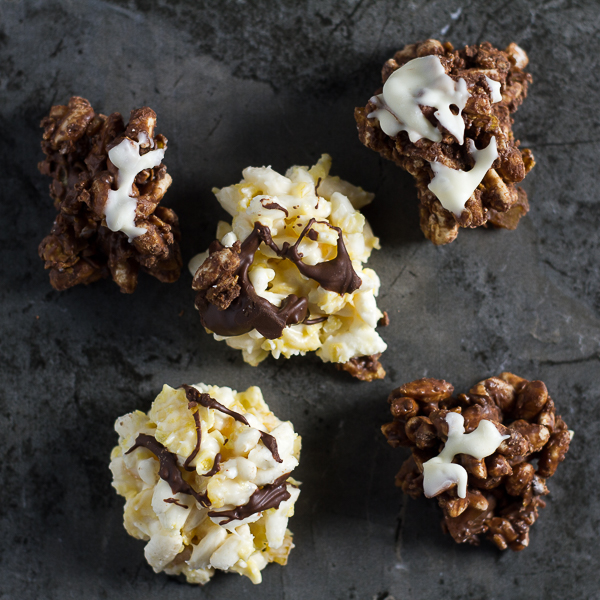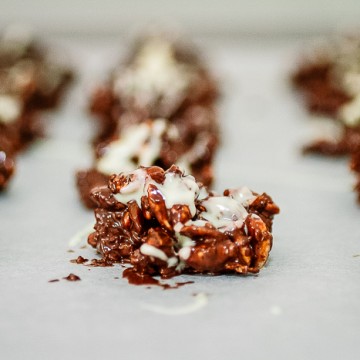 Puffed Rice and Cornflake Bites
Extra-crunchy puffed rice and cornflake bites congealed with chocolate. I promise, you'll never look at cereal the same way.
Ingredients
2

ounces

granulated sugar

1

ounce

walnuts

ground

1.5

ounces

cornflakes

1.5

ounces

puffed rice

7

ounces

white chocolate

7

ounces

dark baking chocolate
Instructions
In a small pan, heat sugar over medium while stirring continuously. As it starts to melt and darken bring temperature down to low, and stir faster. Once the sugar is completely melted and honey-colored, pour onto a piece of parchment paper and let cool (about 15 minutes).

Carefully break sugar into larger pieces. Cover with parchment paper and hammer with a meat tenderizer. Add walnuts and mix.

In a large ziplock bag combine sugar and walnuts with cornflakes. Seal the bag pushing the air out. Use a rolling pin to crush the ingredients even more.  Add puffed rice, seal and shake the bag until the mixture integrates.

Divide the mixture evenly into two medium mixing bowls.

Make a bain-marie by filling one large pot ½ with water and bringing it to a boil on high. Place a smaller pot (or an unbreakable mixing bowl) inside the larger pot making sure half of the smaller pot is subdued in boiling water. Add white chocolate to the small pot. Stir chocolate while it melts. Once melted, remove small pot and pour chocolate over the crunchy mixture in one bowl leaving 1-2 tablespoons of chocolate aside. Mix ingredients thoroughly.

Use a teaspoon to form small balls/ bites. Transfer each onto parchment paper.

Repeat steps 5 and 6 for dark chocolate. In total, you will get about 40 pieces/ bites (20 of each color).

With a fork use the remaining melted chocolate to decorate the bites of a different color (white on black, and black on white). Leave all bites in a cool place for 4 hours to stiffen.

Transfer to a container and keep in a cool location for up to 5 days.
Notes
*If bain-marie is too complicated you can simply microwave the chocolate until it melts, or melt it over low temperature. Bain-marie prevents burning so it's preferable, however you do whatever is easier for you.
**These are tasty! So, think about making two batches at once!
VARIATIONS: Gluten-free: use gluten-free cornflakes, chocolate and puffed rice.
Nutrition
Serving:
2
Bites
Sodium:
24
mg
Sugar:
8.9
g
Fiber:
1.5
g
Cholesterol:
2
mg
Calories:
153
kcal
Saturated Fat:
4.6
g
Fat:
8.8
g
Protein:
2.5
g
Carbohydrates:
15.6
g