Ground beef pasta bake is an incredibly comforting and cheesy dinner casserole! Think your favorite pasta noodles, mixed with bolognese-style sauce, then generously coated with heavy cream plus egg topping.
Oh, and did we mention all the cheese?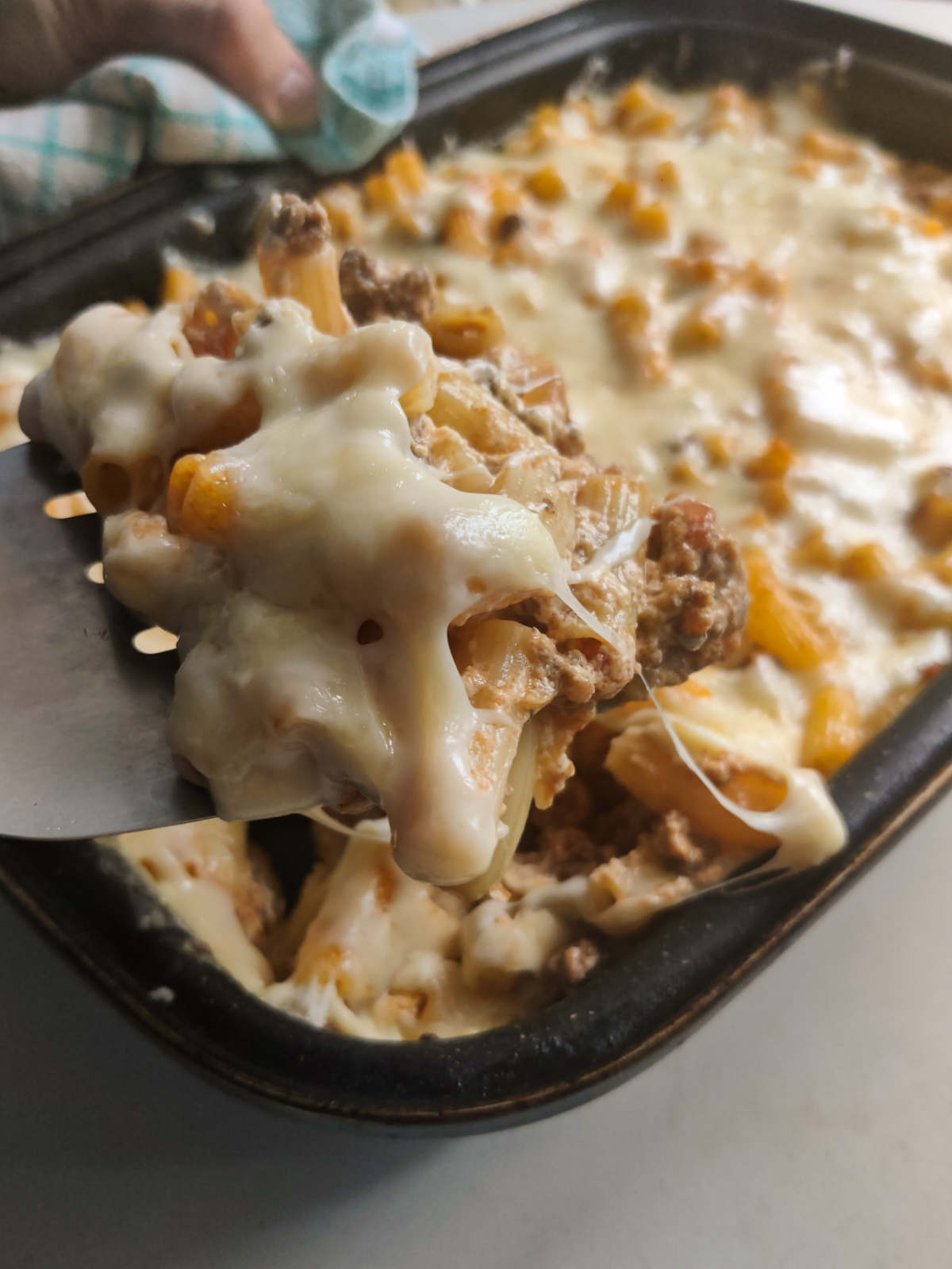 Jump to:
Background
Ground beef pasta is a less than an hour, Balkan-style dish that resembles Johnny Marzetti. For those unfamiliar, Johnny Marzetti is a type of American goulash in form of a casserole. Both recipes are based on noodles, a ground beef sauce, and, of course, lots of cheese.
Because who doesn't love a cheese bake?
What makes our ground beef pasta different (ahem better) is the sauce that's added to the mix before baking. This heavy cream and egg-based coating is key to making it creamier, richer, and softer.
Isn't it time we say goodbye to dry ground beef casseroles?
Ingredients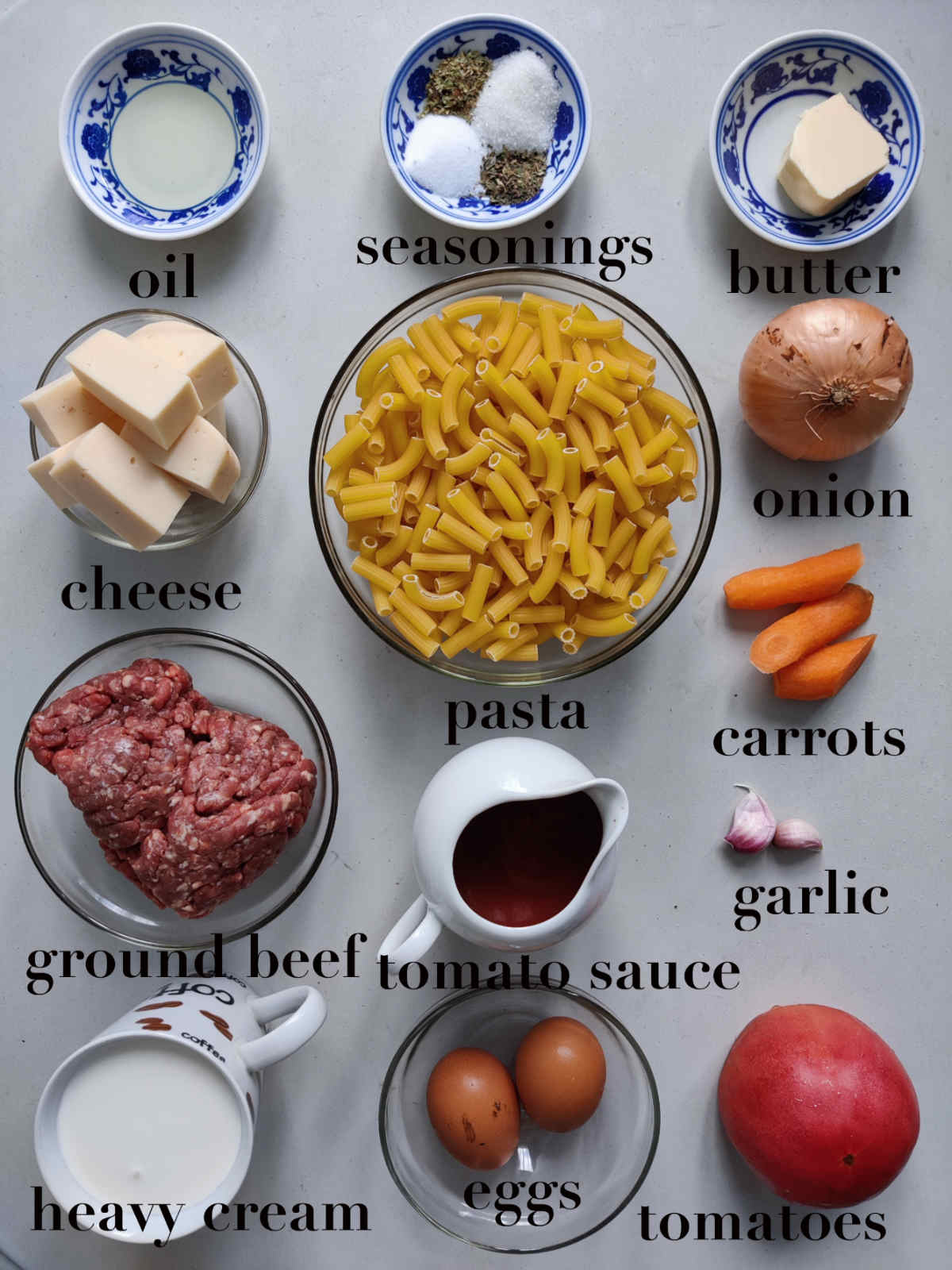 Pasta: any tubular pasta works, like ziti, macaroni, penne, farfalle, rotini, or cavatappi. Cook them al dente, then combine the casserole ingredients.

Ground beef: regular, chuck, round, or sirloin all work. Substitute with ground pork. Avoid: ground poultry as their ground meat tends to be on the drier side.

Seasonings: salt, pepper, sugar (to offset tomatoes), basil, oregano, parsley. Alternatively, substitute with your own mix of choice, but keep in mind that the seasonings will define the taste of this ground beef pasta.

Cheese: Edam, gouda, and parmesan are divine. Substitutes: cheddar (for that shaper kick), Emmental, or fontina.

Heavy cream: heavy whipping cream works also. Alternatively, use milk and butter, half-and-half and butter, or greek yogurt and milk.

Oil: vegetable, sunflower, or coconut oil will do the trick. Avoid: olive oil.
Instructions

1. Cook pasta to al dente.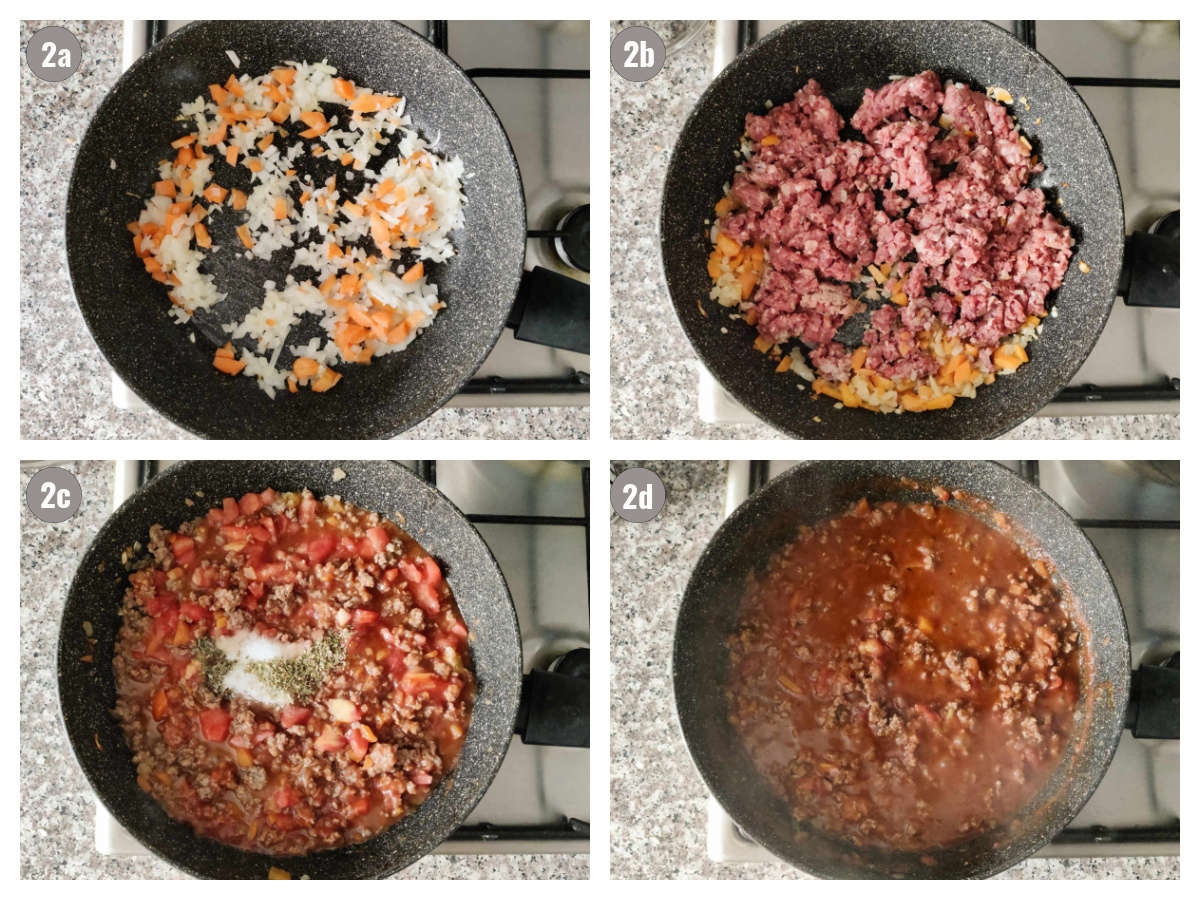 2. Make the bolognese-style sauce by first simmering onion, carrot, and meat, and later adding tomato, tomato sauce, and seasonings.

3. Whisk eggs and heavy cream until smooth for the coating.
4. Butter the pan. Combine pasta, bolognese, and coating. Bake 15 minutes.
5. Add cheese and bake another 5-10 minutes.
Recipe FAQs
What type of meat is ground beef?
Just as it sounds, ground beef is beef that's been ground down, usually once or twice. Any cow part works (chuck, sirloin, etc.), except organ meat and bones.
How to thaw ground beef?
The best way to thaw ground beef is to transfer it from the freezer to the fridge the night before you plan to use it. If it's not thawed the next day, take it out an hour before cooking, and leave it on a tray on your countertop. (During the thaw, the meat will leave residue liquid and some blood behind.)

Alternatively, thaw it in your microwave. It usually asks that you enter the meat weight on the thaw option. Regardless, keep checking the meat before the microwave finishes, as sometimes the meat will turn brown and dry out. You can discard those parts and use the red meat. (Always thaw the meat in a microwave-safe bowl as otherwise liquid the meat expels will turn your microwave messy.)

The final way is one I use the most. I take the meat out of the freezer about an hour or two before I plan to make it. Wrapped in foil or saran wrap, I place the meat into a bowl with lukewarm water. (Here also you'll have some liquid remaining.) I keep checking the meat with my hand for any frozen areas and break them down for quicker thawing. If necessary, I change the water once or twice as it gets cold. (Avoid doing it this way if your kitchen is too hot.)
Is it ok to cook ground beef in tomato sauce?
This one is a yes also! Think bolognese and meatballs.
Do you boil pasta before pasta bake? Can you bake raw pasta?
Depends on the pasta you're working with. Generally, it's best to cook it al dente, and then assemble the ingredients together. (Today's ground beef pasta bake is an example!) However, there are also no-boil pasta options like our lasagne (look below).
Ground Beef Recipes
Here are a few more of our ground beef recipes to try:
Thoughts?
If you made Ground Beef Pasta casserole and liked it, please consider giving it a ⭐️⭐️⭐️⭐️⭐️ (5-star) rating. This helps others find the recipe more easily!
Also, feel free to leave a comment (I read each one!), and don't forget to tag a photo #balkanlunchbox, or us @balkanlunchbox, on IG.
Prijatno and bon appetit!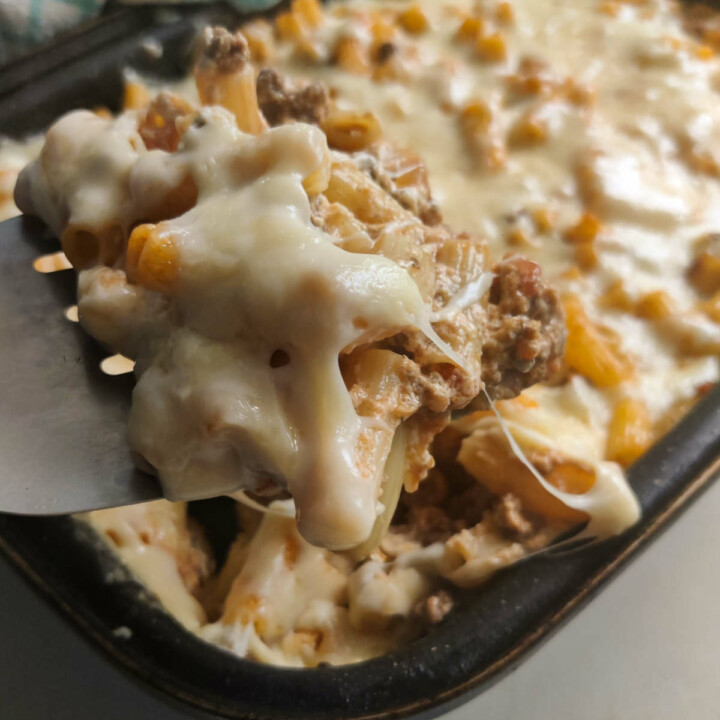 Ground Beef Pasta Bake (Balkan-Style Johnny Marzetti)
Short noodles combined with a bolognese-style sauce, topped with creamy topping and cheese, then baked. Not your average casserole!
Equipment
1 baking pan sized 9in x 13.5 inches, or a little bigger.
Ingredients
1

pound

tube pasta

ziti, macaroni, penne, farfalle, rotini, or cavatappi, etc.

2

tablespoons

butter

diced, for greasing the pan
Bolognese-style Sauce
3

tablespoons

oil

vegetable, sunflower or coconut

1

onion

large, diced

3

garlic cloves

minced

1

carrot

minced

1

pound

ground beef

or veal

1

tomato

skinned and diced

1

cup

tomato sauce

1

teaspoon

sugar

salt to taste

pepper to taste

½

teaspoon

basil

½

teaspoon

oregano

1

tablespoon

parsley

or handful of fresh, minced
Coating
2

eggs

14

ounces

heavy cream

salt to taste
Topping
1

cup

cheese

parmesan, edam or gouda, grated
Instructions
Make pasta based on box directions until al dente. Drain and transfer to a baking pan in which you've placed the butter. Heat oven to 480°C (230°C).
Bolognese-style Sauce
(Parallel to making the pasta) In a deep pan heat oil over medium. Add onion and garlic and simmer for 2-3 minutes. Add carrot and simmer another 3-4 minutes. Add ground beef and continue simmering for 5-7 minutes while stirring. Finally add the tomato, tomato sauce, sugar, and spices. Stir well until everything is integrated and simmer for an additional 10 minutes.
Coating
In a medium bowl, combine and whisk coating ingredients until smooth.

Pour bolognese over pasta and mix well. When integrated, also pour the coating and let it seep through the entire casserole. Stir if necessary.

Bake for 5 minutes. Lower the temperature to 390°F (190°C), and bake an additional 5-10 minutes. Take out, and add the cheese topping. Return to the oven for another 3-4 minutes, or until the cheese melts.

Serve immediately. Refrigerate leftovers for up to 2 days.
Nutrition
Serving:
1
of 6
Sodium:
1447
mg
Calcium:
380
mg
Sugar:
4.7
g
Fiber:
1.8
g
Potassium:
768
mg
Cholesterol:
301
mg
Calories:
840
kcal
Saturated Fat:
26.2
g
Fat:
50.2
g
Protein:
46.4
g
Carbohydrates:
52.4
g
Iron:
18
mg
More Recipes To ❤️