Meat and cheese pasta casserole: another in a series of one-pan, under an hour recipes. Chewy and soft, you get all the necessary ingredients in this one, your carbs and proteins. Just add a salad for some greens.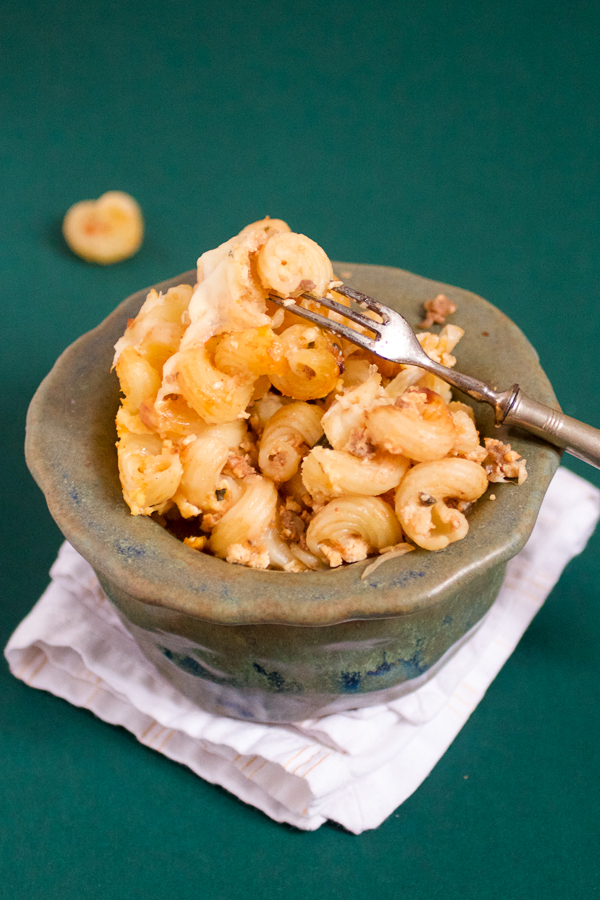 Baked pasta with cheese is another one of my sister's recipes. You'll like this one. It's like a sexy little casserole. And I abhor casseroles (except moussaka) so you can trust that this one is really good. There are a couple of steps to be done simultaneously. If you're an organized type of person, this should be a dream come true: a few things done at the same time, all which cumulate in a wonderful bowl (or plate) of chewy, soft, stretchy pasta with cheese, dotted with ground beef in just the right places.
And if you're disorganized, making this pasta will be a Mr. Bean kind of experience.
I don't know where my sister comes up with recipes. Sometimes she'll read one and make it the same way. Most of the time however, she combines a few different ones with her few years of experience. She intuitively knows how to make something work the first time. She's the Tesla of kitchen. Before she picks up the spatula, the entire meal has been worked out in fine detail in her head. Then it's just a matter of everything else dancing to the melody. And it does. And it's nothing short of magic.
Honestly, I'm not yet at that level of development or courage. And I have an inkling I never will be. That's not to say I'm not decent in the kitchen. Oh I can whip up some great stuff. But mine are the efforts of a tortoise. I don't have an intuition yet. Maybe I never will. So I exchange that with practice. Just a few weeks ago, after arriving to Sarajevo, I wanted to make a perfect phyllo cheese pie). In the US it comes out wonderfully each time. But here, I made six pitas in two weeks just to get it to that level of yummy. The dough was different, the cheese was different, sour cream different. Everyone avoided me in fear I'd make them eat more of the same.
Let me ask you something. Is there anything more comforting for the soul than a full plate of good pasta?
I remember the Paleo craze. You remember that inquisition? When saying you liked carbs got you treated like a criminal. It was all bacon this and fat that. It got so bad my then boyfriend received an email from a close friend warning him to not let me be a bad influence, to do all necessary to stop me from sabotaging his efforts to be healthy?! Paleo was the best of times, and the worst of times.
I'm one to try new things, so I jumped on this wagon of wonderful fats and proteins. Things went well for one full day. On the second day I was a little edgy, but tolerable. Then the third day came, and I was a horrible human being. A mouthful of vile comments, and hands full of stuff I was throwing at people. That afternoon, I had a very clear vision of eating fingers. It was so vivid, I came to my senses just in the exact moment I realized I was licking my fist as if it were some great, exotic meal. One more day and this blog would never have existed.
Sure, I'm aware my body was going through ketosis, and in a few days I would have been fine. But you know what? I hated it. And you know what else? I don't want to live in a world without pasta. Without smoothness. Without options. Without possibility. Without superior tasty meals brought to us by the same people that also brought to us the Renaissance. Or the people in ancient Asia where noodles probably originated from. (So thank all of you for pasta. You've made my life happier.)
At the end of the day is there anything, anything, more comforting than a plate filled with pasta in a favorite sauce?
The downside, of course, is that we eat so much of it, that sometimes it's hard to come up with a new take. So this baked pasta with cheese is a refreshing view at pasta possibilities. It almost resembles lasagna with curly pasta.
Getting back to the comment about organization, you'll need some working space for this one. Or rather, stove working space. In a pan you'll make the meat sauce. There is a little bit of onion simmered on oil action involved, to which you'll add the meat and simmer some more. In a bigger pot you'll make the pasta, but only halfway. And in a separate bowl you'll make a heavy cream sauce number two. You'll combine all three. Bake. And add cheese at the end.
It looks a little complicated, but the saving grace for this one is that it's really, really, really easy and the time goes fast.
For the end, here are a few tips on how to make your pasta just right.
Add salt to the water. One teaspoon of salt per quart (or liter) of water is the easiest formula. Don't rinse. Once pasta is finished, drain it, but don't rinse to prevent stickiness. Avoid the oil. Forget adding oil to the water to prevent pasta clumping together. Stir it frequently while it cooks instead. Bigger pot please. Use a larger pot than you think you'll need while cooking pasta.
Print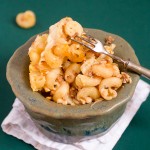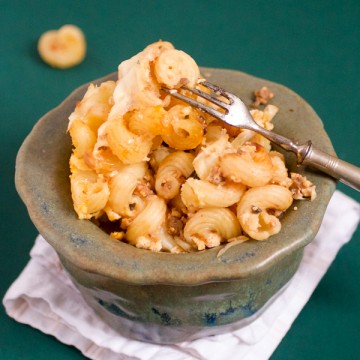 Baked Pasta With Cheese Recipe (Zapečeni Makaroni)
Author:

Prep Time:

5 mins

Cook Time:

45 mins

Total Time:

50 mins

Yield:

6

1

x

Category:

Main Course
---
MEAT SAUCE

3 tablespoons

oil

1

yellow onion (large, diced)

3

garlic cloves (minced)

1

carrot (minced)

1

pound ground veal or beef

1

tomato (skinned and diced)

1 cup

tomato sauce

1 teaspoon

sugar

1 teaspoon

salt

1/4 teaspoon

pepper

1/2 teaspoon

basil

1/2 teaspoon

oregano

1 tablespoon

dried parsley (or handful of fresh, minced)
TOPPING

2

eggs

14 ounces

heavy cream

1 teaspoon

salt
PASTA

1

pound tube pasta (or similar)

1 cup

parmesan cheese (or edam or gouda, grated)

2 tablespoons

butter (for the pan)
---
Instructions
In a deep pan heat oil on medium, then add onion and garlic. Simmer, then add the carrot. Stir and simmer 3-4 minutes, then add ground beef. Stir and continue simmering for 5-7 minutes. Finally add the tomato, tomato sauce, sugar and spices. Stir well until everything is integrated and simmer an additional 10-12 minutes.
Fill another pot with water for pasta, and bring to boil on high. Add pasta and lower to medium. Stir frequently and cook until pasta is halfway done. Drain and transfer to a pan that's been buttered. (Pan size: 9in x 13.5in, or a little bigger.) Heat oven to 480F.
In a bowl, whisk eggs, heavy cream and salt until smooth.
Pour the meat sauce over pasta and stir with a spatula. Finally, pour the topping sauce evenly over the pasta and meat sauce, and do not stir this time.
Place in the oven and bake for 10 minutes. Lower the temperature to 390F and bake an additional 5-6 minutes. Take out and top with grated cheese. Return to the oven for 3-4 minutes, or until the cheese melts. Eat while warm.
---