Risotto with vegetables and meat is a damn good, 45-min, one-pan meal.
You might know I'm not crazy about rice. I'm thinking it must be from the years in war when we had a very limited diet, limited as in whatever came via humanitarian aid, and a lot of rice came. However one created the menu, rice showed up on the list at least five to six days a week.
Rice. Rice with canned mackerel that smelled like a gas station toilet. Rice pie. Rice with canned ground beef street dogs wouldn't eat. Rice in sauce of nothing. Macaroni. Rice. Rice again.
For years after the siege I couldn't stand to even look at it.
But it's been a while since the war ended, and slowly but surely rice has snuck up back onto the list of things I'll eat. To its defense, it came back in most creative of ways. One of them was baked chicken with rice. Another was the mushroom risotto. I'm not impartial to sticky rice either. Another one is the risotto we'll be making today.
It's really just as simple as you can see on the photos. Not a complicated recipe like ajvar (ajver). It's easier than even moussaka.
Perfect for days when you just want to kick your heels off and relax after a long day. It's for those nights when you want to pour yourself a glass of red wine and let dinner take care of itself, the sides and everything else.
You won't have to worry about whether you're feeding the kids all the necessary veggies when you make this risotto, because they're included in that one wok. And your husband will luck out if he's the one cleaning the dishes after the dinner, because there won't be a million pots and pans to deal with.
And the happiness doesn't end there... There will be at least enough left for you to box it up for lunch at the office tomorrow, so you can impress those nosy colleagues with your perfectly put together, tasty meal.
This recipe alone erased my rice ptsd. Think of what it'll do for you if you liked rice to start with.
Enjoy!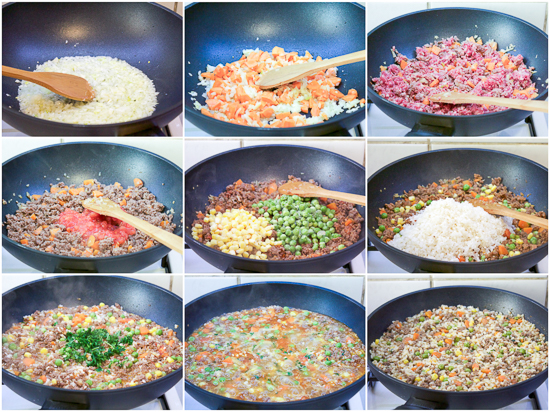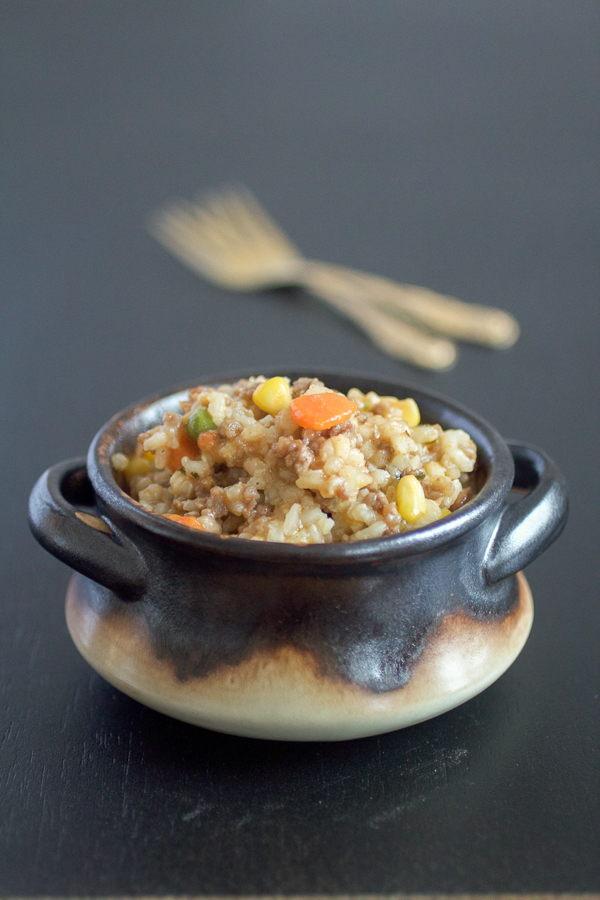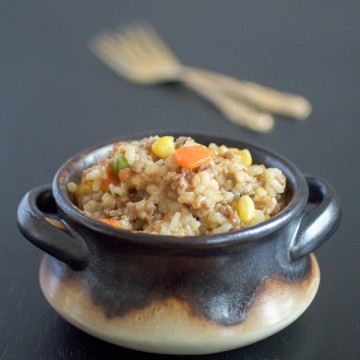 Colorful Risotto Recipe (Šareni Rižoto)
Ingredients
1

tablespoon

butter

2

tablespoons

oil

2

yellow onions

small

2

carrots

10

ounces

ground beef

1 to

mato

medium

1

cup

corn kernels

1

cup

green peas

1

tablespoon

seasoned salt

1

tablespoon

paprika

½

teaspoon

pepper

1

and ¼ cup rice

medium to long grain round white rice

1.5

cups

beef broth

2-3

tablespoons

parsley
Instructions
Place a wok on stove on lowest setting and add butter and oil. When they're hot, add diced onion and diced carrots. Simmer for a few minutes. Add ground beef and mix well.

Skin a soft tomato and dice into the wok. Continue by adding corn, peas, and the seasonings. Mix well and simmer together for 20 minutes.

Add rice and parsley to the wok together with beef broth and two cups of water. Simmer another 20 minutes. Turn the stove off, cover the wok, and leave for a few minutes so the rice soaks up the moisture.