Classic seafood risotto in white wine is the quickest way to upgrade your weeknight meal into a sophisticated dinner. Minimal effort. Outstanding taste. You in?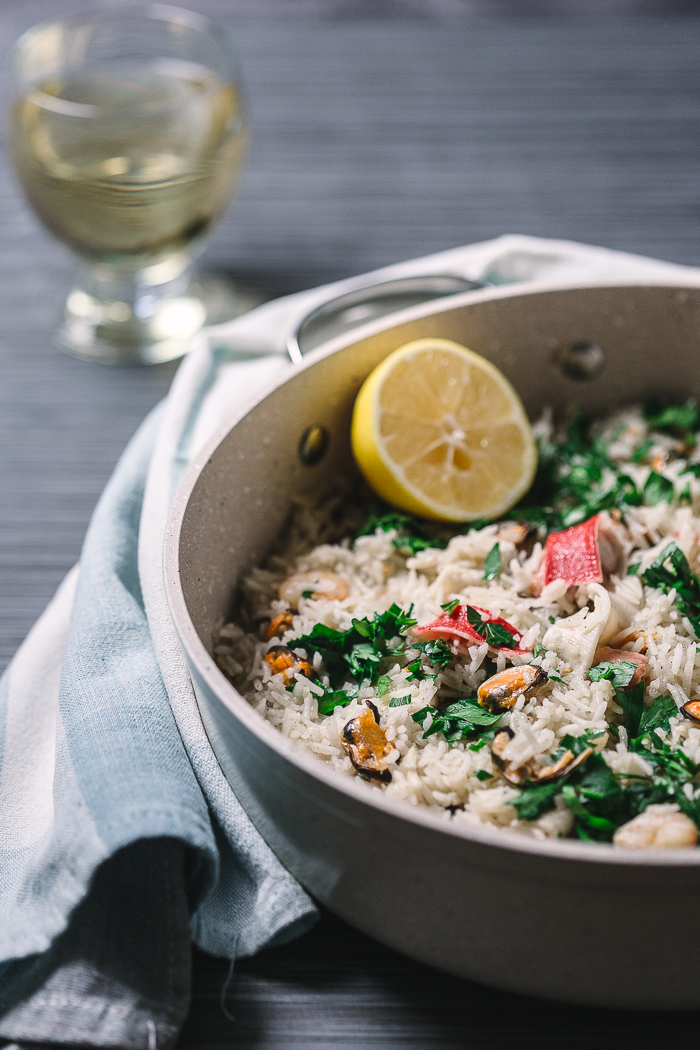 It's been a hectic few weeks. And that's an understatement.
My phone stopped working on a Tuesday morning. After a few unsuccessful and frantic attempts to fix it on my own (and a several-hour long, futile, conversation with the service provider), I bought a ticket for DC for the Thursday of that week.
(My US service provider would not send a new phone to Sarajevo. Nor would they let me order the same phone from Sarajevo. Naturally, I couldn't find a North American model of the phone here to buy. And there are only about 2-3 models the provider allows on the plan, neither of which I can get here.)
I don't know about you, but I'm not very good about transferring files from the phone to the computer. I'm even worse at backing them up on a cloud. As a result, I lost an incredible amount of photos, files, client contacts and history... In short, a disaster I created myself.
The computer situation was also growing troublesome. For a while now letters "R" and "D" weren't working. I got a wireless keyboard thinking I'd wait until April when I originally planned to go Stateside this year. However, the comp must have anticipated this, so it started making strange noises. It got to the point where Aleksandra and I had to take frequent breaks in the middle of editing videos.
Other tasks that took an hour or two, were now taking a few hours. This started to seriously interfere with my work.
I took the comp to an affiliate Mac store (there are no actual Apple stores in Sarajevo), and they offered to send it out of the country to fix it. I didn't feel comfortable with this. I had to make a decision, fast. Besides, I had to finish up additional business in the US so it made sense to take the trip then instead of when originally planned.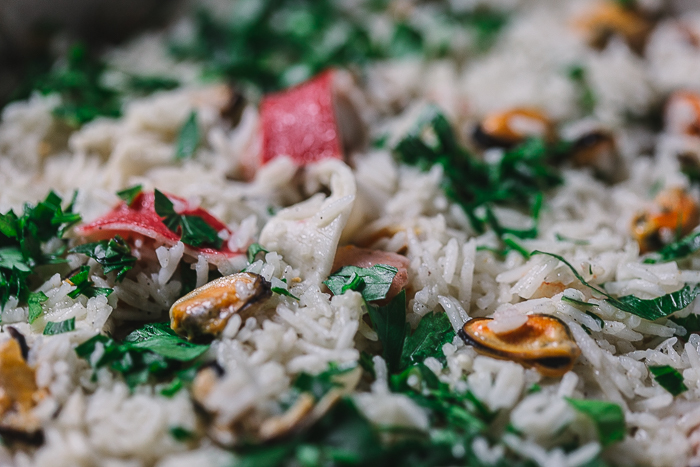 So there I was, on the plane, one snowy Thursday morning. Zagreb, Amsterdam, DC. I arrived to DC smack in the middle of the nastiest Friday rush-hours only my fellow DCists can relate to. The traffic swiftly validated my move to Europe.
After 3 hours in a rental with no GPS and no working phone, going via map directions, I finally pulled into a familiar neighborhood and jumped into an Exon station. There, the nicest clerk in the world let me use the store phone.
I called the cousin I was to stay with and asked her to pick me up. Did I tell her where? Sort of. Did I tell her what car I was renting? Forgot that too. But they still made it. In about 30 minutes the entire family came to pick me up, Balkan style. A glorious welcome!
And that was just the beginning of the trip. I'll tell you more about it, but first let's talk about this seafood risotto.
Upon my return to Sarajevo ten days later, I couldn't sleep for days. I did what most people in my situation would do and went to mom's. Aleksandra was starting a new job so she needed a few BLB-free days.
Mom and I tried out a few recipes.
One that stayed with me is this classic seafood risotto. Seafood is first simmered over garlic on olive oil, then continued simmering with the addition of crisp rice which slowly softens in white wine.
Aroma of this dish will stay in your home for a while. What about the taste? Sophisticated, grown up. It feels like a restaurant meal.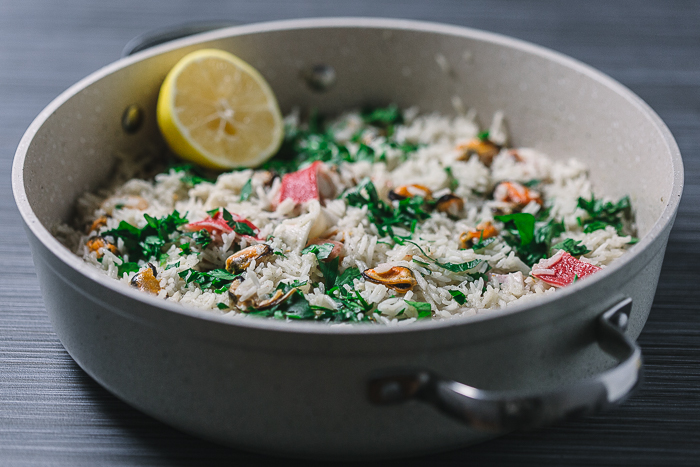 More Seafood
We don't do much seafood around here, but when we do it's excellent!
I really like the recipe for the classic seafood potato salad (with eggs and onions) that goes great with any type of fish, including most seafood. Creamy saffron shrimp is also one of my favorite shrimp go-to's, although anything shrimp warms my heart. This one is a simple 10-minute lemon and heavy-cream infused sauce with thick and filling tagliatelle.
For tuna lovers there is a great little tuna salad loaded with veggies. Appetizer-wise there are the fried calamari, and who can resist them? And if you're here only for the wine, well we've got the mushroom risotto in white wine for you. Who loves you?
Thoughts?
If you made Seafood Risotto in White Wine and liked it, please consider giving it a ⭐️⭐️⭐️⭐️⭐️ (5-star) rating. This helps others find the recipe more easily!
Also, feel free to leave a comment (I read each one!), and don't forget to tag a photo #balkanlunchbox, or us @balkanlunchbox, on IG.
Prijatno and bon appetit!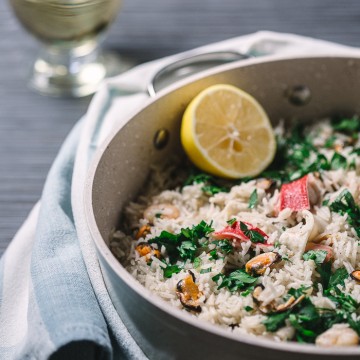 Seafood Risotto
Classic seafood risotto in white wine is the quickest way to upgrade your weeknight meal into a sophisticated dinner. Minimal effort. Outstanding taste. You in?
Ingredients
9

ounces

rice

long grain

½

cup

olive oil

5-6

garlic cloves

minced

10-12

ounces

mixed seafood

frozen or fresh

Pepper to taste

Sea salt to taste

1

cup

dry white wine

Pinot Grigio or Sauvignon Blanc

1-1.5

cups

lukewarm water

Optional 1 tablespoon butter

1

strand of parsley

minced
Instructions
In a medium bowl, cover rice with water and set aside while you do steps 2-4. Then wash and strain.

In a large pan, heat olive oil over low to medium temperature for 1-2 minutes. Add garlic and simmer until golden (about 2-3 minutes).

Add seafood and stir continuously for about 5-6 minutes.

Add spices and wine and bring temperature up to medium. Simmer and stir occasionally for 5 minutes.

Add rice and water.* Cover the pan halfway and simmer another 15-20 minutes (or until rice absorbs the liquid, but is not overly soft). (Optionally) Add butter and stir well.

Garnish with parsley and serve.
Notes
*The amount of water will vary based on rice. If the rice absorbs everything keep adding little bit more at a time. The rice should be soft, but not overly soft.
Nutrition
Serving:
1
/4 of the pan
Sodium:
749
mg
Sugar:
0.8
g
Fiber:
1.3
g
Cholesterol:
87
mg
Calories:
587
kcal
Saturated Fat:
4.5
g
Fat:
26.5
g
Protein:
17.3
g
Carbohydrates:
56.9
g