Macedonian baked beans (tavče gravče) are a classic side dish present for every holiday, and on many days in between. Large, flat beans are softened to the just-before-falling-apart level, and then baked with chunks of onion in an abundant amount of sweet paprika.

(BOSANSKI)
Traditional dishes present a challenge to share. (I dare you to discuss making baklava, ajvar pepper spread, or Balkan pie with someone from the area.)
There is a general direction we take to make them, plus the tweaks. Many of those are considered "the right way." So it's a balancing game to achieve a version that will satisfy the requirements of the tried, true and traditional taste we're used to. The trick to do it on our own terms while not straying from the pillars.
An earlier version of these Macedonian baked beans featured on the site was a quick way to make this side dish.
Today we delve into the conventional way.
In the earlier recipe I've mentioned the importance of this dish. Macedonia is most known for this delicacy. There they call the dish tavče gravče, or 'beans in a pan.'
The best pan baked beans are made with a special type of regional bean called tetovac. Tetovac originates from Macedonian city of Tetovo. For a long time it was the most known bean in the region. Back in the day it was planted throughout Serbia and parts of Bosnia too.
Tetovac is a large, white, flatter bean. Not completely flat though. There is a certain meatiness to it. When prepared well it achieves the softness of a chestnut. When you bite into this bean, there is a lot of substance.
This is a hearty side dish. Eat too much of it, and you'll be too stuffed to eat the rest of your meal. Eat too little, and you'll be left with a lingering for more.
The taste leans towards sweet achieved with paprika and soft, simmered onion. This delicacy's recognition factor is the paprika. In Bosnia and Serbia sweet, but not too sweet paprika is used. The kind without the spiciness factor. Paprika just accents the already successful, sweet taste of combined bean and onions.
In Macedonia however, sharper, spicier tones of paprika are used. The taste is spicier, and will be more up your alley if you are a lover of spicier things.
This translates into more choices for you.
Original tetovac is harder to find today. And if you're in the US, it'll be near impossible.
However the white butter bean is a great substitution. White lima beans also work. Just look for the flatter, larger version. You'll need them dry, not canned.
First clean it from the debris. Soak it overnight in plenty of water, with a pinch of baking soda. The following day strain and wash thoroughly. Transfer to a pan, bring to a boil, then cook until the beans are soft. Strain again and combine with simmered onions. And let them take a journey in the oven together.
As I mentioned before, the easiest version is to go with 1:1 bean to onion ratio. However it's not strictly so. You can do a little less onion, or a little less beans. The first time you make it, make the ratio even. After that, let your taste guide you.
Macedonian pan beans are great as a roast side.
They make a fantastic sandwich too, along with a glass of beer.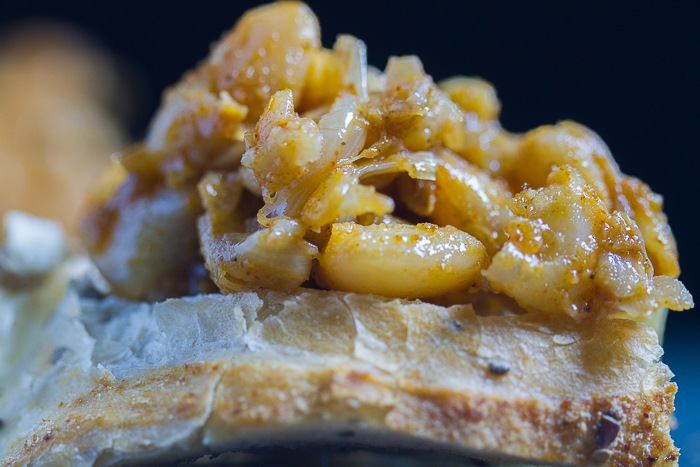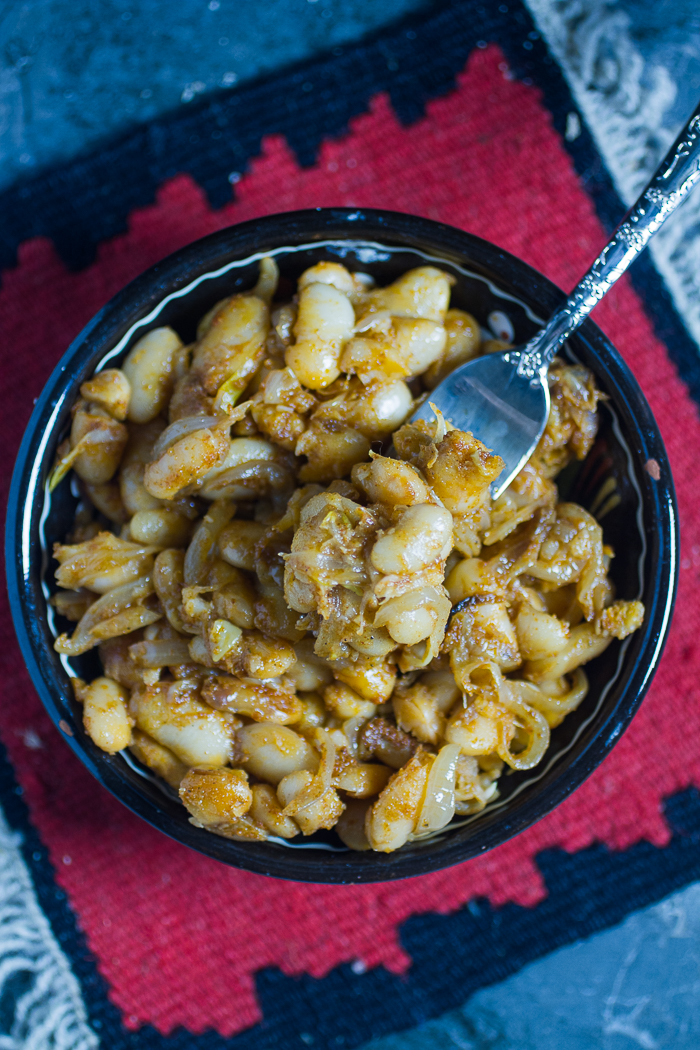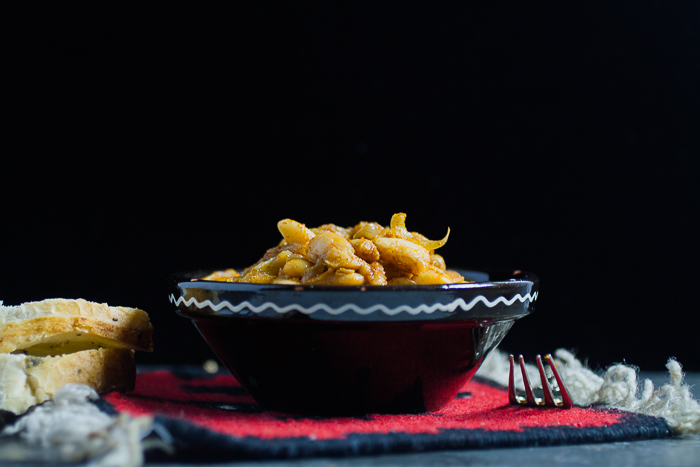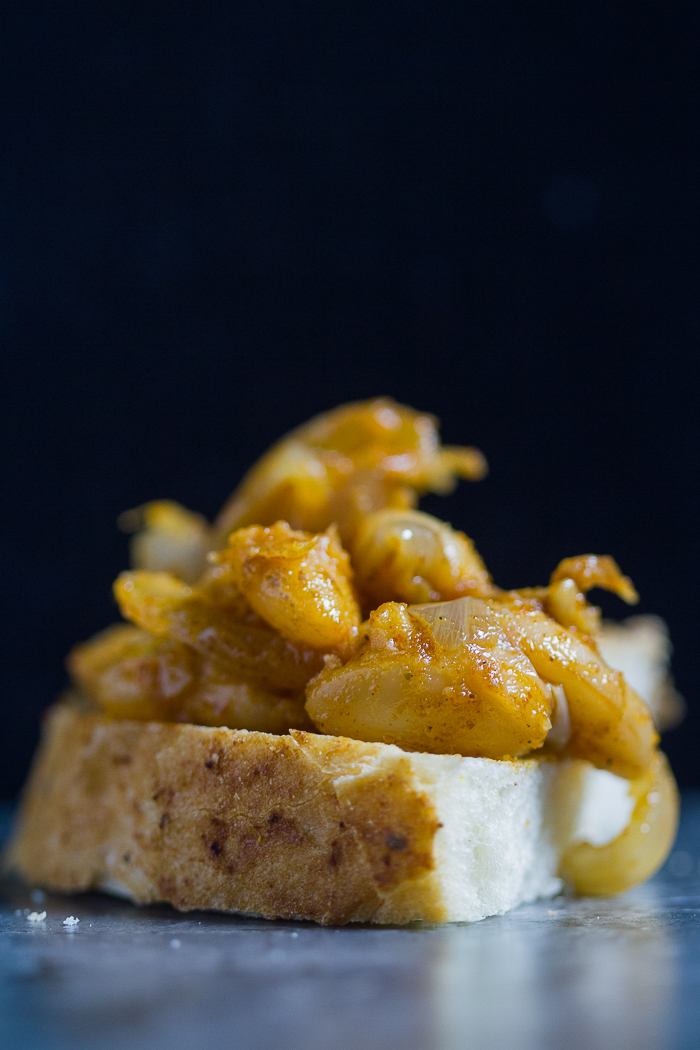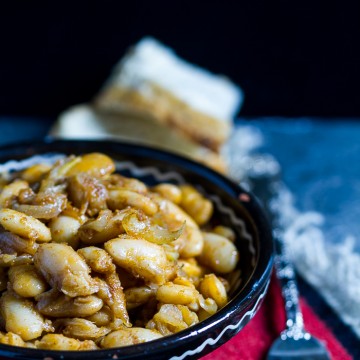 Macedonian Baked Beans (Tavče Gravče)
Ingredients
1

teaspoon

baking soda

24

ounces

dry white flat beans

lima, butter bean or tetovac

24

ounces

yellow onion

cleaned, diced into half moons

⅓

teaspoon

ground pepper

1.5

teaspoons

seasoned salt

or vegeta or 1 bouillon cube

3

teaspoons

paprika

7

ounces

vegetable oil
Instructions
In a large bowl, soak beans overnight in plenty of water and baking soda.

The following day strain the beans and wash thoroughly. Transfer to a large pan and cover with 6-8 cups of water. Bring to boil on high, then lower the temperature to medium. Continue cooking beans for the 60 minutes or until they are soft, but not falling apart. During cooking, keep removing the foam that forms on top of the pot and stir.

About 40 minutes after you've put beans to cook, heat oil in a large pan on high. Add onions and lower the temperature to medium. Simmer for 15-20 minutes, or until onion crystalizes but isn't completely brown. Heat oven to 480°F.

Remove beans and onions off heat. Strain beans, however keep 8-10 ounces of water in which it was cooked. Transfer to a baking pan by first layering the onion, then the beans. Add spices on top. Finally, add the bean water. Mix thoroughly and transfer to the oven. Lower heat to 390°F.

Bake 30 to 40 minutes. Check once or twice. The beans should be baked and soft with a slight, non-dry crispiness in parts.

Serve warm.
Notes
The usual ratio is 1 part onion 1 part beans. However you can adjust until you achieve the taste you like.
Traditional Macedonian baked pans ask for sharper, spicier paprika. We used the sweet paprika usually used in Bosnia and Serbia.
VARIATIONS:
Gluten-free: Use vegeta or a gluten-free bouillon cube.