Veal pâté is a smooth spread that is both an appetizer and a side dish. Rich meat flavor is sweetened and simmered in onions, then additionally softened by blending with mayonnaise and sour cream. It's not a surprise this decadent spread is everyone's breakfast favorite.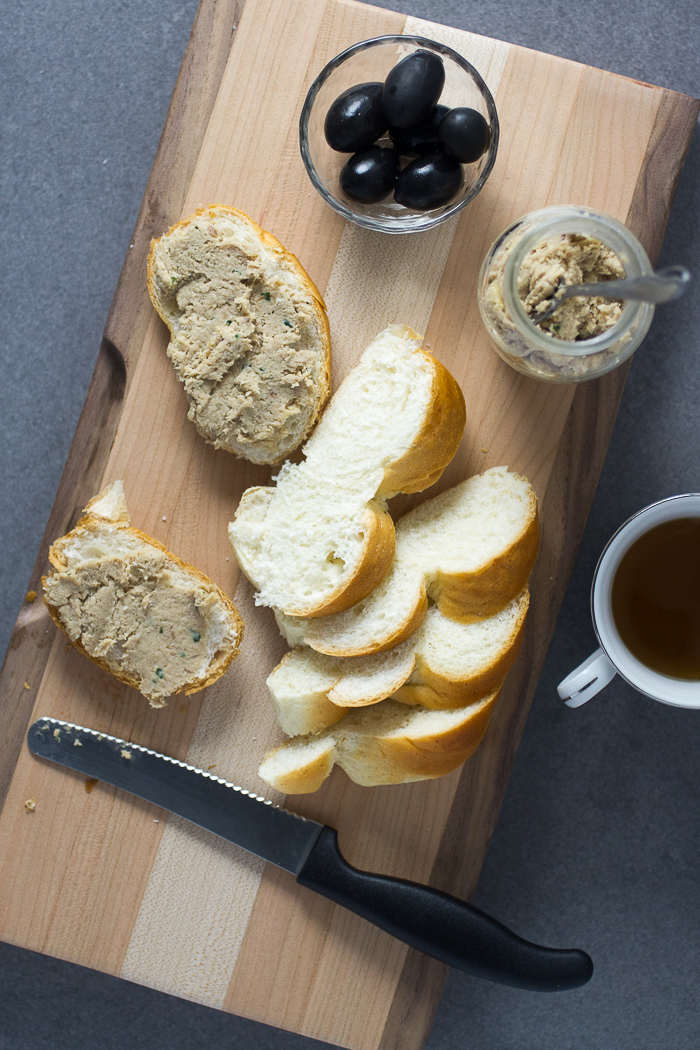 I can't remember the time in my life when I didn't have some form of pâté in the fridge.
My love for pâtés started in childhood. On weekdays before school my grandmother used to make small sandwiches and coffee for me. (Coffee drinking, in minimal amounts, begins early.) In addition to our version of peanut butter and jelly, also known as butter and honey, all sorts of pâtés were customary.
If you aren't familiar with them, pâtés come in small round cans. You'll find them under the name pašteta. In color they vary from beige to pink, depending on the type of meat they're made from. (If you can imagine the inside of a hot dog, blended and smoothed, you'll get the idea of what they look like.)
You'll learn all about veal pâté here, but if you get a chance, try all of them. You'll see, you'll discover a favorite right away!
Chicken is the mildest type of pâté, it's beige-pink in color, and in taste it has tones of sweetness. Pork is red-pink in color, in taste it's both heavier and heartier. Beef is somewhere in between.
And veal? Well, there is a reason we're making pâté with veal, and it's because it's the tastiest.
Like hot dogs, pâtés are really all sorts of different meats, and meat parts, prepared and ground together. Like hot dogs they're not a particularly healthy meat option to buy. We're talking about processed meats. Processing is exactly what makes them so delicious. Processed foods are designed to titillate our taste buds so we'd eat more of them.
They're also incredibly destructive and dangerous for our health.
This is exactly the reason why you should make your own pâté. And I'll show you how.
The first homemade pâté I ate was in war. The irony is that even with the limited ingredients, it was probably one of the healthiest pâtés I ever ate until then.
As of recently I began making pâté again. It's uncomplicated. Delicious. But you must consume it quickly. Within a couple of days quickly. Don't be like me and expect homemade pâté to last as long as the one from a can.
Inevitably if you're unfamiliar with this spread you may ask yourself  'how does one eat pâté?' 
Your choices are limited only by your imagination. Most people eat pâtés on bread, breadsticks, or on fried mini breads. You spread as much of  your pâté on as much bread as you'd like, and you dig in.
I like to eat this veal pâté with everything. Vegetables. Salads. Meat. (Yes, I just paired meat with meat. But I'm probably an anomaly because I love meat more than most foods.) Pastries. Breads. As a side dish. For breakfast. Lunch. And dinner. On a salty crescent. Or a carrot.
One tip. This recipe requires blending. If you have a really good blender such as Blendtec  or Vitamix then don't worry about mincing meat and onions too finely before hand. However if yours is a smaller blender, and not as powerful, don't skimp on mincing meat. This will prevent your blender's motor from burning out.
Depending on your taste, you can play with the amount of mayo and sour cream you add. As far as meat substitutions, feel free to use rump steak or steak, but see that it's from a younger cow.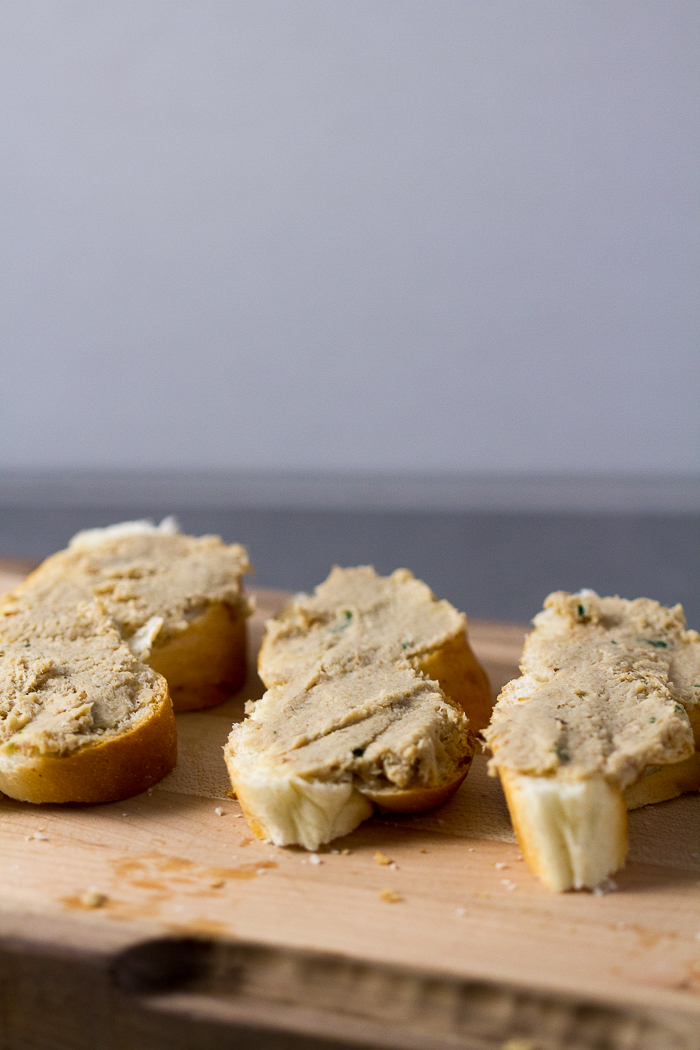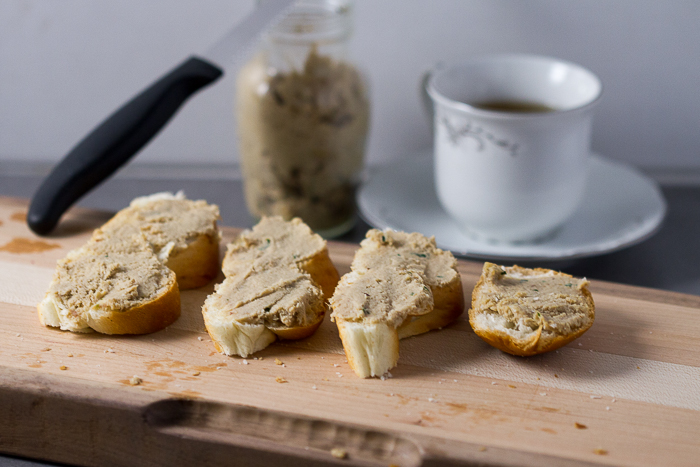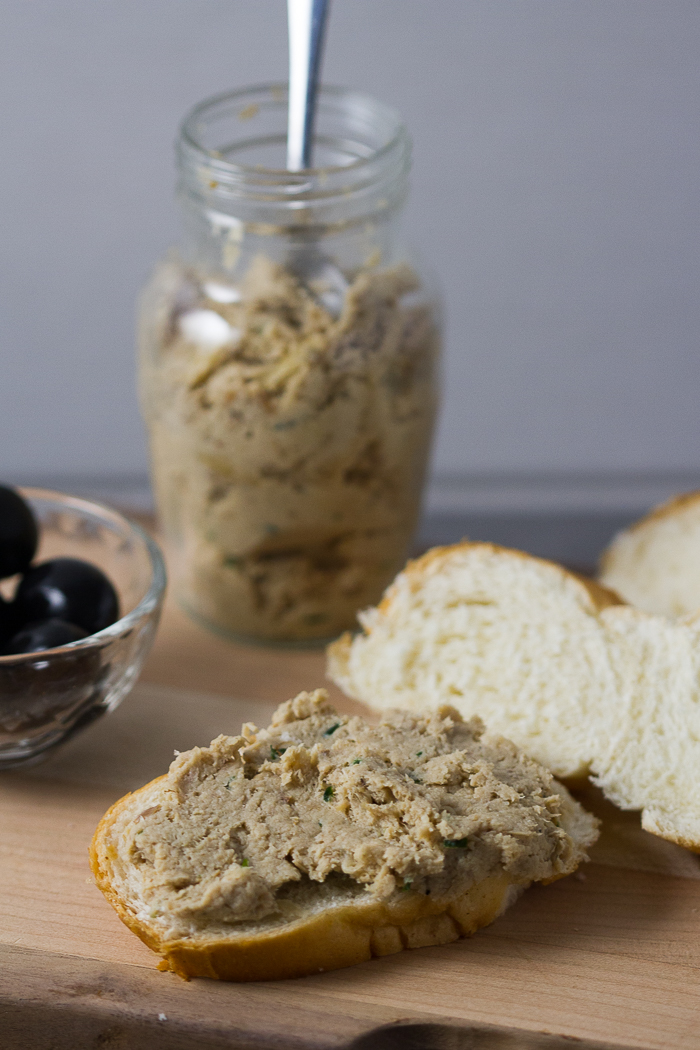 Print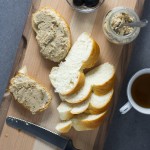 Balkan Veal Pâté
Author:

Prep Time:

5 mins

Cook Time:

40 mins

Total Time:

45 mins

Yield:

20

1

x
Category:

Appetizer
---
Scale
Ingredients
3.5 ounce

s oil (sunflower or vegetable)

1.5

pounds veal (minced)*

2

onions (medium, minced)

8

–

10

ounces water

1/2 teaspoon

ground pepper

2 teaspoon

s salt

1 tablespoon

mayonnaise

2 tablespoon

s sour cream

1

parsley strand (minced)
---
Instructions
In a large pan, heat oil over medium. Add veal and simmer for 15-20 minutes, stirring frequently.
Add onion, stir and continue simmering. Keep adding water, a little bit at a time. Simmer for additional 15-20 minutes, or until the onion is crystalized and meat is medium-well done.
Transfer to a blender. Add mayonnaise, sour cream, and parsley. Blend for 2-3 minutes, or until the mixture is smooth and spreadable. (Depending on the blender you may have to do this in two times, so divide mayonnaise and sour cream.)
Transfer to a jar and keep in the fridge. Spread over crackers, bread, or use as a side.
---
---
Notes
Mincing and dicing will depend on your blender. If you have a Vitamix or Blendtec, meat and onions can be diced into larger chunks. For any other blender, mince the ingredients ahead to prevent the blender motor burning out.
*Meat substitutions: rump steak or fillet.