If you ever wondered how to ferment cabbage, here it is! Simple formula for a complex result: great cabbage for salad, chockfull of vitamins and nutrients.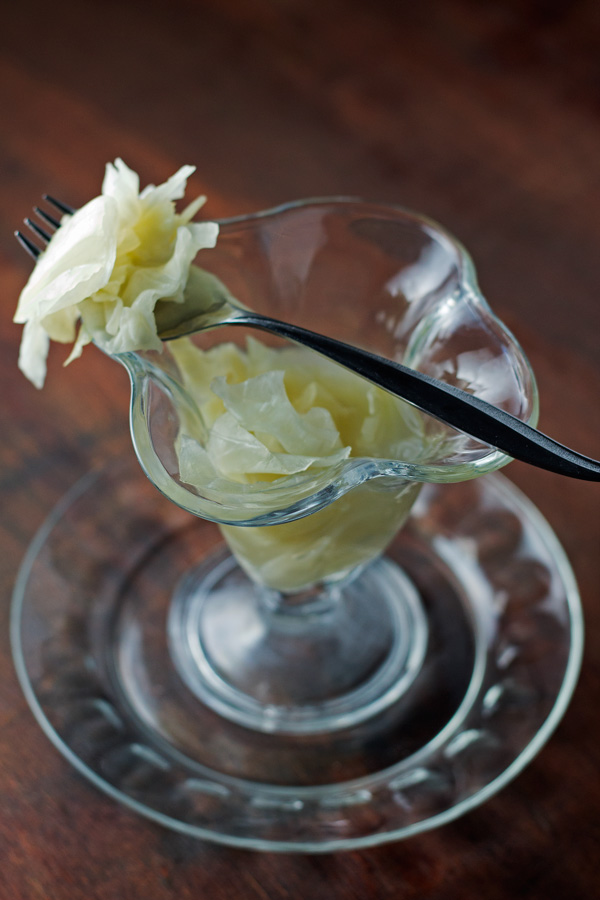 (BOSANSKI)
Late fall is all about prepping for the winter, so today I'm sharing a procedure for fermenting cabbage (kako ukiseliti kupus) in small quantities, and including a familiar fresh cabbage salad recipe.
Fermenting goes back to the pre-refrigerator days, as it was the best way to preserve fruit and vegetables for the winter. Cabbage has always been a popular choice due to its versatility. You can make a salad out of cabbage, bake it, simmer, or stuff it into what is called sarma in the region. (However, due to the seeming procedural complexity, just like making baklava, fermenting veggies has scared some away.)
Additionally, all kinds of healing properties are ascribed to both fresh and fermented cabbage, and that's probably why it has such a revered place in the Balkan cuisine. To start with, cabbage is replete with calcium, magnesium, phosphorus, sulfur, iron and a ridiculous amount of Vitamin C.
Here is an excerpt from National Health, written by Sadik ef. Sadiković, a well-known late 19th, early 20th century alternative doctor from Hercegovina, in which he describes different cabbage uses:
"Sweet and sour cabbage is not only a very healthy food, but also has medicinal properties. Fresh, ground cabbage leaves cool and bring down swellings, swelled feet, abscesses and other inflammations. Fermented cabbage dissolves and isolates bad fluids from the body, and cleanses plus strengthens the blood. Anemic people should eat raw fermented cabbage as much as possible, together with onion, cumin, sunflower oil and corn bread. People plagued by anxiety, and those with stomach problems, as well as those suffering from the illnesses of thorax, scurvy, rheumatoid arthritis, and gout also can benefit. People with these illnesses need to eat it on an empty stomach for a longer period of time, and digestion will take care of itself. For cleansing, and a persisting cough, a person should drink rasol (water cabbage was fermented in): one teaspoon every half an hour for 4-6 weeks. If rasol is too salty, it should be watered down well. For near deafness caused by ear inflammation, people can spray rasol in the ear. This has been known to achieve great success. Cabbage is also useful in the instances of bee, wasp or other insect bites, as well as with wounds and abscesses. Make a compress out of the fermented cabbage, and put it on the wound. When it warms up, after about 30-45 minutes, the compress needs to be changed. If the compress starts gnawing (due to acidity), it can be watered down. Finally, one – two glasses of rasol cures hangovers."*
Today's fermentation technique is the most basic one consisting of green cabbage, salt and water. (Red cabbage is not good for fermenting, but is delicious when fresh. See recipe below.) I like bigger chunks so I cut the cabbage up the same way I would cut an apple – first into halves, then quarters, then eights. I then layer it into a glass jar pressing it firmly, and putting about a tablespoon of salt in between layers and top it off with water. Final step is to put it on a tray, place something heavier on top, and leave it uncovered for the night. In the morning, top it off with water again as the cabbage will have absorbed some of the water, tighten the lid, and leave out at room temperature for three to four weeks.
If you're just starting I recommend a smaller jar, like the 16oz one. This will give you an opportunity to experiment how long you want to ferment the cabbage for. It becomes increasingly sourer as the days go by. You may even want to start with two 16oz jars, and leave them out for different time periods. Some recommend a shorter period of time, some for longer (I find my cabbage is best after about 20 days, but sometimes I leave it out for 5-10 days too).
(This article explains possible fermenting mistakes, and also gives great additional tips.)
*Please don't kill the messenger. I can only vouch for the cabbage as a hangover cure.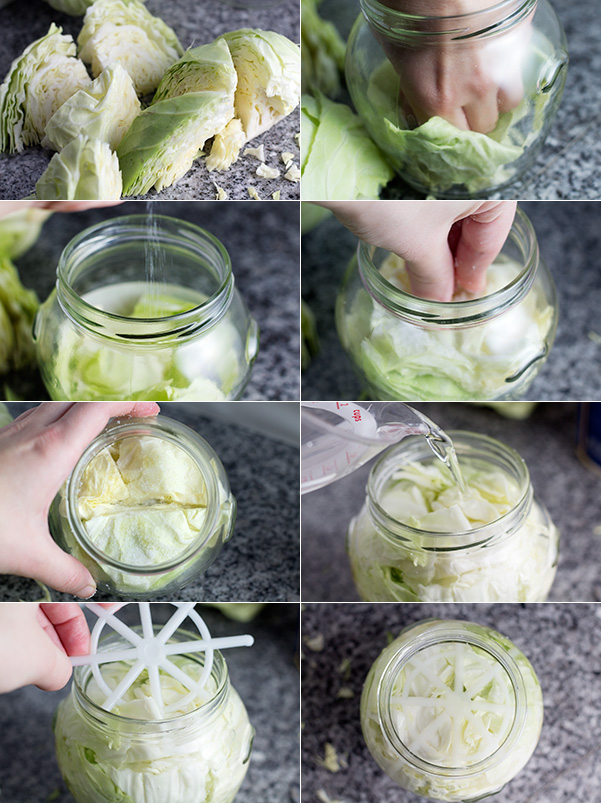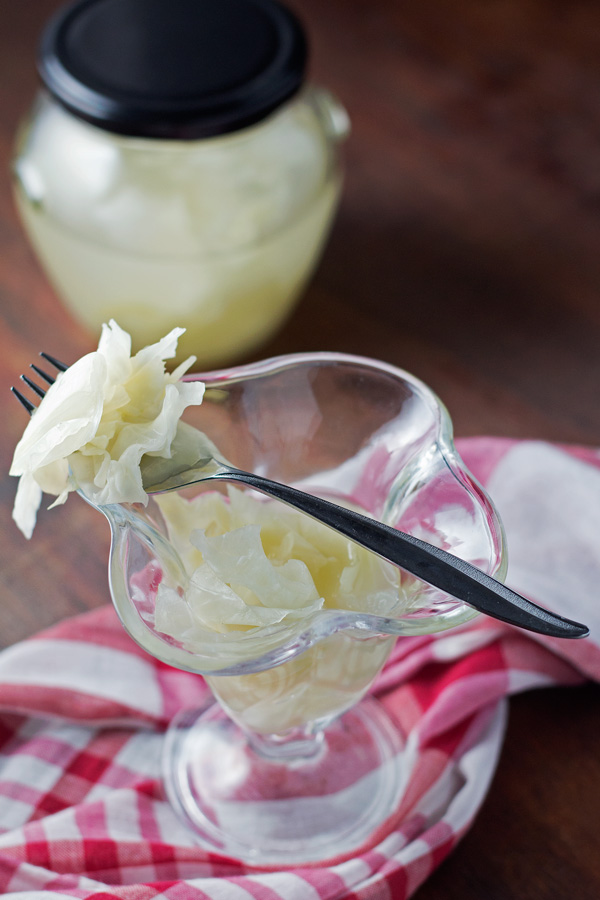 Print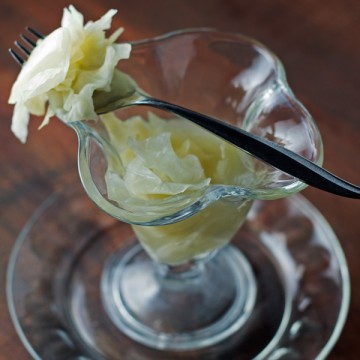 How To Ferment Cabbage (Small Batch)
---
½

green cabbage head (approximately)

4

-

5

tablespoons salt

2

-

3

cups water
---
Instructions
Cut the cabbage into a half, then into quarters, and then eights. Take some, and put a layer of it into a mason jar. Pack it in well. Get about a tablespoon of salt and generously pour over the layer. Add another layer of cabbage. Tightly pack. Add a tablespoon of salt. Repeat until the jar is filled.
Check that the jar is tightly packed. Add water until jar is filled to the top. Place jar on a tray, and add a small, heavier object on the uncovered jar to add the pressure. Leave overnight, uncovered.
In the morning, add water to top the jar off again (if necessary). Place the lid on, and cover tightly. Leave closed jar in the kitchen at room temperature for 5-10 days to 3-4 weeks.*
Transfer to fridge, and start eating!
---
Notes
*Time is all about experimentation here. If you like the cabbage more sour, leave it fermenting for a few days, or even a week or two longer. You can't go wrong.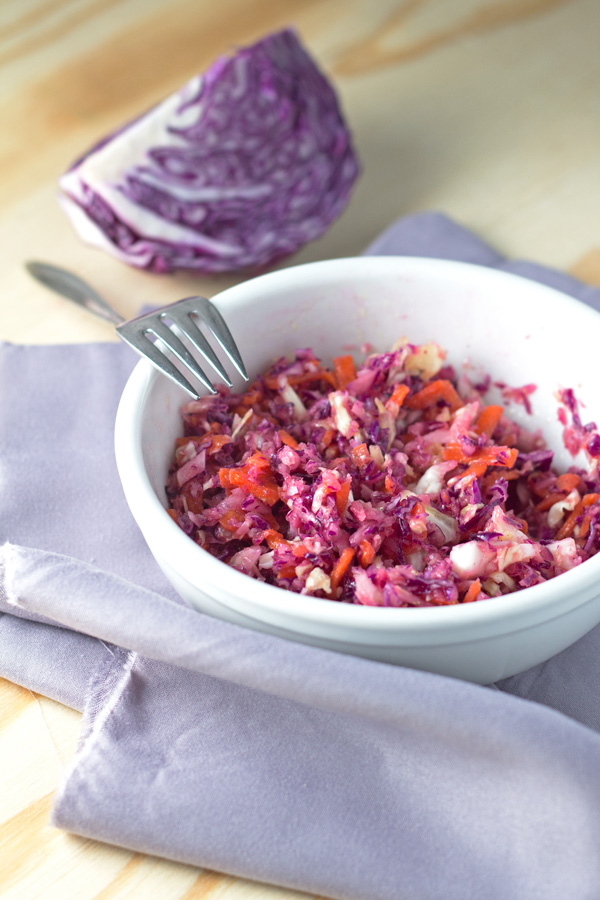 And just so we don't forget about fresh cabbage, here is a simple and familiar recipe for a salad. It's kind of fresh version of slaw, no mustard, no mayo, just salad and a simple lemon vinaigrette. (As I cannot insert 2 recipe widgets in one post I'll just write it out below.)
Prep Time: 10 min
Yields: 4 servings
Ingredients:
1 red cabbage head
1 green cabbage head
4 carrots
½ lemon (juiced)
2 ounce olive oil (or vegetable)
salt and pepper to taste
Instructions:
1. Grind red and green cabbage as well as carrots.
2. Mix lemon, olive oil, salt and pepper.
3. Combine!