Stuffed cabbage (sarma) isn't called the queen of winter for nothing. Tender and smoked meats mixed with delicate rice, enriched with few simple seasonings, then lovingly wrapped in fermented cabbage leaves. Cooked on low heat for a few hours until aromas and flavors embrace for an outcome nothing short of sensational.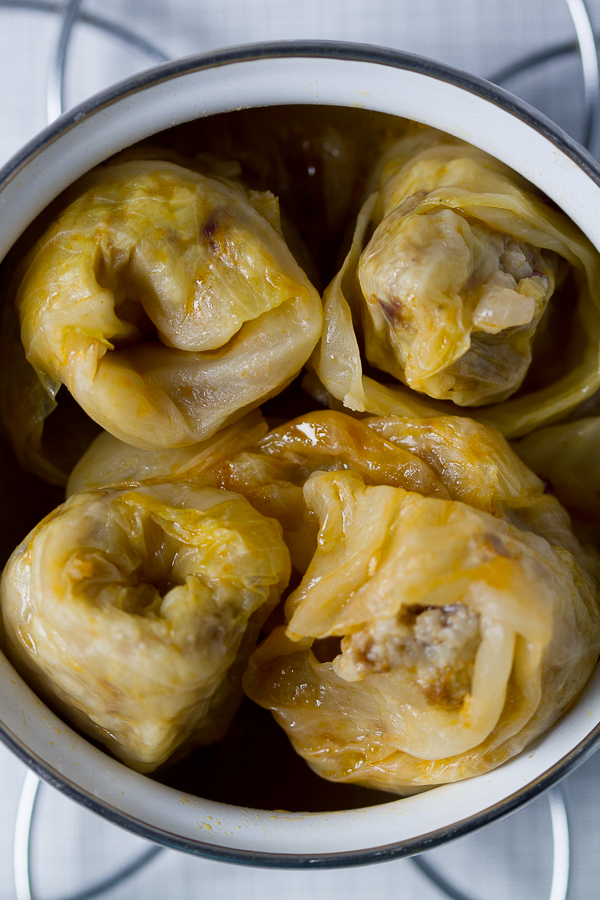 I've shared this recipe with Balkanvibe before, and I though it was time to share it with you as well. If you've read it there, this will be a refresher, as not much has changed in the preparation process.
Sarma, or stuffed cabbage, is a beloved area dish. It's a culmination of a lot of work that preceded it. Fermented cabbage for one. It takes weeks to ferment it, and get it to the proper acidity to be stuffed (used in salads, or baked). After cabbage leaves are filled, sarma is layered in the pot, more stew ingredients are added, and it's then cooked on low for three to four hours.
Some use a pressure cooker to make the process faster. This is a viable option, as sarma turns out splendidly rapidly. Others feel uncomfortable using the pressure cooker so they cook them in a large pot. As long as it's left to cook on low for a long time, while water levels are slowly replenished (there should always be a bit of water above the cabbage rolls, about the thickness of a finger), stuffed cabbage is beyond reproach.
As most stews and stew-like dishes, sarma tastes best the following day. And like most stews, sarma is a winter dish. It's even proclaimed to be the queen of winter.
Don't use fresh cabbage, or if you do boil the leaves in water for a few minutes first. I'm highly against using fresh cabbage though. Even if sarma does come out nicely (it probably will), it's still light years away from the real stuff. Its taste is supposed to be slightly sour due to fermented cabbage. It has a certain kick people love from the start. Sarma is a heavier dish. It's not something you eat every day. Sure, eat it a few days in a row. But then you'll need a reprieve from the specificity of its taste.
Sarma is a dish where surprisingly, meat isn't the ingredient that provides the strongest flavor. Instead, together with rice it softens it. It's best if you use a couple of different types of meat for the filling and the stew. For example, combine bacon with minced veal (or beef if you can't find veal) for the filling, and use pork ribs or shank for the stew. If you don't eat pork substitute with smoked beef (with veal/beef) for the filling, and larger chunks of smoked beef for the stew.
Sarma is the quintessential Balkan dish for the winter.
Here is next to the last review of recently translated recipes
Bean Stew With Kielbasa
Traditional bean stew with kielbasa meat. Dry beans are soaked (or boiled in water), water is disposed, and beans are then added to vegetables that are simmering. Later the water is added, and after cooking for a while kielbasa rounds are added. Finally, the stew is thickened with a paprika and flour roux, and lastly, seasoned.
Balkan Ratatouille
The penultimate vegetarian dish in the region (đuveč) combines close to ten different vegetables for one tasty stew. Everything's simmered on low heat until all the vegetables' juices have integrated for an earthy flavor. Perfect over rice, pasta, or polenta. The best by itself and a tasty piece of bread.
Dalmatian Tomato Sauce
If you've ever wondered how to make an easy tomato sauce with just a few fresh tomatoes, then this recipe was made for you. The combination of a few specific seasonings, and fresh skinned tomatoes, reduced on oil over low fire for thirty minutes results in a perfect topping for any sort of pasta you can imagine.
Ground Beef Patties (Balkan Schnitzels)
Burgers are not the only patties made around here. These plump, juicy patties are often offered as the meal entree outside of a sandwich. They're great with rice, over mashed potatoes, and with pasta. The best part? You already are familiar with them.
Potato Stuffed Peppers
Somewhat different version from our regular peppers filled with grated peppers, these employ the help of a little bit of a heavy cream. A favorite among vegetarians and meat eaters alike, these potato stuffed peppers are sure to be a hit with your family.
Oven Lemon Chicken
Seems simple enough, but most people are at a loss when making a whole chicken in the oven. This is a fantastic recipe to venture into the territory of moist, citrus infused chicken partnered with soft potatoes for a sophisticated one-pan dinner.
Hake With Potato Salad
We don't do enough seafood on BLB so this one will delight you in the right way. Slightly battered hake is combined with a classic potato, egg and onion salad that goes splendidly with fish. Hake is cod's European cousin, with a mild flavor, and moist in just the right way texture.
Pasta With Veggies In White Sauce
One of the simplest recipes on the site is also one of the simples recipes you'll encounter in general. Quick on time, easy on the eyes, tasty on the palate, the dish is essentially a lot of veggies simmered in heavy cream.
Okra Stew Sauce
If gumbo is the only way you've encountered okra before, you'll be delighted to learn about a different yet equally flavorful and delish okra dish. This one is simmered in a veal based sauce.
Veal Sauce With Eggplant and Peppers
An impressive restaurant-like dish everyone loves. Rich veal is simmered in onion and carrots, eggplant is fried, and peppers roasted. The three are then combined, garnished with garlic, and baked on a high temperature for an hour.
Ground Beef And Potato Pie
Hands down one of my favorite dishes. Phyllo from the box is sprayed with oil, or buttered up in layers, and loaded with a filling made with ground meat and potatoes. Phyllo is rolled up like a cigar, and layered in rows in the baking pan. The closest you'll get to homemade pita without making the dough yourself.
Potato Eggplant and Zucchini Moussaka
A good vegetarian moussaka option. Eggplant, potato and zucchini are layered intermittently, then baked. A little while before the moussaka is finished baking this moussaka's topped with heavy cream for a flavor you won't soon forget.
Chicken Paprikash Stew
Traditional stew with a base of chicken and a lot of paprika. Homemade noodles are optional. Although typically Hungarian, this dish is adopts milder manners in the Balkans.
Balkan Goulash
Typical regional sauce where meat has been softened by a long simmer during which a reduction sauce is made. Breadcrumbs and tomato paste are added as a thickener. Goulash is then served over pasta, mashed potatoes or rice.
Ground Beef and Eggs
Great breakfast that makes so much sense, but it probably hadn't occurred to you to do it this way.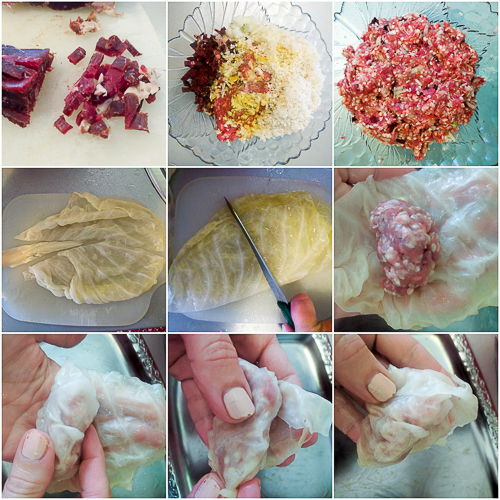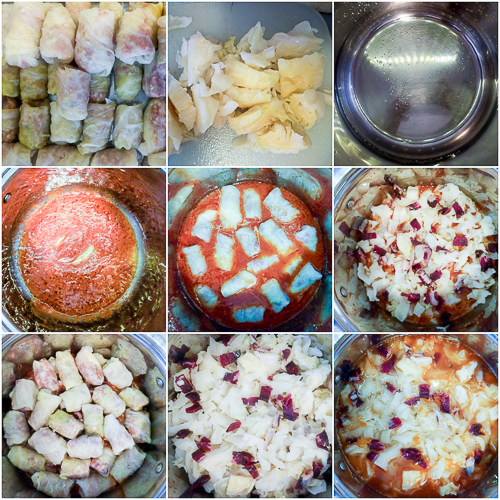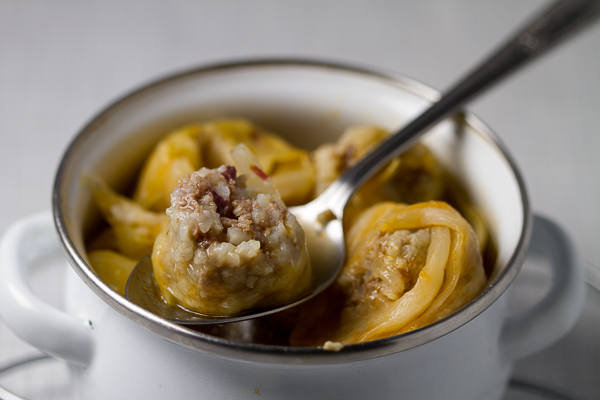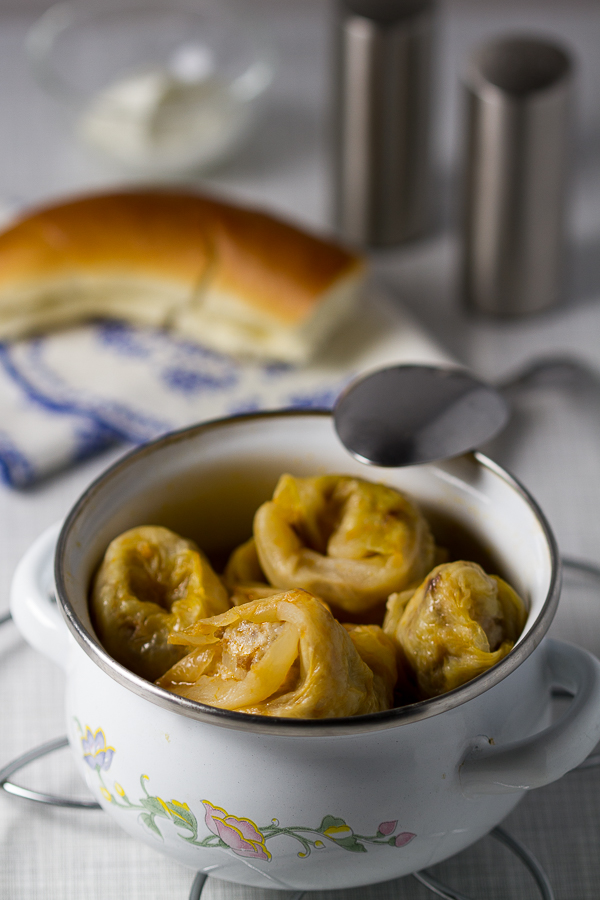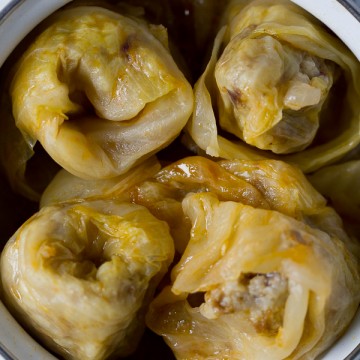 Sarma: Stuffed Sour Cabbage Rolls
Balkan sarma, or rolls, made with leaves from pickled cabbage is deservingly called "Queen of Winter."
Ingredients
Filling:
16

ounces

ground beef

or veal, lamb, mutton, pork

3-4

ounces

bacon or smoked (dried) beef (suho meso)

diced, or pastirma or cured ham

7

ounces

rice

white round grain

2

onions

smaller, peeled, minced

3

garlic clove

peeled, minced

1

tablespoon

stock powder

or Vegeta, bouillon stock

Salt and pepper to taste

(Optional) milk

about 2 ounces for softening the filling
Cabbage:
1

larger or 2 smaller sour cabbage heads

about 24 ounces
Roux and sauce:
3.5

ounces

oil

5.5

ounces

tomato sauce

1

tablespoon

flour

remaining cabbage and leaf veins

diced

3-4

ounces

bacon or smoked (dried) beef (suho meso)

or pastirma, cured ham, ham hock, ribs

water

or beef broth

(Optional) sour cream
Instructions
In a larger bowl, combine all filling ingredients and mix thoroughly with your hands until integrated. Set aside.

In a big bowl add lukewarm water. Separate sour cabbage leaves from the cabbage head one by one. Stop when you have about ¼ to ⅓ of the cabbage head left. (Keep the remaining cabbage head(s).) Dip each leaf into the bowl with water, quickly take it out, and set it aside on a plate. (This is to wash the extra saltiness off.) You can try a piece to see whether it's still too salty to your taste. If it is, you can dip it in the water again.

Place cabbage leaves on a cutting board (one by one), and cut out the thick middle vein from each leaf. (Set veins aside with the remaining cabbage head.) Proceed to cut each leaf in half. If the leaves are large, cut them into three, even four pieces.

Take one leaf piece into your palm. Place about one tablespoon of the filling in the middle toward the edge of the leaf. Fold the longer leaf end on the left side of the filling toward the filling, and roll everything away from you, squeezing lightly as you roll. Once rolled, tuck the right side of the leaf in with your finger. (You'll essentially end up with a tiny burrito-like roll.) Set your sour cabbage roll aside.

Repeat until you run out of ingredients. (You should have about 25-35 rolls with this amount of ingredients, depending on how large you make your rolls. The best rolls are about 1.5x2.5 inches.)

Combine leaf veins with the remaining cabbage head and dice them.

In a large pot, heat oil on medium. When it heats up, whisk in the flour until you get a roux (2-3 minutes). Add in the tomato sauce and 1 cup of hot water.

Place the first layer of rolls on the bottom of the pot. Follow up with a handful of meat, and diced cabbage. Repeat layering until you run out of ingredients. Cover with water (or broth) at the evel about the thickness (an inch) of a finger above the rolls.

Cook on low for 3 hours. Do not stir. Keep replenishing the stew levels so they're at the same level throughout cooking. You'll add about 5 cups of water in total, although this is just an approximation.

Serve anywhere from 2-6 rolls per person, and cover with 1-2 ladles of stew. The best sides are the bread and mashed potatoes. (Optional) Add a dollop of sour cream. Store in the fridge for up to 3 days. Reheating and freezing directions are in the notes.
Notes
*Please note that nutrition information is a VERY rough estimate. Not all ingredients were available on the list (sour cabbage, dried beef, etc.). Kimchi information was used instead of sour cabbage, as the closest.  Also, the calculation will greatly depend on the kind of meat you're using. Furthermore, some people eat 2-4 rolls, while others will eat 6-8 sour cabbage rolls.  Assembly: You can assemble sarma the night before and then cook them the following day. Keep assembled sarma in the fridge. Reheating: The best way to reheat it is on the stovetop, on low, for at least 15 minutes, (or until it's hot). Add a little bit of water to the stew if it's too thick, or running low. Important: only reheat as many cabbage rolls as you plan to eat. Do not reheat the entire pot of sarma unless you'll eat everything! Otherwise, you'll have to throw it away as sarma should never be reheated twice. Freezing:  It's a long process to make them, so it's understandable you may want to freeze some of your sour cabbage rolls. You have two options:
1. Wait for cabbage rolls to cool down completely after they're cooked. Place in freezer ware. Freeze for up to 3 months. Transfer to the fridge the night before you plan to eat them. Add a little bit of water. Reheat by following the directions above.
2. Place cabbage rolls into freezer ware right after you stuff them, but before cooking. Freeze for up to 3 months. Transfer to the fridge the night before you plan to cook them. Cook by following the recipe card directions. (We prefer option 2.) Layering: when layering in the pot, some like to first place one or two cabbage leaves on the bottom after the roux before layering sarma rolls. Up to you. Size: make them as small as possible. They taste better this way.  Hands: protect your hands while stuffing the cabbage by either wearing latex gloves or washing them in between stuffing.  Ingredients: Detailed ingredient notes are in the article. 
Nutrition
Serving:
6
rolls
Sodium:
4081
mg
Calcium:
245
mg
Vitamin C:
89
mg
Vitamin A:
680
IU
Sugar:
16
g
Fiber:
9
g
Potassium:
2691
mg
Cholesterol:
402
mg
Calories:
3092
kcal
Trans Fat:
6
g
Monounsaturated Fat:
104
g
Polyunsaturated Fat:
31
g
Saturated Fat:
43
g
Fat:
194
g
Protein:
132
g
Carbohydrates:
200
g
Iron:
18
mg